POV Holder:
Donny
Next POV
?
POV Used
YES
POV Ceremony
June 29th
HOH Winner Team 1:
Frankie
HOH Winner Team 2:
Caleb (current HOH)
Battle of the Block Winner
Brittany, Victoria
Next HOH/ Next BOB
?
Original Nominations:
Caleb noms (Donny, Paola) Frankie noms (Brittany, Victoria)
Current Nominations:
Joey, Paola
Have Nots
Cody, Hayden, Joey, Brittany
POV Players
Donny, Paola, Cody, Zach, Caleb, Victoria (HOST = Jocasta)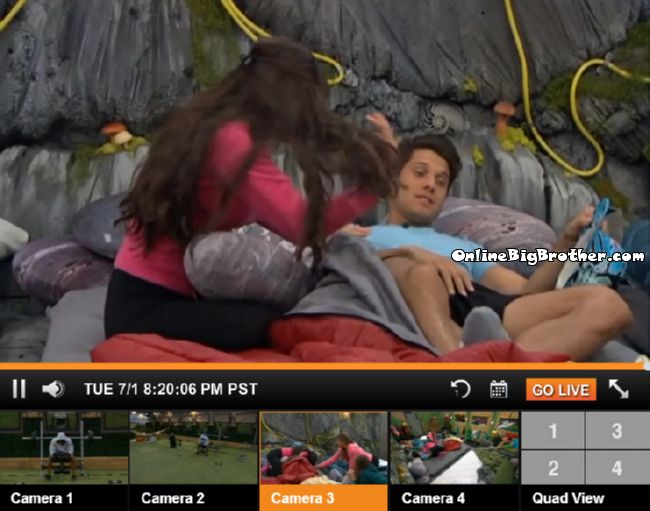 8:19pm Rock room POWPOW, Victoria, Cody, Zach and Nicole chit chatting..
Zach and Victoria talking about living in a gated community and how theres security to go through to get to their houses. Zach asks Nicole about last night when her and Hayden were having "A serious conversation" in the beehive. Nicole says it was nothing but it sucks. Nicole asks them who gives good back rubs. They all say hayden, She asks if there is anyone else. POWPOW – "you guys broke up already" Nicole – "We're not together.. we just don't talk.. ". Zach asks her if they broke up. Nicole just says it was nothing "it's nothing bad but nothing good either"  (they are together but agreed last night   to keep it on the Downlow)
Victoria and Cody leave and Zach starts to tickle POWPOW. (POWPOW laughing is worth a flashback)
POWPOW – "it's the most action I've gotten in here."
Zach – "that was amazing"
Frankie – "that was the most action i've gotten in here"
Zach says once he started he couldn't stop it was so much fun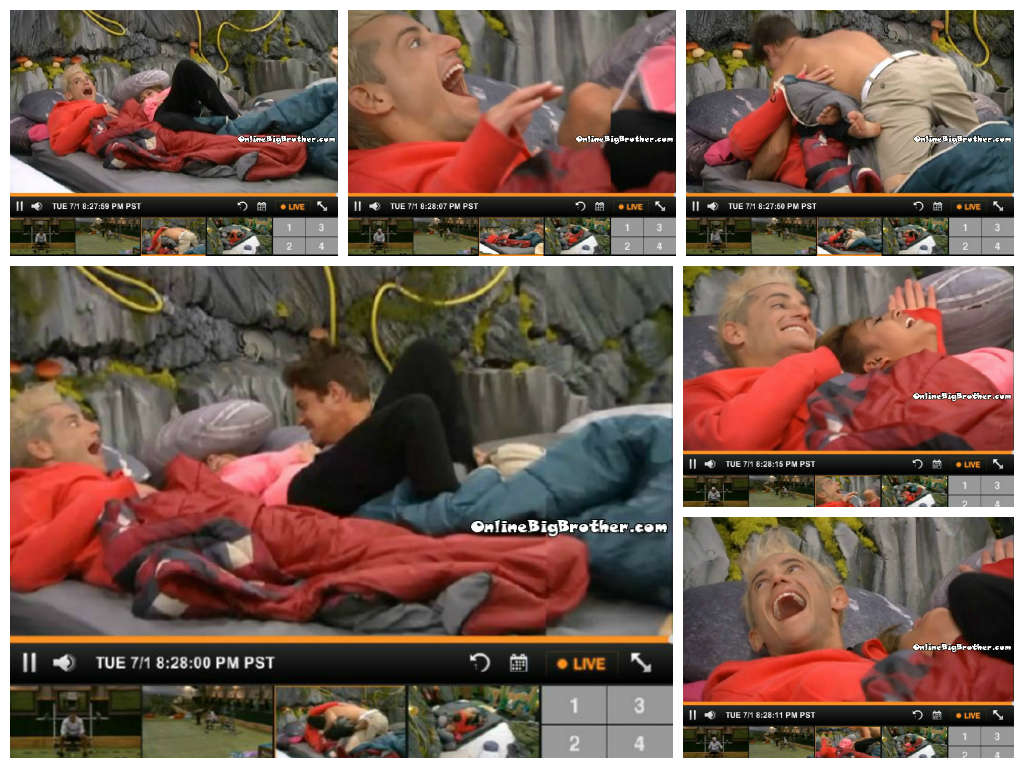 Big Brother 16 Live Feeds Subscriptions, Free 2 day trial. $26.99 for the season pass or $9.99 for the monthly pass Try It Free! Subscribe now to the official BB16 Live Feeds
Pretty quiet in the backyard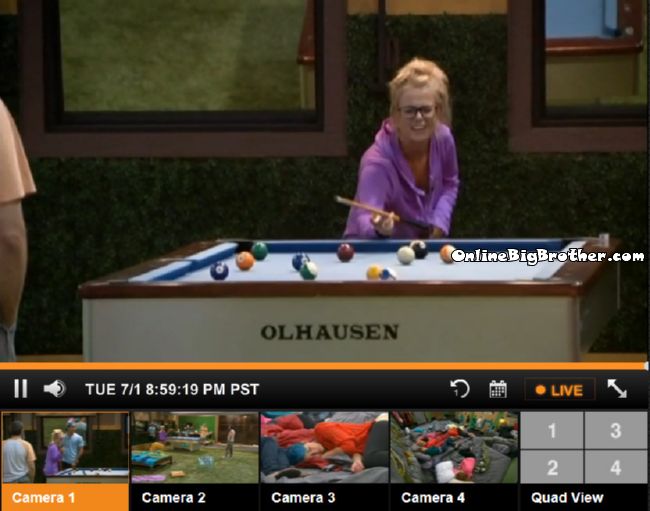 9:00pm Nicole and Cody playing pool against Amber and Zach
Nicole says her hometown has only 841 people
Zach – "there's that many on my street"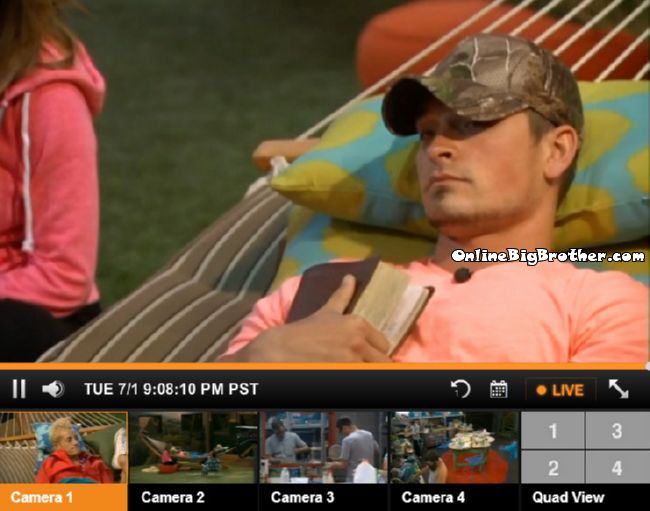 9:08pm Hammock Frankie, POWPOW, Caleb and Brittany . Caleb says he's reading a bit trying to clear his mind. Mostly chit chat.
Brittany gets up and leaves.
Caleb – "For a mom she's got a cute body three kids with no stretch marks"
They all go on about how beautiful Brittany is.
Caleb – "Come day 90 you're going to be pretty sexy to me Frankie"
POWPOW asks does that mean theres going to be no girls.
Caleb says you can only look after people for so long then they have to fight for themselves he doesn't mind taking someone far into the game but eventually he's going to have to put them down.
Caleb – "My mind is right I'm so much more on track I'm focused on game.. I want to play my game and go home"
Caleb – "People are going to have a rude awaking in here"
POWPOW asks what
Caleb – "You'll see"
Frankie – "nothing to worry about just in general right.. "
ALEX is back "Your pants don't fit over my big bulge.. I'm packing some heat"
Alex walks up to them and starts playing her character with Frankie
After a bit of time She leaves. Caleb doesn't laugh and is short with her. POWPOW and Frankie have a good time with Alex.
After Alex leaves
POWPOW- "I've never seen anything like that before"
Frankie same and coming from me that means something"
9:27pm Most the house is in the backyard being terrorized by Alex
Alex to Victoria. – "I like to hang out with ladies I hang out with a lot of ladies". Feeds cut and when they come back Joey is changing out of Alex.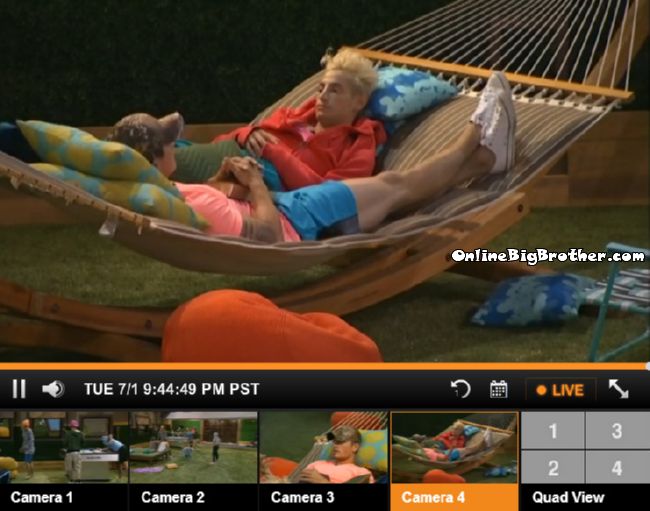 9:45pm Hammock Caleb and Frankie
Of course the conversation is on Amber.
Caleb – "I'm not going to talk to her at all.. at all"
Caleb – "She still can be in our alliance"
Frankie says Caleb is not liar and not a fake person
Frankie mentions that Amber is moving through people because she use to be BFF with him, Caleb, Devin and now Hayden, "She's working"
Caleb – "She worked herself into a 8 person alliance that is strong"
Hayden joins them "What's your thoughts"
Caleb – "game town.. No more flirting no more Floaters"
hayden says he's completely cut himself off from Nicole
Caleb – "I'm cutting myself off from Amber"
Hayden explain he told Nicole he'll maybe date her after but he came here to play the game not get a showmance.
Caleb tells Hayden he's doner being sweet to AMber
Caleb – "I have too many thousand of girls that want to meet me"
they agree next week 4 floaters will be up on the block.
Hayden – "I want it to be just competitors"
Frank – "me too.. it;'s all people that understand why they are here.. enough of this I didn't realize this would be difficult"
Hayden and Frankie bring up Amber wanting to leave because she couldn't take the game.
Caleb – "Well she started her menstrual cycle to so all the girls are… "
Frankie about Jocasta "She a classic floater… classic classic classic"
Caleb – "Taken people through prayer is all she's done"
They start bashing last years cast calling the final 4 floaters. Hayden says Andy wasn't even on the show. Frankie wants this season to be the opposite of last year, "We want people that play this game"
These guys think they are heads and shoulders above the girls in abilities especially competitions, Hayden says if any guy is in the battle of the block they will win it. "If I go up I get two chances to win"
Caleb – "Mister country boy flirty boy is gone.. game time"
Hayden – "Dude all the girls love Cody"
Frankie – "Cody and zach are going to be walking around with their d!cks out the whole time"
10:04pm Hammock Frankie and Caleb 
Caleb saying that during elimination night in front of the entire world he'll have a speech prepared and he's going to tell Amber what he thinks, "For that girl to say that stuff about me she has no idea who I am.. The girls on twitter are saying she's stupid.. hopefully.. fingers crossed"
10:06pm FireRoom Jocasta, Amber, Victoria and POWPOW 
Joey used Victoria's skirt and swimsuit and now it's all stretched out and dirty.
Jocasta – "wait a minute you let her wear your skirt she's got a booty and hips"
Victoria is pissed
10:20pm HOH Devin and Caleb
Caleb says he was sitting out in the hammock for 30 minutes and not once did Amber coem up to him and ask him how he was doing.
Caleb says when he first got here he thought they put her in here for him and he was in here for her but now after what he's seen he doesn't think that. Devine says he's thinking about it too hard, "You can do better I'm not into her so you don't have to trip"
Big Brother 16 Live Feeds Subscriptions, Free 2 day trial. $26.99 for the season pass or $9.99 for the monthly pass Try It Free! Subscribe now to the official BB16 Live Feeds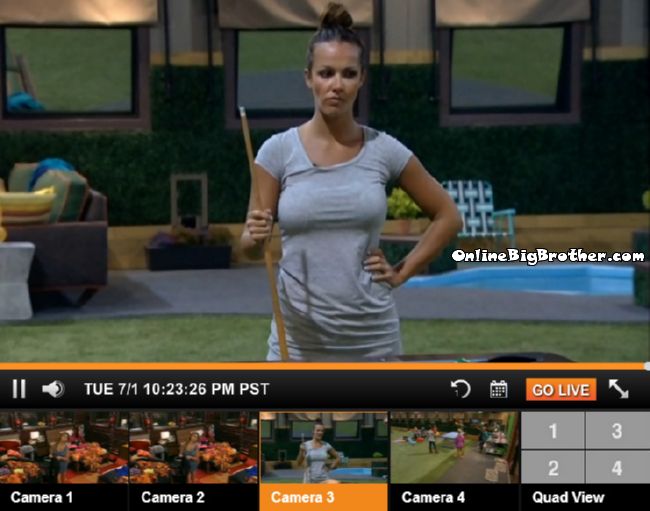 Not much going on random chit chaterer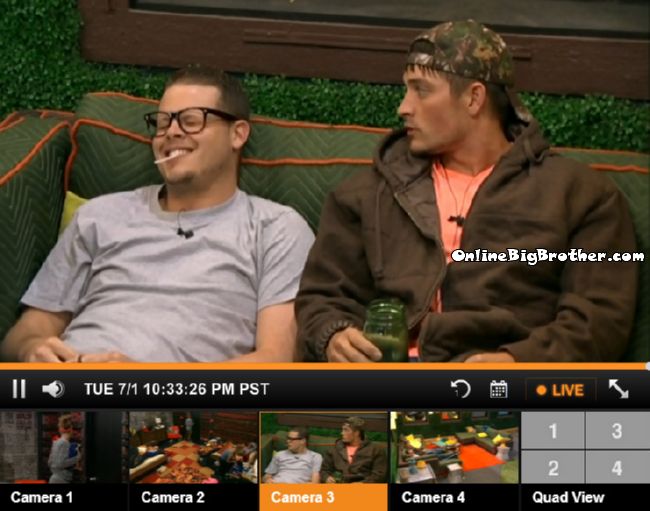 10:34pm Caleb and Derrick
Caleb – "No more female stuff No more Flirting.. no more nothing for me"
Derrick – "I got ya its a game you gotta work"
Caleb – "me and sweetie pie no more ice cream no more dishes no more cooking for her.. none of that stuff"
Derrick – "We just got to win that's all that matters"
Caleb bring sup Amber Saying he was only concerned about himself. Zach and Hayden join them. Caleb tells them about Victoria asking for him to come out and hang out with everyone. Apparently Caleb is starting to notice Victoria has been watching him.
Caleb going on and on about not wanting to mbe with any of the girls "I'm tough and rough.. I'm ready to get on the combine and run these people over"
Victoria joins them.