POV Holder:
Donny
Next POV
?
POV Used
YES
POV Ceremony
June 29th
HOH Winner Team 1:
Frankie
HOH Winner Team 2:
Caleb (current HOH)
Battle of the Block Winner
Brittany, Victoria
Next HOH/ Next BOB
?
Original Nominations:
Caleb noms (Donny, Paola) Frankie noms (Brittany, Victoria)
Current Nominations:
Joey, Paola
Have Nots
Cody, Hayden, Joey, Brittany
POV Players
Donny, Paola, Cody, Zach, Caleb, Victoria (HOST = Jocasta)

12:20am – 1:15am In the backyard hammock – Cody and Frankie are talking. Cody says I think Devin is full of sh*t. Frankie says I don't think anyone likes him. Cody says its not normal for me to not like someone either, it takes a lot for me to not like someone. Frankie says when theres a double eviction we take out Devin and even Caleb will vote with us I guarantee it. Cody says he's not an idiot. Devin I don't trust him. Frankie says I am trying so hard to keep him calm and comforted and right now we have the numbers. Frankie says right now we are 5 strong if he blows up. If we get rid of 4 people then he can say anything he wants. Donny, Brittany, Nicole, Jocasta, Victoria have to go. Cody says the good thing is, we can keep Hayden. And we don't have to bring him in because he already is. Cody says I can't wait to see how next week plays out. Frankie says I want it to be endurance. I am not coming off. Christine joins them. Frankie says so far things are good. I am just doing damage control. Caleb joins them. Christine heads to bed. Caleb says I hated every minute of that right now. Frankie says but you were a gentleman about it. I thought you were going to walk right past her. Cody comments on how the cold showers are hard. In and out! Frankie says just call me I'll be there! Frankie laughs. Caleb says if I win next HOH I would love to.. all I really want is an apology. I don't even know what changed. All I told her was that I liked her and then bang. Frankie says we'd have to go one more week, it would have to be the fourth week. Caleb comment on how when you hear its a double eviction, that's when jury starts. The second person goes into jury. Derrick joins them. They talk about possible twists like vets coming into the house. They talk about strategies if one of them are HOH with someone else. We just have to work with them and make sure two guys aren't thrown up together. Cody says we're going up there. Derrick says it the HOH could be majority questions where the minority gets knocked out. There's a strategy if it is though. The first 3 questions no matter what it is we all pick A, then next 3 we pick B, and then the next 3 we pick A again. Derrick says so we know the first answer is A, if its Derrick sucks co*k is A. Then we all pick A. Caleb comments on how every week in the house they make 1 K. Caleb says I don't care who is HOH, I'll make a deal with them. Caleb says if you get HOH the object is to pick the weakest players so that you stay HOH. If they don't see that then they're stupid if they go after strong players. Derrick and Cody head inside.
WATCH the next 48 hours for FREE – Big Brother 16 Live Feed TRIAL!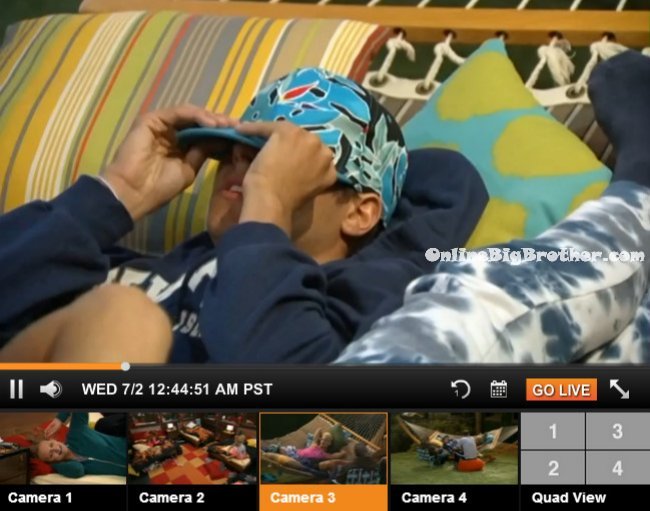 12:50am – 1am Hayden and Zach are playing pool. Zach asks Hayden who he would put up next week if he won HOH. Hayden says Brittany and Jocasta Zach says if I won HOH I would put up Victoria and Brittany. Hayden agree and says Brittany's a target right now. Zach says the Devin isn't genuine. He's a bully. I can't trust him. I trust everyone over there (Frankie, Cody, Caleb, Derrick) I trust you, I trust Donny. Zach says Donny is kind of creepy in a way but.. Hayden says I definitely think it is kind of like an unspoken guys code. The way it is now they guys already have the advantage with one girl leaving. Hayden says that Donny said it best. It's a 3 step process. First don't be the first person out. Second make it to jury and third win to stay because it doesn't matter if your 1st in the jury or last in the jury. Hayden says the way its is with the 4 nominees, its set up for the weak to go home. Hayden leaves and Zach and Cody continue to play pool.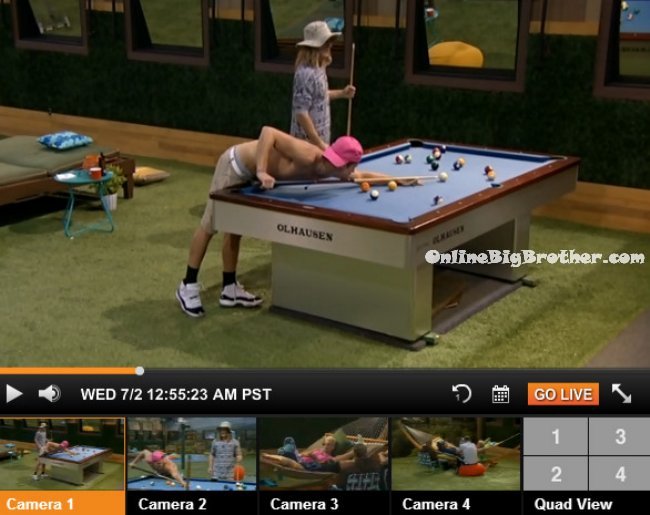 See what they can't show you on TV! -Try the Big Brother 16 live feeds for FREE!
Caleb and Frankie talk. Caleb says it pisses me off and eats at me the situation with Amber. Caleb says I say to Amber I heard what you said about me, I don't like it but I will hold you as long as I can and then you're gone. Frankie says suck it up till Thursday. Lets wait to see who's in power first. Caleb says you could talk to Amber and ask her if she knows what's wrong with Caleb. He hasn't been himself the last few days maybe one of us should go talk to him. Caleb says it might be as simple as asking Amber did you and Caleb have a falling out? I honestly want to know what her response would be. Frankie says lets just wait till Thursday. Caleb says it eats at me that she called me sweet. It eats at me. Hayden joins them. Caleb says it eats me alive for Amber to talk shit and then call me sweetheart. They all agree that Joey being gone this week is great. Caleb says it worked out perfect for me, no blood on my hands. Brittany joins them and soon after so does Amber. Everyone but Brittany and Amber leave.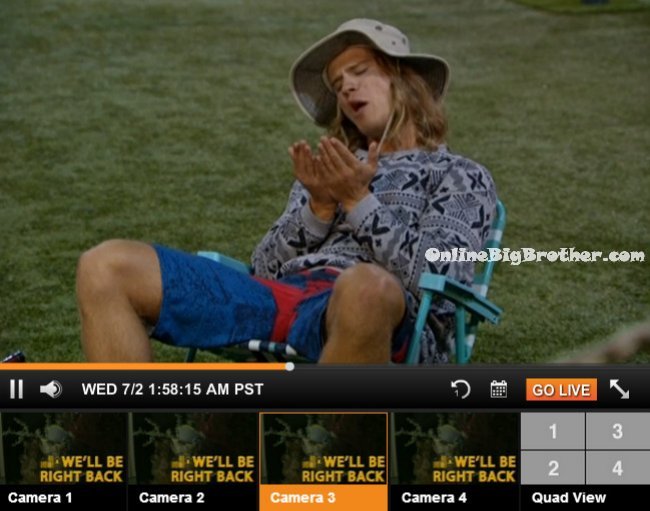 1:55am – 2:10am
Hayden, Zach, Paola, Cody, Amber and Brittany are hanging out by the hammock. Hayden does some palm poems. They call him Teddy Spanks. Hayden goes through each of them and makes comments about them. Like Cody you suck at pool. Brittany you're the best mom, and your boobs are big.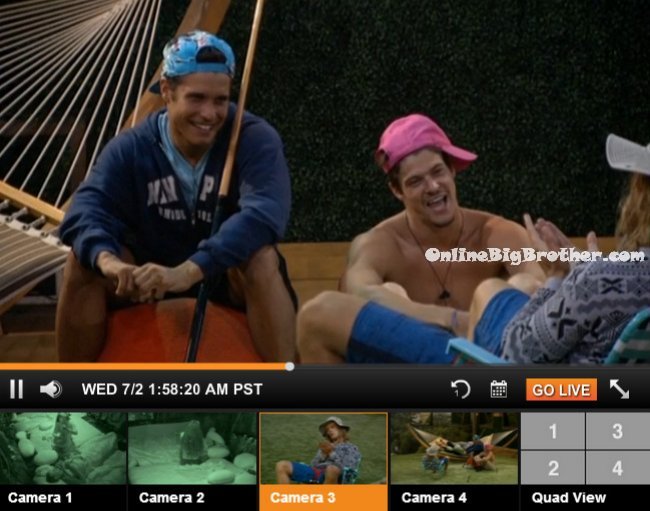 2:10am
Victoria and Derrick are over on the backyard couches talking. Victoria says I already know who I want out. I want out Devin. Derrick says its difficult because you need the votes. Victoria says no one likes him. Derrick says you can't put him up before the battle of the block. Victoria asks who's the next target? Derrick says you can't even think about that right now, it all depends on who is HOH. Victoria says that Devin is just pissing her off. She says she wishes she could shove the pillow in his mouth so she didn't have to hear him talk. She says at the finale I know what I want to do to him… take my heel and shove it down his throat.
WATCH the next 48 hours for FREE – Big Brother 16 Live Feed TRIAL!
2:30am Zach, Cody and Hayden are talking on the backyard couches. Hayden says that there is definitely going to be an America something. Zach agrees. He says hopefully one of us can win HOH. Zach asks who do you think would put you up. Cody doesn't think anyone right now. They talk about how Donny would probably do what the house wants. They think that Donny feels alone in the house. They hate that he feels that way. Zach says he feels like when he talks to Donny sometimes it isn't genuine and is bullsh*ting. Cody then say that he thinks if Jocasta won HOH she might put me up. Zach and Hayden disagree. Cody says this double HOH is so legit. It works out so good for us. Hayden says having Caleb and Devin here is great for people like us. Zach says you're (Cody) great with the girls, you (Hayden) make people laugh and I sleep! They laugh. They agree that if any of them go up they have a really good chance at coming off unless they're paired up with Pow Pow. Hayden says the thing he doesn't get is why was Joey campaigning even before she was put up. They say it will be a unanimous vote for Joey to be evicted, even Brittany isn't voting for her. Cody comments on how he thinks Amber was faking being sick because she's scared. Cody says and then she came out all bubbly tonight. She watched us play pool when she saw Caleb over there. Cody laughs at how she hasn't ever watch us play pool. They head inside to get ready for bed.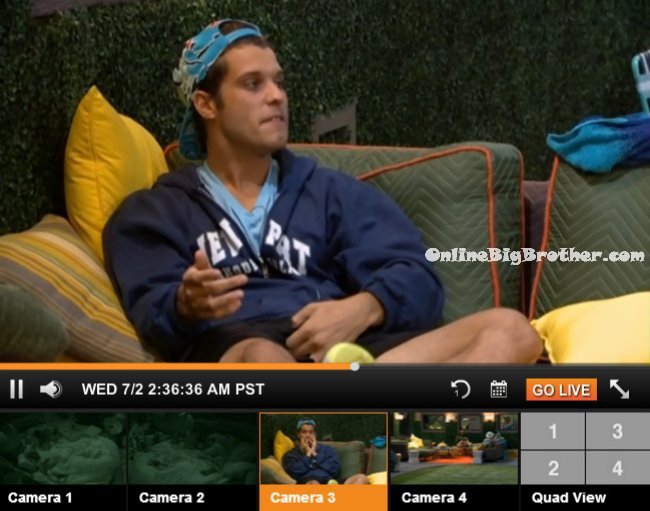 3am – 3:25am Jocasta is awake in the living room reading the bible.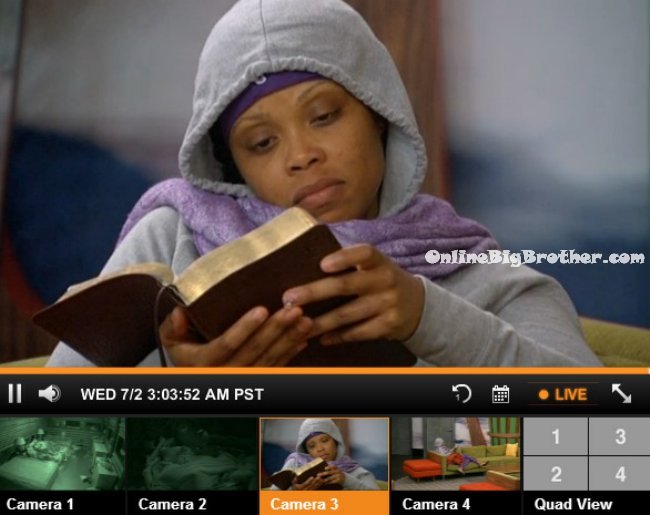 9:30am Big Brother wakes up the house guests..
Alliances 
Bomb Squad = Frankie, Caleb, Devin, Cody, Derrick, Zach, Amber, Christine
Fragment of bomb squad no name  = Christine, Frankie, Cody, Derrick Zach
Sub alliance of the Bomb Squad = Derrick, Cody, Zach
Double Ds = Devin, Donny
Bed buddies = Nicole, Christine
Final 2 Deal Zankie= Frankie, Zach
Old defunct alliances
TheCrazy8s = Frankie, Donny, Joey, Paola, Devin, Amber, Nicole, Cody
El Cuatro = Paola, Amber, Joey, Nicole
Where the vote is 
As of now Joey is going home..