POV Holder:
Donny
Next POV
?
POV Used
YES
POV Ceremony
June 29th
HOH Winner Team 1:
Frankie
HOH Winner Team 2:
Caleb (current HOH)
Battle of the Block Winner
Brittany, Victoria
Next HOH/ Next BOB
?
Original Nominations:
Caleb noms (Donny, Paola) Frankie noms (Brittany, Victoria)
Current Nominations:
Joey, Paola
Have Nots
Cody, Hayden, Joey, Brittany
POV Players
Donny, Paola, Cody, Zach, Caleb, Victoria (HOST = Jocasta)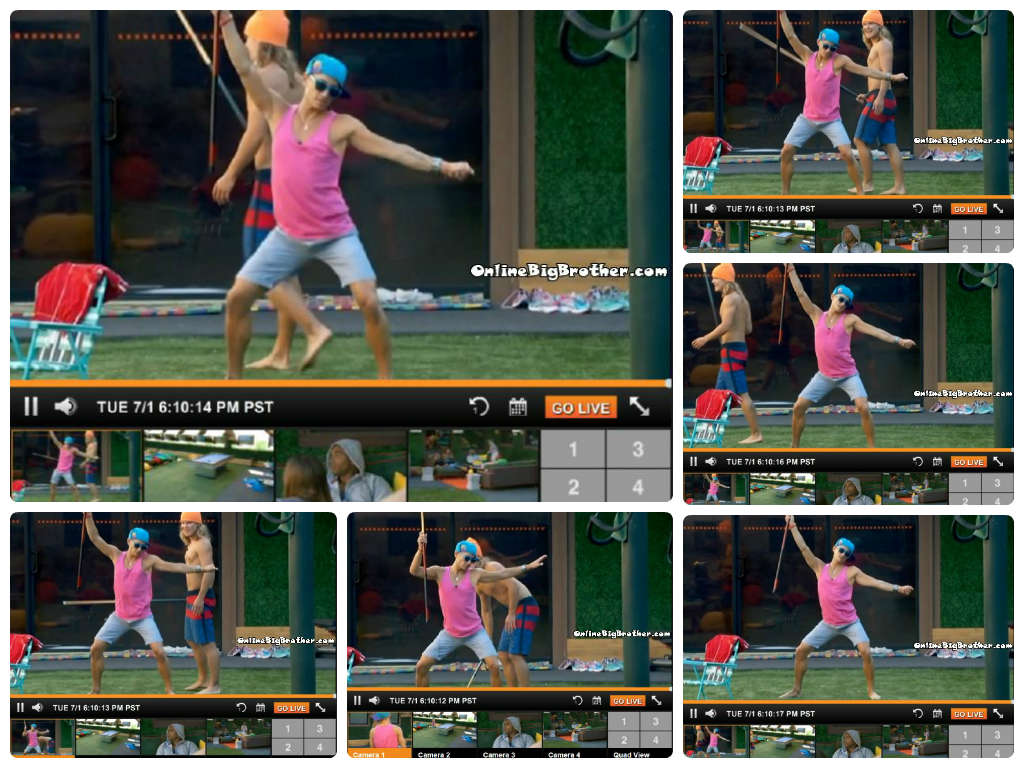 6:10pm Frankie breaks into the Zach dance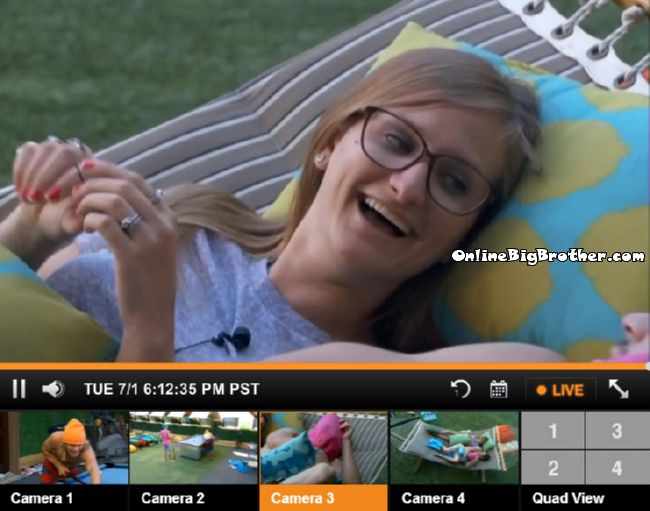 6:14pm Hammock Zach and Christine Talking about Devin
Christine – "I've never disliked a person as much as I dislike that man.. when I look at him I get sick to my stomach" Christine adds that Devin reminds her of the people at school that use to be bullies.
Zach – "As long a me, you, Cody, Frankie, or derrick win HOH we can backdoor him"
Christine – "You know what would be awesome if Brittany did it"
Zach agrees, but says they would have to make sure she didn't put two of them up as the pawns. He's unsure they have enough influence with her.
Christine is worried about Jocasta has no idea where her head is at
Zach calls Jocasta a floater
Christine Says Donny, Jocasta and Derrick approached her for an "Outsiders" alliance she laughs says Derrick is always telling her "Watch out for the outsiders"
Christine says it's taking all her strength to be around Devin this week. Zach wonders what the hell Devin was thinking making a 8 person alliance even a 6 persons alliance was too big.
Zach says Christine really got lucky out of the whole bomb squad thing, "You came out of the candy store with the biggest cookie"
Christine agrees but on second thought says "I came out with a medium sized cookie"
Zach says when the bomb squad gets exposed they all start pointing the fingers to Devin.
Christine 100% agrees
Zach – "I don't know who the f** he is.. he's so ridiculous.,.. I don't get why him and Caleb are friends.. I don't think caleb really likes him"
Zach suspect Caleb and Devin think they are "top tier" players in the game.
Christine is worried about winning the HOH and it being a mental one. She's trying to play down her BB knowledge so she';s not the target.
Christine – "I'm so nervous Jocasta wins the HOH… I don't trust her"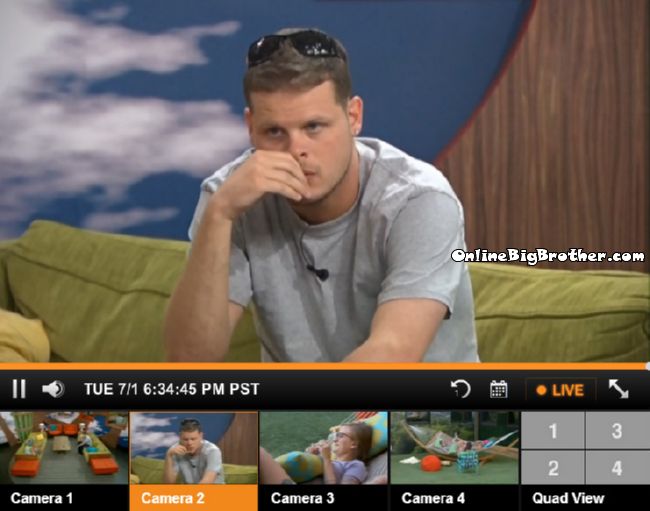 6:34pm Living room Cody and Derrick
Derrick is saying they need to plan for the worst case scenario Devin winning the HOH
Cody points out that Caleb like to play the pity card get people to feel sorry for him
Derrick says Victoria is liking Caleb now.
Derrick says Caleb walked into the room and said "Man just wanted you all to know I'm not going to the prom tomorrow.. Amber is too uncomfortable"
Cody "OK dude lets play the pity card some more"
Cody says Amber bashed caleb's ego. they think he's going to put her up if he wins HOH. Derrick talked to Zach about keeping their alliance a secret from Christine. (Cody, Derrick and Zach have something)
Derrick says he doesn't care about what Zach does he'll never tell him about what they have. (feeds cut)
7:04pm Hammock, Nicole, POWPOW and Donny
POWPOW tells them her favorite number is 5. (You want to know that I know)
7:07pm rock room cody and frankie
Talking about how hot Brittany is. they agree staying out of the drama right now is the best thing to do. Derick rolls in says the girls room is way more messy.
Victoria rolls in asks Cody what his longest relationship was Cody says 2 years
Victoria says 1 year
Cody – "We kinda grew apart.. I just fell out of it.. she['s a angel she's a sweetheart that was 5 months ago.. she's still in school she has two years"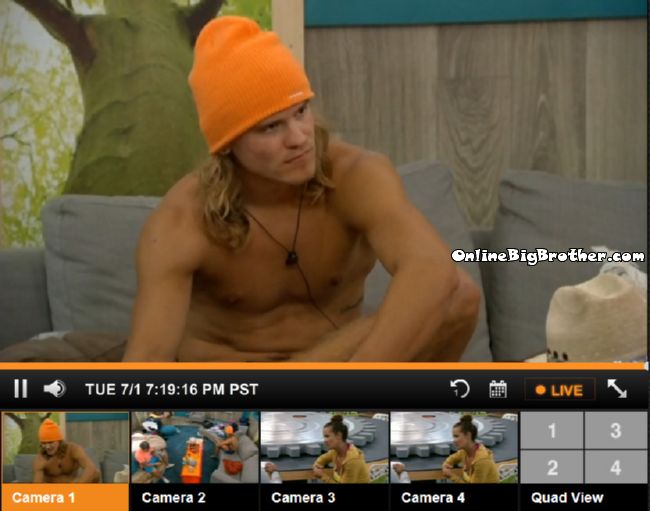 7:16pm HOH Hayden and Caleb
Caleb says he's going to win the HOH again, ":not this week but next"
Hayden says his goal is to win HOH this week
They start talking about the possibility of the HOH competitions. Caleb wonders if they will keep the same groups when they compete. If that is the case Caleb thinks Hayden has a good chance to win it because Clabe isn't playing
HAyden – "I think Zach is stronger than he's given credit for.. Derick is smart if it's anything mental he has it on lock.. he works the social game so good"
They agree Joey going home this week and Brittany next
Hayden – "What do you think of Amber now"
Caleb – "I'm cold to her"
Hayden say he likes Amber but warns him she talks to a lot of people, he thinks she has a lot of friends in the house..
Hayden – "Everyone loves her"
Caleb – "I don't think she's going anywhere"
Hayden I think Brittany is next
They agree Jocasta isn't doing anything, "Straight up not doing anything" They don't want to see her make it far.
Hayden "Andy didn't do a thing"
Caleb – No TV time ever"
Hayden – "Didn't do a thing and won 500 thousand dollars"
They feel if they go up it will be a girl HOH doing it.
Caleb – "You give me two chances to pull myself off I'm going to pull myself off and build a army and come after you"
Big Brother 16 Live Feeds Subscriptions, Free 2 day trial. $26.99 for the season pass or $9.99 for the monthly pass Try It Free! Subscribe now to the official BB16 Live Feeds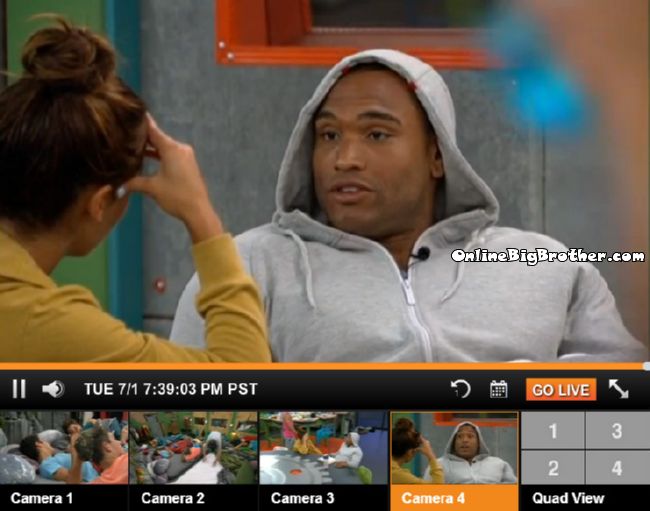 7:37pm Devin and Brittany
Devin talking abusing benzodiazepines (Xanax, Ativan, Clonazepam anti anxiety drugs) and how it affected his baseball career. Talks about going in and out of rehab a bunch of times.
7:47pm HOH Frankie and Derrick
Frankie doesn't like that Devin told Caleb Amber said Devin is her type . Derrick is certain Devin will win HOH because that is how it always goes in this game.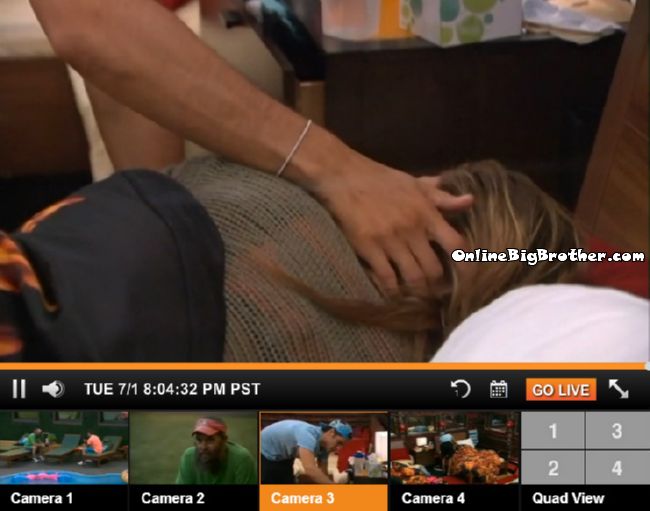 8:04pm POWPOW, Cody and Amber 
Amber says she feels sick her chest hurts and she's got a fever. Cody doesn't think she has a fever. POWPOW goes into DR to see if she can get her some medicine. Amber – "I'm cold" Cody – "Ohh feel better" Amber – "thanks Babe"
Alliances 
Bomb Squad = Frankie, Caleb, Devin, Cody, Derrick, Zach, Amber, Christine
Fragment of bomb squad no name  = Christine, Frankie, Cody, Derrick Zach
Sub alliance of the Bomb Squad = Derrick, Cody, Zach
Double Ds = Devin, Donny
Bed buddies = Nicole, Christine
Final 2 Deal Zankie= Frankie, Zach
Old defunct alliances
TheCrazy8s = Frankie, Donny, Joey, Paola, Devin, Amber, Nicole, Cody
El Cuatro = Paola, Amber, Joey, Nicole
Where the vote is 
As of now Joey is going home..