POV Holder:
?
Next POV
July 19th
POV Used
?
POV Ceremony
July 21st
HOH Winner 1:
Frankie
HOH Winner 2:
 Cody
Battle of the Block Winner
?/?
Next HOH/ Next BOB
July 24/July 18
Original Nominations:
?
Final Nominations:
?
Have Nots
?
POV Players
?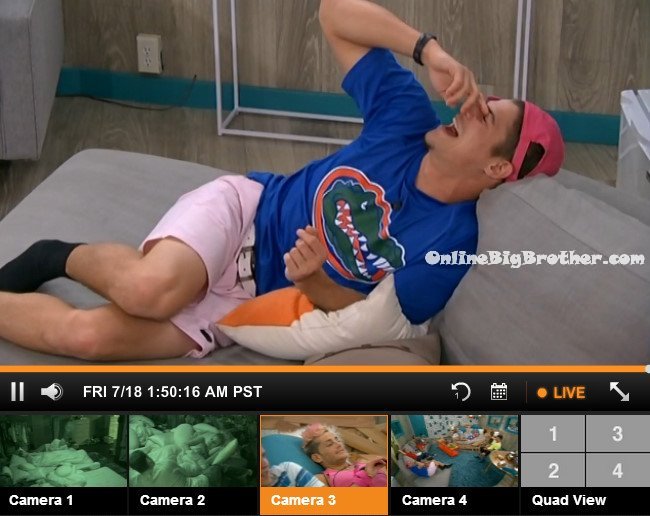 See what they can't show you on TV! -Try the Big Brother 16 live feeds for FREE!
1:45am UP in the HOH room – Hayden, Caleb, Frankie, Cody, Christine and Zach are talking about Victoria. They all laugh about how she actually thinks she was picked up by a crow when she was younger. Caleb says I left room when she said that. Hayden says how cool would her sister be if she made up that story and got Victoria to believe it. Hayden tells Zach how today in the kitchen Victoria talked about how much you loved her. She said that you were talking about how hard working she is. Hayden says and then I remembered how you were up in the HOH room talking about how you were going to lie and tell her that. They all laugh. Christine says were you there when we were talking about if you could be an animal, what animal would you be? AND Victoria said she would be a unicorn! They all laugh. They we were like a unicorn isn't a real animal, what real animal would you be and she said a white horse with a tiara! They all laugh. Nicole and Victoria come up and join them. The Victoria bashing ends. Derrick and Amber join them.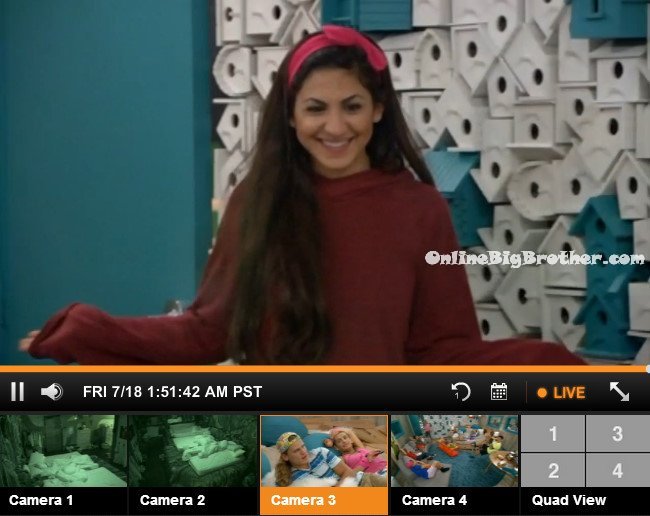 In the hive room – Brittany tells Frankie that she just doesn't play kiss a$$ with the HOH. I am just not all over Cody like the younger girls are. Brittany says I feel like I am the old girl in the house. Today is just a really hard day for me. I just really miss my family. Brittany asks if they can just tell her if she is going up on the block. Frankie asks who do you think I should put up for the house. Brittany says I think Victoria. Frankie says that's who I thought too, it all depends on if I get to the key first. Frankie says now that Devin is gone the shift is back to getting out the weakest people in the house and that is not you. This week I am going to try and put up the weakest people in the house so that they lost the battle of the block and I stay HOH. Brittany complains about being a mom and having to share a bed with 5 guys. Caleb joins them. Frankie says we were just talking about how freaking awesome you are. Zach joins them. Brittany comments on how Zach bullsh*ts Victoria all the time. Caleb says she thinks she's at summer camp. Zach says she has no idea what 500k really is! She doesn't know the value of a dollar. Brittany comments on how Victoria has Zach says Victoria you are so hard working and the most responsible individual I have ever met and I look at you as a huge threat. They all laugh. Zach asks do you want to laugh real quick.. think of POW swinging. They all laugh. Victoria joins them. The Victoria bashing ends. Zach starts talking about her little brother.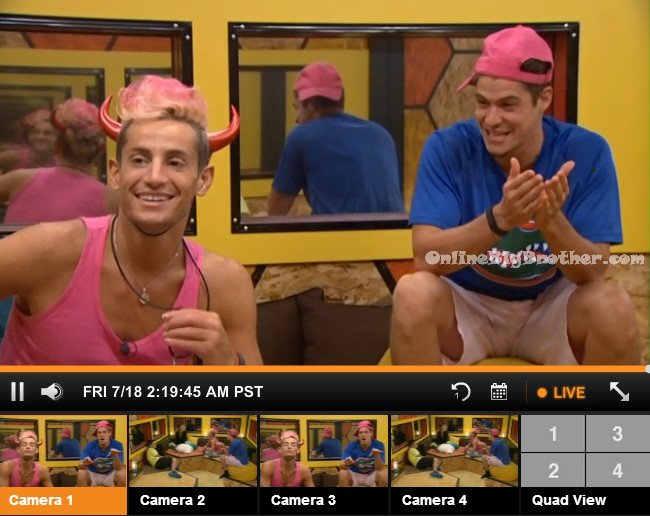 2:30am – 2:45am In the small HOH room – Hayden is talking about how Victoria was giving him a rub down. I am surpirsed she didn't feel it. I don't know maybe she thought it was my belt. Hayden says I am going to go tell Victoria "Fire room again .. lets see what happens." Jocasta says she knows what she's doing. They move into the other HOH room.
Frankie, Zach and Caleb head back up to the HOH room. Brittany comes up and says goodnight. Zach is pushing hard for Victoria to go up. She needs to go this week! Zach says she literally comes in whenever we talk sh*t about her. Frankie says we're always talking sh*t about her. Caleb says she's one horny girl. Zach says yeah she definitely craves di*k! Frankie says she's a 22 year old virgin. Jocasta comments on how Victoria has cuddled with Zach, Frankie and Hayden. Zach says "I am just going to say it Victoria's a F**king idiot!"
2:50am Hayden goes down to the kitchen grabs a cookie. He heads over to the camera by the kitchen table and shoves the cookie in his face as he mean mugs the camera.
2:55am Hayden comes back up to the HOH room and the house guests talk about different challenges they could do like the saltine cracker challenge and the cinnamon challenge. They get ready to go down stairs and Big Brother tells them to knock it off! Zach says I got an OTPHJ from Victoria. They ask what an OTPHJ stands for? Zach says and Over The Pants Hand Job. Zach find Frankie's "Dream Cream". Can we just leave this in the jack shack? Zach reads the label and says oh this is for your hands I thought it was actually for jacking off. Cody comments on a spot in the shower he was scoping out as another Jack Spot. Amber asks?! I hope you clean that up so that I don't step on it and slip! They talk about how the tin foil heart that Amber handed Devin had a little, little pickle in it. Zach says that is hilarious!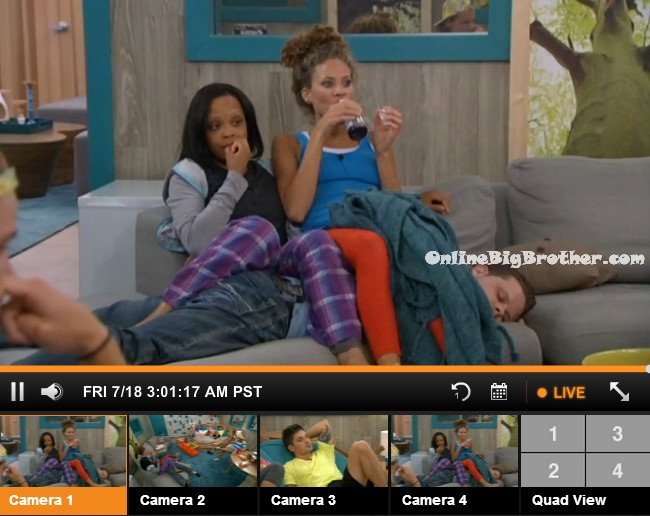 In the other HOH room – Caleb, Derrick and Zach are talking about who should go up. Caleb says they (Cody and Frankie) should nominate Victoria and Jocasta on different sides so that at least one of them goes this week. Caleb says I want to go grab a banana and smash it in Amber's face! I won't actually smash it I will smear it in her grill! Caleb heads down to the kitchen where Amber, Christine and Nicole are looking at the memory wall. Caleb walks over to Amber and throws a candy wrapper at Ambers face. She says why do you always aim for my right eye. Caleb says its a candy wrapper. He complains that she was hitting him with a pillow in his face. Caleb then grabs a pillow and starts hitting Amber with it. Amber tells Caleb that he is making himself a target in her eye. Caleb says you need to be holding a bow to be able to shoot an arrow. Amber says just so you know these two girls are safe. Christine tries to get into the HOH room but they don't let her in. Caleb then goes up and they let him in. All the girls yell REALLY!?!?! Christine says those boys are going up next week.
Big Brother 16 Live Feed FREE TRIAL – Use the FLASHBACK feature to watch everything you've missed!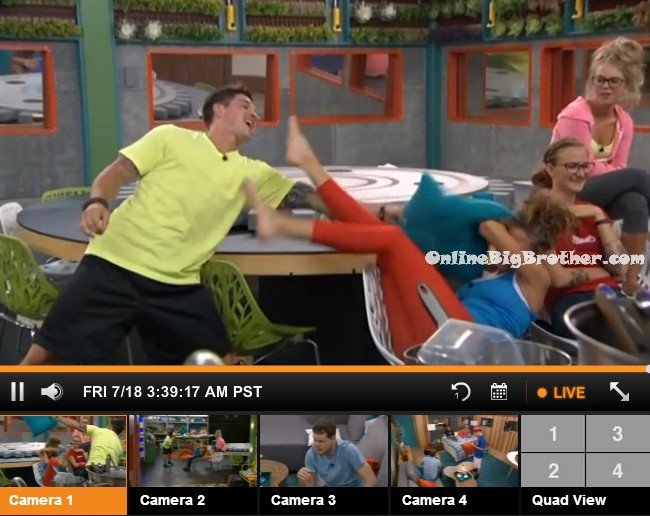 3:25am – 4am In the small HOH room – Frankie talks to Cody about how the people they could put up are Amber, Jocasta, Brittany and Victoria. Frankie says what Derrick was saying a power move could be to backdoor Donny. Frankie says I would put up Amber and Jocasta. AND you could put up Brittany and Victoria. Cody says I can't put up Amber because that would wreck everything. Frankie tells Cody how Brittany told him that she thinks you're going to put her up. She says that she isn't going to follow you around like the other girls. Cody talks about how he put his neck out on the line for Brittany and she didn't even appreciate it. Big Brother blocks the feeds. When they return.. Cody says this is the problem with having an 8 person alliance. Frankie says this is the last easy week. Zach and Derrick join them. Derrick tells Frankie that Amber already said you told her is safe. Frankie says I never said that. They talk about how Cody can tell Brittany that people have come to him and told him things that make him not be able to trust her. They talk about how Cody could nominate Brittany & Victoria and Frankie could nominate Jocasta and Amber. Hayden Joins them. Hayden says I would like to see either Amber or Brittany gone because they are stronger competitors. Derrick says Jocasta is better to get out over Victoria because she will give up and Jocasta is here fighting for her family. Zach says Victoria is going to cry! I'm going to sit right next to her! I'm going to grab a front row seat! They end their conversation and Amber joins them. Hayden and Zach head down stairs.