POV Holder:
?
Next POV
July 19th
POV Used
?
POV Ceremony
July 21st
HOH Winner 1:
Frankie
HOH Winner 2:
 Cody
Battle of the Block Winner
?/?
Next HOH/ Next BOB
July 24/July 18
Original Nominations:
?
Final Nominations:
?
Have Nots
?
POV Players
?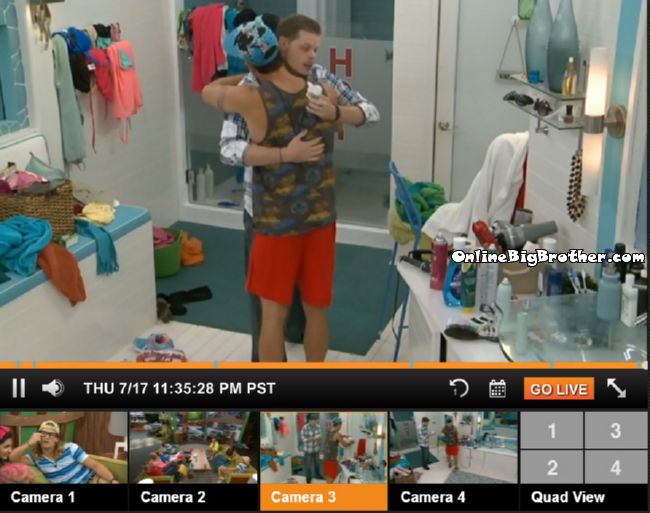 11:35pm Bathroom Derrick and Cody
Derrick says they couldn't have asked for a better spot to be in. "Seriously thank you for coming through" Derrick couldn't rely on Zach to win it even though he looked like he was trying he did say he wanted to throw it. Derrick tells him Frankie is going to do whatever Cody needs him to do, " you're golden.. you guys needs some time to yourself tonight
Cody says he has no problem putting up Brittany because of how she's been acting today. Derick says they have to get either Brittnay or JOcasta out he point out that after this week it gets bloody so this is the perfect week to win HOH and even if he doesn't stay HOH Frankie's there.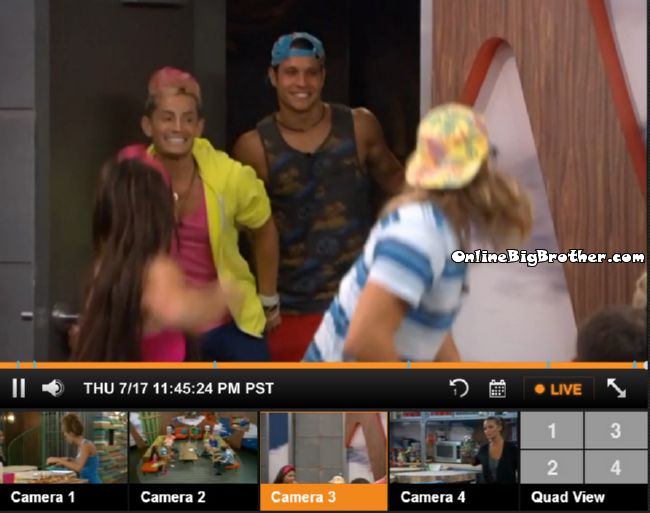 11:47pm Who wants to see my HOH room
Frankie – "Oh my god i'm a cute baby"
Cody gets a beanie
Frankie gets fig newtons "Ahh i'm going to crush that and fart arll night "
Frankie got COunting crows
Cody got TIesto
Frankie gets almond milk, pumpkin seeds.. agave nectar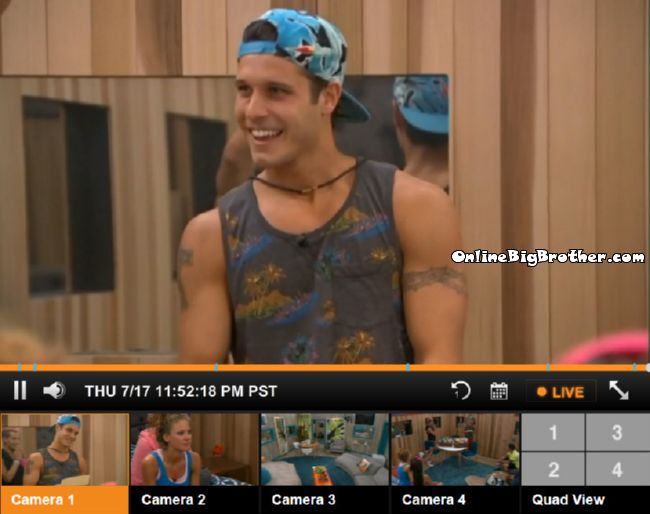 11:52pm
Cody gets up to read his letter,
Zach – "Calzone"
Hayden – "Ca
Dude, I'm so proud of you. Remember eventhough you are on the other side of the country locked inside the BB house, I'm with you everyday and night I support you 100%. Stay true to yourself during your stay. Hurry up and win this game, As I'm alone in the house with just mom and Angelena – AhHaA – .read that line to yourself.. not out loud" Everyone is laughing cody stops .. ".read that line to yourself.. not out loud so they don't pound me I'm going to keep my letter very short, since mom will probably write a book. Love you DaddyeO
P.S. Thanks for the father's gift and card. Also I know the gray tee you wore when you left, was one of my father's day gifts. Love you.
Cody – "I took one of his gifts"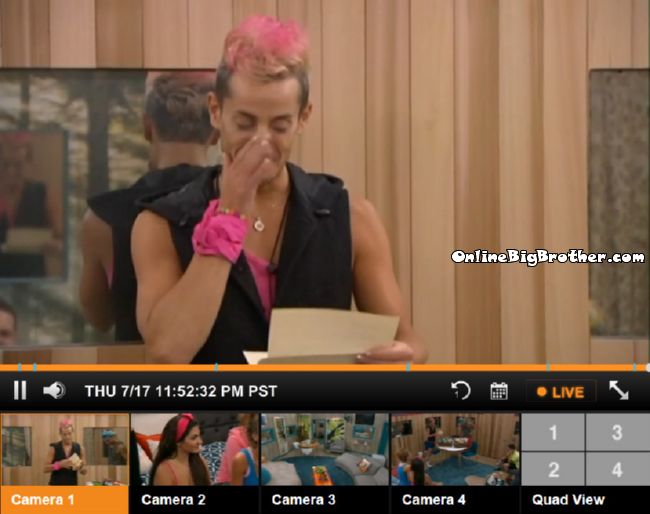 11:52pm HOH Frankie starts to read his letter begins to cry says it's from his sister,
Dear Frankie.I love you and miss you so much. I'm a nervous wreck, but I know you're killing it. Whenever I'm faced with an obstacle I think of you and it makes me laugh and gives me strength. I hope you are staying strong and happy and are sharing your light. Remember we share to make room to receive. I love you so much, I love you. Be Strong Love Ari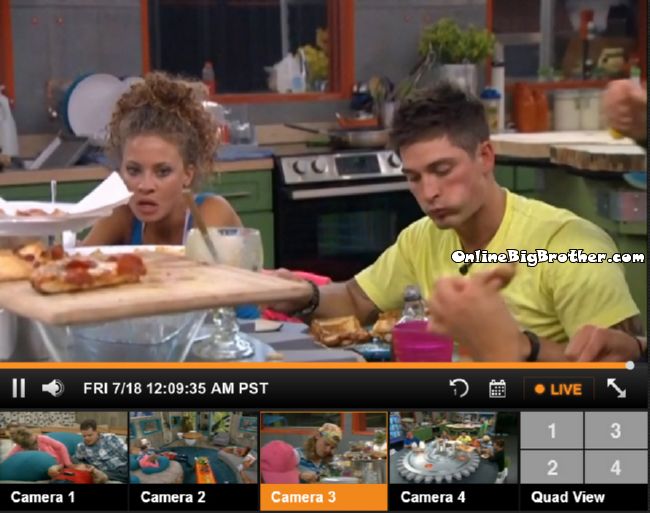 12:09AM Have Nots get to eat they pig out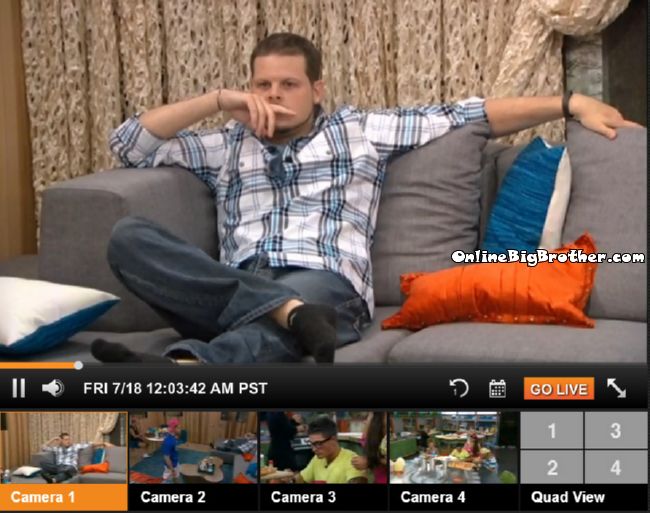 12:04AM HOH Derrick, Frankie, Cody and Zach
They are talking about nominations
Derrick is trying to get Frankie to put up Amber and Jocasta
Frankie is worried Caleb will kill him. Zach tells him Caleb doesn't care about Amber any more.
Derrick Cody can stay clean with Amber
Zach suggests Frankie puts up Brittany and Amber
Derrick asks Frankie what he thought of Him putting up Brittany/Amber and Cody putting up Jocasta and Victoria
Frankie – "I'm down with that but then he's going to stay HOH which is fine"
There's a knock at the door.
Frankie – "Who is that is it Cody Calzone"
Derrick doesn't want Brittany and Amber on the same side going into the Battle on the Block. Zach and Frankie do. Cody Calzone doesn't care as long as he's the one not putting up Amber.
With a live feed subscription you can go back and rewatch all the events we highlight in this blog.
Try It Free! Get 24/7 access to the house for 48hrs before you decide!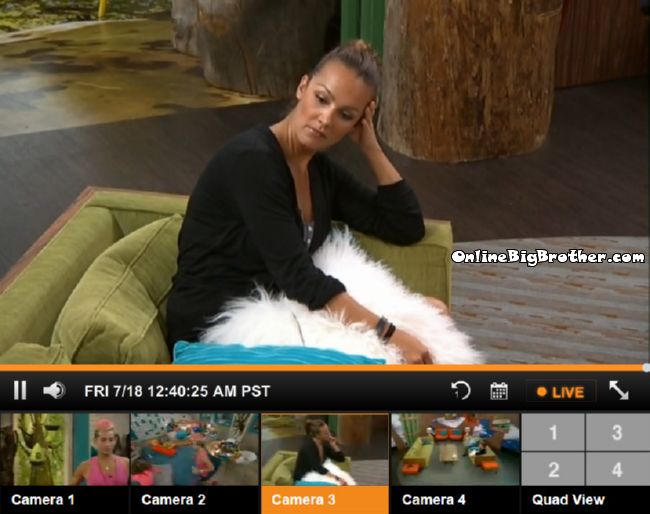 12:40AM Brittany and Derrick
Complaining about Victoria. Derrick says her behaviour is "Totally unacceptable.. you're a grown women.. Totally unacceptable" Victoria refuses to sleep in the same room as the guys unless it's Cody. Brittany thinks Cody is going to put her up and it upsets her. Brittany looks at "the board" and everyone is so much closer she feels like the old girl in the house.
Derrick has no idea what Frankie is going to do because he's all over the house.
Derrick – "I think Victoria is going up for sure.. that's the only I know"
Derrick says Cody will be a tough one because he's close to all the girls
Brittany says she's the only girl that doesn't rub up all on Cody
Derrick jokes that she should get on that.
Caleb and Jocasta join them
1:07AM HOH Zach, Hayden, Cody, Christine, Amber, Frankie.
Talking about Victoria. Frankie say she doesn't let him sleep because she's "inside" of his body. "She grabs my a$$ while we Sleep.. under my shirt up starts caressing my chest" Frankie does to Nicole what Victoria did to him. Nciole giggles (See iamges below)
Hayden says when Victoria was cuddling him her arm was up his shirt she was rubbing his chest. Her elbow was rubbing on his d1*k "I'm getting a 1/2 ch*bb Not because I Want to because she's ru**ing it up and down"
HAyden – "Her leg wrapped around me she was straight up inside me"
Zach says she plunked her a$$ right on his d1ck he didn't know if she should move in for the kiss.
Frankie – I get so nervous when Caleb speaks.. " They laugh at Caleb's speech today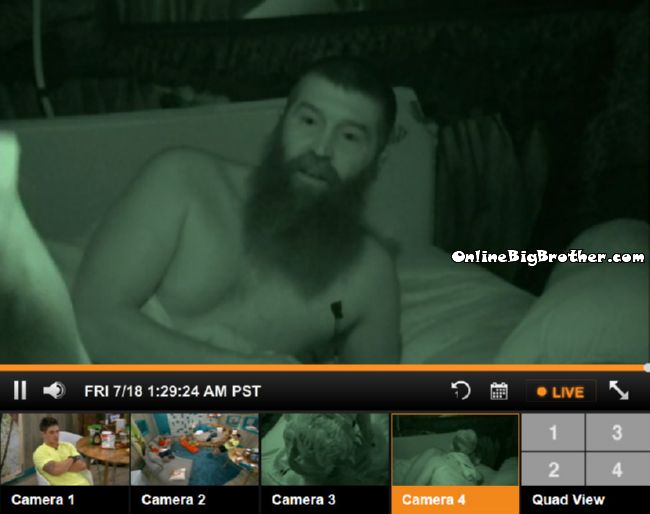 1:29AM Frankie Tells Donny about the Team America twist they have to target a physical threat. Donny is going to talk to the Diary room about it in the morning and get the "Official word"
1:31AM Kitchen Frankie and Nicole
She asks him if she's 100% safe. Frankie tells her of course she is.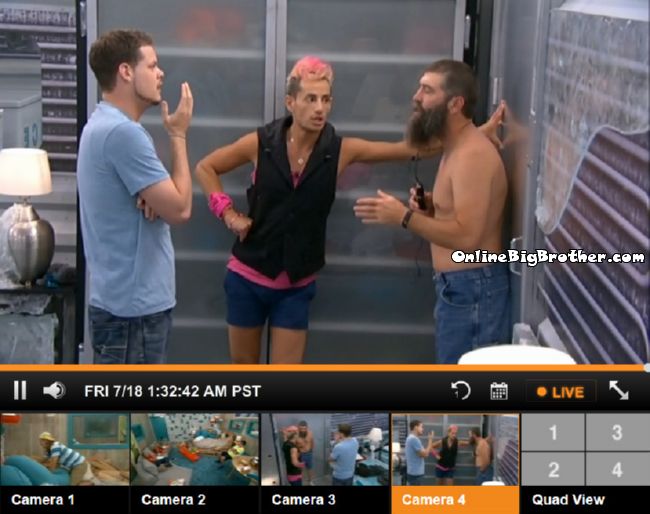 1:32am Have nots Donny, Frankie and Derrick
We have to agree collectively
DOnny the biggest physical threat
Derrick says Amber because she's the strongest female physical threat
Donny yes yes absolutely oh definitely.
Derrick says once they lock in their target they can't change it. Tomorrow morning they talk to the Diary room to lock in Amber as the nominee. If she gets taken off the block they still are successful as long as it's not them that takes her off.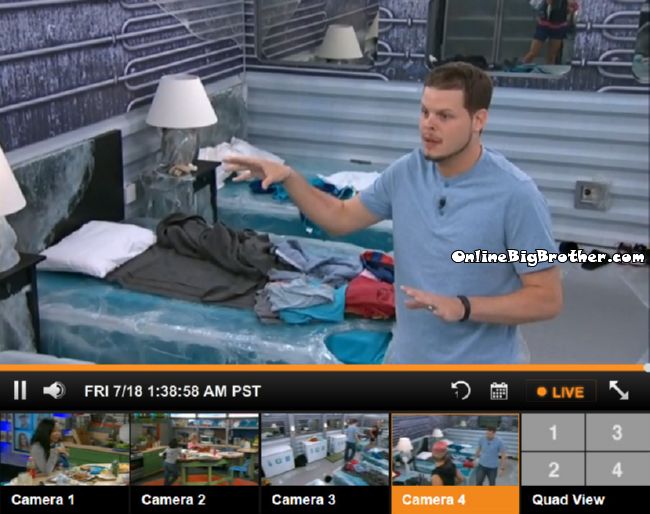 1:37am Have Nots Derrick and Frankie
Derrick thinks it's a bad idea for Frankie to put up two girls that can potentially come back to get her . Derrick – "You need Jocasta or Victoria.. they have no friends there's no blood"
Frankie doesn't want to put up Brittany .
Derrick suggest Frankie puts up Amber/Jocasta and Cody puts up Victoria/Birttnay
Derrick – "Jocasta has to be on the opposite side of Brittany"
[polldaddy poll=8192326]