POV Holder:
Devin
Next POV
?
POV Used
?
POV Ceremony
?
HOH Winner 1:
Amber
HOH Winner 2:
Devin
Battle of the Block Winner
Hayden & Nicole
Next HOH/ Next BOB
July 10/July 4
Original Nominations:
Devin's Noms (Pow Pow & Brittany) Amber's Noms (Hayden & Nicole)
Final Nominations:
?
Have Nots
Victoria Brittany, Zach and Derrick
POV Players
Host Donny, Players Devin, Brittany, POWPOW, Derrick, Zach, Amber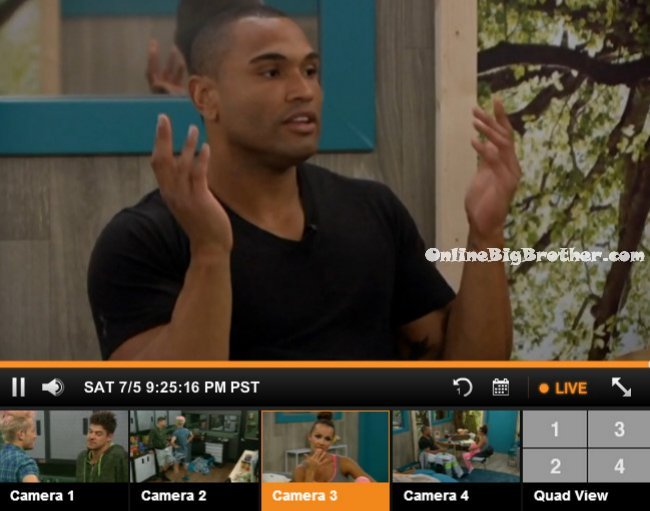 Big Brother 16 Live Feed FREE TRIAL – Use the FLASHBACK feature to watch everything you've missed!
9:20pm – 10pm Brittany and Devin continue to talk in the HOH room. Brittany says that he is playing his own game. She says that she tried to congratulate her and you shut me down. I said I wanted to look at the pictures and you wouldn't let me. Devin says I want you to know that the day I walked in I was a big target due to my physical size. Devin asks Brittany if he uses the veto on her would she stay loyal to him for the rest of the game? Brittany says I can as long as you don't go against me or get in my way. Devin tells that she is hard to read just like she says that he is. Devin says if I won HOH I would not put you up. If I won the veto I would take you off. Devin says Brittany this is a game! Devin says this is a tv show, its a tv show, its a game!! Brittany says I know. Brittany tells him that a lot of people are not happy with the way he speaks and talks to them. Devin says see there you go Brittany you're talking for other people …you're putting your foot in your mouth. I don't care what people think or say about me. Brittany tells him that if he uses the veto on her she would be ecstatic. If I stay and win HOH I won't put you up. I can't say that I would be in an alliance with you but.. Devin says I'm not asking you for an alliance. Brittany says its just too early and things change every day. Brittany calls Devin out for making face, what are the faces for?! I just said I wouldn't put you up if I win HOH. Brittany says that obviously the whole house wants me here. Devin talks to her about how she is a huge threat and he would be stupid to not send her out. Its hard to trust you, because its hard to read you. Devin and Brittany shake on her not going after him or nominating him if he saves her with the veto. Devin then tells her that Pow Pow threw the battle of the block competition. I don't want you to go down there and make a scene. I told you this to see if I can trust you. If I take you off, and put up Victoria ..who would you vote out? Brittany says it doesn't matter to me. I would do whatever you want. Devin says I want you to do what's best for your game. Brittany asks why are you doing this? Devin says an enemy would do so much more to prove their loyalty but a friend will get jealous and turn on you. Devin tells her if it comes down to it and you're on the block I will do what I can to save you. Brittany promises that she won't go after him and will try to keep him safe if she can. Devin tells her that she is a 10, you're beautiful and the full package. Devin apologizes for the first week he she that his meds were off and he was really emotional.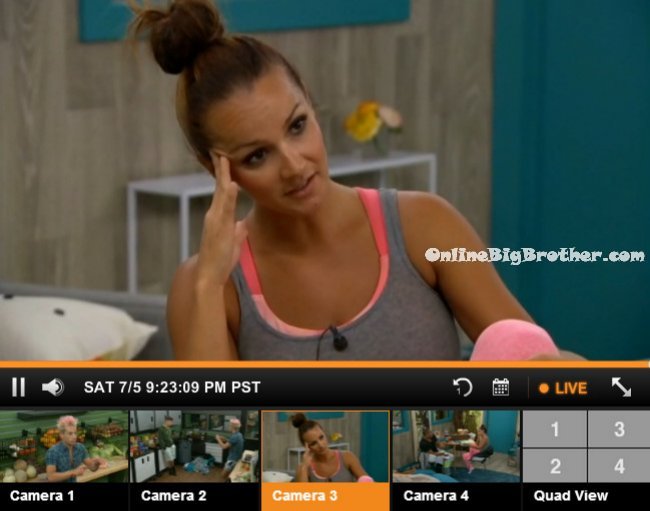 In the Hive room – Christine, Nicole, Amber, Cody and Caleb are talking. The camera switch to Zach and Frankie in the storage room. Zach is freaking out about how Devin said he doesn't trust him. Zach wants to know who said something about me? Frankie sasy no one said anything about you, it was you. Zach asks what did I say that was so bad. Frankie says its you, he doesn't trust you because of you. Zach asks why? Frankie says you told him that you wanted to go against what he wanted to do. Frankie asks why aren't you lying!? Why aren't you lying to him! WHy are you telling him the truth! You need to start lying. The whole house doesn't trust him. Frankie and Zach hug. Zach tells Frankie that he trusts him with his life.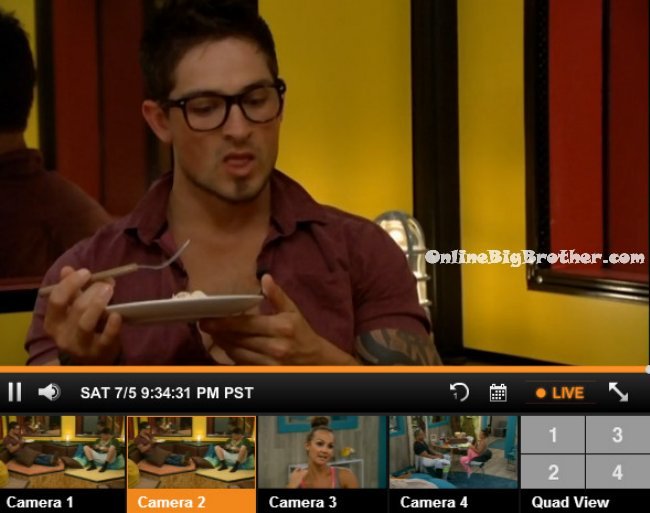 9:35pm – 9:50pm In the hive room – Caleb and Zach are talking about how Deivn told him he doesn't trust him. Zach says the last few days things have been weird. He won't even look me in the eye. Caleb says what the heck is his problem. I think all of us should just go against him… well no because he is taking her off the block. Caleb says he is up to something and he's not asking anyone in the alliance. Zach says everything he's done has only been his decision. Zach says clearly he has your back over everyone else's back. That's all fine and dandy for you. I will be honest I trust him and think he will do what's best for the squad. I am just very confused and skeptical about what he is doing in our alliance. Caleb says I won't put him up, but I will vote him out in the diary room. Frankie joins them. Caleb says Devin is freaking me out. Frankie says he is just bugging out with the power right now. Zach thinks that Devins plan was to take of Pow but Frankie and Caleb correct him and tell him that's not the plan any more. He is taking Brittany off, putting up Victoria and sending her home. Caleb says that Devin wanted Brittany out and now he's up there making deals with her. Zach says I am just going to keep my mouth shut, I am safe this week. I don't care. Zach says I will do whatever it takes to gain back his trust. Frankie explains to Caleb why Devin doesn't trust Zach. Caleb says so he doesn't trust you Zach because you wanted to go against his decision to get out Brittany and now he is up there making deals with her. Caleb says Devin is going home next week. I don't like that he is up there making deals with out asking the alliance. Frankie says all he does it make himself look more and more erratic. Caleb, Derrick and Zach talk. Zach says that each one of us in the bomb squad have side deals. None of us are being 100% loyal.
WATCH the next 48 hours for FREE – Big Brother 16 Live Feed TRIAL!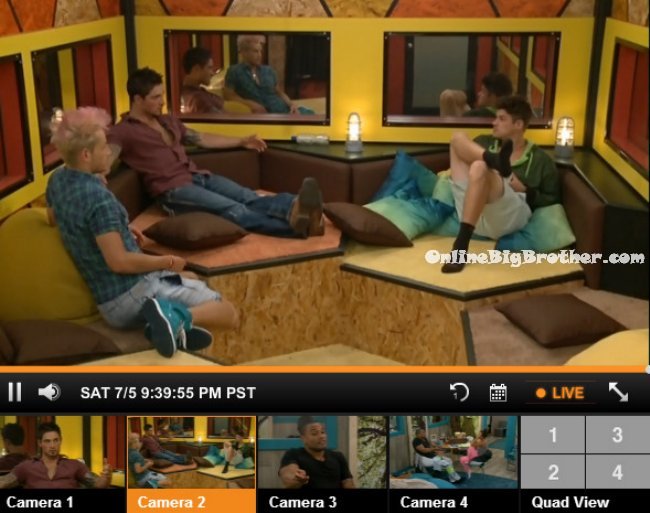 Victoria talks to Frankie in the hive room. She says obviously he is sending me home. Victoria comments on how the girls are afraid of him.. of course we're not going to admit it. Who's scared of me?! Victoria says all he had to say is that he's sorry and he didn't realize it. Frankie and Victoria leave the room and he decides to go lay down.
10:20pm In the HOH – Devin tells Brittany that the others will have your back too. Devin tells her that he really wants to be able to meet up with her and Hayden outside the house. That is what means more to me. Devin says dude just know that I am sorry for things that I've said to you and other people. I am ecstatic that we are able to talk to each other and put all that in the past. Because you know what I am sorry. And if that thing hangs around your next this week I will have your back all the way into jury and I'll be cheering you on the whole way. Brittany asks if people ask what we talked about what should I say? Devin says we just talked about our differences. Brittany says I won't say anything to Pow either. Devin says please don't. If I do use it I kind of want it to be a surprise for you. I am kind of certain it will be used on you. They hug and apologize for the past. Devin then tells her the veto WILL hang on your neck. I don't want you to stress or worry.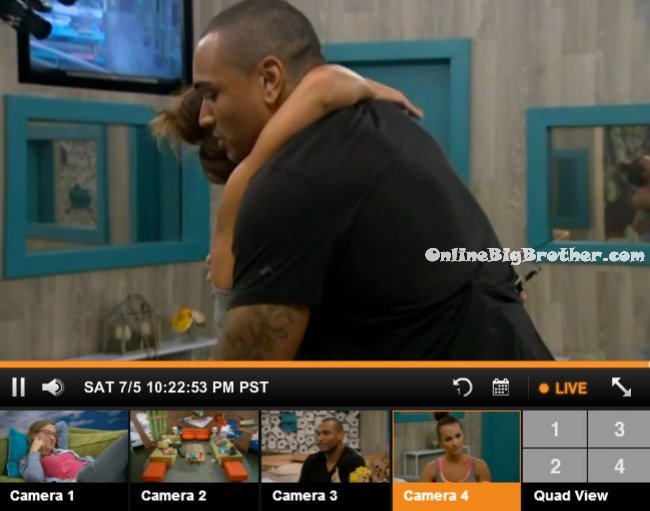 In the storage room – Frankie says no more slow and steady wins the race. I am going for it because no ones safe any more. Brittany comes in and Zach asks her what she was talking about with Devin. Brittany says that they just talked about their differences. She says and that's about it. Zach asks but what did he say exactly? Was he offering you deals. Brittany says no we just talked about our differences. (Brittany isn't very believable in lying. She was up in the HOH for an hour and barely gives any details.)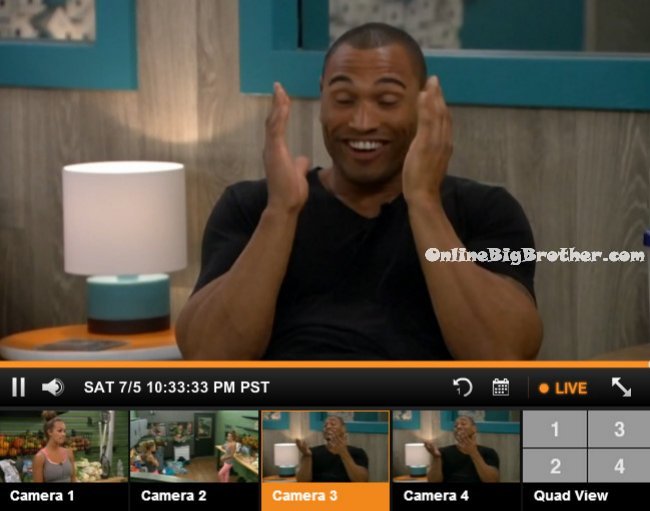 10:30pm
Victoria comes up to the HOH room to talk to Devin. She says I don't know what I did and why my name is being thrown around. Devin says people have been saying that they're scared of me and I barely talk to you guys. Devin says I would never call you names or attack you. I am have a daughter and I would never do that. I am like a big teddy bear. I know my size is intimidating. Victoria says your size isn't intimidating to me. Everyone in Miami is like big like you. Devin says you act entitled a lot of the time. The other day you asked Zach to bring you cookies and he brought you the whole pack because he didn't want to put his fingers on them. And you got mad at him. Devin brings up how he called her Vicky one day and you gave me the stink eye. Victoria says I correct anyone who calls me the wrong name because if I don't it will continue. Victoria says these things with Zach only have to do with me and him not you and I. Victoria says so if Zach and I make up. Then you and I still have an issue ..so how do we resolve that!? Devin talks about how we all need to live together and get along. Victoria says I was doing dishes for 3 hours this morning and you didn't even look at me or say good morning. Devin says I take my ADD meds in the morning and it takes a while for them to kick in. I swear I didn't even see you. Devin says we all make mistakes and we all can learn from it. Victoria says EVERYONE in this house has said I am the sweetest person! I never say go do this or go get that! And if I did I'm sorry. Victoria starts crying. Devin says no don't cry, please don't cry! I don't want you to walk out with red eyes and everyone think that I was in here yelling at you. I don't have anything against you. Victoria says everyone would hear you if you were yelling. Devin tells her that he respects her and her beliefs. And I want you to continue to grow as a person. They hug and she leaves the room.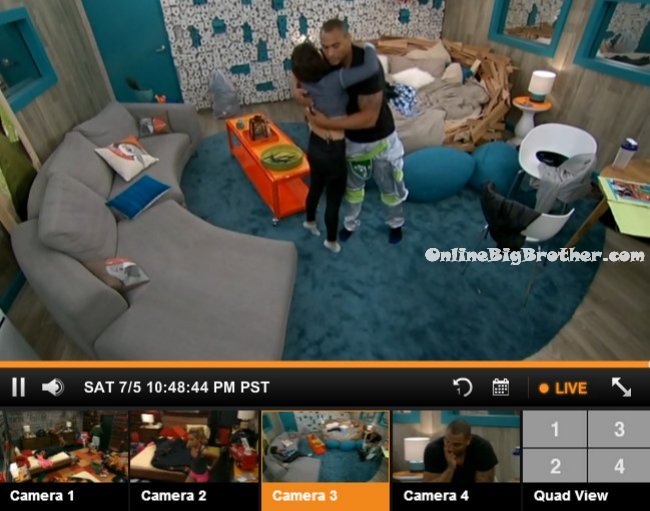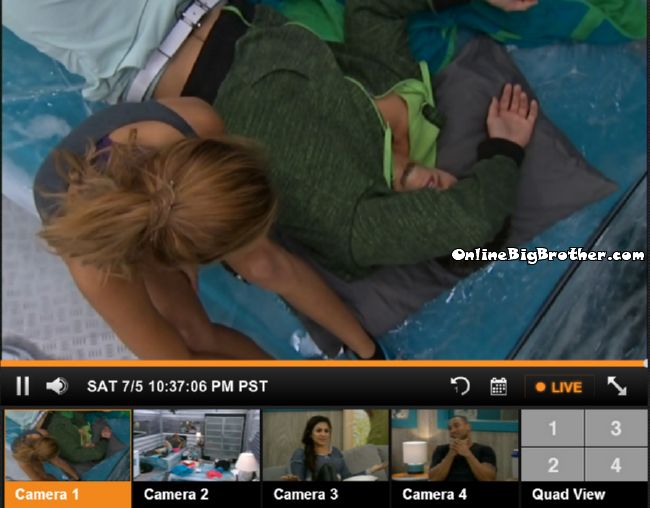 10:37pm Have nots POWPOW and Derrick
POWPOW saying that Devin is going to take her off the4 block. Zach asks her why is Devin doing that what did she do for him. POWPOW says she did nothing.
Zach – 'Whatever "
POWPOW – you scared he's putting you up
Zach – He's not happy with me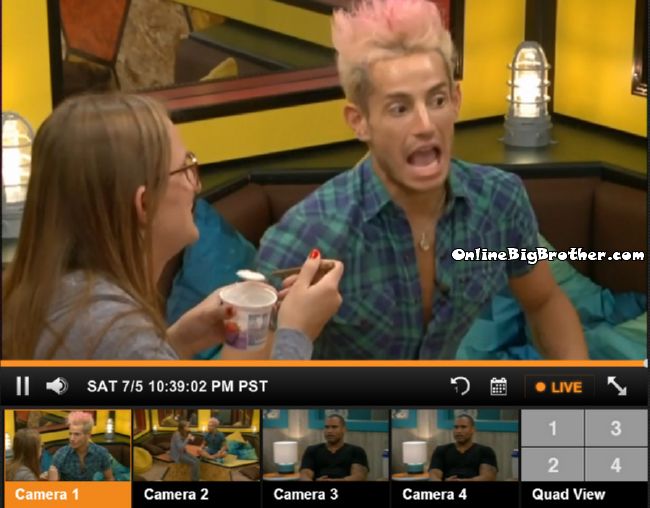 10:38pm BEEHIVE Frankie and Christine
Frankie says Devin just made a deal with brittany to take her off the block if she keeps him safe the following week. Christine asks isn't that the deal he made with POWPOW. Frankie laughs thinks Brittany and POWPOW will stab Devin in the back first chance they get. Frankie says Devin knows he's public enemy number one so he's going to take someone out that everyone hates. This would be Victoria.
Frankie I'm positive Caleb is saying too much to Devin, we need to watch what we say around him.
Christine says she went into the storage room and heard Zach and POWPOW fighting. Frankie – "Thats because he's calling her out for throwing the competition" (BOB)
Frankie says Zach is Devin squared, comment on how freaked Zach has been acting today.
They agree Zach and Cody are losing the game is getting to them. Frankie thinks Zach is going to blow it and say the wrong thing, Frankie doesn't trust him Completely. Frankie – "I'm going to backpedal and try to get my claws out of everything"
Frankie adds that Derrick is doing it too he's seen him
Christine say Hayden and Nicole are on to Derrick because he's so nice to everyone and goodie goodie
Christine – "Cody scares me.. He's getting close to Brittany.. that's why I want her out"
They agree if Brittany stays on teh block they are voting her out.
Frankie – "Hayden is the new frankie"
Have you talked game with hayden
Frankie – Dude .. I like dudes.,. dudes
Frankie – Everybody loves Hayden
Christine – I love him he's a funny guy but heres the thing we're here to win.
Frankie doesn't care what who Devin puts up

10:50pm – 11:10pmVictoria heads into the hive room and talks to Frankie. She tells Frankie about her conversation with Devin. While they're talking Devin opens the door and says sorry and leaves. Frankie and Victoria head to the fire room to continue talking. Victoria comments on how Devin said he was going to shower and now he's down here. Victoria says what he said disgusted me … who are you to ..who are you to discipline me! Victoria says he said I walk around the house like everyone owes me something. Victoria says that Devin wanted his daughter to be like me. Frankie says yeah he'll raise his daughter on slop. Frankie says whoever wins HOH next week is going to back door him. Victoria says I am so grossed out I can't even tell you! Frankie says we have to figure it out and all unite next week. If Pow Pow stays on the block she will be going home. He's lost his mind. Victoria says I feel so bad for Brittany. Frankie says I'm sure she'll work herself out of it. Victoria asks do you think Pow Pow will go home then? Victoria says what a piece of shit. Guess what you're going to walk out of this house to loose and to Julie Chen.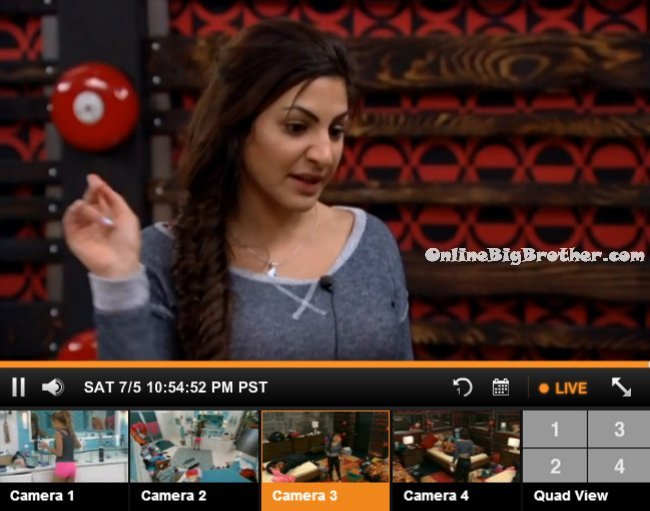 11:20pm In the living room – Christine, Nicole, Hayden and Victoria are talking about fetishes. Christine brings up the "golden shower" fetish where people pay people to pee on them. Hayden is hitting on Nicole. She tells him that he will have lots of girls hitting on him when he gets out. Hayden says that she's the only one that he wants to go on a date with.
11:25am Brittany heads up to the HOH room and tells Devin that Pow Pow is running around like a frigging cock roach. Devin tells her that he told Pow that she is safe because I am just assuming people will vote out Victoria. Devin says I'm using the veto on you! You deserve it! I gave you my word. Devin says I was literally in there practising my speech .. it will come from the heart.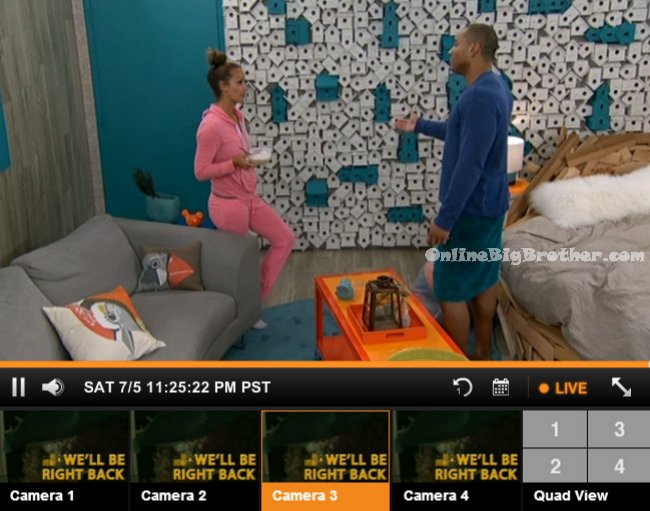 11:27pm Zach and Victoria
They are making their have nots beds. Derrick is already setup. Victoria says the blankets smell like chemicals. Zach doesn't think it's that bad. (hayden and Brittany have also said the blankets around funky)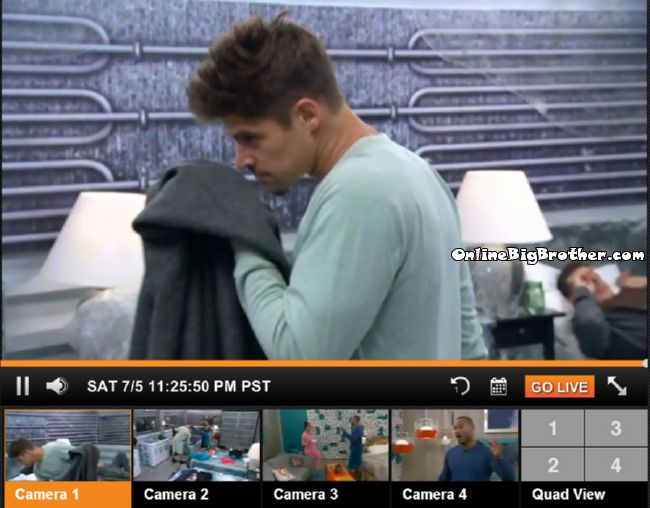 Alliances  Bomb Squad = Frankie, Caleb, Devin, Cody, Derrick, Zach, Amber, Christine
Sub alliance of the Bomb Squad = Christine, Frankie, Cody, Derrick Zach
Sub alliance of the Bomb Squad = Derrick, Cody, Zach
Double Ds = Devin, Donny
Bed buddies/nicotine = Nicole, Christine
Final 2 Deal Zankie= Frankie, Zach
DC = Derrick and Cody
Where the vote is  ?

[polldaddy poll=8164185]