POV Holder:
Donny
Next POV
?
POV Used
YES
POV Ceremony
June 29th
HOH Winner Team 1:
Frankie
HOH Winner Team 2:
Caleb (current HOH)
Battle of the Block Winner
Brittany, Victoria
Next HOH/ Next BOB
?
Original Nominations:
Caleb noms (Donny, Paola) Frankie noms (Brittany, Victoria)
Current Nominations:
Joey, Paola
Have Nots
Cody, Hayden, Joey, Brittany
POV Players
Donny, Paola, Cody, Zach, Caleb, Victoria (HOST = Jocasta)
12:40pm Out in the backyard – Nicole and Christine are talking. Nicole tells Christine that Hayden is really in with the guys which is good for us. Christine agrees. Cody joins them and they talk about past house guests. Cody says that Rachel Reilly looks like a dinosaur. Christine says I thought she always looked dirty. She then says sorry Rachel I love you. Nicole comments on how Jeff Schroeder is way hotter in person. Cody says I would jump his skin! Christine tells the camera she loves her husband Tim. Cody comments I won't make any moves on your wife Christine. He tells her husband Tim its okay I have my own man code. Christine wonders what colour eyes her and her husband Tim's baby would have if they had one. Cody starts talking about dominate and recessive traits. Nicole tells him that she loves it when he talks smart.
WATCH the next 48 hours for FREE – Big Brother 16 Live Feed TRIAL!
1pm Over on the backyard loungers – Caleb, Brittany, Joey, Victoria and Frankie are hanging out talking about random things. Brittany informs Frankie that his "Mister is hanging out!" Frankie says that always happens in these shorts. America is getting a treat to my balls! The others leave and Caleb and Brittany talk about getting to know people outside of the game. She tells him you have to separate game from personal. Caleb says that he didn't at first but now he is. Brittany asks if he filled out an application. Caleb says no, well I did but I was invited. Caleb gets up and says well Brit, it's always good talking to you. Brittany says good talking to you too. Caleb heads inside.
In the kitchen – Victoria and Nicole are sitting at the table. Victoria comments that they need to win HOH to backdoor the sh*t out of him (Devin).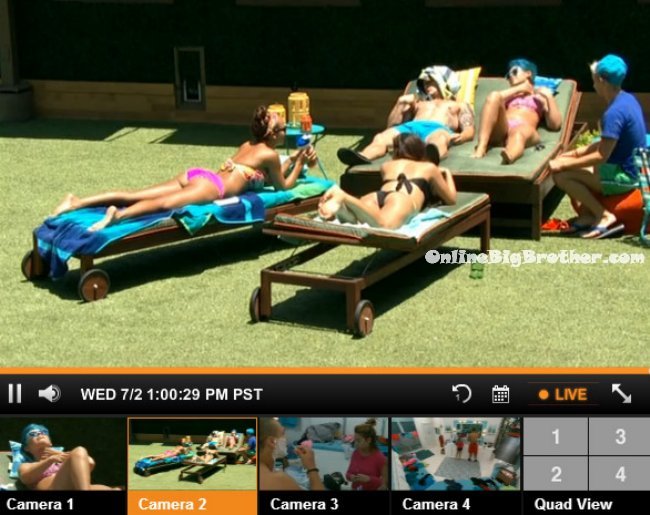 1:20pm Out on the backyard couch – Cody, Christine, Donny, Amber, Nicole and Jocasta. Cody says he was asked to do a crazy fetish for a LOT of money from a guy. I won't say what it was but it was crazy. Someone asks was it like peeing on you? Cody says yeah only there was a lot more entailed. He says he didn't do it but realized how much people were willing to pay for fetishes. I won't say what it was though. Donny says yeah its best to keep that to yourself.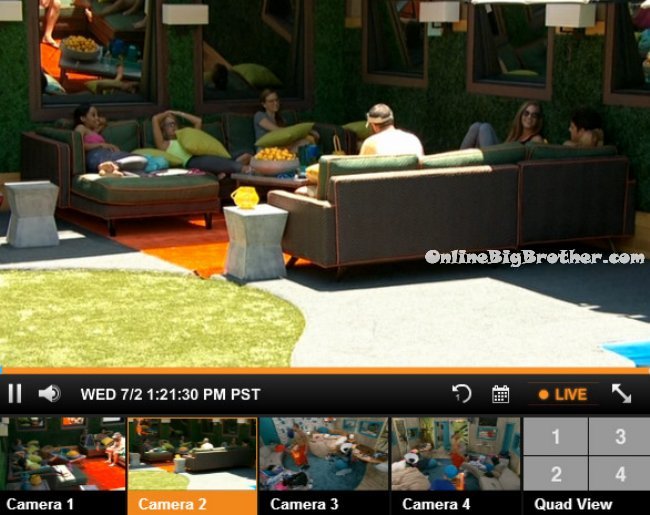 1:35pm Up in the HOH room – Frankie applies cream on Devins face to stop ingrown hairs. Devin says is this like your rub'n tug salon. Devin tells Frankie you have very very gentle fingers man. Caleb joins them and puts on Frankie's head piece. Devin leaves the HOH room. Caleb and Frankie comment on how their alliance has a good chance at winning HOH tomorrow. Caleb comments on how Amber hasn't said a word to him. I've been totally ignoring her. She comes in a room, I leave. She comes outside, I go inside. Frankie says unless she is just waiting till Thursday day is over. Frankie and Caleb talk about hanging out in LA after its over. Frankie says he isn't sure where to go in LA. Caleb says maybe Amber will know. (lol) Frankie says yeah … maybe my mom will know. Frankie says I feel like we've already won. Like we've already earned this after the last 14 days.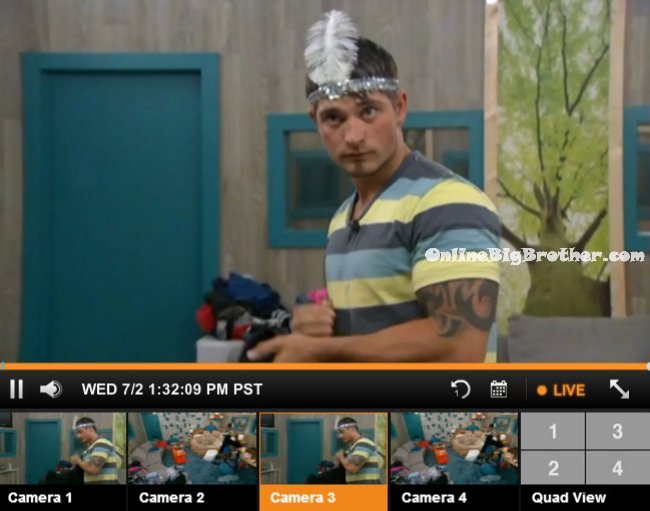 1:50pm Out on the backyard couch – Cody, Joey, Nicole, Jocasta, Amber, POW POW and Victoria laying around chatting about random things. Over on the loungers Joey talks to Brittany. Brittany says you can watch all 14 years of Big Brother but that doesn't mean anything because the game changes every minute. Joey says that she hasn't given up yet and isn't done campaigning. Brittany says just try and be positive. Just go up to people that you feel close to and comfortable with. If people are voting how they truly feel then no one has to be worried about being a single vote.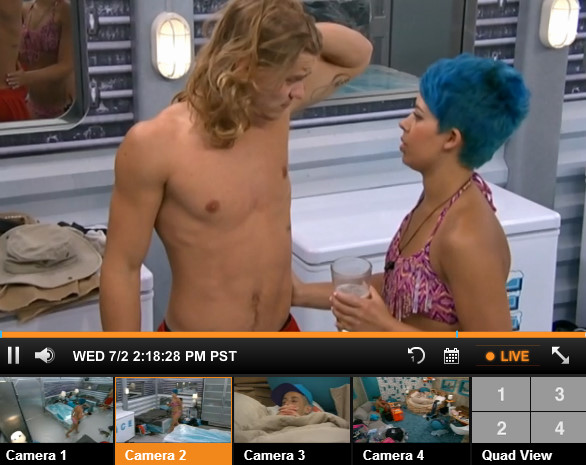 In the bathroom –
Joey campaigns to Victoria and asks her for her vote. She tells her to think with her heart and her brain. Victoria says she isn't sure how she's voting but will think about it. Joey heads to the havenot room and asks for Hayden to please give her his vote. Don't listen to what the house is saying and don't be worried about being a target if you're the only vote. Joey then heads out to the hammock and campaigns to Nicole and Christine. She asks them for their vote. Please, just please vote with your heart. I've given up a lot to be here .. well everyone has .. I just want to be here. I want my parents to see me in some competitions. I will cut the sh*t .. I will cut the performances down. Joey says I love ya. Just think with your heart and your brain. And please don't let anyone else tell you what to do.
In the fire room –
Victoria tells Amber about how Joey just came up to her asking her for her vote. Amber says not voting with the house makes you a target. Victoria agrees. Victoria says how can she think she is going to get the votes after the other day.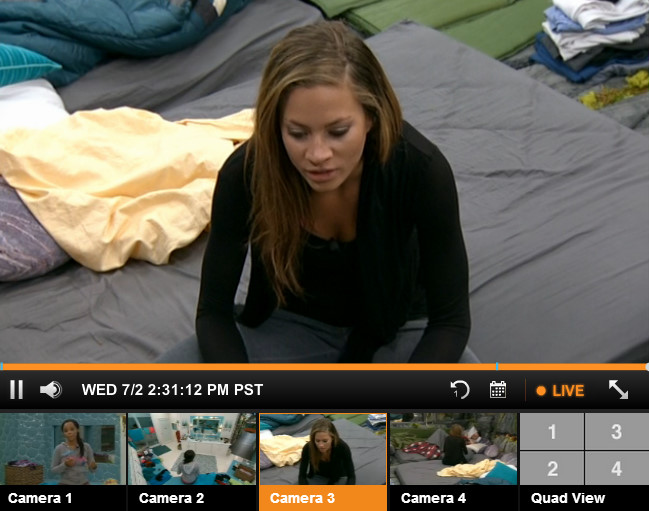 2:25pm – 2:50pm
Big Brother tells the house guests this is a lock down – Please head inside and close the sliding glass door. All the house guests head inside the house. In the earth room – Amber is talking to Derrick. Amber says that she feels like Caleb/Devin are plotting something to get her out. Derrick says that he's got her back. Amber says I'm not sending anyone home for personal reasons. Derrick says just be honest that you're not interested in him in that way. Derrick says you could win HOH and I promise you the people that are alienating you will come running to you. I have no issues with what you did. Did you talk to him about it? Amber says no, he leaves the room when I come in it. Derrick asks so Devin is ignoring you too? Amber says yes. Amber says that Caleb's been cold. Derrick asks what about Frankie? Amber says he's been standoffish. Derrick says I just wouldn't worry about it. I think Caleb is just hurt and a little embarrassed. He is going to have a ton of girls coming after him when he gets out. Derrick says I don't think the other guys would put you up. Victoria joins them.
See what they can't show you on TV! -Try the Big Brother 16 live feeds for FREE!
3:15pm Big Brother puts the house guests on a backyard lock down. All the house guests gather outside and chat about random things like movies.
Buy your Amazon Gear! Every purchase you make on Amazon through this link helps OnlineBigBrother
Alliances 
Bomb Squad = Frankie, Caleb, Devin, Cody, Derrick, Zach, Amber, Christine
Fragment of bomb squad no name  = Christine, Frankie, Cody, Derrick Zach
Sub alliance of the Bomb Squad = Derrick, Cody, Zach
Double Ds = Devin, Donny
Bed buddies = Nicole, Christine
Final 2 Deal Zankie= Frankie, Zach
Old defunct alliances
TheCrazy8s = Frankie, Donny, Joey, Paola, Devin, Amber, Nicole, Cody
El Cuatro = Paola, Amber, Joey, Nicole
Where the vote is 
As of now Joey is going home..