POV Holder:
Danielle
Next POV:
Aug 11 (Saturday)
POV Used
???
POV Ceremony
Aug 6 (Monday)
HOH Winner:
Danielle
Next HOH:
Aug 9 (Thursday)
Original Nominations:
Wil and Frank
Current Nominations:
Have Nots
No Have-Nots for the Week
Last Evicted Houseguest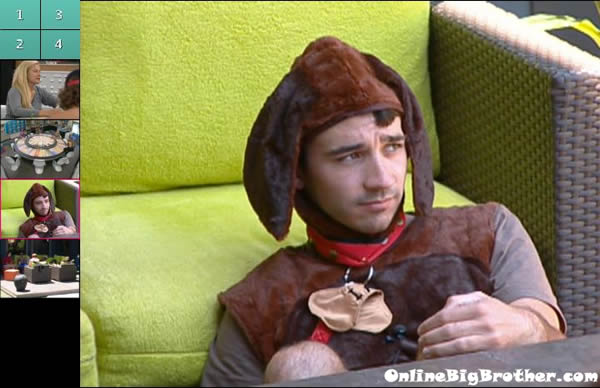 11:50am – 12:25pm Boogie says that there really aren't many first generation Big Brother players on the show. The conversation turns to Ian talking about how his casting process was, he says that he was only 21 for 15 days when he tried out. Boogie says and then only a few months later you're sitting in a dog house in the backyard of the bb house. Dare to dream folks. Ian says that he isn't complaining. Janelle, Joe, Britney, Wil, Ian and Dan head over to the pool to suntan.
Re-Watch ALL THE DRAMA on FlashBack: Big Brother 14 Live Feeds – 3 Day Trial!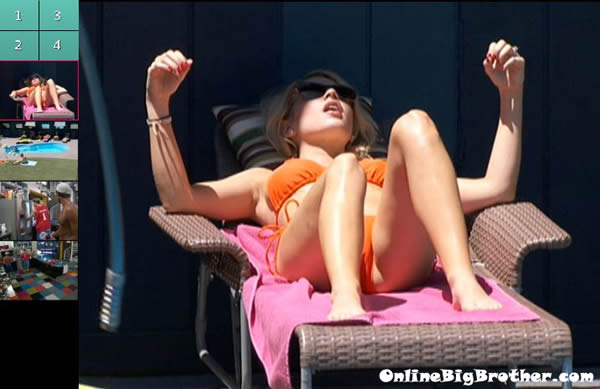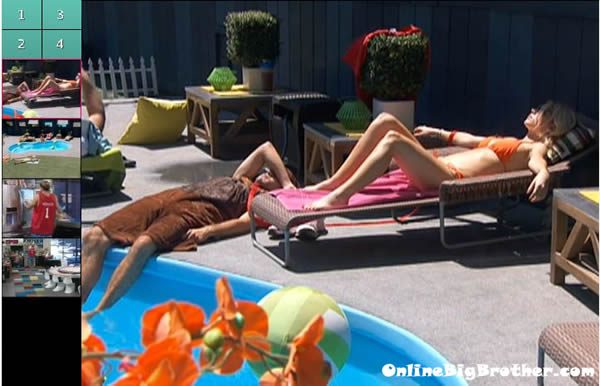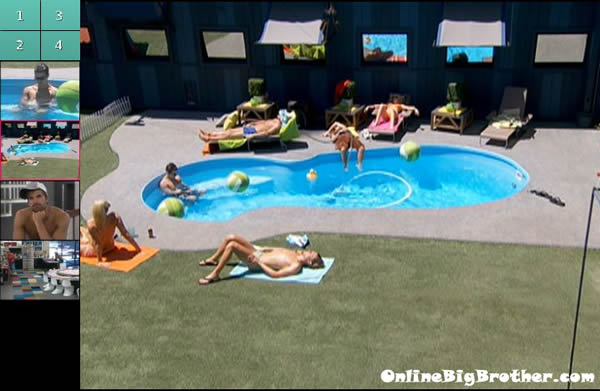 12:30pm Shane and Danielle are up in the HOH room. Shane tells Danielle that Boogie wants to meet up later today to talk. He says that Boogie asked who isn't on board and he guessed Dan. Shane says that he nodded and Boogie said that he will work on him. Shane says that he told Boogie that he wasn't sure he could trust him. He says that Boogie says he really wants to work with us. Danielle then goes into how Dan thinks she is playing personally and not strategically. Shane says it is a tough decision. Danielle says that it's not really; we just need everyone not to waver. Shane says we just need to convince Frank that we wanted him safe last week too, and this is us proving it to you. Shane says we are freaking power houses, we keep it real. Shane and Danielle head down to lay out in the backyard.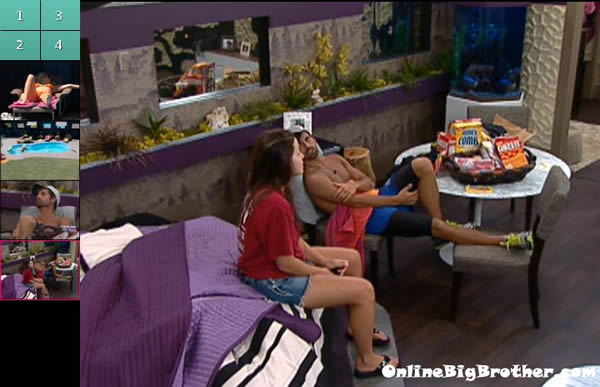 1pm Frank talks about the dream he had about Jojo. Britney talks about how you can't make up people in your dreams they are people you have seen before, even in passing. They might have the same face but a different personality. Britney says that is why you might have had a wet dream about Jojo. Frank says it wasn't a wet dream. Frank starts talking about how Joe gave him a supple cupping of his butt. Britney says that she heard she was dying to make out with someone. She would have been naked on our kitchen counter during the spin the bottle. Britney says look at Ian sitting in his dog house watching the kids in the pool. Britney and Wil decide to walk around the backyard. Frank continues to talk about his dream about Jojo. Jenn says well Jojo love sex. Frank says that maybe he should have gone to the bathroom at 4am and rubbed one out. But that bathroom is gross.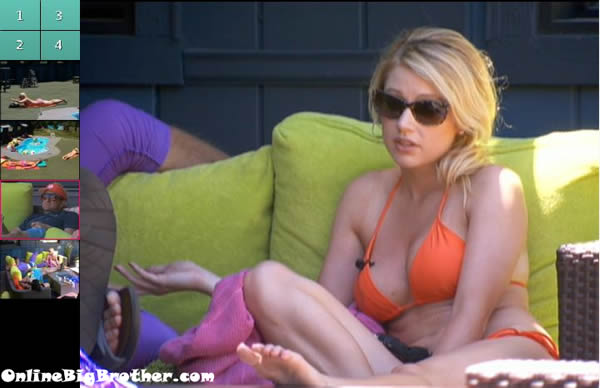 1:30pm – 1:40pm Britney and Janelle are doing exercises in the living room. Dan comes out of the storage room and asks lamaze class? Janelle says it's not lamaze. Britney tells Janelle it's too hard. Janelle says you've got to get that booty hard for the next competition. Feel the burn. Make sure you work your hips and your butt, boom, boom, boom, boom! Janelle says next its the lunging iguana.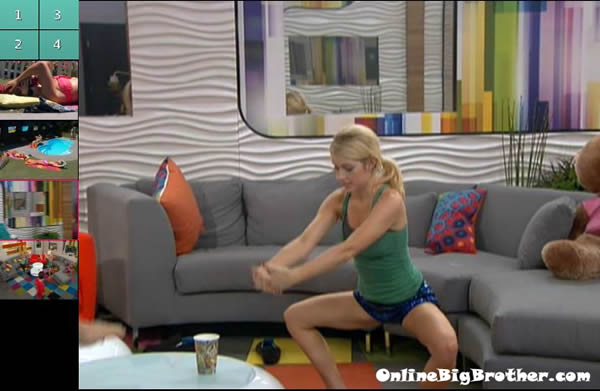 2pm – 2:15pm Britney and Janelle are talking in the living room. Britney tells Janelle that Boogie was pitching a plan to work with us. Britney tells Janelle that she can throw the HOH competition to her because she doesn't care about putting people up. Janelle says okay. Britney says that we need to get 3 people out before jury starts. Janelle says we need to get Boogie out before he gets to jury, he would never vote for you or I, he is such a sexist piece of sh*t. He will only vote for a guy to win. Britney says it would be better for me to win than you .. because it would be awkward for you with some people. Britney says that soon Danielle and Shane will want to work with us. I don't think they have the cut throat nature. Janelle tells Britney that she doesn't want Shane to go far. Britney says I don't think Shane is going after the coaches. Janelle says that she thinks we can only trust Dan for a few more weeks. Britney agrees.
2:25pm – 2:50pm Out in the backyard, Britney tells Danielle and Boogie that when she was younger she thought she was a freak of nature because he pubes weren't black. She was worried that no one would want to have sex with her because her pubes weren't black. The conversation turns to talking about sorority houses. Frank and Dan join them. Boogie continues to ask them questions.
Watch the 24/7 Uncensored Live Feeds of the Big Brother house 3 Day Trial!
Share it YO!!
Tweet