| | | | |
| --- | --- | --- | --- |
| POV: | Tyler | Next POV: | Aug 11th |
| POV Used | YES | POV Ceremony | Aug 13th |
| HOH: | Haleigh | Next HOH: | Aug 16th |
| Noms: | Kaycee Rockstar and Angela Kaycee | Have Nots | |
Big Brother Spoilers What can I say.. Votes are still against Rocks and the fun continues.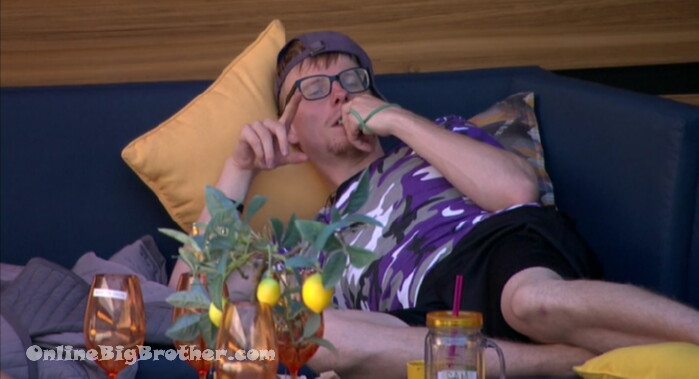 2:50pm Scottie and Rocks
Rocks says she's talked to Tyler but it didn't go anywhere.
Rock – he's so stupid.. I mean he's not stupid..
Scottie says the other side thinks they have JC and Brett
Rocks – They're wrong I think
Rock – Brett and I worked on my speech..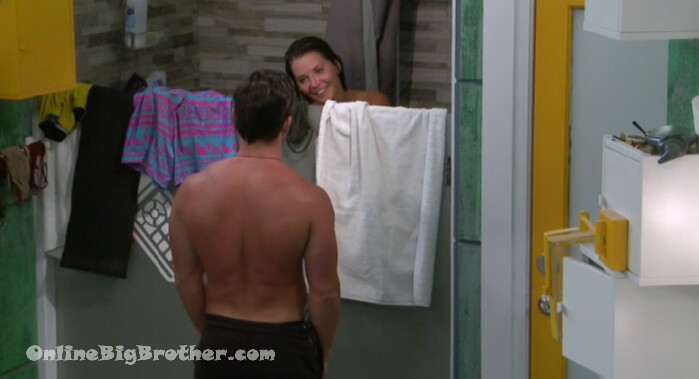 3:21pm Angela and Brett
Brett tells her about helping Rockstar with her speech saying she's pretty much just tossing Angela under the bus the entire time. They laugh
Shampoo war
Tyler and JC have a shampoo war.. #BB20 @DawgsBigBrother pic.twitter.com/WreGLxkRZy

— OnlineBigBrother.com (@bigbspoilers) August 14, 2018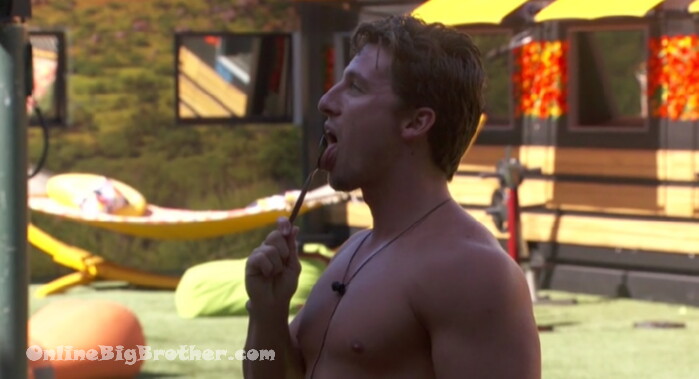 3:42pm Brett and Tyler
Tyler – Rock cornered me in the bathroom today.. she was like this is more for me and not for you
Tyler – shew as like I wasn't the one that did stuff to you
T – you ever heard of guilty by association, what do you want me to do put up the HOH.. she couldn't argue anything I was saying.
T – she knew for a fact it was going to be me if I didn't win the veto
T – it's not personal at all but if you want to throw personal jabs at me go right ahead I'm not going to do it to you
T – She's like now Princess gets to walk around flipping her hair around doing nothing
T – I'm like yeah now I get to do that
They laugh
Angela joins them "there's princess herself"
Brett brings up Rocks Speech "bunch of bullsh1t.. I just helped her organize it"
Brett – you have two shields in the house.. Kaycee and Tyler
A – since when are friends shields
B – instead of empowering you and keep kaycee they should empower themselves and Keep Rock
A – does that make any sense to you
T – awesome
B – that's what I told her to say .. she goes.. that's brilliant
B – my favorite part about it her whole pitch this week was theirs four of us
T – that is what they were pitching to me
B – now she's trying to say she's alone
T – they pitches their whole alliance. haleigh told me exactly
B – if you guys think of anything awesome I can put it in there.. (LOl Brett's writing Rocks speech)
T – tell her we're related..
B – if you f*ers are related.. would be hilarious
A – hiding in plain site
B – so are mr and mrs smith
A – can I use mr and mrs smith in me GBM
Brett – yeah for sure
A – I don't have her jury vote to worry about
T – me neither
B – I never was
T – she's hated me since week 2.. she told kaitlyn week 2 "you just had a pretty boy in your ear that is why you got Swaggy out"
Brett brings up Rock going off about Angela flirting with Tyler
Tyler says she tries to tell him that too adds that she says Angela is always laughing at his stupid jokes.
Tyler points out that the 2 days before he didn't use the veto on her Rocks was following him around laughing at all his stupid jokes. (of course she was )
Tyler – Now entitled princess gets to walk around flipping her hair
Brett – you want to talk about Entitled.. go to the other nominee and say I'm sorry you are going home that's entitled..
Tyler and Angela – Yeah
Brett – are you f*iung kidding me .. I'm sorry you are going home
Tyler- Like minutes after the ceremony (Power of Veto Ceremony link)
4:25pm Angela, Kaycee and Sam
Sharing cooking ideas..
Kaycee is sifting the sugar off the oats so they can use the oats. She puts the oats in the taco meat.. it absorbs the flavoring
Sam asks Angela how did she bread their Chicken parm. Angela says spices and the croutons, pitta chips, bread, flower..
Angela has rigged up a double boiler they are melting chocolate..
4:40pm All done..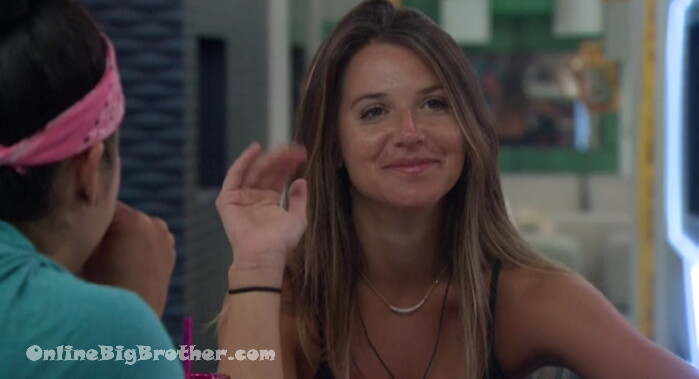 4:53pm Angela and Kaycee
Angela – Brett is helping ROCK with her Speech he's going to tell her whatever I want
Angela – he's like think of some good thing and I'll put it in
Kaycee – oh my god that's going to be F*ing hilarious
Angela says all Rocks speech is her shitting on Angela. After Rocks gets evicted Angela is just going to smile and wave at her.
Angela wants to sneak "Level" into Rocks speech..
They laugh
Angela – next Level Entitlement .. Angela's entitlement is on the next level like level 6 ..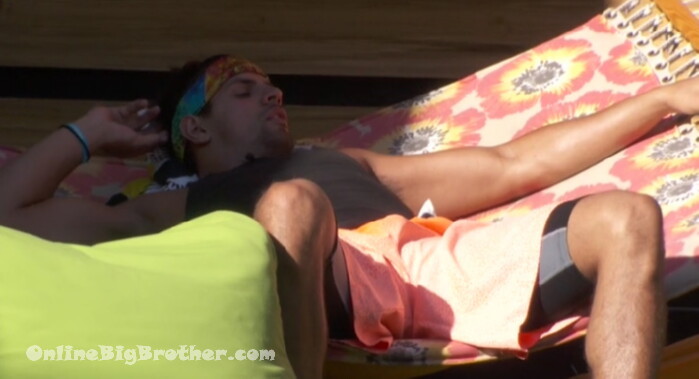 5:10pm JC and Fes
Jc says he freaked out on Thursday and now Fes thinks he's sketchy
JC – oh I'm the sketchy one.. seriously when you are working with a team and you have the hacker and you do whatever the f* you want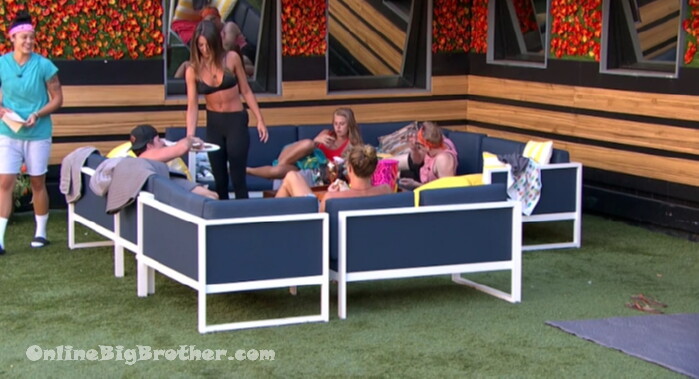 5:20pm Angela and Kaycee share the treats..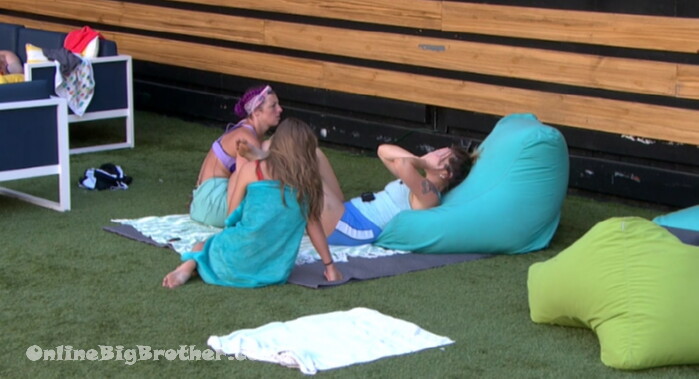 5:58pm Sam says she hopes she's not "stuck in this shithole" when her dog dies.
6:25pm Brett and HAleigh
Brett uses the 1 way to yell down to JC "you call those t1tties you got a lot of work to do son. " (there was bro chatting going on earlier about JC's pec development (peple are finally using that thing)
Brett says Rock seems a lot calmer today.. he's been talking to her a lot.
H – she'll be fine
7:01pm nothing really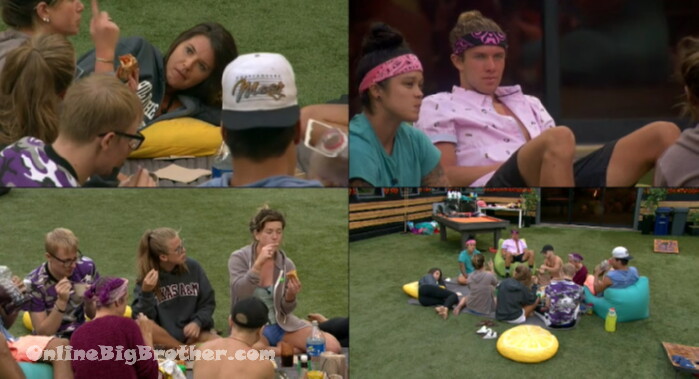 7:23pm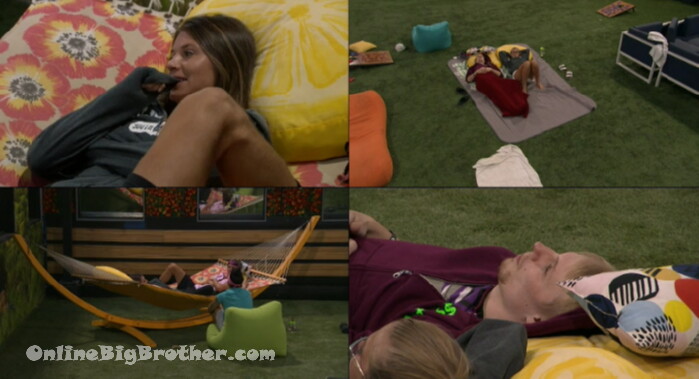 8:00pm

Amazon Canada
Amazon USA