| | | | |
| --- | --- | --- | --- |
| POV: | Tyler | Next POV: | Aug 11th |
| POV Used | YES | POV Ceremony | Aug 13th |
| HOH: | Haleigh | Next HOH: | Aug 16th |
| Noms: | Kaycee Rockstar and Angela Kaycee | Have Nots | |
Big Brother Spoilers Rocks thinks she's staying.
A real easy way to support the site if you are an amazon shopper is to make your purchases through our link. You pay the exact same thing but we get a small % commission. It doesn't cost you anything and helps us out.
Amazon Canada
Amazon USA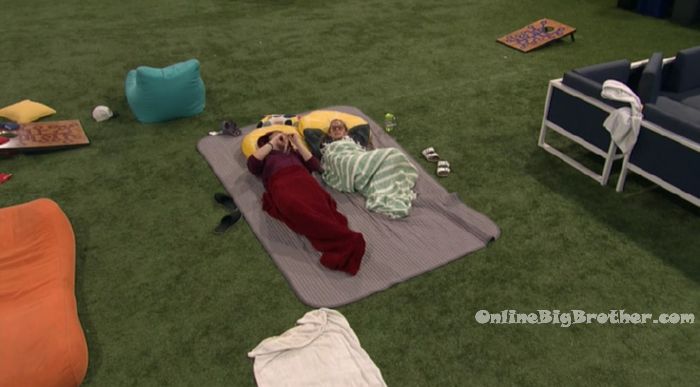 8:04pm Backyard. Scottie and Haleigh. They talk about how Scottie voted out Swaggy C while wearing a Swaggy C t-shirt. Scottie – I thought is he going to hate me? Probably. Haleigh – was I trying to further my game.. yes! Did it work.. No! Scottie – we didn't get to find that out because I won that HOH. Haleigh – to take out Winston who was irrelevant. Scottie – I used that HOH to prove myself to you guys. Haleigh – that's true you did. You didn't really have anything to prove to me. I liked you. I didn't think you liked me very much. Scottie – really? OH lets go over that? Haleigh – I thought you were way cooler than me. Scottie – how could you have thought that? I literally glued myself to the oldest guy (Steve) in the house. If any one is not hip, its the guy with the glasses that glues himself to the oldest guy in the house. Haleigh – you're talking to a girl with glasses that is best friends with the oldest girl in the house. Scottie – then you weren't. Back then it was speculated that you were best friends with Kaitlyn. Scottie – you also spent all your time in the bathroom.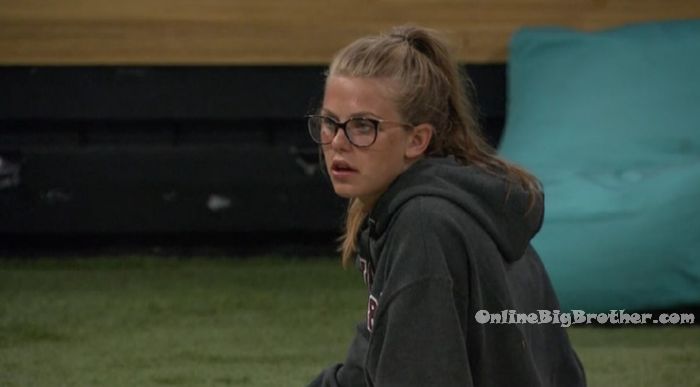 8:25pm Backyard Hammock. Angela tells Brett, Tyler and Kaycee about her gymnastics training when she was younger. She said she dreaded like and depressed about going. She says she was always kicked out for her attitude.


8:30pm Havenot room. Sam and JC. Sam – I haven't told anybody how I'm going to vote and I'm not going to. What do you want to do? JC – I already told you what I was thinking. Sam – Kaycee? JC – yeah. That is what I am thinking. We're top ten and if I myself get out the other gay people in this house when I get out of here I am going to get a lot of backlash. That's what I am thinking, personal. Is Rockstar beneficial to my game? I am not telling anyone what I am doing because I don't want my vote cancelled. Sam – I am not telling anyone. JC – do what you think is right. I don't want to tell you.. hey you should do this or that .. but whatever you do don't do what you did last week. Don't tell people how you voted. You're one of my favorite people in the house and I don't want you to go home. What you did last week was very dangerous. People are paranoid here .. like why is she voting against the house .. and then they target you. People are thinking of the minimum excuse of why to target someone. The less you speak the better.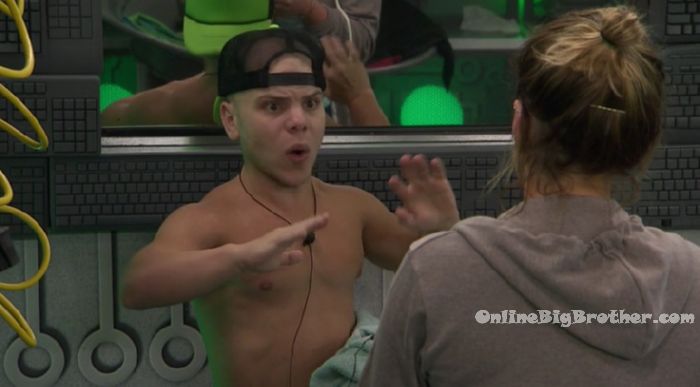 9:10pm JC teaches Scottie s#x ed with a cucumber and a condom. JC – you guys can play with this .. I will put this right next to the shower. If Kaitlyn was here she would play with this. I will put a sign next to it ..serve yourself! Angela – help yourself?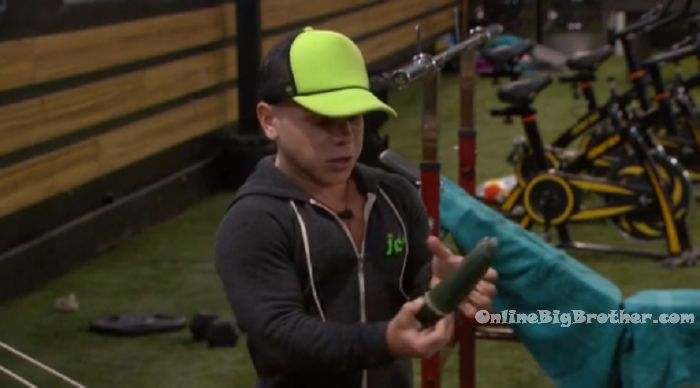 Kitchen – Fes and Rockstar are trending..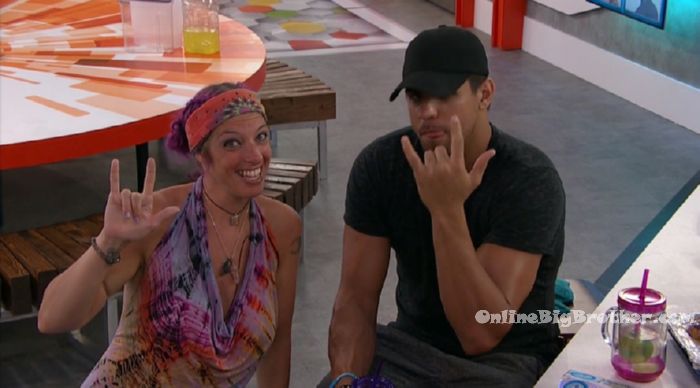 10:08pm – 10:40pm Hammock. Haleigh and Scottie. Haleigh – is there anything that would make you want to keep her? Scottie – Maybe she has some super secret power. Haleigh – Like I could keep you safe till final 2? Scottie – the last time people tried to pitch to me I sat there and said this is what I don't like about your pitch. Haleigh – I just hate being on the other side because no one wants to talk votes with me. Scottie – no one wanted to talk to me until last week. Fes joins them. Haleigh – did you talk to JC? Fes – he says he won't say what he's doing till Thursday. Scottie – he doesn't want his vote cancelled and he wants the tv time. Fes – if he knows there is going to be 3 or 4 votes he will vote that way. Did you talk to Brett? Haleigh – yes, he said he wants to vote to keep Rockstar. Fes – why? Haleigh – he thinks she's a physical threat that's been throwing comps and because she will be more loyal to Angela and Tyler then anyone else. Fes – are you confident in Sam? Haleigh – yes. You (Fes), you (Scottie), JC, Brett and Sam. Fes – JC hasn't said he is. And Rockstar following him around is not helping. JC doesn't like that. He already thinks she's annoying so her being more annoying is not helping. Scottie – well it makes it easier to put her on the block which is what JC likes. Haleigh – just let me know what y'all hear and think .. I just don't want to be out of the loop. Rockstar joins them. Haleigh – first goal this week is keep Rockstar here. Second goal one of you win HOH. Third goal send them all home! Fes – as numbers get down we have a better chance at winning HOH.. not just skill but probability too. (True, thanks for stating the obvious)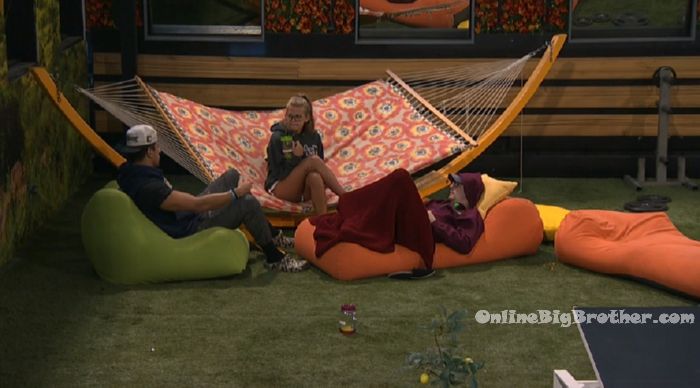 10:55pm HOH Bathroom. Fes and Haleigh are talking. Fes sits on the bathroom sink and breaks it clean off the wall. Haleigh – Fes I can't believe you just did that?! What made you think you could sit on it?! Fes – we can fix it.
Fes "We can fix it" #BB20 @bigbspoilers pic.twitter.com/Gd1F19rQBP

— Dawg (@DawgsBigBrother) August 15, 2018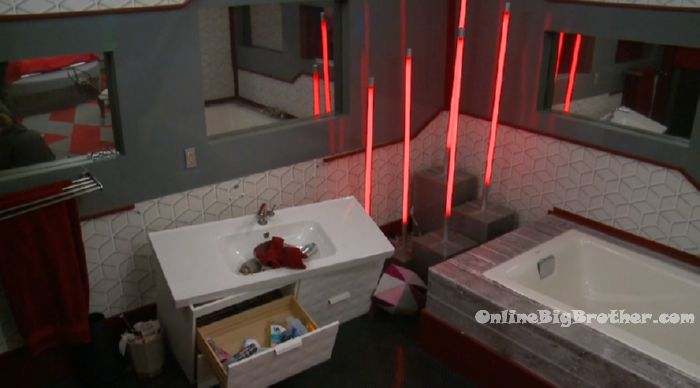 11:10pm HOH room. Haleigh – I am telling you right now if JC tries to pull the last Thursday incedent .. I am completely done working with him for the summer and if I have the opportunity I am going after him because that is not okay. Fes – do you want me to let him know that? Haleigh – no I am just telling you that if it happens again.. Fes – Well I don't want you to do that because we're a team. Haleigh – FESSIE! Fes – we talk about what we're doing. Haleigh – NO, I am telling you what I am doing. Last week.. he is the reason why Bayleigh isn't here. He is hurting us.
Fes is annoyed with Haleigh because Brett gave her a massage earlier in the day. Haleigh – I'm not going to say no.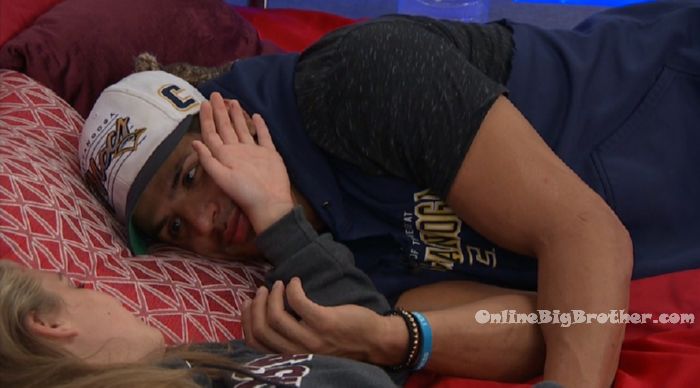 11:27pm Brett and Angela. Brett – I talked a lot of sh*t about Rachel. You're like the only person I can talk to about how Rachel legitimately annoyed the f**k out of me. Angela – same. It was bad. Brett – Like I would literally rank her as one of the most annoying people I have ever met. Angela – one on one Rachel was great. She was in love with you. Brett – shes a nice girl. Once we got in a crowd I literally couldn't stand her.
2:20am Backyard. Scottie and Brett. Brett – the way I am trying to read it is the ripple effect of what will happen. You know what I mean? Scottie – yes. Brett – so the reality is that Fes and Haleigh might have a final 2. Maybe not. Maybe you have a better read on that, I don't know. Scottie – Maybe but I would guess her and Rockstar before her and Fes. Brett – okay, I think that Fes and Bayleigh did and that's a big reason why I did what I did. Scottie – I also thought they did. I know he also had one with Swaggy. I think Swaggy had a lot so that when he got out both Fes and Haleigh got together. Brett – and he's gotten weirdly close to Sam. Scottie – and Fes and JC are even closer. They whisper out here quite a bit. Brett – so what I am saying Rockstar and Sam are going to tighten and I don't know where Haleigh falls in the mix. Scottie – unless Haleigh is totally bullsh*tting me she doesn't fully trust Rockstar. Its weird that Sam all of a sudden wants to play the game. .. that Sam put on the block and said doesn't respect herself or the men in the house. So Haleigh is aware of that.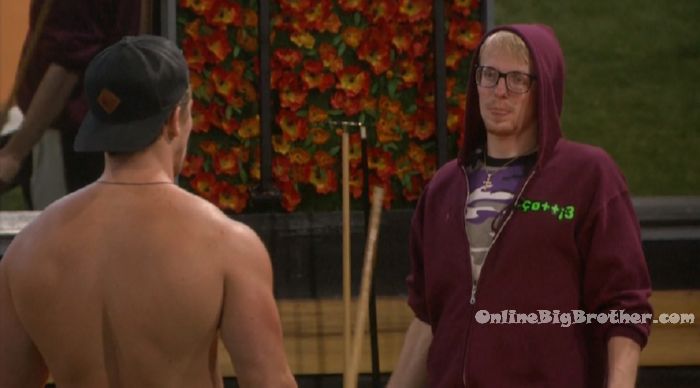 Scottie – assuming we get rid of Rockstar we tell Tyler, Angela and Kaycee our vote. And Fes, Haleigh and JC are livid. Vice versa we get rid of Kaycee .. then they're just going to try and clean up Angela and Tyler. Brett – The thing that I am thinking. Lets say Kaycee goes and that side wins HOH again.. the next people up are Tyler and Angela.. If we keep Rockstar.. no one is going after Rockstar and Sam as a pair. So if we keep Kaycee at least there is that pair in front of us. Brett we also don't know what the hacker is going to do so that could play a role. We always get blamed. If we leave Kaycee there … whoever else goes up they're targeting Angela and Tyler and then they also have the replacement Kaycee. Scottie – I think Kaycee is throwing comps. She is out first in every comp but out here whenever we play anything she is really good at it. Brett – what is the scenario that we could pick someone up on our roster. Scottie – I think if we do a safe move we will have a week off next week. Even if we vote out Kaycee .. Tyler and Angela are going to be more pissed at Rockstar, Haleigh and Fes. Tyler thinks that Haleigh is just using him. I'm in an interesting place because I'm good with each of them. And they hate each other on a game level. Scottie – I want to set it up so that we don't even have to win this HOH and we're good. Brett – I know. Scottie – because if its a double eviction.. that is going to be a sh*t show. Scottie – what happens if we win HOH? Brett – then we pick one from both sides. We pick a pawn. I feel like if Kaycee goes, we're more disposable… being a pawn. Voting out a good competitor (Kaycee) puts a bigger target on our backs. Brett heads inside to bed.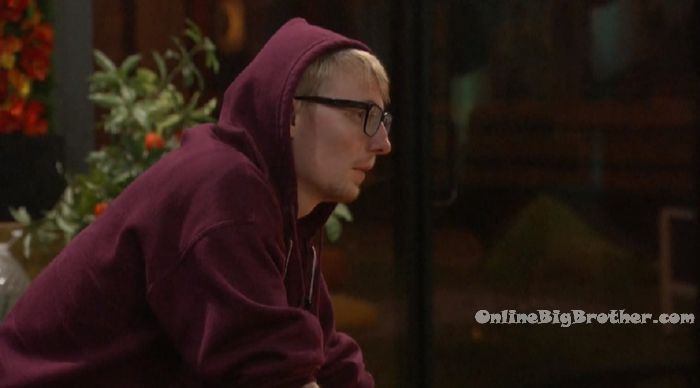 3:20am All the house guests are sleeping..
Donations Really do help keep this site keep running round the clock. If you like our content please consider supporting us. Any amount is greatly appreciated!
Rank the houseguests!
Easiest way to Rank the house guests use link below