| | | | |
| --- | --- | --- | --- |
| POV: | Tyler | Next POV: | Aug 4th |
| POV Used | NO | POV Ceremony | July 30th |
| HOH: | Bayleigh | Next HOH: | Aug 2nd |
| Noms: | Brett & Rachel | Have Nots | Fes, Tyler, Scottie |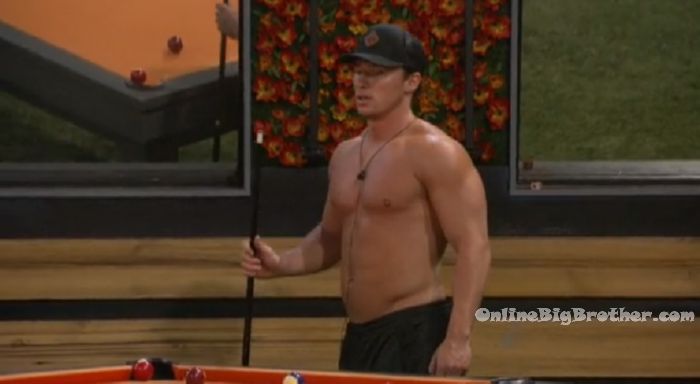 12:48am Backyard. Fes and Brett. Fes – What are people saying when you say you're a bigger target? Even though I don't know why people view you as a target? You haven't really done anything. Brett – trust me I know. That's what doesn't make sense. I don't have any resources in the house. Keep me around as an asset not an enemy. Fes – its kind of stupid how this game works sometimes. Fes – what did Scottie say? Brett – I didn't ask him where his vote was at. He just said I had some valid points. You just never know who is receptive or who is thinking you're an idiot. Fes – where do you see yourself now that Winston is out of the game. You're close to Angela. Brett – not really she is closer to Rachel. Before noms I told Bay that .. I am alone right now. Fes – the only scary thing is the way the game has gone and how scary these evictions have been. Brett – they really weren't that random though. Swaggy and Winston played the game fast. Brett – at the end of the day .. you're good with me and we could go far. But at the end of the day if you were on the block would you rather be next to me or Rachel. Fes – I know if you do leave then its going to be me next if a girl wins. Stay cool .. when its time to pop off .. then pop off .. I'm sure you'll come up with something.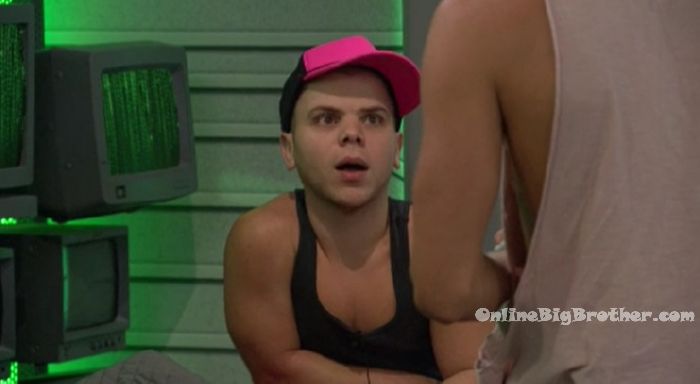 1am Havenot room. Tyler and JC. Tyler – Bayleigh is on a power trip .. hardcore. JC – you've got a point. Tyler – I just wanted to make sure you know she has a power because I didn't want you openly talking. Bay keeps telling me she's being annoyed by Fes. She is trying to get me to talk sh*t about Fes but I'm not doing it. JC – don't do it. This week I am not going to do any work. Last week I did all the work and Fes took all the credit for it. Tyler – of course. JC – this week I am going to sit back. Tyler – none of them are telling me where they're voting so right before the vote I am going to tell Bay that Rachel was the one to do that flip last week and that I don't care if I'm the only one voting her to go .. I am voting her out. JC – we need that HOH. I need it for you but for me.. Tyler – with Bayleigh's power she can change the nominations next week. That's what I heard. JC – from who? Tyler – Rachel. She told Rachel that to get a little trust from her. And then Rachel f**king told me. I am going to tell Bayleigh that I am voting Rachel out because she is spreading that she (Bay) has the power. Makes her have two HOH's in a row. Scottie joins them. JC changes the topic saying that in the DR he was told if he continues the singing they will give him a penalty.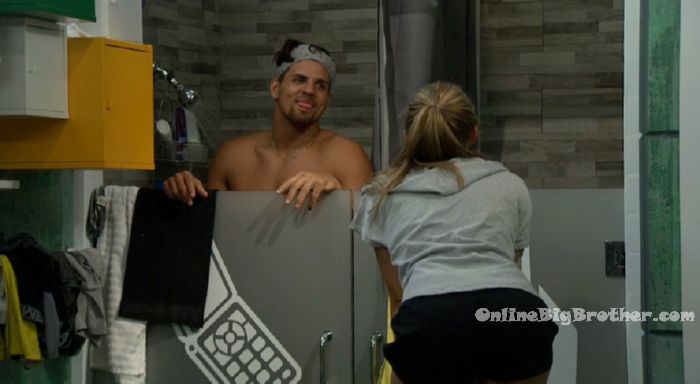 1am Bathroom. Fes is showering. Fes – I can see all y'all's n!pples when I walk by… I'm joking, I can't. Haleigh gets up on a stool to get up to Fes's height. Haleigh – oh my god you can so see! HE can so see! Fes – no… It gets lonely in this house!! Haleigh – I mean I paid a lot of money for these badboys. Angela – same.
See what they can't show you on TV Try the live feeds for FREE!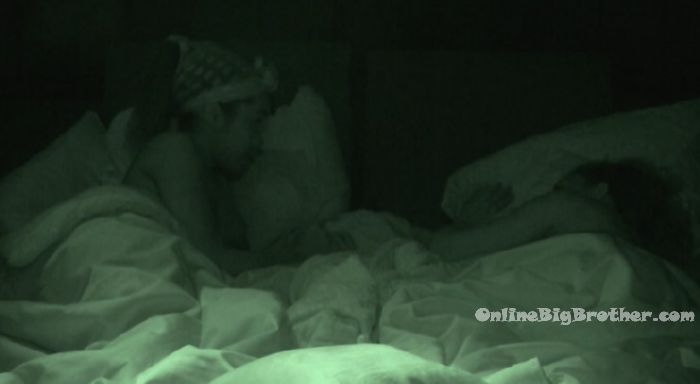 1:10pm HOH room. Bay and Rachel talking in bed. Bay talks about Swaggy – day 6 we kissed .. he says because we got too close. Rachel – I held Kaycee's hand one time in the middle of the night. Bay – that's so sweet but that's okay because its Kaycee. She is fine! Rachel – girl! You want to hook up with Kaycee! Bay – no, I don't. Me, yes I do. But I'm not going to. Rachel – you would. Bay – Oh I would have done it. Kaycee is FINE and I am clearly Kaycee's type. So that would be a win / win situation. But that's a no from me because Bayleigh is taken. Rachel – did Swaggy have a talk with you before? Bay – he said don't embarrass me. Rachel talks about how she can't even hold a conversation with Brett. Bay – do you think its him or you? Rachel – its me.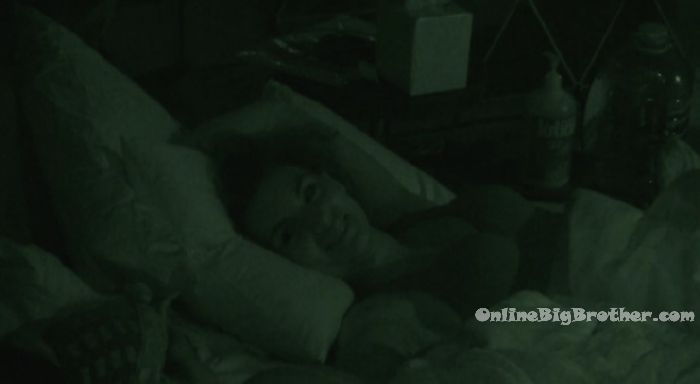 1:15am Havenot room. Scottie – Brett is going to campaign hard tomorrow. Agree with whatever he says and then vote him out on Thursday. Try hard for the HOH. JC – yeah I will.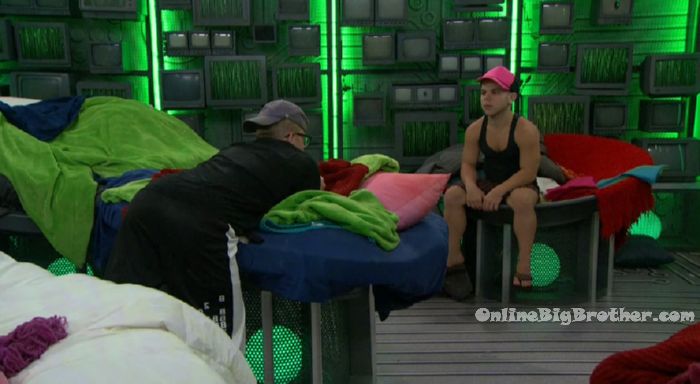 2am Bathroom. Brett and Tyler. Tyler – Scottie told me that you asked him if he thought it would be a good idea to make Rachel blow up. Brett – DUDE! No that's what he said to me. I said where do you think the votes are at? He said to be honest I think the only way you're going to get it is if Rachel blows up. Its going to have to be something big to make it happen. Which I was planning on doing anyways but I need to delay it till as close to eviction as possible.. where she doesn't leak anything. I am not going to do anything .. I am just not going to answer her. And she will freak the f**k out. I am going to start half way through tomorrow. I am not going to answer one thing she says. Then she will freak the f**k out. Tyler – that's what I'm doing. Brett – I promise you're going to love my speech! My plan is to just throw Rachel under the bus completely. First of all they only reason you will get votes is because there is a girls alliance call the man eaters alliance. Rachel told me about. Rachel also told me that Bayleigh has a power app. Tyler – I'm thinking of going to Bay a few seconds before and say that Rachel told me you have a power app. Brett – I wouldn't do that because then she might think that you told. Tyler – oh right. Brett – the house is going to blow up. Tyler – then you're going to win HOH. Brett – I hope so..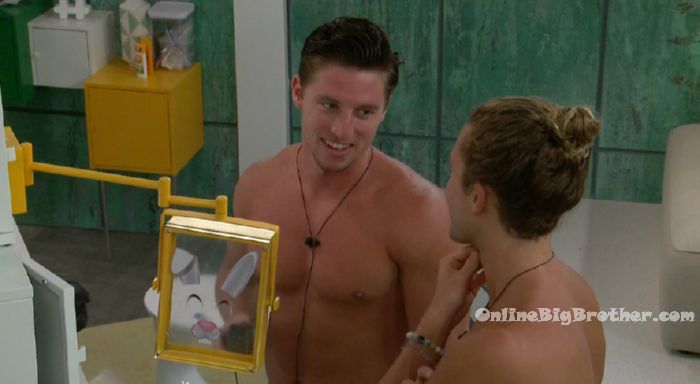 2:50am Brett is in the backyard playing pool by himself, laying on the couch and doing laundry..
3:17am All the house guests are sleeping..
If you've enjoyed our live feed updates so far this season, please consider donating.
Any amount is greatly appreciated! Your donations go directly to paying the fees required to run this site.
Rank the houseguests!
Easiest way to Rank the house guests use link below