| | | | |
| --- | --- | --- | --- |
| POV: | Scottie | Next POV: | July 21st |
| POV Used | NO | POV Ceremony | July 23rd |
| HOH: | Scottie | Next HOH: | July 19th |
| Noms: | Brett & Winston | Have Nots | Angela, Sam, Tyler, Brett |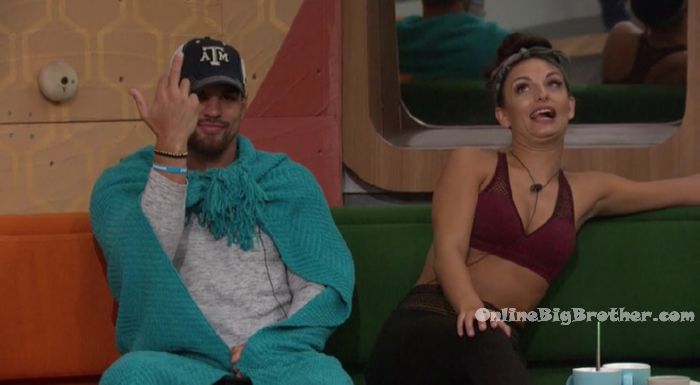 8pm The house guests are in the living room. The house guests are acting out scenes as other house guests are their voices. Next they do slam poetry.

JC slapping Rachel #BB20 @bigbspoilers pic.twitter.com/1gYt8FUCwY

— Dawg (@DawgsBigBrother) July 19, 2018
Bathroom – Tyler and Brett. Brett – have you talked to Kaycee yet? Tyler – No, have you talked to Rachel yet? Brett – no. Tyler – Kaycee said she would tell you and Rachel said she would tell me. Brett – interesting. Tyler – Fes was like another physical threat out and then there's no way they'll come after another physical threat. What the f**k are you talking about. Yeah, alright good idea?! Brett – he's not much of a thinker. Tyler – nope.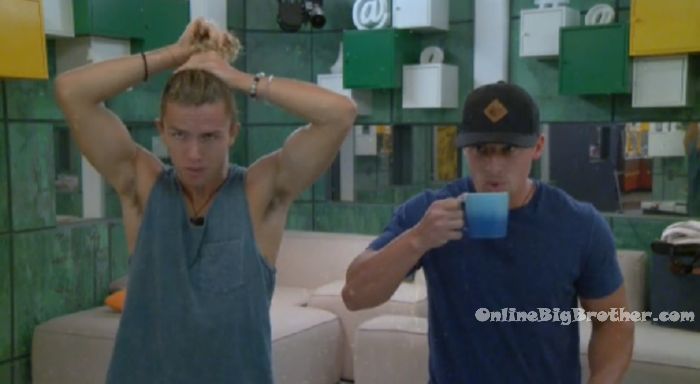 8:05pm Havenot room. Brett tells Angela that Rachel told Tyler she had something to tell Brett. Angela – do we know who the three people are that have apps? I think its Sam, Kaitlyn and JC. Brett – I just don't think Kaitlyn has a quiet enough mouth. I still think Bayleigh. Angela – this sh*t is good for us. The insensitive and personal attacks. People impersonating and making fun of each other. Brett – I really want to know what Rachel has to tell me.

8:13pm Bathroom. Bayleigh and Sam. Sam tells Bayleigh that she feels like the girls are acting different around her. Bay – I haven't noticed that but if you notice something let me know and I can keep an eye on it. How do you feel about the all girls thing? Sam – I don't have a problem with that. I would be cool with that. Bay – that's cool. Sam – I don't know, all of a sudden they're a pair and I feel left out. Bay – I don't think they're doing it on purpose. As time goes on those things will start to be noticed. We will start to see who is getting irritated by each other. Those things will come out.
8:40pm Outside the HOH room. Rachel, Brett, Angela and Winston work out.

9pm Brett and Rachel. Brett – what's up? Rachel – nothing much. Brett – Kaycee told me you had something to tell me? Rachel – I heard JC has a power. Brett – I heard he does but that its not something he can use on someone else. Rachel – oh really!? Brett – I am trying to get Sam to use it. She just keeps saying it wouldn't be fair. All because she was the robot and doesn't want to do that to anyone else. At the same point, I think Kaitlyn and Haleigh pissed her off enough that she might use it. Rachel – Kaitlyn and Haleigh pissed her off? When? Brett – during this little thing (HG's acting in the living room.) Rachel – what did they say? Brett – whatever they said she came in fuming. Rachel – I didn't even notice. Rachel – I think they're trying to play that last vote off on Kaitlyn. Brett – I wasn't nervous but now I am. Rachel – its natural to be nervous the night before.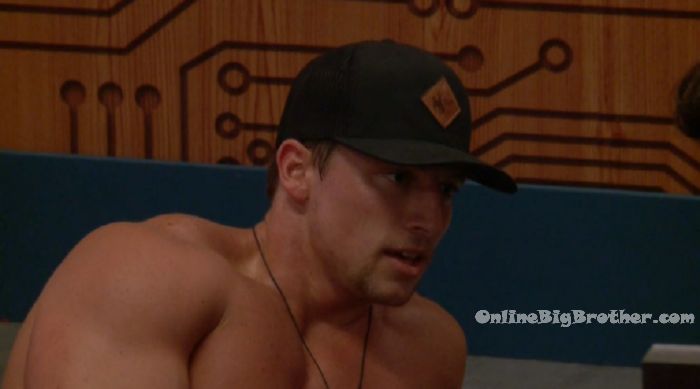 9:13pm Lounge room. Kaycee, JC and Tyler. JC – we're keeping the vote the same. Kaycee – locked in to keep her in. JC – lets not open our mouths about the vote. Rachel joins them. JC – when we vote it is very important that you keep your mouth shut. No matter what, don't say anything about the way you're voting. Rachel – I am already telling people that I'm voting to keep Brett. JC – well stop that immediately. They practice their surprised face when the votes are revealed.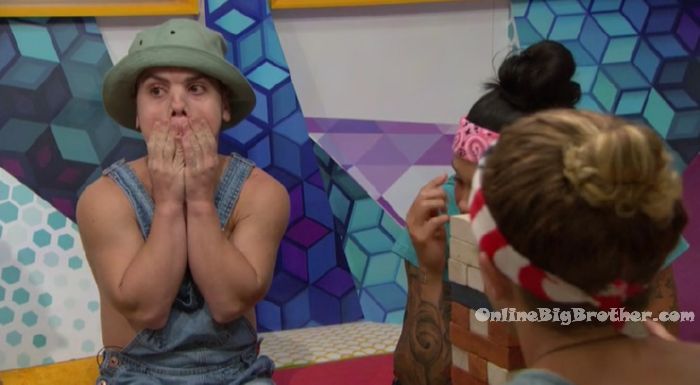 10:50pm Lounge room. Kaycee, Rachel and Angela. Rachel – I think we should re-look at the all girls alliance just because if next week Brett was to get power and say f**k it I'm going after Rockstar for the fact that she started the all girls alliance. The important thing is, we need to get the guys out now. So I am scared if we tell them about this they could switch it and try and go after the girls. That would be bad for us because they would be expecting us to keep them. We said we had something to tell them. I told Brett it was the JC thing. Angela – but if we tell Brett for example.. Brett is a very good
schemer. He is good at like flipping stuff and he might have a solution that we can use this to our advantage. Kaycee – they might not take it seriously too. Angela – it could be all bullsh*t too. I could be Rockstars way of keeping her safe. Rachel – lets just see who wins HOH. If we can't throw it to Brett or Tyler. Kaycee and Angela both say they don't care if they win HOH too. Angela if it come down to me and Brett, then I am falling off. We should make a deal with him out loud. Rachel – I just feel like we should keep it to ourselves until after HOH. Angela – we only tell two guys instead of all of them. Angela – I think that the charades was really good because it got Sam mad at Kaitlyn and Haleigh.
11:12pm Havenot room. Tyler, Sam and JC. Tyler and JC tell Sam they think it would be so cool if she won HOH. JC – we spent all week campaigning to keep you here and now we're so proud to see you going for the HOH. Sam – I think you just want me to get it so that you can tell me who to put up. JC – I don't think I even need to tell you who to put up. I think you already know who you're going to put up. Sam – I know who one is but who is the other? JC – the other would be a pawn. Sam – if I get HOH and put people up .. then after y'all are going to send me home. JC – shut up! no! You're going to make at lease top five.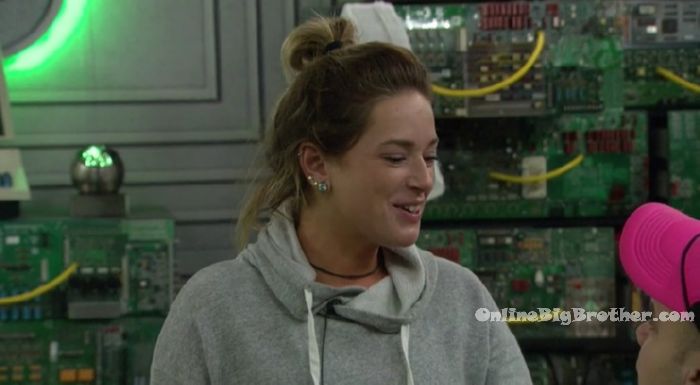 11:30pm Bedroom. Haleigh, Rockstar, Kaitlyn and Bayleigh. Haleigh – Angela just ran up to me in the bathroom. F**k they know. She just kind of sat down next to me and said what's up?! I was like did you talk to Rockstar. She nodded her head. She said I liked what she had to say (about an all girls alliance.) Bay – of course she's on board. Kaitlyn – more importantly when was this conversation with her? Haleigh – she said now with the man-eaters I am thinking about changing my vote. Haleigh – I don't think one of them told Fes, I think someone told a guy and that guy told Fes. Kaitlyn – we don't want to bring any more attention to it. JC joins them and the conversation ends.
For all you folks that need a VPN I use this one
Rank the houseguests!
Easiest way to Rank the house guests use link below