| | | | |
| --- | --- | --- | --- |
| POV: | Scottie | Next POV: | July 21st |
| POV Used | NO | POV Ceremony | July 23rd |
| HOH: | Scottie | Next HOH: | July 19th |
| Noms: | Brett & Winston | Have Nots | Angela, Sam, Tyler, Brett |
Big Brother Spoilers – Winston is going as of right now but who really knows. LOL
Before we start it will be endurance head of household competition TONIGHT! on the live feeds..  We'll do our best to cover it but this might be a good time to try them out. Use our link pay the same and help us out!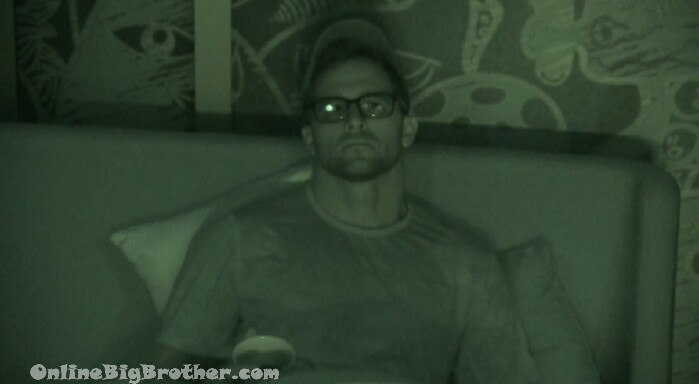 Winston is the first one up….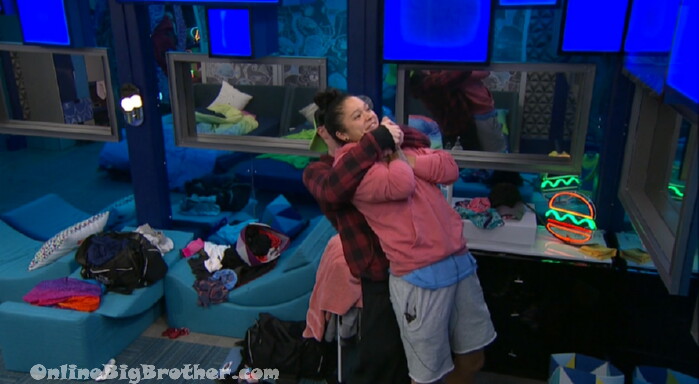 9:23am Kaycee asks Scottie for a back crack..
Houseguests waking up .. #BB20 @DawgsBigBrother pic.twitter.com/aonqgwccLs

— OnlineBigBrother.com (@bigbspoilers) July 19, 2018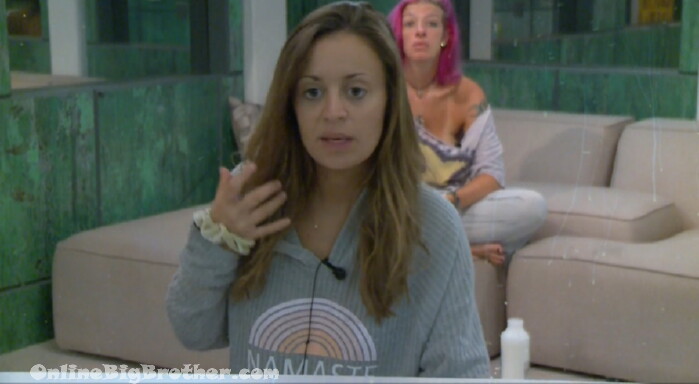 9:40am Rockstar and Kaitlyn talking about how only Winston campaigned to them
Rockcod.. Literally only one of them thought my vote mattered..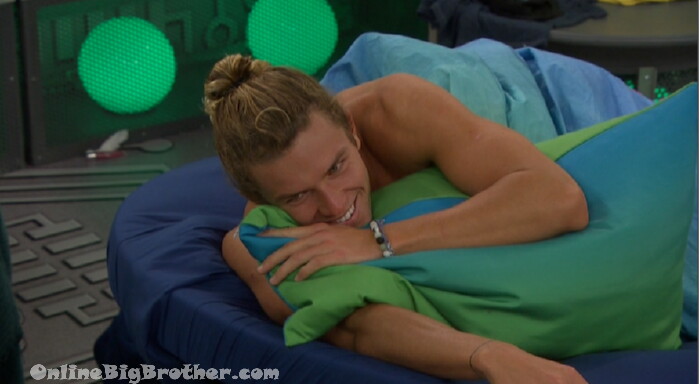 9:56am am Tyler and Brett
Brett doesn't know how to phrase his speech does he call people out or try and get Sam to use the power app. Tyelr tells him if it was him in Brett's spot he would stay pretty level and not rock any boats, "Nothing too crazy"
Brett – yeah.. I have an awesome speech prepared that doesn't shoot shots at anyone
Tyler – just do something sweet because everyone is expecting a performance.
They laugh if Winston comes out starts taking verbal shots.
Brett doesn't think he'll do it, Tyler agrees.
Tyler – you'll be fine either way, Sam's pretty solid
Brett – when I was talking to uh.. Haleigh.. I dunno
Brett seems to thin Theres a fraction of a chance he can get Haleighs vote.
Tyler – her game makes no sense to me
Brett mentions how freaked out RockSalt was when she saw Haleigh and him talking for so long yesterday.
Tyle r- good get Rockstar freaking out
Tyler – that's exactly what JC wants to pin them.. whos the 6 votes.. one of the girls
Brett – I feel JC wants it to be 6-5 he wants to make sure it's 6-5
Tyler – I don't know why.. I'm like dude.. it's 7-4.. we can pin two votes on them.. it's obvious it;s the other side.. if it's 6-5 everyone is going to think it was me over there..
Tyler – hopefully I can blame it on someone else
Tyelr thinks he can still swing Kailtyn's vote.
Brett – i'm going to try today..
They agree it's not worth his time to have a 1 on 1 with ROCKSTAR
Tyler – Dude i'm telling ya you are going to be here it'll be 7-4 I can feel it..
Brett was talking to Rachel about it last night and she was like "dude lets both go to Sam"
Brett doesn't think two people is a good idea.. better to do one on ones..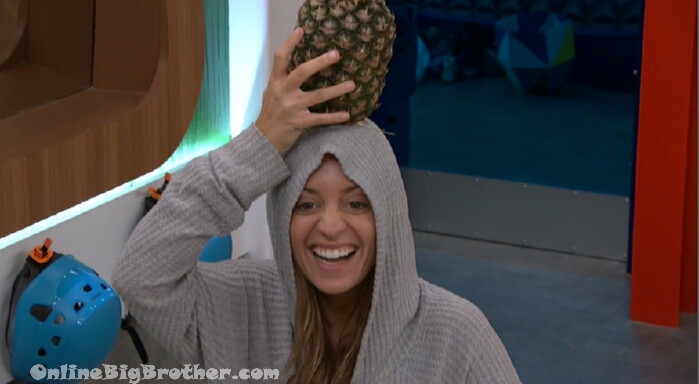 10:07am KAitlyn gets another vision 
Kaitlyn – I had a vision last night that the competition will include balancing fruit..  Fruit NINJA
Kailtyn I had a dream.. I had a vision.. the next competition will be fruit balancing on my head.. Fruit NINJA
"I had a vision last night that the competition will include balancing fruit.. Fruit NINJA" #BB20 pic.twitter.com/on5kTPVoxl

— OnlineBigBrother.com (@bigbspoilers) July 19, 2018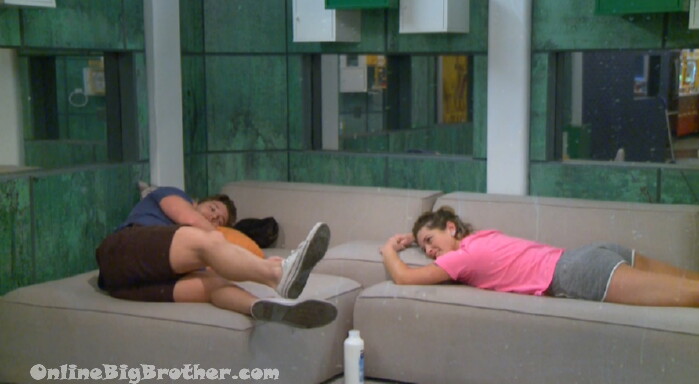 10:14am Bathroom Brett and Sam
Brett we sopend all day getting ready..
Sam – I spend all day getting everyone else ready
SAm goes on about how she loves small ankles.. brings up someone called Bradly taht has tiny ankles.. goes on about how she likes thgem. Mentions that Tyler also has tiny ankles.
Sam thnks Brett's aankles are small. Brett goes on to explain canakles..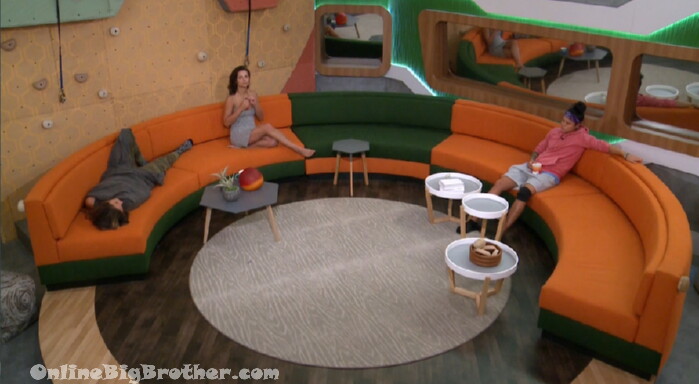 10:22am Kaycee, Angela and Rachel
Rachel – I hope I'm never on the other side
Angela – i just can't wait for Kaitlyn to go home
Rachel – me tooooooo
Rachel- I think we need to keep that thing to us .. at least until HOH (Girls alliance)
Kaycee – what if I already said something.. She laughs..
Rachel – shit ..
Kaycee – it's not that bad
Angela – it's not going to matter
Kaycee – I haven't told B i told T
Rachel – I just don't want the targets to flip
Jaycee – we're fine
They talk about how they will single who they would target if they don't have a chance to talk. Rachel suggests making a rocker pose. Kaycee tells her it's to obvious.
Kaycee – just say WALL (LOL)
They laugh about their code.. 'the great wall is more important than the wall" (Dunno who the great wall is.. )
Rachel – igor.. the very lanky tall monster.. that lurks.. Adams family igor.. (Igor is fes?
Angela doesn't know who the wall is. "I haven't been listening"
Rachel says the person that got stuck on the wall is wall..
Rachel – the mini wall.. (kaitlyn)
Angela – that is obvious
Kaycee – not mini wall pegs..
Rachel – pegs will be gunning for it.. you know what I mean
They agree Pegs will put up a Bro
They have a new name for someone "helmet" (No idea who this is)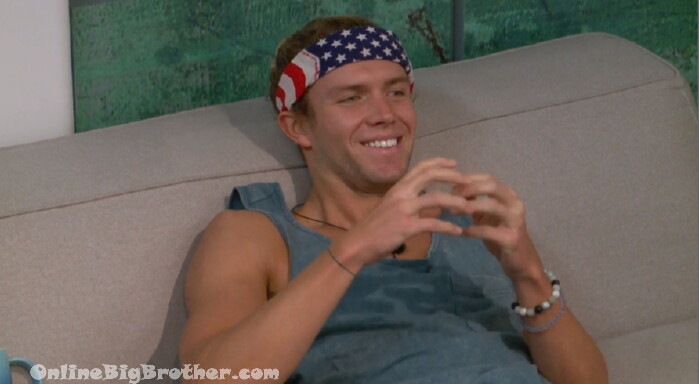 10:58am Tyler, Kaycee, Angela and Rachel (Brett and Winston come in on this)
They are filling him in on the code names.. PEGS, Wall, Great wall and Helmet.
(Wall is RS, Pegs is kaitlyn, Great wall must be Fes, Helmet is Scottie or Haleigh?)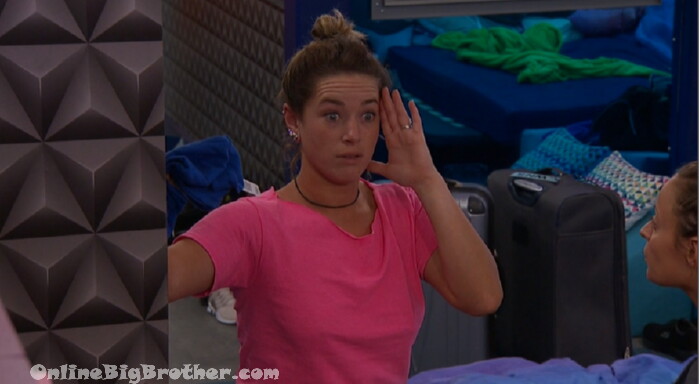 11:05am Kaitlyn and Sam
K – are you using your power
Sam shakes her head.. – I dunno..
K – I just hope after very personal display and how badly my feelings were hurt by Brett that you wouldn't.. Like I was really hurt .
K – I don't think I can look at him the same way again. it would be very upsetting to me if you did that
Sam – you mean if I brought Brett back.. no I don't indent on doing anything except voting at the last minute
Kailtyn – I don't think I've expressed to you
S – no because you don't talk to me anymore
K – you don't talk to me
Kailtyn – I've talked about your energy this and that..
S – there's been too much people shifting around staying in the same room the entire day..
S – I hate this part of the week it makes me so uncomfortable;
Kaitlyn talks about the drama with Brett. Sam says she's stayed 100% out of it it didn't involve her and nobody has come to her about it until right now.
Kaitlyn brings her into the have nots so she can tell Sam all this stuff that Sam doesn't want to know. Kaitlyn goes on about how she was trying to keep Brett all while they were trying to get her on the block.
Sam – Haleigh loves Brett
K – I was the only one defending him..
Kaitlyn- to hear the night before..
Sam – at the same time you were defending Brett but you were sending Winston home
Kaitlyn- I didn't have a relationship with Winston..
Kaitlyn – during his veto speech he made a very personal attack on me.. everyone knows it.. it took them a minute to figure it out..
Kaitlyn- please don't make fun of something I can't control please don't make fun of the hits I get. (weren't you just making fun of it?)
Kaitlyn says she voting Brett out
Sam says her power expires this week and the only thing fair for her is to not use it.
K – I just want you to know how upset it made me.. it's just sad
S – I see now.. yeah,.. how that was hurtful towards you and how that was specific and intentional
Sam goes on about how she doesn't know the game etc etc..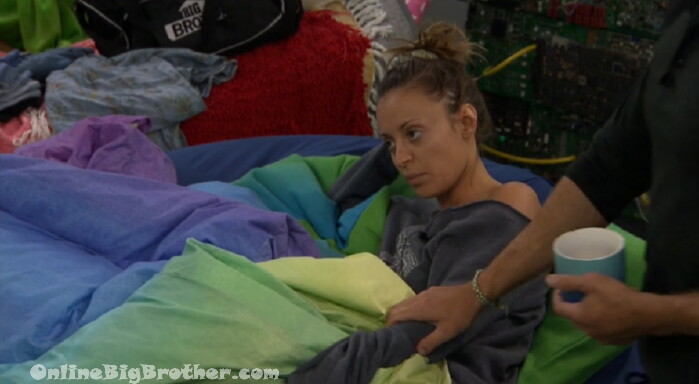 11:20am Kaitlyn and Winston
Kaitlyn – are you scared.. you Shouldn't be.. you have the numbers..
Kaitlyn says she feels bad for Brett she shouldn't be but she's human..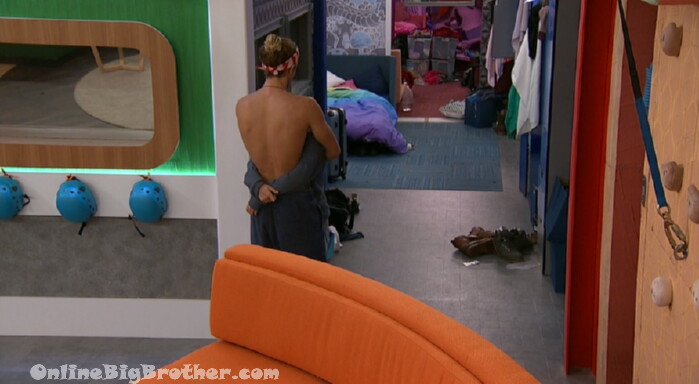 11:20am Kaitlyn and Tyler
She tells him she's going to sneak some essential oils in Brett's bag. she doesn't want him to find out "He'll find it one day"
Rank the houseguests!
Easiest way to Rank the house guests use link below