POV Holder:
Frank
Next POV:
Aug 18 (Saturday)
POV Used
NO
POV Ceremony
Aug 20 (Monday)
HOH Winner:
Frank
Next HOH:
Aug 16 (Thursday)
Original Nominations:
Wil / Joe
Current Nominations:
Wil / Joe
Have Nots Cod fish/Candy Canes
Joe, Shane, Danielle, Britney
Last Evicted Houseguest
Janelle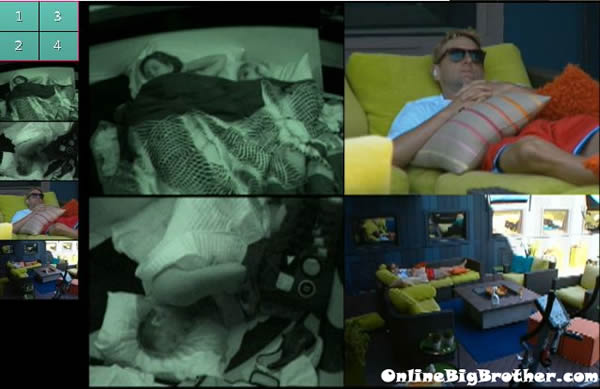 9am – 10am Boogie heads out into the backyard. Boogie says that he would just like to put it on record, that 2 people will be gone by Sunday night. The show is over a month from Sunday, and there are 11 people sitting here right now. Technically it's a month from Wednesday, 5 weeks from today. We got to get some people out of here. Boogie wonders how Franks date went with Ashley. Boogie then starts working out in the backyard, stretching, running around the yard and lifting weights. Boogie then heads inside to shower. Ashley is up and asks him if he feels better. Boogie says yeah.
10am Big Brother wakes up the house guests.
Big Brother 14 Live Feeds FREE for 3 Days, then ONLY $14.99 per month!
10:10am – 10:25am Mike and Frank are out in the backyard talking. Frank talks about what he talked about with Ashley last night. Frank says that Ashley keeps telling Wil to leave alone the alliance thing, its just a conspiracy theory. Frank says that he thought the fish dying was going to end the date. Mike says yeah. Frank tells Mike about how he led her to the couch and started making out and that he even got some butt grabs in. Mike asks if he took it a little further. Frank says that he didn't want to push it too far and that he told her to come back up later but she didn't. Frank talks about when they came down they didn't want people to know because they didn't want people to think they were a showmance or to hurt Ian's feelings. Frank comments on how Dan wanted to come up and talk with Danielle but that Britney was posted up at the kitchen bar. Mike asks why, to talk about what, Wil is going home. Mike says that he would love to dump an HOH to Ashley, that would be John Blaze! Mike jokes the question would be did Wil go home before or after Frank won the HOH. He says after?! Ashley you just won HOH! Mike says Ashley would be like HuH.. What?! Wil comes out to join them.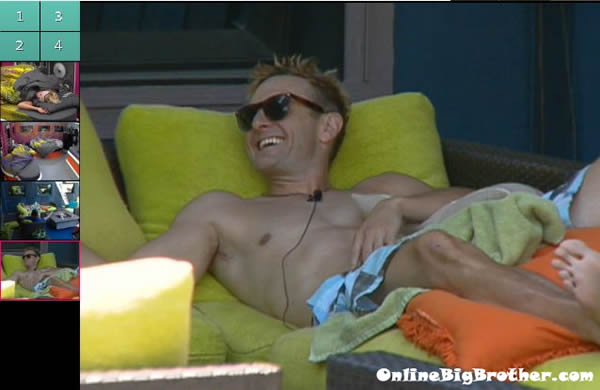 10:40am – 10:55am Ashley gets called to the diary room. Frank passes her and says have fun in there, I wonder what it will be about?! Ashley says uh huh! Ashley heads to the bathroom to get ready for her diary room session. All four camera views on her and then they switch to the have-not room where Danielle and Britney are still sleeping. Two cameras cut to the two love birds sitting on the couch together in silence.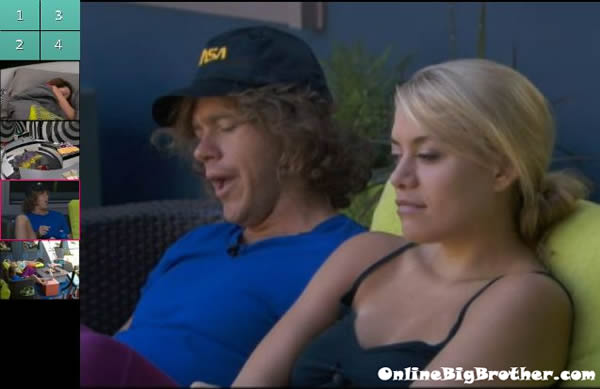 11am – 11:15am Frank, Ashley, Mike, Wil, and Joe are sitting out in the backyard talking about random stuff. Ashley asks when the have-not is over. Joe says tomorrow night at 9pm I'll be out of here drinking, fu*k eating. Wil says that the first thing he will do is drink too. Wil starts to asks if any of them had someone they knew that would not sign the release form. Big Brother cuts all the camera views to Ian in the kitchen. The camera switch back to the backyard conversation, Frank is talking about how shocked he was that Britney wasn't opposed to the idea of a bumpkin. Ian joins them. Frank, Wil and Joe head back inside.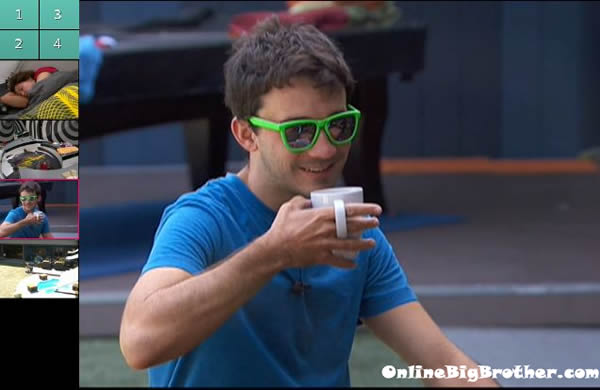 11:20am – 11:30am Frank and Dan are in the kicks bedroom talking. Frank tells Dan that he watched Britney being posted up at the kitchen bar watching the HOH stairs. Dan tells Frank that Britney definitely trust Frank more after following through with their deal. Dan asks Frank how his date was last night. Frank says good, but having a dead fish didn't help it. Frank talks to Dan about selling stuff on ebay. Frank tells Dan that he is sure they can find some time to talk to Danielle today. Dan says that she just gets worried about what people with think of her because she got Janelle evicted. Dan says that he told Danielle just not to bag on people in the DR. Frank comments on how he thinks Janelle played a completely different game than her previous seasons and that she will probably lose a lot of fans. Dan says yeah but they may not have edited it that way. Frank says that he hopes Ian didn't get his feelings hurt about last night. He says Ashley thinks he just likes the camera time but I think he really likes her. Frank leaves the room.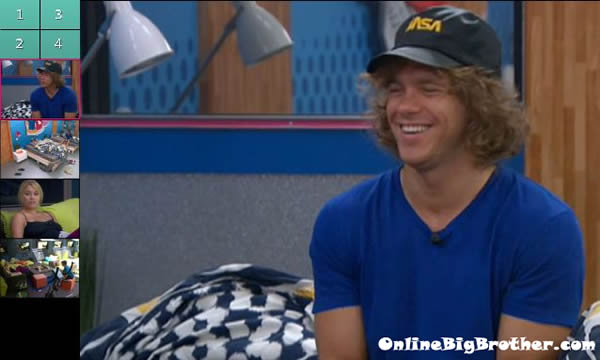 11:50am – 12:05pm Ian says that on the surface the ice cream date not that bad for me. Boogie says you don't think Ashley would ever put you up do you? Ian says no. I think she would put up eagle eye. But he would probably get out of it, he is slick, he is so slick he is slippery. Joe joins them. Joe says you need any more campaigning out of me? Boogie says that he thinks he is good. Ian says that Wil hasn't even done any campaigning. Ian says that he might give Wil the heads up that it isn't looking good for him. Boogie tells him you don't want to give any definitive answers or BB will be on you, they don't like that. Joe asks Ian what he thinks this HOH competition will be like. Ian says maybe like an A & B booth questions or lanes. Ian says they always ask who will pee in the pool and America will probably say me because I do goof sh*t. Joe says and you pee'd on the sailor ship.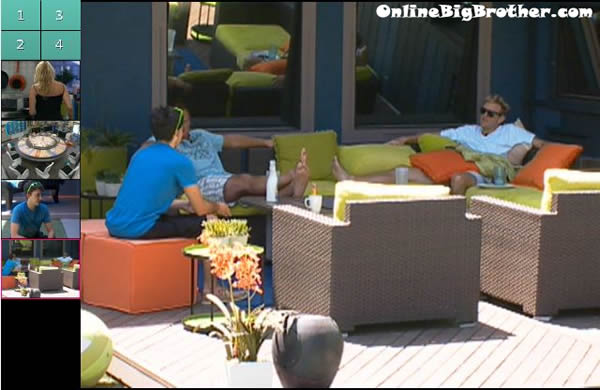 12:35pm Wil asks Ashley what her longest relationship was? Ashley says that it was about 2 years. He asks why it ended? Ashley says mostly because of money stuff. Ashley says that she is always that repeat offender going back to ex's, and they never change. Meanwhile Boogie and Ian are out in the backyard talking about how they are glad the being woken up throughout the night competition is over. They talk about how horrible it was. Danielle joins them and Boogie immediately gets up and heads inside. Ian tells Danielle that he asked Joe and Joe said if he won HOH he would put up Jenn and Ashley, which is good for us. Danielle says we still aren't locked down so what type of competition will it be. Ian says it will be a who does America will sh*t in the pool type questions. Anyone can win that type of comp. Ian says that this week there will be 8 people voting, so 4 votes to save.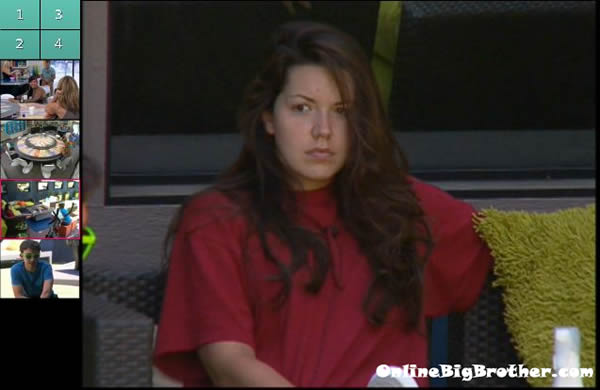 Big Brother 14 Live Feeds FREE for 3 days then: $14.99 to watch the last month of BB14!