POV Holder:
?
Next POV
July 19th
POV Used
?
POV Ceremony
July 21st
HOH Winner 1:
Frankie
HOH Winner 2:
 Cody
Battle of the Block Winner
Amber/Jocasta
Next HOH/ Next BOB
July 24/July 18
Original Nominations:
Brittany/Victoria(Cody) Jocasta/Amber (Frankie)
Final Nominations:
?
Have Nots
?
POV Players
?
Leading up to the battle on the Block competition this is what we know
Cody and Frankie won HOH
Second place went to Jocasta and Brittany (Brittany wants to make sure everyone knows this I'm just passing it along)
The detonators are targeting either Jocasta or Brittany a distant 3rd target is Donny
Frankie nominated Amber and Jocasta
Cody Nominated Brittany and Victoria
The winners of the Battle on the Block are safe from eviction for the week. The HOH that nominated the Winning Team is dethroned and is now at risk to being nominated.
Jocasta has been proven to be Competition poison whereas Brittany and Victoria both have BON wins.
With a live feed subscription you can go back and rewatch all the events we highlight in this blog.
Try It Free! Get 24/7 access to the house for 48hrs before you decide!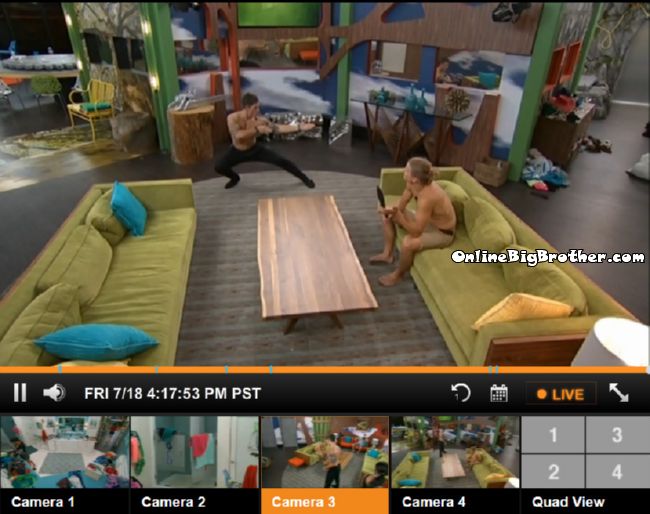 4:19pm HOH Christine and Amber
Christine congratulates Amber "That was a weird one I've never ever seen that one before"
*** News Flash Caleb's left breast is swollen ***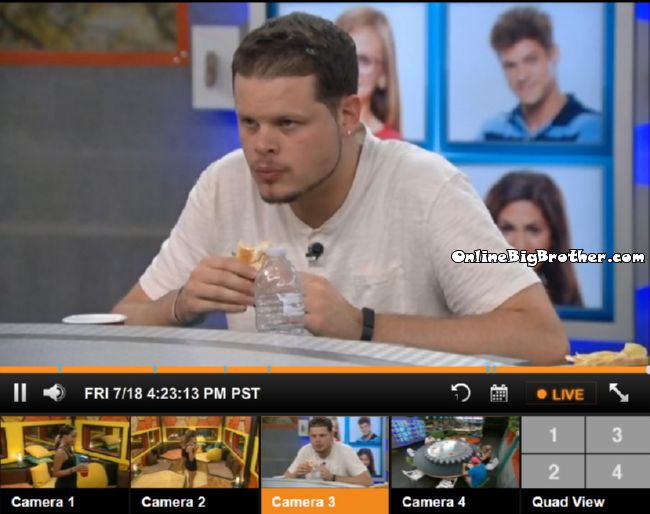 4:23pm Kitchen
Derrick tells them they are going to be let into the backyard soon. The competition was "Mostly backdrop"

4:33pm Storage room Caleb and Derrick
Derrick – you know what the strategy is? don't use the POV send Brittnay home
Derrick adds that Victoria isn't even playing the game so why not keep her around for a bit she's harmless. Caleb mentions Frankie told him that Jocasta was trying to flip Amber to vote Caleb out because she said Caleb was bad for her game.
Derrick says next week's target is Jocasta.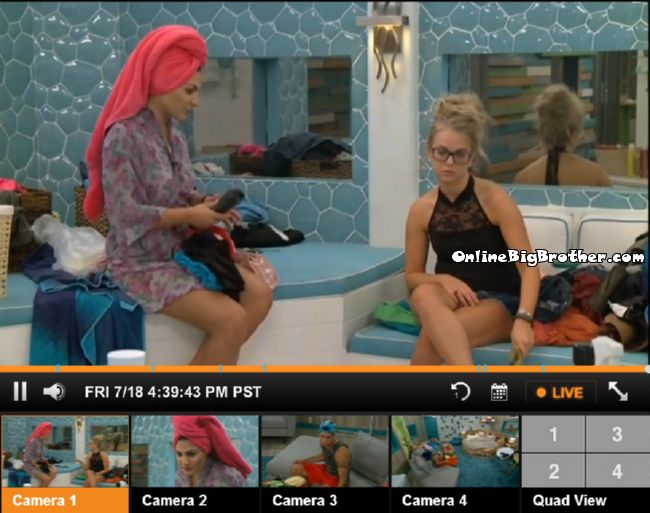 4:39pm Victoria and Nicole
Victoria calling the people in the house disgusting . Victoria mentions how people were calling her a weak player because she cried in front of people. Now that she's not crying in front of people she's being accused of making deals.
Victoria mentions the "bed deal" how Frankie was going to pick a number for someone to share a bed with Victoria. Nicole says it's not that big of a deal sometimes in this house you have to let things go.
Victoria says if she goes home this week at least she's going thome to normal people.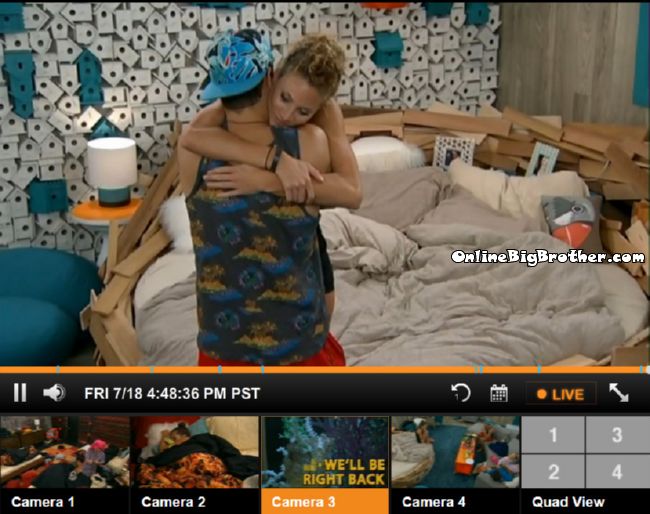 4:40pm HOH Amber, Zach and Cody
Amber wants to be the POV host. Cody warns her that Caleb is going to talk to her tonight. Knowing Caleb he's probably upset about something.
Amber – I hate hurting anyones feelings
Amber tells them the most trustworthy person in the house is Jocasta, She's told her so much stuff and none of it has gotten out.
Cody and Amber have no idea where Donny's head is at.
Cody – "I just have to make sure Brittany doesn't todd a bag over my head"
Zach – She is furious
Cody – She doesn't even look at me.. Cody adds that it's Britany's own fault she's in the situation she's in.
Derrick joins them they start talking about the Battle on the block competition. Amber says she's glad she was able to win it for Jocasta.
Derrick – You're a competition beast
Frankie /Christine roll in
Zach – "Victoria she's the worst"

5:07pm BEEHIVE Caleb and Donny
Caleb asks if he knows anything about Jocasta trying to vote me out when I was on the block last week.
Donny never heard of anything like that
Caleb explains that Jocasta was telling Amber she needed to vote caleb out because he's bad for her game
Donny – "I hang out with Jocasta a lot and we never talk about the game"
Caleb adds that Supposedly Amber told Frankie that is how he found out.
Donny explains that people can say someone said anything Right?
Caleb knows.
Donny adds that he knows Jocasta and he doesn't think she would have said something like that, "Doesn't sound like their character to say tha"
Donny says the only person that wanted to keep Devin was Devin, "I told you to not even think about it because it wasn't even a possibility"
5:16pm Have nots Hayden and Victoria
Victoria "I'm sorry Cody's speech was fake"
Victoria – "If I cry i'm too weak if I don't cry i'm making deals with people it's so disgusting" SHe doesn't understand why the same people go up all the time, "I don't talk smack about anyone". She knows when she's out of a room people talk Smack about her.
Victoria – It's never been this personal other than last year
Hayden says people talk smack about him all the time. Victoria doesn't like how they are all two faced the people in the house. are.
Victoria wants to know who talks smack about people like this.
Hayden thats the name of the game the talking smack behind people's backs.
Victoria says she was a "SuperFan" for the show but from another country. SHe's sick of the other "Superfans" saying she doesn't deserve to be here .
Hayden tells her he doesn't see her as a target this week.
Victoria tells him to watch his back because people are saying all he's doing is chilling.
Victoria – "Watch your back"
Hayden wants to know who is saying hi name.
Haydn pinky swears not to tell anyone.
Victoria says it was Amber and Brittany think Zach and Hayden are just chilling.
Victoria says it's obvious there is a large alliance working it obvious from the nominations.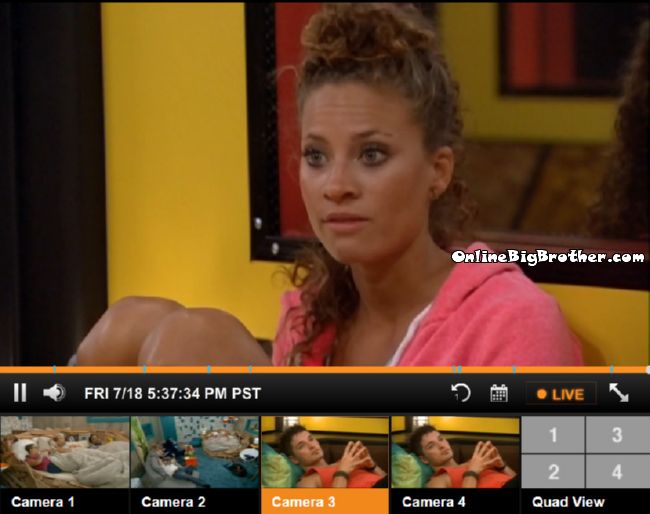 5:38pm BEEHIVE Caleb and Amber
Amber saying she wishes some of the guys would be used as pawns. She's been loyal to the people she said she would be loyal to.
Caleb mentions the guys started seeing Amber hanging around with Brittany and Jocasta.
Amber doesn't understand why
Caleb – I think Frankie is trying to stir things up"
Caleb explains that Frankie told him that Amber told him Jocasta was trying to flip AMber vote when Caleb was on the block.
Amber – "At this point.. all you guys are obviously working together"
Caleb – "no other guy in this house has showed you loyalty but me."
Caleb mentions how Frankie was telling him that you went up because you volunteered to be the pawn.
AMber needs to talk to Frankie because she never said that. "I dont even know if I spoke to Frankie about that I don't want to be a pawn"
Caleb mentions how he told the guys "Next week it's endurance and i'll probably win it.. one of the guys will have to go up"
Zach told Caleb there was still 4 pawns left to put up before they start putting up their alliance. .
Caleb says if he wins HOH one of them are going up possibly two. .. "its' simple you have to at the end of the day you'll have to have loyalties"
Caleb says these last 3 days he's had doubts with everyone in the house. He has to trust somebody "ONe solid person.. you have to"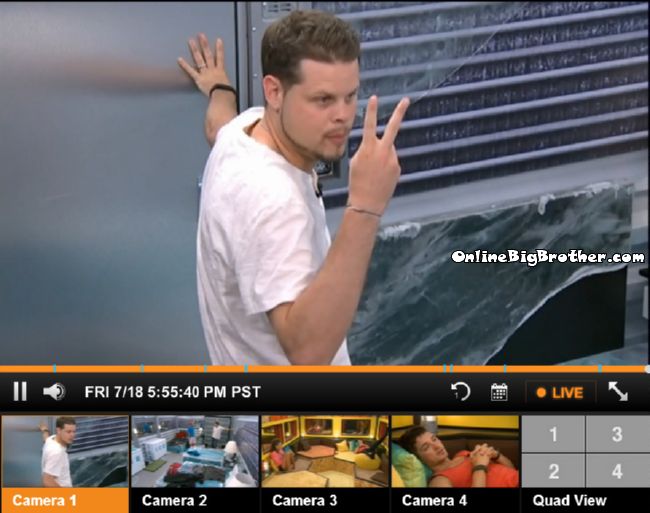 5:55pm HAve nots Zach and Derrick

Zach says he was talking to Brittany for 30 minutes and she was preaching about why she should stay etc etc.. Brittany was going off about how she only trusts Derrick and Zach
Derrick says Christine told them this morning Jocasta and Brittany were saying if they win HOH they will both put up guys it's the only way. The guys are picking off the girls.
Derrick – "Brittany said Regardless they gotta put all four guys next week"
Zach – "Ok Brittany's gotta go"
[polldaddy poll=8192326]