POV Holder:
?
Next POV
July 19th
POV Used
?
POV Ceremony
July 21st
HOH Winner 1:
Frankie
HOH Winner 2:
 Cody
Battle of the Block Winner
?/?
Next HOH/ Next BOB
July 24/July 18
Original Nominations:
Brittany/Victoria(Cody) Jocasta/Amber (Frankie)
Final Nominations:
?
Have Nots
?
POV Players
?

12:49pm BEEHIVE Derrick and Victoria
Victoria says she wasn't expecting to get put on the block, she spoke to Cody last night about Trust, "This just doesn't make sense it's so stupid"
Derrick assures her she's not the target. Victoria says BRittany has her way with words she'll be able to pull herself off.
Victoria – "I Do not trust Christine I can see right through her.." Victoria thinks it was Christine that got cody to put her up.
Victoria mentions how COdy's speech never made sense to her because of the conversations she's had with him last night.
Victoria – Everything is so awkward
Derrick you're not the target,. you have the Battle on the block then the POV then nominations.. don't say nothing bad about anyone because they'll take that and use it against you.
Derrick instructs her whenever she hears people saying bad things about Cody and Frankie to go to them and let them know. This way she won't be the target"
Victoria wants Christine to go up on the block. Victoria has heard Christine say why do they let people like Victoria on the show (Because of her lack of game)
Derrick tells her she needs to focus on winning the battle on the block he suggests she gets some rest before the competition
Victoria – Christine knew I was going up I can tell from her actions
Victoria – I just feel like If I go home nothing will change in the game. She explains that she talks to everyone a bit so doesn't impact on person game too much either way. He tells her if she doesn't win Battle on the block and doesn't win POV they will take care of it for her. All they need is 5 votes to tie and Frankie.Cody won't vote you out.
Victoria tells im he's the best she loves him "I love you "
Derrick – "Love you to"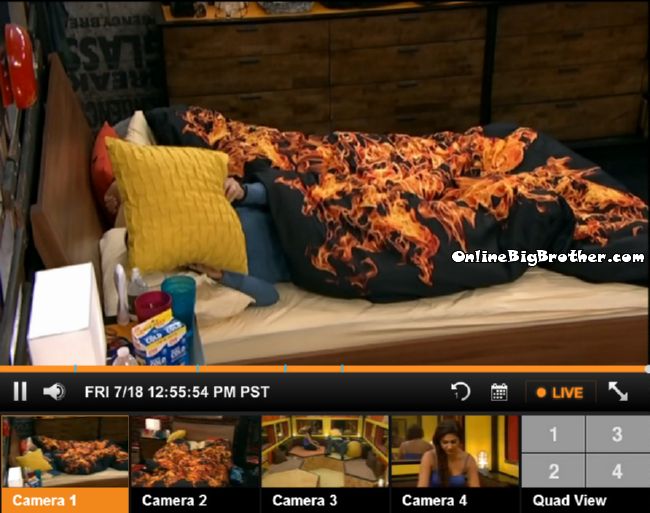 12:55pm Christine and Nicole
Christine brings up Victoria walking in on conversations all the time and Caleb called her out for in.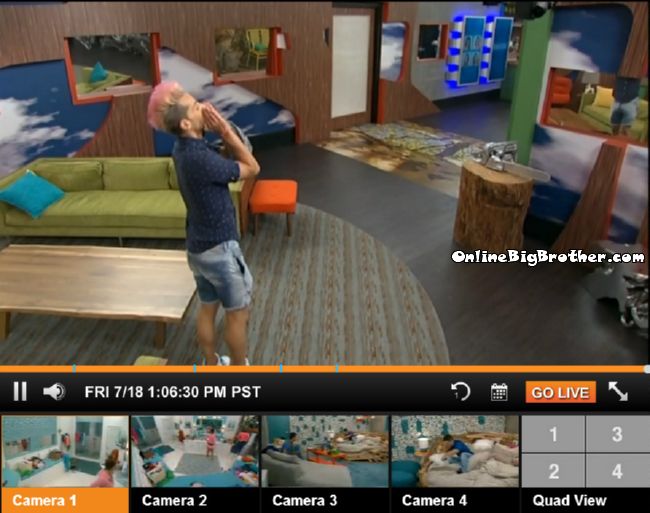 1:06pm Frankie – "Hey everybody it's time to pick a host for the BOB competition CODY CODY CODY"
Feeds got to fish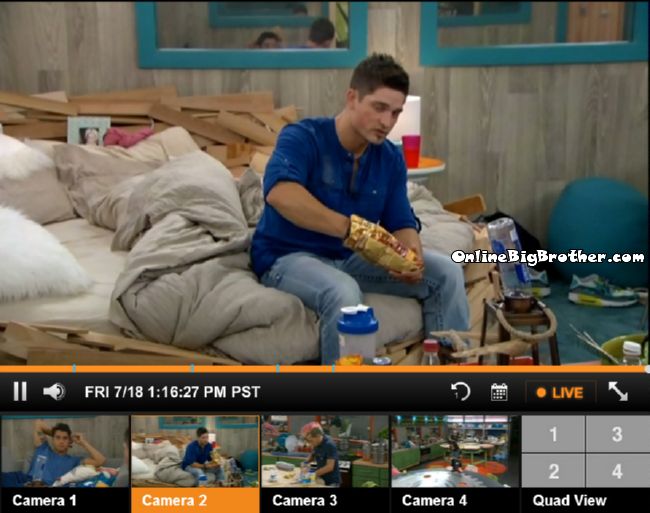 1:15pm HOH Caleb and Cody
Caleb saying Devin told him before he left he had to get Amber and Frankie out of the house
Caleb says he's telling him straight up he was taken a bit aback when they closed the HOH door on him and Christine he thought they were in the same alliance. Cody totally gets that says he told amber not to close the door.
Cody – "She wants Brittany gone"
Caleb tells him all the girls and "3 or 4 guys" will go up before Cody
Caleb – Straight up I'm still trying to figure you out.
Caleb reminds Cody he went on the block for everyone, "The biggest part was throwing the competitions… never done that in my life"
Cody – did you throw that competition… haha you did a little bit didn't you"
Caleb – I wasn't throwing it but I probably could have gone harder
They agree regardless of what Caleb did during last week's Battle on the block they were not going to win because of Jocasta doing so bad. .
Cody – She blew that one
Frankie rolls in and starts venting about Brittany going on about deserving the money more because she has 3 kids.
Frankie – "It's obvious there's people in the house that don't need the money"
Frankie says it's not about the person needing the money the most wins if it was it would be a grant you apply and the person that needs it the most gets it, "It's kinda annoying to me"
THey all agree Victoria doesn't deserve to win not because she's filthy rich but because she doesn't play the game. Caleb says if Brittnay is low on money she should get some work. Caleb – "You're rent is 3 grand live somewhere different" Caleb adds that his mom has worked in the same factory for 15 years.
Frankie says Brittany's strategy is to cry for her kids, She did it to Devin and got the Power of Veto after being his primary target.
Caleb – "and he wanted to marry her"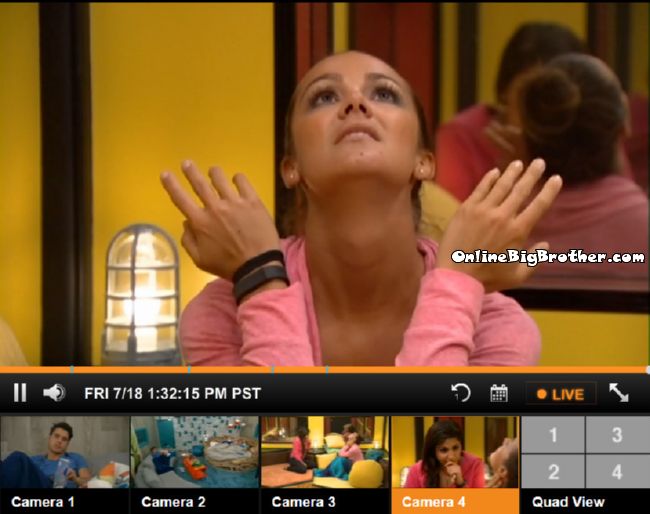 1:32pm BEEHIVE Brittany and Victoria
Brittany – "I feel like a crazy person in this house my mind goes in 5 thousand directions.. I'm not use to all this fake crap it's pissing me off like crazy.. I'm tired of being on the block"
Victoria – " when other people should be "
Brittany – "these people are supposed to be my friends"
Brittany thinks there's still a 8 person alliance.. Devin got replaced by someone, "who do you think "
Victoria – "Nicole"
Brittany thinks the 8 people is still close and when they get to nominations they get together and not put each other up.
Brittany goes on about having it the toughest time in the house. She says she's exhausted by having to fight. +
Brittany points out that the two girls that don't hang themselves off Coy are her and Jocasta. If she was younger without kids she would to Cody is gorgeous but her situation is different. "It's a different mindset" Victoria understands.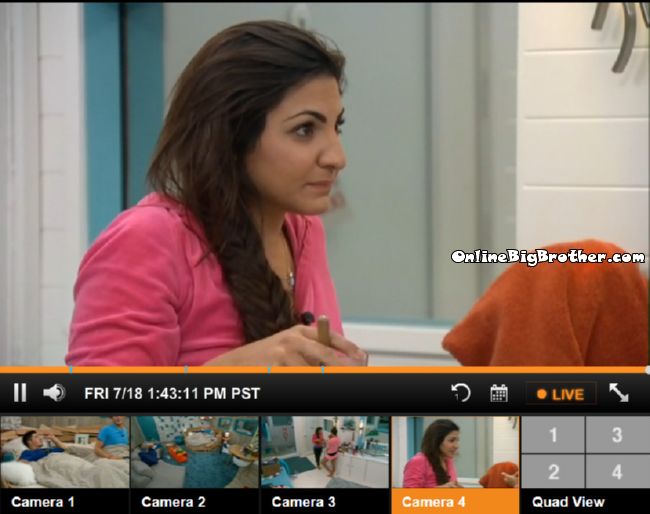 1:42pm Bathroom Victoria and Brittany
Victoria – I do not trust Christine she's against me
Brittany explains to her that last night all the girls didn't want to sleep with her because she giggles so much so Frankie was going to get them to pick a number. Victoria says people are finding the stupidest reasons to have a problem with her. Brittany goes to the kitchen were Jocasta and AMber are.
Brittany – "I've been on the block more than anyone in this house.. 3 times"
Brittany claims that Cody was the person she was closest to
Brittany – I have no clue where I belong.. I feel like the new student.. I'm too old for the young people"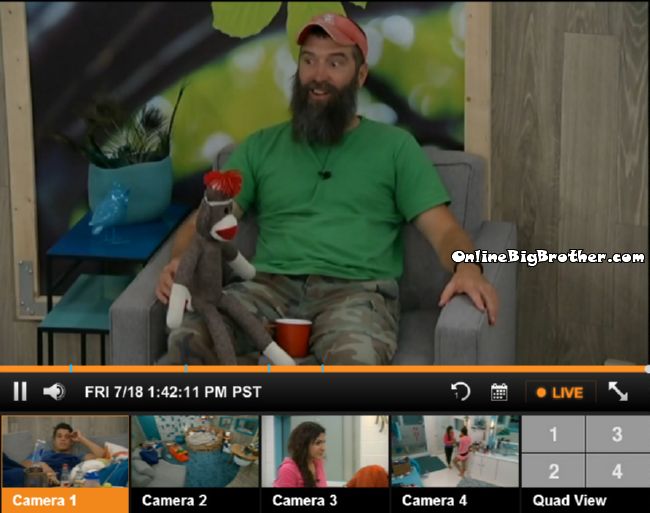 With a live feed subscription you can go back and rewatch all the events we highlight in this blog.
Try It Free! Get 24/7 access to the house for 48hrs before you decide!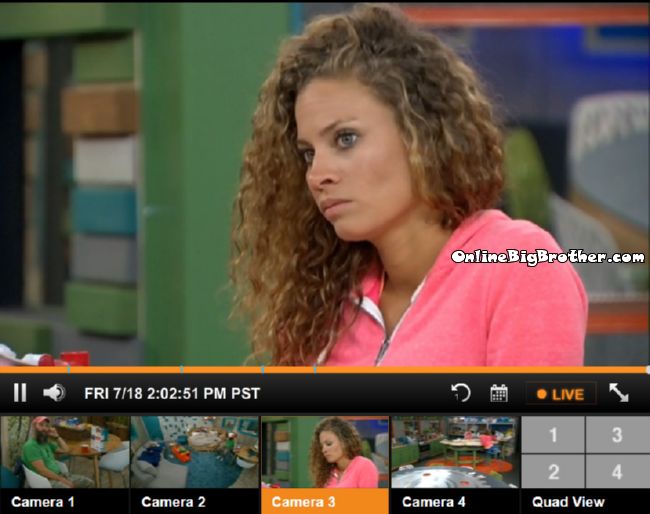 2:07pm Kitchen Amber, Brittany, Jocasta and Victoria.
Amber, Victoria and Brittany
Brittany says Donny doesn't like CHristine
Amber heard Donny was trying to get her nominated last week
Brittany says she never talks game with Donny, Donny told her last week that he doesn't trust her
They agree if one of the girls win the game they have to plan a girls trips, "Even if it's just palm springs.. "
Amber points out some people in the house "Oh it was me" and they go back to bed. Brittany says she didn't sleep once last night.
Amber brings up what Zach said during the show last night. Brittany is upset by what he said she did his laundry.
Brittany says Zach was sweet as pie to her and this week he just doesn't acknowledge her. It was because last week was an easy week and they all knew who was going home.
2:21pm We have highlights on the feeds that means one thing BOB
3:53pm Still nothing
Alliances (Some Of these are dead)
Zankie = Frankie/Zach
Bomb squad = Caleb, Amber, Frankie, Derrick, Cody, Christine, Zach, Hayden
Team America = Donny, Derrick, Frankie
Nicotine = Christine/Nicole
Not a showmance= Hayden/Nicole
Los Tres Amigos = Derrick, Cody, Zach
Feed watchers = Derrick/Nicole
We hate Devin = Christine and Zach
Outsiders = Brittany, Victoria, Jocasta, Donny
Old timers = Jocasta/Donny
Stalker = Caleb/Amber
Quad Kings = Derrick, Zach, Cody and Hayden (still being built)
Trilogy = Nicole, Christine & Hayden
The Detonators = Derrick, Frankie, Zach, Christine, Cody
Final 2 Deal "The HITMEN" – Cody & Derrick
[polldaddy poll=8192326]