POV Holder:
Spencer
Next POV
Aug 3rd
POV Used
YES
POV Ceremony
Aug 5th
HOH Winner:
Aaryn
Next HOH:
Aug 1
MVP:
AMERICA
Original Nominations:
Spencer, Howard, AMANDA (MVP nom)
Current Nominations:
Candice, Howard, AMANDA (MVP nom)
Last Evicted Houseguest
David, Nick, Jeremy, Kaitlin
Have Nots
Judd, Amanda, Candice, GinaMarie
6:25pm Kitchen Helen and Elissa
Cleaning up in the kitchen..
Helen: "I am so mad at him how can he do this to us"
Elisa: 'I can't even look at him the same.. what is wrong with him"
H: "I don't know"
Elissa talks into the microphone tells production to get them some Greek yogurt and non stick cooking spray because some of the house guests are gaining a lot of weight.
6:31pm Storage room Amanda and Candice
Amanda: "I want you to know there people that are targeting you for next week but Helen, Elissa, McCrae, Andy and me are keeping you save.
Amanda says she's telling Aaryn they are taking Candice out next week out next week but they really want to keep Candice. Amanda says the target for them all is Spencer next week.
6:42pm Cockpit Andy, JUDD and Candice
Speculating what the HOH is going to be tomorrow. Candice says it's going to be endurance she's sure of it. Andy wonders if it's maybe double eviction and they are setting up two competition in the backyard with a wall separating them.
Andy tell Candice that she's sitting real pretty. JUDD tells her he is so mad that his name is getting thrown out there as targeting Candice.
Candice: "I don't know one day Jessie's my friend and now she's talking to about voting against me.
Andy: 'you are talking to two people that never once contemplated getting you out"
JUDD we're a flirtmance not a gamemance
Candice says she's just so surprised o0ne minute her and Jessie Are praying together and the next she's stabbing her in the back.
JUDD asks her if it's endurance does she thinks she has a chance
Candice plans to hole on until her arms fall off. She knows if she doesn't win HOH and POV these next two weeks she'll be going home. JUDD tells her that isn't true he knows there are more targets out there than Candice.
Andy says Dan Gheesling over played last year and that is why he didn't win. Adds that he lied and backstabbed everyone those players usually don't win.
Candice says she's had so much thrown at her she doesn't know what is fake and what is real says she very intelligent and very good at reading people but right now is overwhelmed
You can re-watch ever second on the feeds using their flashback feature.. It's just like a DVR and is super easy to use. click this link for a Free Trial —> Subscribe to the Big Brother Live Feeds
6:52pm Bedroom Amanda packing her clothes talking to Elissa about how much they want to keep Candice. Elissa mentions
6:57pm Helen, McCrae and Amanda (Paranoia overload)
Helen is freaking out because JUDD is in the cockpit with Candice she's worried that nobody else is in there with them. Helen adds that JUDD came out for a minute then when he went back in he closed the door like he didn't want me to go inside, "Helen don't come in here kinda thing".
MC: "I think he's just trying to make sure he's not her target if she wins HOH"
Helen starts scrambling around trying to find out where Andy and Spencer are. She thinks they are in the HOH with Aaryn.
Amanda wonders if JUDD is trying to hatch a plan to send her home. She's not worried because Elissa is going into the Cockpit right now. Amanda: "JUDD really wants Howard to stay because he knows Howard and Spencer will not come after him"
Amanda brings up how JUDD has been saying "Jessie has to go Jessie has to go"
Helen: "he has to go soon"
Amanda: 'I know he's shady as f****" Amanda adds that JUDD wouldn't put up Amanda/Helen or Amanda/McCrae because that would make him too big of a target.
Helen: "He cannot win HOH tomorrow"
Amanda: "We have to get him or Spencer out next week.. we have to make damn sure we have the votes before we put him up"
Amanda says they have to keep tight lipped with Candice until she wins HOH then they will fill her in on the plan.
(Helen and Amanda start working themselves into a frenzy about JUDD you would think he invented cancer.. they did the same thing with Howard last week.)
7:12pm Elissa joins them tells them nothing went on in the cockpit they were just chatting.
7:22pm Have nots Amanda and McCrae
McCrae saying that Jessie is super pi$$ed right now he doens't know why. They start kissing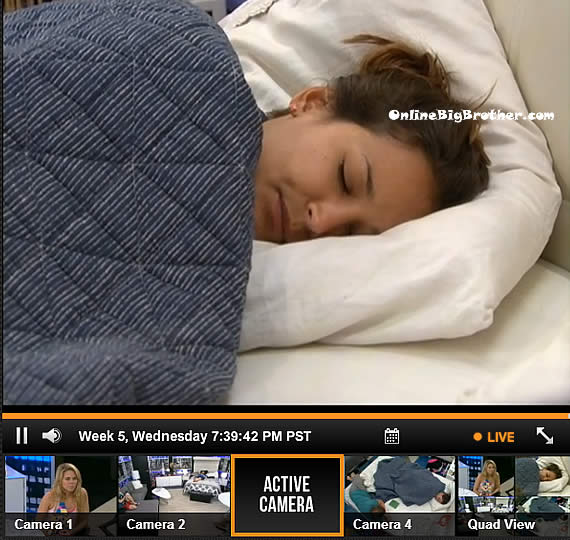 7:39pm Bedroom Jessie, JUDD and Amanda
Amanda: "Why Are you giving me attitude"
Jessie: "I'm not"
Amanda: 'So this is normal Jessie"
Amanda leaves. Judd asking her what is wrong why isn't she talking to him. Jessie doesn't feel like talking to anyone right now she wants to be left alone.
JUDD: 'You are being silly stop.. what about our conversation last night.. I thought we were going to talk to each other"
Jessie: "Doesn't matter if we talk"
JUDD: 'Matters to me"
Jessie says she's fine he can go do his thing and she will do her thing.
JUDD: "did someone approach you.. or are you just randomly pissed off"
Jessie: "Just randomly pissed off"
JUDD: "You better start talking I'm not going to play these games.. now I have to worry about you"
Jessie: "It really doesn't matter how I feel JUDD.. it only matter how a couple people feel"
JUDD: "Who does it matter to"
Jessie: "you have a brain JUDD you figure it out"
JUDD: 'have you been talking to Spencer"
Jessie: 'How can I say two f**** words and you say I've been talking to Spencer.. what the f*** stop putting f*/*** words in my mouth"
JUDD: "You are being a a$$hole right now i'm not playing your childish games today"
JUDD leaves tells Amanda, Elissa and Andy that she's flipping out and being a big baby he's not dealing with it anymore.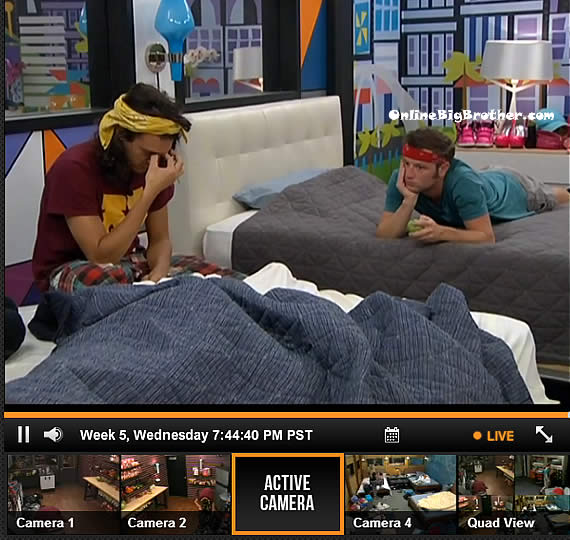 7:44pm Amanda, McCrae, JUDD and Elissa enter the room
Jessie tells them she doesn't want to talk. Amanda: 'This is a intervention.. there's people that love you here.. why don't' you be honest with us and clarify so we can give you some peace"
Aaryn joins them.
Amanda tells her she's drawing negative attention to her she needs to tell them what is wrong
Amanda: 'What is her problem.." Amanda looks at Aaryn "she's freaking out on everyone.."
Jessie tells them to leave her alone. Amanda keeps asking her why is she upset.
Jessie: 'I don't want to talk about it right now"
Production tells Jessie to put on her microphone. Amanda asks her if she needs help with it. Jessie says she doesn't want to wear her microphone she wants them to leave. Amanda comments how it's in their contract to wear a microphone.
Amanda is mouthing something to McCrae and they start to snicker
Jessie tells them to leave
Amanda: 'You are acting so odd right now I am so confused.. OK WELL I'M NOT GOING TO BEG" they all leave except for JUDD and Aaryn
Aaryn :'JESS it's only Judd and Aaryn right now" Aaryn says if anybody did something to her please tell them when she's ready and she'll help her out. JUDD and Aaryn leave.
7:49pm Helen comes in to check on Jessie
"Jessie hon are you OK it's Helen.. can I get you anything"
Jessie says she doesn't feel like talking right now. Helen give her the space and leaves.
7:52pm GM comes in offers support and leaves.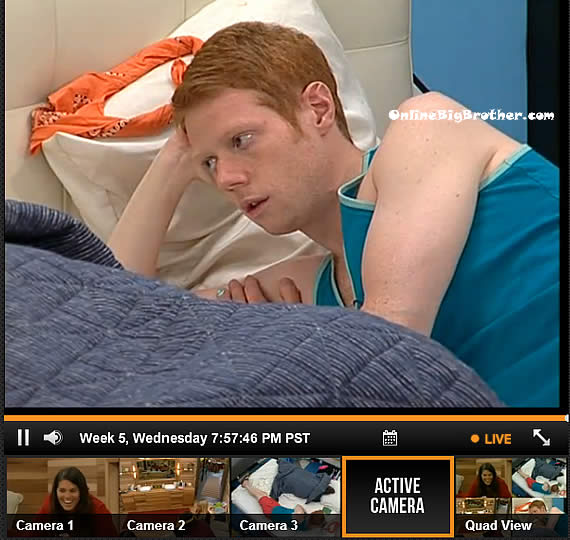 7:55pm Andy and Jessie
Andy: "I promise you you can talk to me.. I know a lot of sh!t came out last night and it never changed how I thought about you.. I mean it"
Jessie: 'I am just afraid to talk to anybody" Jessie starts to cry. "I can't be myself and share my opinion because it will just bite me in the A$$"
Jessie says whatever she says gets twisted around and blown out of proportion She feels like she did when Jeremy was in the house, nobody likes her and nobody wants to be around her. Andy says that everyone has forgotten about last night.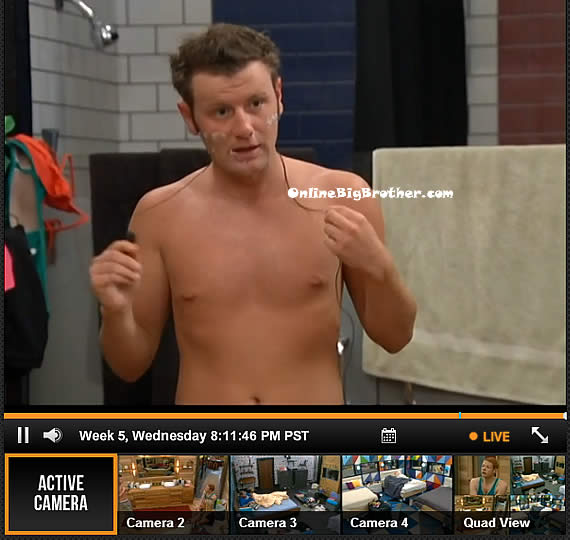 8:10pm Bathroom Andy, GM, MC, Amanda, Elissa and JUDD
Amanda is saying she cannot believe Jessie thought Amanda was threatening her all she wanted was for her to clarify what is wrong. Amanda adds that all she was trying to do was tell Jessie to stop making a spectacle of her self and pull all the negative attention to herself. Andy says she told him that someone let her down and he doesn't know who that is.
Andy says to JUDD he doesn't like that JUDD is saying he heard thing that were not said.
Andy: 'You said you heard Howard's name and literally his name was never said.. I can get Jessie out here right now and she would verify that.. Like i'm just telling you"
JUDD: "Andy stop snapping at me"
A: "I'm not snapping at you.. you cam to me and said you heard that and it was not said"
JUDD says he's 90% sure he heard something about Howard
JUDD: "OK ANDY STOP LOOKING AT ME LIKE THAT"
Andy: 'I'm not snapping at you.. i'm just saying that wasn't said"
JUDD: "I'm just trying to take a shower dude"
Andy: "You came at me and said.. "
JUDD: 'I didn't come at you.. I said I thought I heard his name"
Andy: "well i'm telling you you didn't"
JUDD: 'Have I said anything else about it in here.. NO.. you keep bringing it up"
Andy: 'I don't like you are saying it in the first place"
You can re-watch ever second on the feeds using their flashback feature.. It's just like a DVR and is super easy to use. click this link for a Free Trial —> Subscribe to the Big Brother Live Feeds