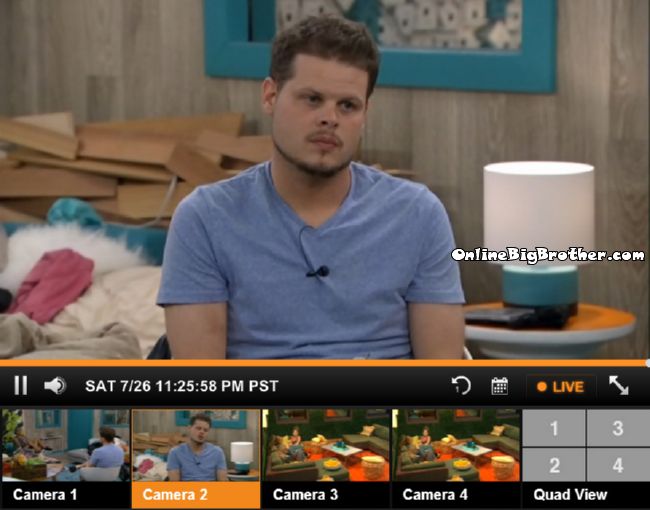 11:25pm HOH Derrick and Cody
Derrick asya Hayden wants to be in an alliance with Cody, Derrick, Christine and Nicole.
Derrick saying them against Zach on the block they are staying. Derrick adds his biggest fear is someone makes the connection and puts them both up. Cody thinks they've done a good job of hiding them working together.
Cody says Caleb won't use a veto on him, Derrick agree mentions it doesn't matter as long as he pulls Derrick off they will be fine. Derrick feels if DOnny's back is against the wall he'll put them both up.
Cody thinks it's hilarious that Caleb wants Amber on the block and use that as a chance to talk to amber, "This Kid thinks he's a master mind he's so fu**ng dumb"
Derrick – that is why I want to keep him here"
Cody – once Amber is gone I'm his number one target.
Derrick always see Hayden and Donny talking.
Cody doesn't think it's game it's just chit chat. Derrick has seen this show before when people thought to be just chatting but they are talking about how to keep each other safe within their alliances.
Derrick has noticed that Hayden is always protecting Donny, "I don't want to keep Donny around'
Cody – I'm unsure about donny.
Derick points out if Amber and Caleb are gone Donny runs out of possible nominees it might be them. Derrick adds that Zach is really close to donny to he's always saying how DOnny is in his back pocket.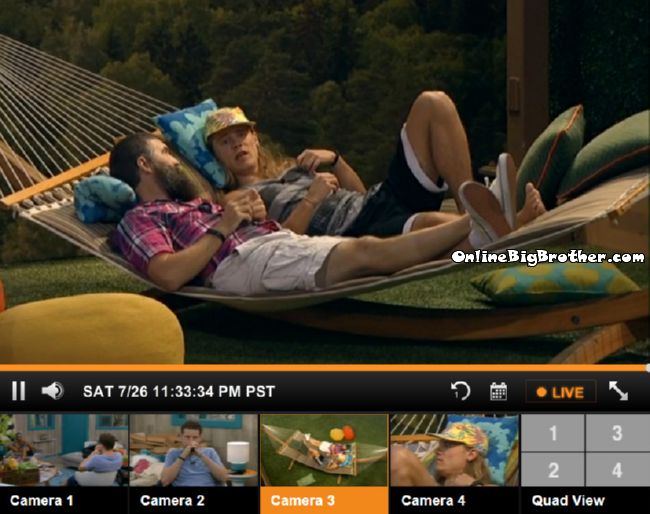 11:32pm Donny and Hayden
Hayden says he's always putting a good word in with Christine. Donny is trying to win her over.
They agree that Frankie is all around the best competitor in the house
Donny – he's quick witted
HAyden – amazing social game and as far as competition goes he's got the best body type in the game.
Donny – he will only go up just one time
Hayden "and will go home.. everyone knows that.. in a few weeks Frankie will be a target".
Hayden – I trust you and I trust Nicole a lot
Donny is worried about Nicole because she's close to Christine and Christine is close to Frankie
Hayden says Jocasta is campaigning to Nicole, "I just hope she doesn't campaign too hard it's a waste"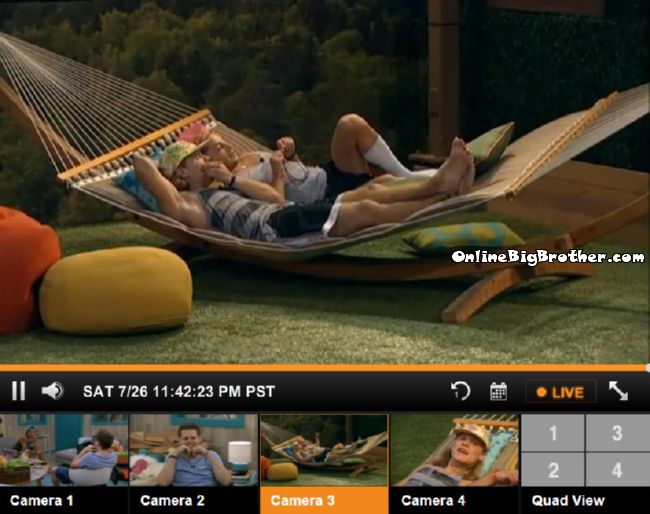 11:43pm Hammock Hayden and Frankie
Frankie wants Hayden to use the Veto on Jocasta, Victoria will be safe they don't have to worry.
Hayden says he has to use the veto on Victoria he told her if she picks him for houseguest choice and he wins he promised he would use it.
Hayden – I'll do damage control on Caleb don't worry
Frankie – we needs Amber completely blindsided.
Frankie is going to pull Jocasta aside and tell her Hayden is goign to use the veto on Victoria but he's going to make sure the person up against Jocasta is a HUGE target.
hayden – "If I take down JOcasta people are going to look at me like I have four heads.. the damage control on Caleb is going to be easy"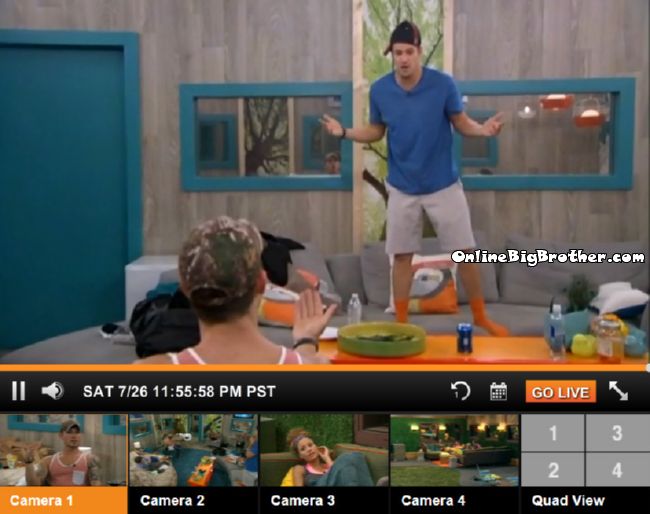 11:55 cam 1-2 Caleb, Zach, Frankie , Derrick, Cody
Everyone in the HOH room has won a HOH competition. Frankie boasts he has won 3.
Cody points out they have all had a hand in sending someone home. Caleb asks how many of them have been remaining HOH's "We were all 4 remaining HOHs once"
Derick mentions the only other person is sent home because he didn't play by the rules.
Zach – "F*** the rules"
Zach Climbs onto the coffee table "I'm being straight no f** girl is going o win this game straight f*** up like that I'm Not lying one of us five is going to win this game"
Caleb says this is going to sound bad "it's this simple if i want her to go home this week she will go this week"
Zach – Like you said Bro lets scare her a bit
They all start laughing amber is goign to try and rally the girls all four of them .. Caleb thinks the girls have an alliance and if they won 4 of them would go up.
Zach says they know who is going up Beast mode cowboy and Frankie J "I'm tired here I'm tired of putting my blood sweat and tears into this mother f***er and getting nothing out"
Caleb – Dude you are putting nothing but ZZZZzzz in
Zach – "I'm tired bro i'm tired
Caleb – your activity bracelet isn't even on
Zach – say the lazy bum that's on slop this week.
Caleb joking around calls zach a fruitloop dingus douchebag
Zach – you think douche bag insults me I take pride in the fact i'm a douche bag
They joke zach is just like his cousin Amanda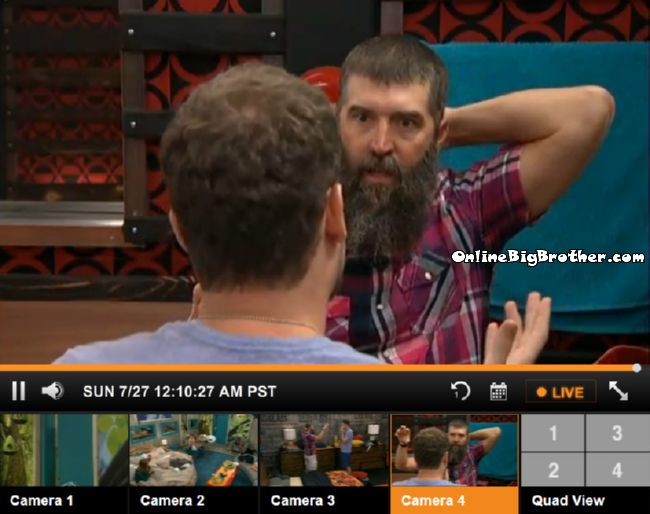 12:10AM Cam 3-4 Derrick and Donny
Donny says Amber loves him but will stab him in the back first chance she gets she told Nicole to put him up, "She's extremely athletic pretty smart, extremely good at competition I don't think I can beat her.. he (Caleb) is a idiot.. We can keep him alone maybe even pull him over.. he talks about a being a competition beast he's shown nothing"
Derrick you and me can smoke him
Donny says Amber plays Caleb the head has to go the head of the snake.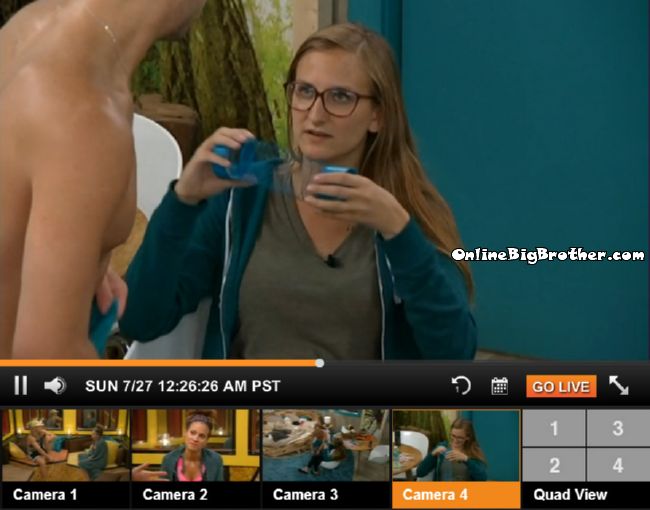 12:32Am HOH Frankie Christine an s Zach
Frankie talks about Caleb coming up to him with the biggest game movie ever that will rock the world. Caleb told him to get Hayden to use the veto on Jocasta to put Amber up. Frankie _ points out he gave caleb full credit for it. Christine laughs "Perfect" frankie adds that Caleb was saying he doesn't want Amber to go home he wants her scared so she comes crawling back to them "Back in my arms"
Christine – "He's so selfish"
Frankie- This is a ploy to get her back"
Frankie adds that Caleb wants this to be a test if Amber blows up the alliance they will send her home. Christine has the idea that she will make up that she told Nicole. Frankie says it's brilliant.
Christine can't wait to see the look on Amber's face when she gets nominated on Monday. She;'s going to make sure she sits across from her.
Zach is going to say on Monday "Amber that is what you get for lying through your teeth every time you open your mouth" (#Wildcard)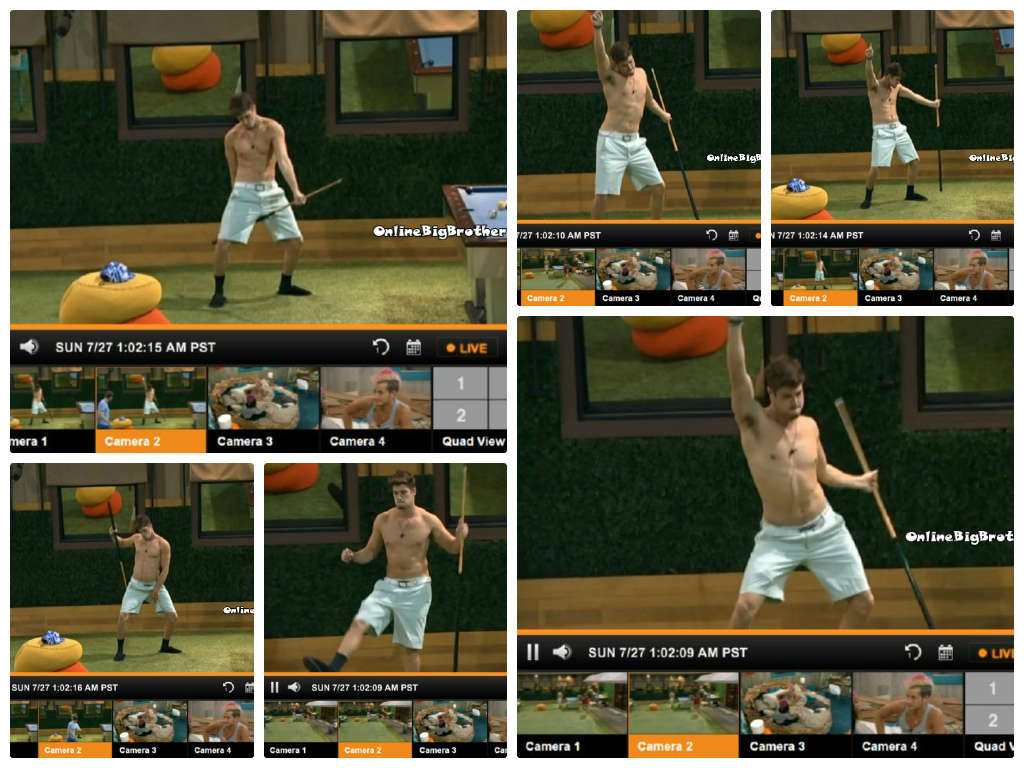 1:02AM Zach dancing says when he went in the Diary room and asked them how the hell did he get more activity minute than other people. The replay from the Diary room was "You use your wrist a lot"
1:10AM Christine and Cody
Christine says she's been very smart with Nicole, Smart enough so that AMber can blow up the alliance on Nicole and it won't be a big deal "I promise if Amber blows this up you will not be in trouble"
Cody – When caleb finds out she's going home before Jury he's going to blow a gasket.
Christine is going to work on her to make sure she completely ignores him
Cody says Caleb slipped up when talking to Cody said he was going after cody next. "He's a f**ing Idiot "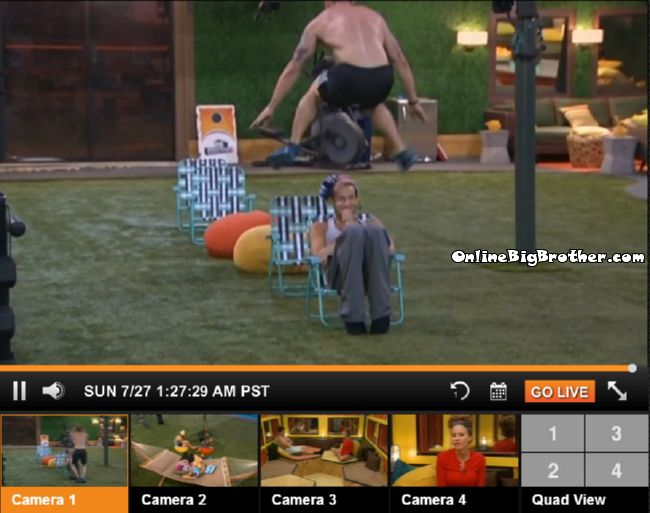 1:27AM Beast Mode hops over Frnakie
1:21AM BEEHIVE Zach and Amber
Amber campaignings says she's done a lot for the team is still onboard with the bombsquad plan,
Zach says all they need is 5 votes to stay and theres 8 people in their alliance. Amber asks him if she could be the last girl standing that is all she wants. Zach tells her she should want to win.
Amber – I played the game I actually played
Zach tells her Victoria is going home 100% he doesn't think Hayden is going to use the Veto he asks Amber if she's' talked to HAyden. Amber isn't sure thinks hayden is on the fence.
Zach is recommending Amber doesn't talk to Caleb just wait out the week. Zach – If anyone is loyal in this house it's Caleb.. He's going to do anything to make sure we're the last 8 people were.
Zach says if everyone hates him in the house he'll go to bed happy and wake up happier.

1:50Am Derrick, Cody and Zach
Zach – "Dude I just went on a date with Amber and I killed it Bro"
Zach laughing "Dude this is going to be so funny she is going to be BLINDSIDED"
Cody – Dude i'm telling you right now Caleb is going to be blindsided to"
Zach leaves.
Derrick says Donny is not going to work with them, "If he was a HOH and wasn't a dumba$$ he would put two of us up.. I don't think it will be me and you"
Derrick anc Cody don;t want Claebn to win the HOH. Derrick asks him who Caleb would put Cody up against.
Derrick says it doesn't matter who he puts Cody up against .
Derrick – "i am not voting you out and Zach isn't voting you out everyone else.. I don't know call me paranoid"
Derrick says before Donny would put Caleb up he would consult them. Derrick says Caleb doesn't take a sh1t without consulting them.
They agree Caleb and Donny would be good nominations next week. Derrick – "But ultimately we have to put up people that want to put us up.. just a thought"
COdy and Derrick both think if they go up against Hayden they can go home, Derrick – That's a problem.. he's no in our alliance and Caleb could put us up with him Cody thinks it's a big problem, "But at the end of the day… (rolls eyes)"
Cody really wants Caleb gone. Derrick says it has to be next week. Cody thinks he might be able to stay if up to Hayden but to be honest he doesn't know where Zach would vote. Derrick says he would punch Zach in the f*** mouth if he didn't vote to keep Cody . If he came up to Derrick and said They should get Cody out I would tell him if Cody stays i'm not working with you anymore. Derrick doesn't think Caleb is going to beat them in competitions.
Derrick warns him if they rock the boat too much while Frankie is "Up There" he might flip the script on them. they need to win HOH next week tells Frankie to take a back seat.
Derrick says Christine is a f**ign Mouse "She's not going to win HOH i'll bet it on everything I love i've seen it before.. she will never win a HOH she's playing the floating game.. Now maybe that people are throwing her name out there.. her value is giving you information"
2:00AM Nicole and Christine
Nicole is complaining about Victoria flirting with Hayden She wants Victoria gone.
2:20AM Backyard Couch Nicole and Cody
Nicole says she trusts Hayden, Cody, Christine and Derrick
Nicole says she's so glad she wont teh HOH with Derrick becuase she's deveoleped a good level of trust with him. She knows she can bounce ideas off of him and know Derrick isn't trying o manipulate her.
Alliances
Zankie = Frankie/Zach
The Detonators = Derrick, Frankie, Zach, Christine, Cody
Final 2 Deal "The HITMEN" – Cody & Derrick
Trilogy = Nicole, Christine & Hayden
Team America = Donny, Derrick, Frankie
Old timers = Jocasta/Donny
Nicotine = Christine/Nicole
(Defunct or unknown status)
Bomb squad = Caleb, Amber, Frankie, Derrick, Cody, Christine, Zach, Hayden
Not a showmance= Hayden/Nicole
Los Tres Amigos = Derrick, Cody, Zach
The bottom Feeders = Derrick/Nicole
We hate Devin = Christine and Zach
Outsiders = Brittany, Victoria, Jocasta, Donny
Stalker = Caleb/Amber
Quad Kings = Derrick, Zach, Cody and Hayden (still being built)
One way to support this site that doesn't cost you anything extra is making your Amazon purchases through the links below Amazon.com OnlineBigBrother Link
For Canada use link Amazon Canada OnlineBigBrother
More polls here https://www.onlinebigbrother.com/big-brother-compendium/big-brother-16-polls/
[polldaddy poll=8207784]
Share it YO!
Tweet