POV Holder:
Hayden
Next POV
Aug 2nd
POV Used
?
POV Ceremony
July 28th
HOH Winner 1:
Frankie
HOH Winner 2:
 Zach
Battle of the Block Winner
 Nicole/Christine
Next HOH/ Next BOB
July 31/Aug 1
Original Nominations:
ZACH's Noms (Christine & Nicole) Frankie's Noms (JOcasta & Victoria)
Final Nominations:
?
Have Nots
Nicole, Caleb, Christine, Derrick
POV Players
Frankie, Victoria, Jocasta, Donny, Hayden & Christine
2:30am Out on the backyard couches Nicole and Cody are talking. Nicole says I trust you, Derrick and Hayden. She says I wish I would have found him (Hayden) sooner because I can trust his opinion. She says that he isn't trying to manipulate me at all. Cody says a lot of stuff I say, I base it off of Hayden. I don't think anyone knows about us either. If you guys are on the block next to each other. It doesn't matter who they put up, we will control the votes. Next week you only need 5 votes to stay. If I got put up next to zach I'll be fine. I don't want to be close to you and Christine because they may put us up together. I dont want it like we talk to much. Nicole says that it's hard sometimes because I only want to talk to people that I can trust. Cody asks you don't talk to anyone about what we talk about do you? Nicole says no, I trust you. Cody says that after this week, I think we'll have a lot of persuasion. Cody says that he can talk Zach into anything. Nicole says that Donny said he trusts you and Hayden. She says he doesn't talk game to me. Cody says that he doesn't really talk to me either. We both put him up. He told me that he trusts you the most out of anyone. Cody says Donny told me that he understood why I had to put him up. He said if he's not in the game any more he wanted you and I to be in the final two.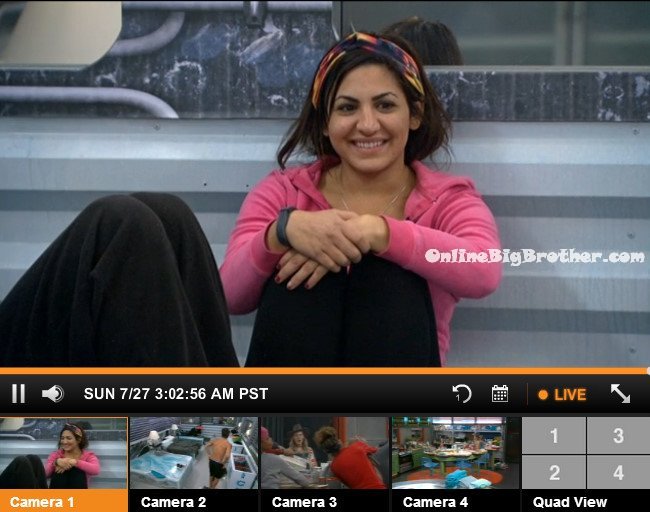 3am In the havenpt room –
Derrick and Victoria are talking. Derrick talks about how there are people lying about who they are outside the house. He says you're kidding yourself if you don't think people are lying in here. The cameras switch to the kitchen. Cody comes out of the bathroom with a pantyliner over his eyes. He come out to the kitchen where Christine and Hayden are sitting at the bar. He tell them that they can't use it because he trademarked it. Cody then rips it off his face. In the bathroom Cody takes a shower and Amber grabs a bucket of cold water and dumps it on him. He tells her he is going to get her back. When Amber is in the bathroom stall he holds the door shut. She pushes on the door and then he lets go and she flies out onto the floor.
Take Advantage of the FREE 2 day Trial to watch all the drama!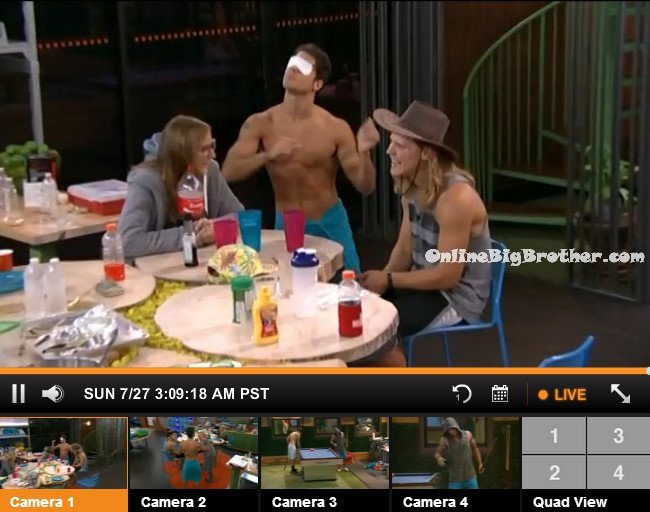 Out in the backyard. Zach and Caleb are playing pool. Caleb says she can play her own game come Thursday. See how she likes that. Zach says at least let her sweat a little bit. I asked how the date went and she said it went well but I don't like him like that. She just didn't want to hurt your feelings. Caleb says HmmMMMmm. Zach says and she already said that she isn't going to try to talk to you. Caleb says yeah Cody said the same kind of thing. Zach says you should have stopped talking to her two weeks ago. Caleb says she said that she doesn't like to sleep next to guys and then her and I would sleep next to each other. We would whisper and hold hands talking about what we missed about back home. Caleb says I am done. The world knows who I am! Zach says Beast Mode Cowboy! Caleb says yeah! Zach says you're going to have girls all over you when you get out. Caleb says oh I know, we just had so much in common. Caleb says well I can put it in motion for her to go home. Zach says its not right the way she treats you. If I was you I would be pissed! She said that she is the reason that Devin went home. Frankie comes out and they talk to him about Amber. Frankie says I can't stress this enough that we can't blow it to her too early. Caleb says all I can say is that if she tried to talk to me she would look stupid because I wouldn't even talk to her. Caleb heads over to the hammock and lays alone.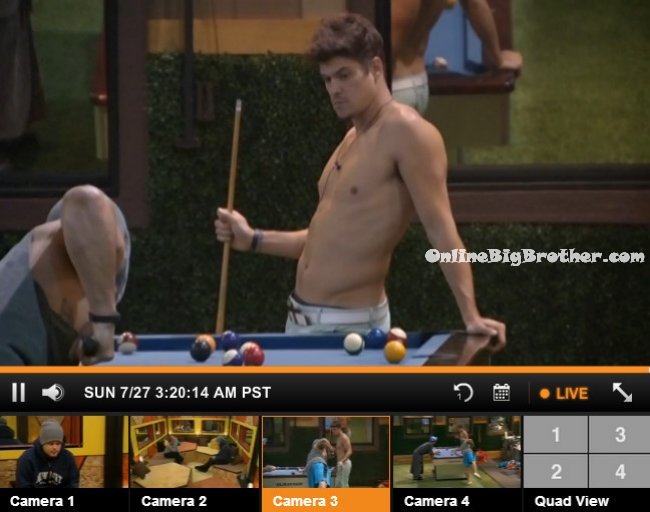 3:30am Up in the HOH room – Frankie and Zach talk about the Caleb / Amber situation. Zach says this is great he wants her gone. Zach says this all started because of me. Zach says he was the one that went to Derrick, then Amber, then Caleb. Zach explains how he broke all the news to Caleb, broke his heart and scored the goal! Zach says when Amber asked if she should talk to Caleb I told her no. I told her that time heals all wounds. If this blows up it will all come back to me. I am just going to follow Caleb around all day. Just remind me to. I just have to make sure she doesn't talk to Caleb. Frankie says that he is now working with Jocasta. I asked her if she is working with any one and she said no so I asked her if she wanted to work together. Zach says dude you're not going to have anyone coming after you.

3:45am Nicole goes to the storage room and grabs a fish in a bag and goes to put it in Hayden's bed in his pillow.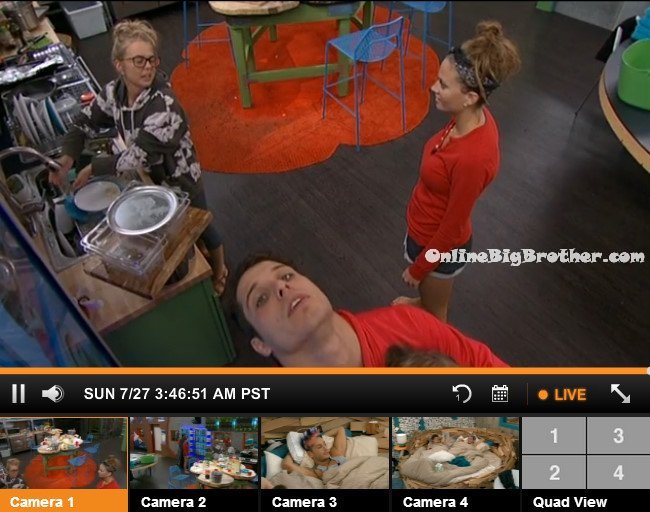 4:10am Zach and Frankie are laying in bed together. Zach rubs Frankie's back. Zach says I could just sleep on you. I love you man. Frankie says I love you. Zach says too bad I'm not gay. Frankie says yeah because you would be having the best sex of your life. I would marry you. I love every thing about you. Zach says I love everything about you too. We were a match made in big brother history.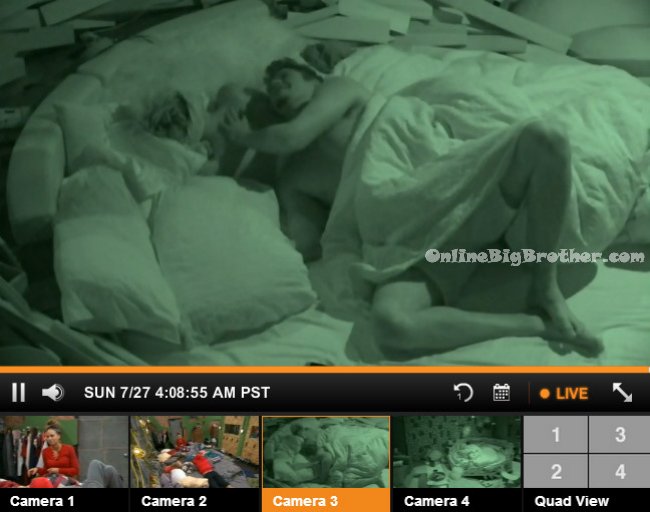 4am – 4:40am In the earth room – Amber feels bad that Caleb is upset. I feel bad but I don't care. I just fell like it needs to blow over. Boys are worse than girls. Amber brings up how when he wanted to talk to her she told him in a nice way that I just didn't want to. That was 4 days ago and he hasn't talked to me since then. Amber comments on how Zach asks what was up with her and Caleb. I said nothing is up with me and Caleb because there has never been anything with me and Caleb. Amber says I've been in less awkward situations in 5 year relationships than I've had with this kid. And I'm not even anything with him. Everyday its something different. Like him walking by me and ignoring me is just disrespectful. Amber says I am not going to go out of my way to talk to him. They head to bed. Nicole asks them not to let Hayden wake her up after finding the fish in his pillow because I am going to be busy sleeping in the havenot room.

Big Brother 16 Live Feed FREE TRIAL – Use the FLASHBACK feature to watch everything you've missed!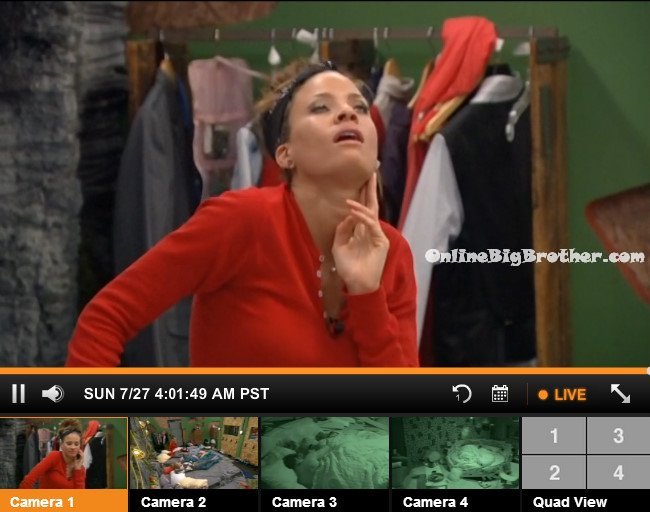 4:40am – 5am Hayden comes out of the diary room and knows Nicole hid the fish somewhere in his bed. He digs around in his bed and finds it in his pillow. He then chases Nicole all the way out into the backyard. He throws it at her and then continue to chase her inside the house. Nicole runs to the earth room and hides behind Cody. Cody hides her and Hayden slap both of them with the fish. Cody says great now my hoodie smells like sh*t. Nicole then goes and grabs another larger fish and goes to get him but he grabs it and she falls on the ground. She's laughing and screaming saying don't! I'll do anything! He slaps her with it a few times. After Nicole starts gagging as she takes her hoodie off. They complain that the whole house stinks like rotten fish.
5:05am Cody, Amber and Hayden have a pillow fight.
5am – 5:35am Caleb is out in the backyard pacing around. Talking about how he can't sleep and is walking off the boredom. Beast mode cowboy coming in hot this week. Gonna make some plays and get some people out who we don't need any more. People think they're safe in this house.. not with beast mode cowboy in the house. I can't wait to wrap my lasso around then and take them down. Caleb finishes pacing and goes to play pool with himself.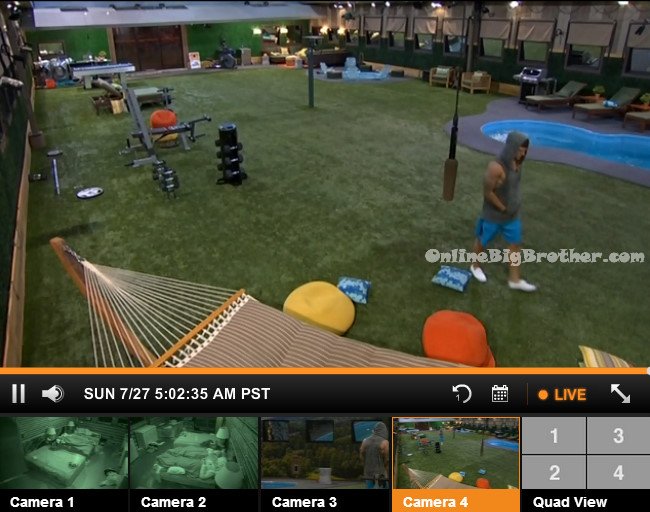 6:30am Caleb heads to bed..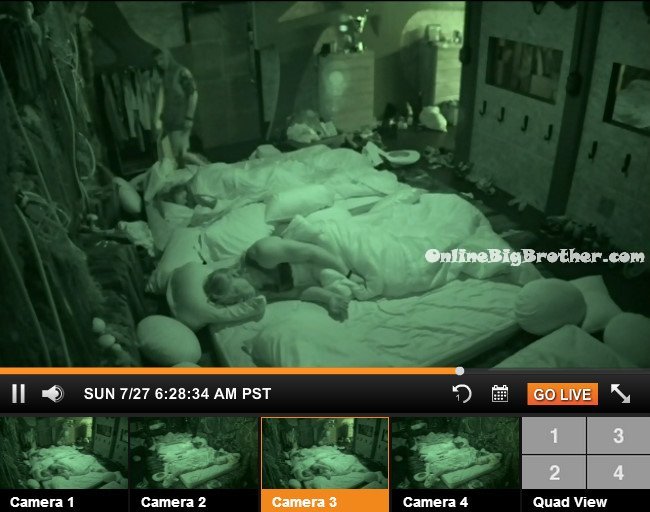 Alliances
Zankie = Frankie/Zach
The Detonators = Derrick, Frankie, Zach, Christine, Cody
Final 2 Deal "The HITMEN" – Cody & Derrick
Trilogy = Nicole, Christine & Hayden
Team America = Donny, Derrick, Frankie
Old timers = Jocasta/Donny
Nicotine = Christine/Nicole
(Defunct or unknown status)
Bomb squad = Caleb, Amber, Frankie, Derrick, Cody, Christine, Zach, Hayden
Not a showmance= Hayden/Nicole
Los Tres Amigos = Derrick, Cody, Zach
The bottom Feeders = Derrick/Nicole
We hate Devin = Christine and Zach
Outsiders = Brittany, Victoria, Jocasta, Donny
Stalker = Caleb/Amber
Quad Kings = Derrick, Zach, Cody and Hayden (still being built)
One way to support this site that doesn't cost you anything extra is making your Amazon purchases through the links below Amazon.com OnlineBigBrother Link
For Canada use link Amazon Canada OnlineBigBrother
More polls here https://www.onlinebigbrother.com/big-brother-compendium/big-brother-16-polls/
[polldaddy poll=8207784]