POV Holder:
?
Next POV
Aug 2nd
POV Used
?
POV Ceremony
Aug 4th
HOH Winner 1:
Donny
HOH Winner 2:
Nicole
Battle of the Block Winner
 Caleb/Victoria
Next HOH/ Next BOB
Aug 7/Aug 8
Original Nominations:
Donny's Noms (Victoria & Caleb) Nicole's Noms (Zach & Jocasta)
Final Nominations:
?
Have Nots
Frankie, Cody and Hayden
POV Players
Nicole, Christine, Jocasta, ZachAttack, Caleb, Victoria,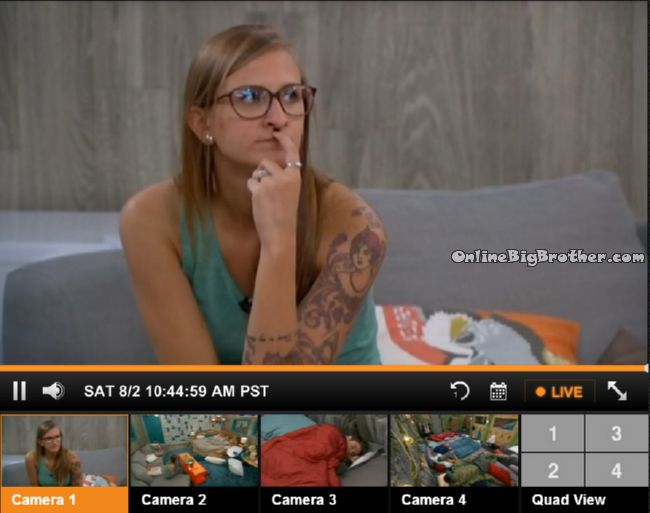 10:40pm HOH Frankie and Christine
Frankie says if POV is played he's got the feeling someone is going to make a big move.
Frankie thinks Derrick isn't work with anyone, 100% he's working for his own game and using everyone
Christine says that is a smart game to play.
Frankie starts bringing up the intelligent/Medical things Donny says "all the diluted blood on his hands"
Christine – he's brilliant
Frankie lists off a bunch of things Donny has done that makes him think "He's a medical professor"
Christine "The way he uses his words the way he speaks to you ..he's so good at avoiding things."
Frankie -he gets information out of everyone
Nicole comes out of the bathroom
Frankie did you hear about our whole philosophy on Donny.
They go back to the bathroom and Nicole continues to curl her hair. They go over all the Biological and medical things he says.
Frankie – "I bet you know the f***ing krebs cycle OK Rose"
Frankie – "Your blood has been on so many hands I feel that it's been diluted on mine"
Frankie gets called into the Diary room.
Christine says Zach doesn't know that she knows about the bomb squad
Christine says she wants Jocasta to win so badly because if Jocasta goes down nobody will not vote out Zach .
Nicole – Do you want Zach gone
Christine – yes
Christine says Derrick, Cody and Caleb will vote to keep Zach .. "to be honest I think there is a guys alliance.. I think Frankie is part of it.. it's Frankie, Cody, Derrick and Zach.
Christine – Hayden, Donny and Victoria there's no way they will vote Zach to stay"
Christine thinks the vote will be 4-4 with the guys alliance voting to keep Zach.
Frankie comes back..Jocasta gets called into the Diary room over the house speakers. They watch her walking on the HOH screen. Frankie calls the way Jocasta walks "The Swamp walk.. like the swamp thing" He does a walk across the HOH room.. Christine laughing away. (it was pretty funny) Frankie "Pick up your feet, suck in your belly lift up your chin and walk"
Nicole – I haven't noticed
Frankie – it's offensive
Christine – it irritates me we all have our pet peeves.
Frankie – oh god scuff scuff scuff it's like she's walking through molasses.
With a live feed subscription you can go back and watch any event that has been shown. Use out site as a index and watch only the parts worth watching.
Try It Free! Subscribe now to the official BB16 Live Feeds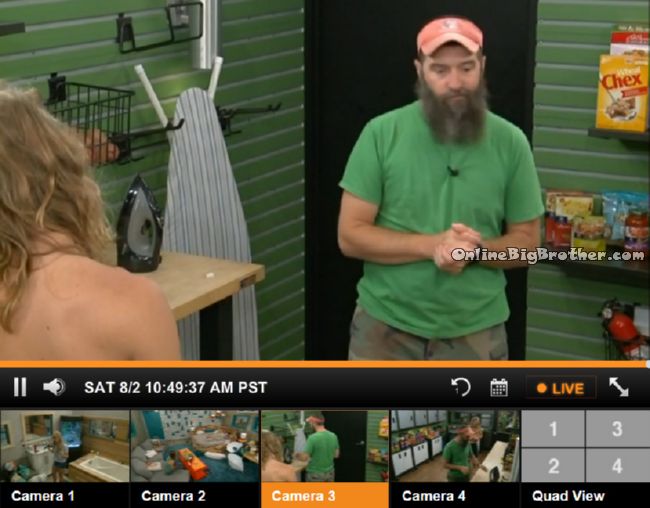 10:50pm Donny and hayden Storage room
Donny says he might be getting paranoid but She's sleeping with the enemy
Hayden tells him not to worry about it she didn't want him to sleep up there
Donny alright
11:10pm Frankie and Christine HOH
Talking about Nicole wanting Zach out. Frankie can't believe she thinks she has the votes.
Christine – She thinks everyone wants zach out
Frankie – If Zach doesn't win POV we're going to have to show our cards
Christine says zach isn't worth showing her cards for Zach. She wonders if they can have the votes turn out a way so Nicole doesn't know what happened.
Frankie about Zach – he's so volatile he's playing both sides so hard
Christine says they could blame a vote on Hayden.
Frankie doesn't know.
Nicole thinks derrick and Cody are voting for Zach to stay… "she (nicole) thinks Victoria is the swing vote"
Christine – "If Hayden is voting Zach to stay I will vote for him to go so it looks more even so Nicole won't know who voted which way.. if it's 6-2 she'll know.. we have to even it out..
Christine – GAWD I just honestly… UGH Zach is just so dangerous
Frankie – I think it's too early to drop the bomb on COdy and Derrick about the information we have on Zach.
Frankie – thinks if they keep Zach they can keep him as a benchwarmer for the next couple weeks.
Christine thinks Zach will be pissed if they put him up on the block. they won't be able to get away with using Zach and they use Jocasta.
Frankie – He's made it so simple to put him on the block. Frankie adds the can always use Zach as a pawn and backdoor Cody and Derrick
Frankie and Christine agree to throw the POV to Zach/ Frankie knows that Nicole doesn't want her HOH to be a waste so they will need to convince her that back dooring Donny isn't a waste.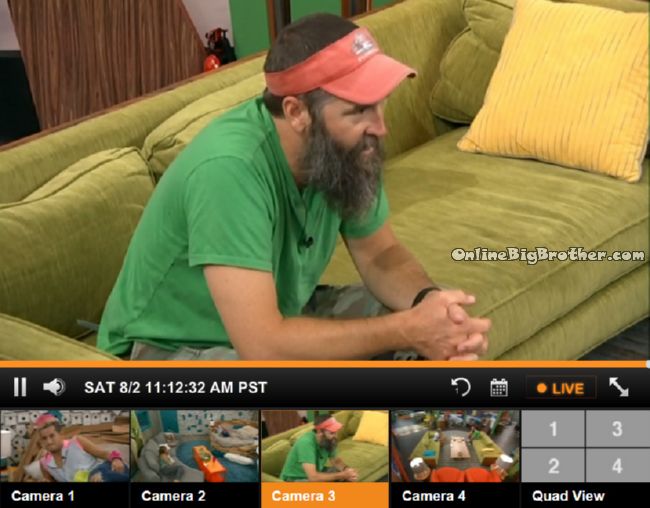 11:13pm Donny and Nicole
Nicole says she had trouble sleeping last night..
Donny – Everything "copacetic"
Nicole says yes, Hoping your name gets drawn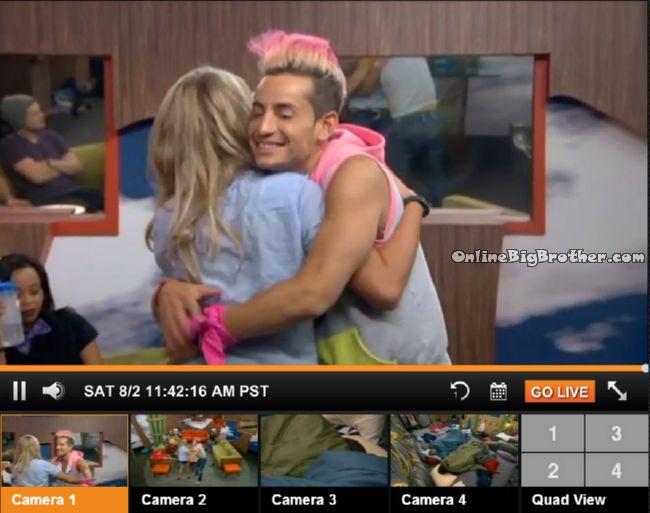 11:47pm
POV Players are Nicole, Christine, Jocasta, ZachAttack, Caleb, Victoria, Frankie is the host.
Derrick says it will be a at least a couple hours until the POV.
Not sure if Nicole is digging Cody's overt cuddling anymore..
12:01pm Snuggling.. tickling.. Giggling…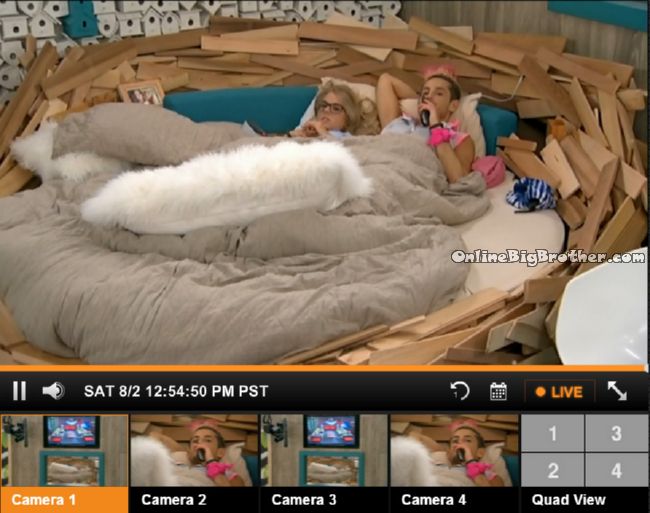 12:30pm HOH Frankie and Nicole
Frankie says Caleb won't use the veto he says it all the time which is good she can keep the nominations the same.
Jocasta/Zach will use it on themselves
Christine will do what Nicole wants.
Nicole their relationship is confusing Caleb and Zachs
Frankie I completely agree.
Frankie says if the nominations stay the same it's not a sure bet Zach goes home.
Frankie says not a single person playing the veto will use it on Zach beside Zach.
Frankie says the two smartest players in the game are DOnny and Zach, mentions how good they did in the word challenge"
Frankie says Nicole is the Big Brother Sweetheart this year
Nicole thinks it was Amber.
They start talking about Amber's story that she would always bring up but would never give the details. Frankie never wanted to hear it because it might have made him want to keep her and for his game it wasn't the right thing to do.
Frankie mention how people playing the sympathy card never get anywhere in the game. He points out Brittany would make it sound like her life was so destitute .Frankie thinks if your life is so bad you shouldn't be on a reality TV show so you can flirt with 22 year old men.
Frankie tells her that Caleb is a lone warrior in the game he told him ince Anber went home he was on his own.
12:44pm CHristine rubbing Frankie leg. Chit chat
1:12pm HOH Lockdown called
Feeds go to fish..
1:45pm
Have nots are Frankie, Cody and HAyden they get to eat "Pea Lime Pie"
Canned peas limes and pie crusts..
Alliances
Quad Squad = Nicole, Derrick, Hayden and Cody
Zankie = Frankie/Zach
The Detonators = Derrick, Frankie, Zach, Christine, Cody
"The HITMEN" – Cody & Derrick
Trilogy = Nicole, Christine & Hayden
Team America = Donny, Derrick, Frankie
Old timers = Jocasta/Donny
Nicotine = Christine/Nicole
bottomfeeders = Derrick and Nicole
More polls here https://www.onlinebigbrother.com/big-brother-compendium/big-brother-16-polls/
[polldaddy poll=8220599]