POV Holder:
?
Next POV
Aug 2nd
POV Used
?
POV Ceremony
Aug 4TH
HOH Winner 1:
Donny
HOH Winner 2:
Nicole
Battle of the Block Winner
 ?
Next HOH/ Next BOB
Aug 8/Aug 1
Original Nominations:
?
Final Nominations:
?
Have Nots
?
POV Players
?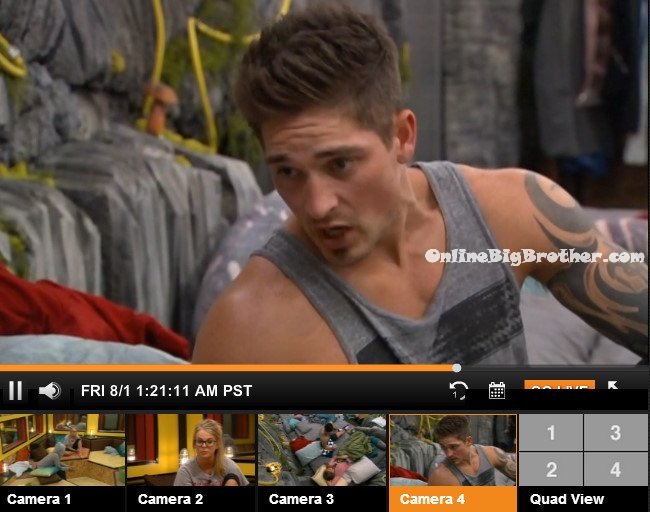 1:20am In the earth room – Caleb talks to Christine. Caleb says that Donny might put up me or Cody. OR Maybe both which would be stupid. Christine says that would just be stupid. Caleb says Donny said if Nicole is putting up the two weakest people then I might have to.. that's why I said you need to put it in Nicoles head that she needs to put up Jocasta and with Zach because he put her up. Christine says I haven't talked to her but I am hoping that's what she does. Caleb says if she does then I am hoping Donny would put up Me or Cody with Victoria. That way we both have a good opportunity to win Battle of the Block .Caleb says if he puts me up I will probably come off and then you need to worry about yourself. At the end of the day you don't want to nominate strong people. Caleb says if Zach and Jocasta are on the block thats the only way we would all be safe because no one would use the veto if they won it.
TEST out the Big Brother 16 Live Feeds for FREE with the 2 Day Trial!
1:30am – 2:10am Up in the HOH room – Nicole says unfornately I think I have to put Jocasta and Zach because I have reason to. Nicole says and Donny would put up Victoria and.. Derrick says I think he would put up Caleb. Nicole agrees it would probably him. Derrick tells Nicole that she needs to put up Zach because he put you up and humiliated you on national television. Derrick says Cody thinks Donny would put him up. Nicole says Donny wouldn't do that .. there is more potential for him (Cody) to go up then you but.. Nicole says I used to trust Christine with everything but after the Frankie thing its impossible to trust her 100%. Derrick says if by chance you put up Jocasta and Zach.. and if by chance one of them wins the veto, say Zach .. then you would you possibly put up Frankie. Nicole says yes.Nicole says the hard thing is that he is being so nice right now. I would never ever backdoor Donny. I wouldn't put him as Havenot either because he just won HOH. Derrick says I hope you wouldnt put me up either. Nicole says Frankie still hasn't done it. Derrick says I think he should be a havenot and his hand thing shouldn't be a reason not to because he knew that coming in here. Derrick says Haydne wants to be a havenot because it keep him shredded. Nicole says that the way Donny and I talked was good.. we didn't stumble on your name or anything. You're good. Nicole says that people keep grouping me with Christine calling me her friend. I don't like that. Derrick says the good thing about us is that they 4 of us have each others backs. Nicole says its strategy to flirt with Cody and Hayden. Derrick says Cody and Hayden wouldn't burn us. Nicole agrees. Derrick says before the next HOH you, me and Hayden need to solidify the four. Derrick says if Hayden and Cody are already picks to play in the veto they I would say pick me because no one would suspect us to be working together. Derrick says when Zach did that to you I wanted to choke him out. Having a daughter I didn't like that he did that to you. Nicoles says if I wanted to keep up the tradition and open up the big brother dictionary … Derrick says you could say If we pulled out a normal dictionary and looked up the word karama you proabably did see this one coming. Nicole says that she thinks Christine threw tonight's HOH. She is luck I won this week. Derrick says that Christine is playing Dan's game but it doesn't work as well with the BOB. Nicole says that one person that is freaking me out is Frankie. Nicole says that Zach told me if he won today .. he would have put me up which is exactly why I had to win it. Derrick says at the end of the day Donny doesn't want to come down and Zach and Victoria isnt going to want to throw it so you have to leave it up to the game. Derrick leaves the HOH room.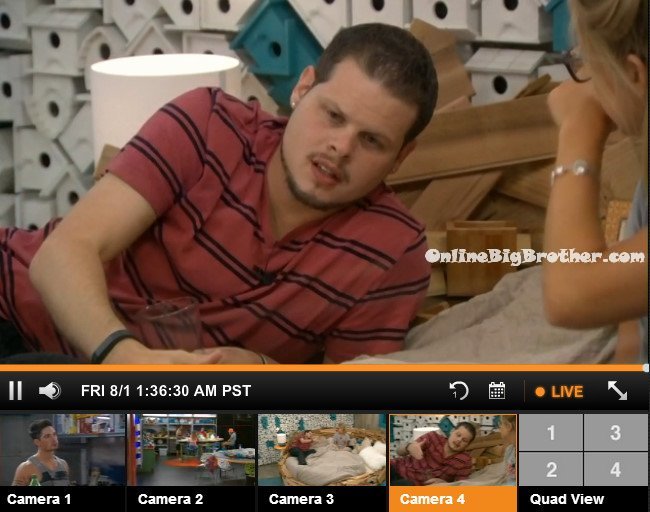 2:25am In the bathroom – Hayden, Caleb, Cody, Nicole, Derrick, Zach and Frankie are in the bathroom chatting. Zach jokes that Caleb will see Amber outside the house. He talks about how he would have her slippers and a big bag of her makeup so she would have to come see me. We only live an hour away. Zach asks Victoria if he finds girls hot. Frankie says well Victoria did give me a raging boner. They ask him if he would hook up with Amber. Frankie says if I was drunk and she wanted to go down on me I wouldn't stop her.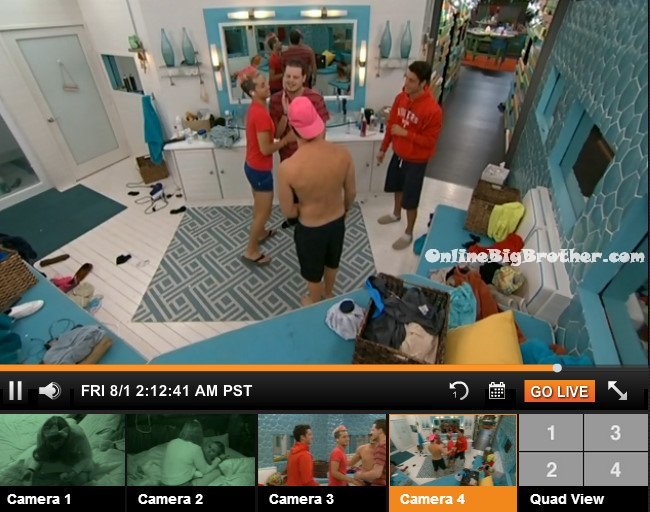 In the kitchen – Nicole heads up to bed. From the kitchen bar Zach asks Nicole please don't put me up tomorrow. Nicole says I can't promise anything. Zach says please, please, please. Listen I'm sorry! I didn't mean it. I'm so f**ked! Zach says Victoria we better win tomorrow. Zach says I knew that was going to bite me in the a$$ I just didn't think it would happen this soon. Like next week!?
Take Advantage of the FREE 2 day Trial to watch all the drama!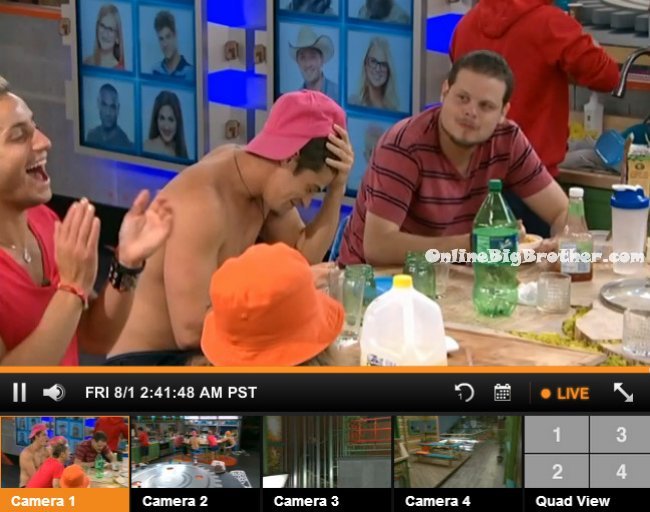 2:45am – 2:55am Nicole says I want to punch Zach in the face! Nicole says I have to get up with the music tomorrow. Will you make sure I get up? Christine says she will make sure she gets up with the music. Christine says thank you for letting me sleep up here. Nicole says I think everyone knows what I am going to do. I feel bad that I have to put up Jocasta but there was no one else other than you and I wasn't going to do that. Christine says it really worked out well that he put you up. Nicole agrees and says because at least I don't have to draw first blood. Christine and Nicole go to sleep.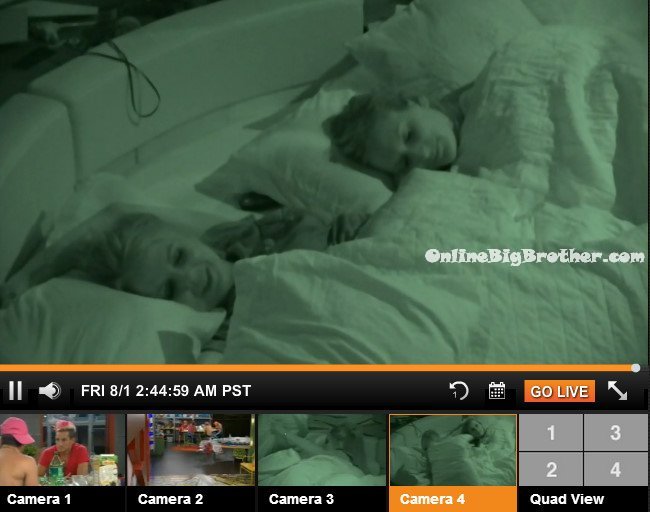 3:05am Frankie and Derrick comment that they both think they're safe this week. They talk about Team America. Derrick says I was getting crushed in the doctor's office about it. Frankie says me too. Derrick says not talking about the doctor's office, what is your opinion of it. Frankie says my opinion this week is that everything is great, because it has to be but his cards are shown. Moving forward this is not his number 1 gig. Derrick agrees this is not his priority. He has made it clear he's here for Donny. Frankie says moving forward it will be easier to do America's bidding without him. Derrick says yup. Frankie says because it has to be unanimous and he isn't willing to play. Derrick says basically I feel like we were quitters. Frankie says America didn't give us this task to f**k us. That's not their goal, it isn't to f**k us. Derrick says I hope it doesn't come back to bite us and that we explained it well enough that it doesn't f**k us. Frankie says I said I can no longer put my game on the line for him if he can't do the same for me. Derrick says and this wasn't a tough mission, it wasn't easy but.. Frankie agrees and says we would still be talking about the fall out. Right now we're good for anther week. It was such a simple mission. Derrick says yeah now I am $5000 shorter and you can't build another school.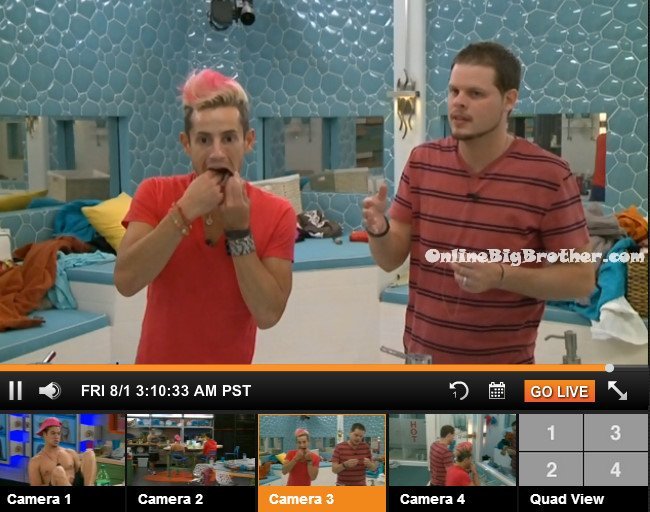 In the living room – Caleb says it would suck if it was me and Cody up there on the block. Frankie and Derrick say that won't happen. Caleb says because I would literally tell people I am not going to campaign against him.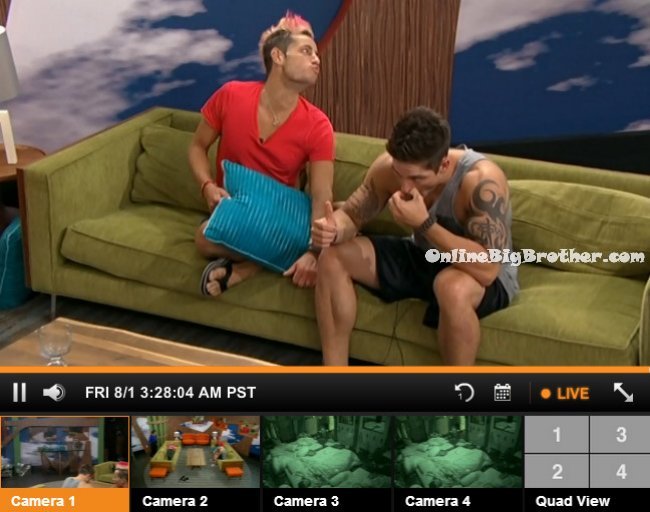 3:30am Cody and Victoira head to the storage room. Victoria says that he didn't really tell me who he is going to up up. He said that he didn't want to tell me because he respects me as a game player and didn't want to hurt me. He doesn't want to get blood on his hands basically. Caleb is a target to everyone, basically. And he want's to get Caleb out and that Cody would be next but I don't to put up two strong players they might want to come after me and I wouldn't want that. So he doesn't want to mess with you. He asked me if I would be extremely hurt if he put me up and I said no. I said this is just frustrating. He said that I am on your team and I don't want you to be sad. I want you to be ready to compete. Basically I am going up. I know I'm not going home but.. Cody says the best case is if you win BOB and then you're safe for another week. Victoria says I am just tired of going up each week. This whole BOB thing is such crap!! I am not throwing it because I can't its my life in this game. Cody says I think the only person Donny is working with Jocasta. Victoria say he didn't want to put up me and Jocasta together. He doesn't want to put up strong players so you're not going up. Victoria says I have been taking myself of every week.. it's kind of fun! Put me up and just know that when you do, I will take myself off and you'll have to name a replacement. It's kind of fun you now!
TEST out the Big Brother 16 Live Feeds for FREE with the 2 Day Trial!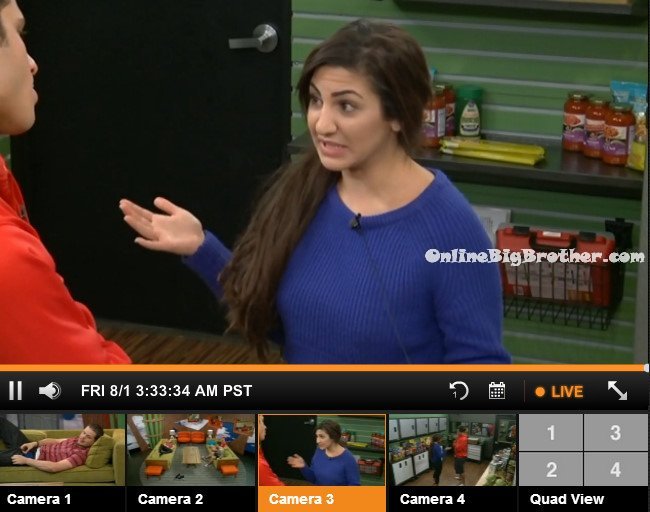 4am They all head to bed.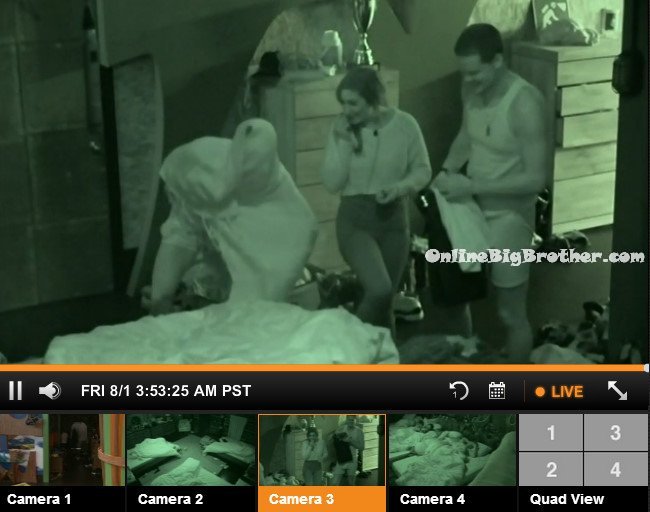 Alliances
Zankie = Frankie/Zach
The Detonators = Derrick, Frankie, Zach, Christine, Cody
"The HITMEN" – Cody & Derrick
Trilogy = Nicole, Christine & Hayden
Team America = Donny, Derrick, Frankie
Old timers = Jocasta/Donny
Nicotine = Christine/Nicole
More polls here https://www.onlinebigbrother.com/big-brother-compendium/big-brother-16-polls/