11:23pm HOH Hayden, Nicole and Donny
Donny – I have talked to everyone or at least listened. Donny tells them at first Caleb didn't want to go up on the block but now he might be ok about it. Caleb understands that he put Donny up so it's only fair.
Donny wants to put up Caleb and Victoria
Nicole – it kills me to put up Jocasta..
Donny – it would kill me better
Hayden agrees with Donny think Jocasta should go up by Nicole.
Nicole feels bad but will do it, says she would put Jocasta and zach
Hayden says that four is what he would pick
Hayden says Frankie is the root of everything in the house
Donny says don't share that with Christine
Nicole – I would never tell christine that
Hayden says Christine and Frankie both said to him they would put up Jocasta and Victoria if they won HOH and if the POV was used they would put up Donny
Hayden – Caleb wants to go after the outsiders (Donny, Jocasta, Victoria). hayden thinks he gets these ideas from Frankie , "Frankie is the puppet master". Donny says he was talking and. Derrick threw out some names none of them were Caleb.
Hayden says Caleb wouldn't put Derrick up that's the thing about Caleb he's so easily controlled.
Hayden doesn't think the house trusts Frankie, I feel I should have the votes to get Frankie out.. if it was frankie and caleb on the block frankie would go home.
Nicole says they have her vote to get Frankie out
Donny is the same. Donny doesn't feel comfortable putting Backd**ring Frankie.
Donny brings up the conversation with Christine.
Nicole – Christine doesn't want Caleb to go home
Donny says if his caleb and Victoria beat Nicole she can backdoor Frankie
Hayden says Zach is 100 times better in competitions than Caleb 'Zach is WAY smarter and Jocasta is worse than Victoria
Hayden is certain they can get Frankie out. Hayden says the best case is to have Frankie and Zach nominated
Hayden says they only need four votes. Hayden has COdy, himself, Victoria and wither DOnny or Nicole.
Donny tells them not to tell Derrick they have want to backdoor Frankie they need to make sure he's worried.
Nicole asks if She nominates Jocasta and Zach and the POV isn't played who goes home.
Hayden says Zach goes home and that isn't a bad thing because Zach puts a target on Donny and HAyden's back.
Frankie – why do they always target me i'm a poor old man.
Hayden wants Caleb or Frankei to go.
Donny – it takes a brain or a body.. well Frankie has the brains and the body
Nicole he's playing Andy's game but 10 times better.
Donny – Andy never won so many HOH early on.
Hayden – His social game
Nicole – He's everyone's best friend
Frankie – that is why you have to dethrone me and do what you need to do
hayden – the ideal way is Frankie against Zach.. If frankie is against Zach Frankie is going home
Nicole – Zach causes so much chaos..
Hayden – he causes so much chaos but he really doesn't do anything
Donny asks her if anyone is going to change her mind
Nicole says no
Donny – good nothing's' going to change my mind
Nicole – Donny this would be so bad after all
11:51pm HOH Victoria and Nicole
Victoria I spoke to him .. he basically said he's putting me up
Nicole when you think about it it's good for your game
Victoria – how is that good for my game
Victoria – Will you put up Zach
Nicole – probably
12:20AM Caleb rocking out in the HOH
in the living room they are asking Nicole if she would let Caleb and MAriah hook up. Nicole gives a funny looks "If that is what she wants.. "
Nicole doesn't think Mariah will; be interested in caleb.
Nicole – If she sees a guy ½ as hot as cody…
Cody – she's no the one
12:33 Frankie, Victoria, Cody, Caleb and Christine join them Caleb talks about Mariah's beautiful eyes. Prior to the HOH room getting invaded HAyden and Nicole were listening to Luke Bryan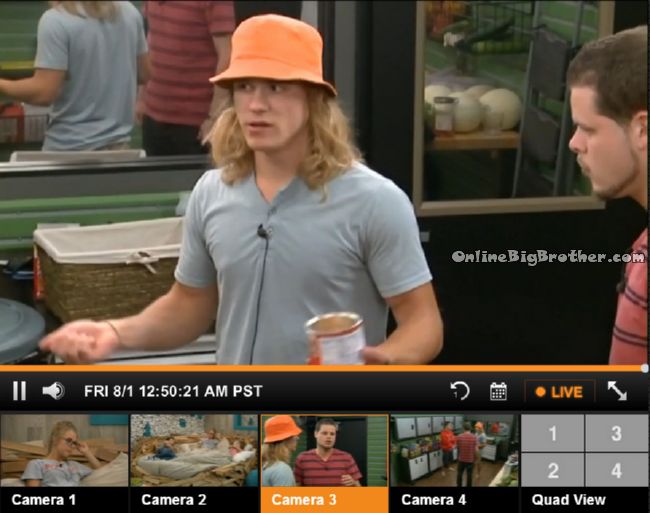 12:47AM Storage room Hayden and Cody
(Prior to this conversation Derrick tells them Nicole wants them to solidify their 4 person alliance. Cody was down for it)
Hayden – dude frankie is all over the place
Cody – all over the plse
Derrick and Zach come in Zach says if Donny gets first draw it will be Christine and Victoria on the block.
Cody – He's puttign up CHristine
Zach – You never heard that from me
Zach to Hayden – "Nicole is putting me up right
Hayden – she has an excuse to
Zach sas if Nicole was smart she would put up Jocasta and Victoria that way she wins the HOH and Donny get dethroned.
Derrick says Donny and Nicole are not working together
Hayden – Not at all
Zach leaves, Cody – "I think Nicole is putting him up 100% I didn't want to say to him"
They agree frankie goes everywhere "Sketchy as f***"
Cody asks HAyden what Nicole thinks about Frankie. hayden – Same as us
12:54AM Zach and Nicole HOH
He doesn't want to be put up he recommends she put up Weak player
Nicole – I didn't want to be put up
Zach – People will look at you like a stupid person if you don't put up Victoria and Jocasta. Zach adds if she puts up two weak players She'll win the POV and have all the power in the house she can sit up in the HOH and do whatever she wants.
12:57AM HOH Nicole and Donny gettign ready for bed. They agree nothing has changed
Donny nominates Caleb/Victoria Evict Caleb or Backdoor Frankie
Nicole nominates Jocasta/Zach Evict Zach or Backdoor Frankie
1:09AM Storage room Zach and Cody
Cody prefers Nicole being the HOH this week because she's so close to HAyden and he doesn't think she would backdoor them but with Donny really anything could happen. Cody calls Christine a floater says it's going to be a nitty gritty type of week. Zach says this week they have to get Jocasta sent out og the house.
1:12AM Caleb, Zach and Cody
Zach tells them this week is get right of Jocasta week. Caleb propose they tell Donny they are working to get the girls out if he doesn't play ball he's the next one out.
Alliances
Zankie = Frankie/Zach
The Detonators = Derrick, Frankie, Zach, Christine, Cody
"The HITMEN" – Cody & Derrick
Trilogy = Nicole, Christine & Hayden
Team America = Donny, Derrick, Frankie
Old timers = Jocasta/Donny
Nicotine = Christine/Nicole
More polls here https://www.onlinebigbrother.com/big-brother-compendium/big-brother-16-polls/
Share it YO!
Tweet