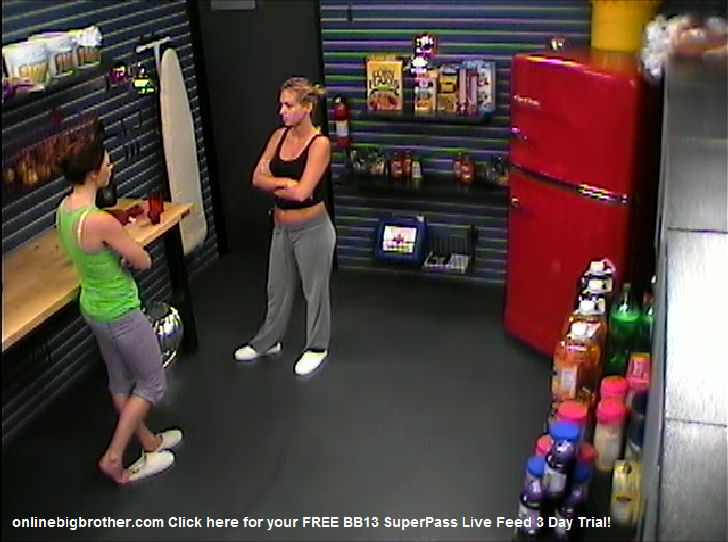 11:20am Porsche and Rachel are in the storage room talking. Porsche is asking if she's sticking together with her four alliance. Rachel says yes but it is five with Dani but that they need Porsche's help. Porsche says okay. Rachel tells Porsche she wants to keep her in the game, too and that she needs to win HoH. Rachel tells Porsche that they need to stick together. Rachel says that Porsche needs to win an HOH. Jeff comes into the storage room. Rachel says that whoever wins and that the last four are on slop. Porcshe tells Rachel that Adam and Kalia are flippy floppy. Porsche says that she wants Kalia to go because Kalia will be pain in the ass in the jury and that Dominic will be fine in Jury. Rachel asks if Porsche is in it to the end. Rachel says that her and Brendan are the biggest target. Porche says that Dominic is frustrated that he didn't win. Rachel says that last summer she won every quiz, and that you have to get smart. Rachel tells Porsche that you need to anticipate, and think about who has fans. Rachel says thats how you need to think. Rachel says that Porsche is a target. Porche says the newbies are quickly losing the people who have balls to evict them (Brendan and Rachel). Rachel says we have to stick together. Porsche wants to know if she has to help her as a group or just Rachel. Rachel starts to talk about when it gets to singles they have to stick together. They leave the storage room are go to kitchen. Adam, Brendon, Rachel, Shelly, Porsche, Jeff and Dominic are in the kitchen eating and talking.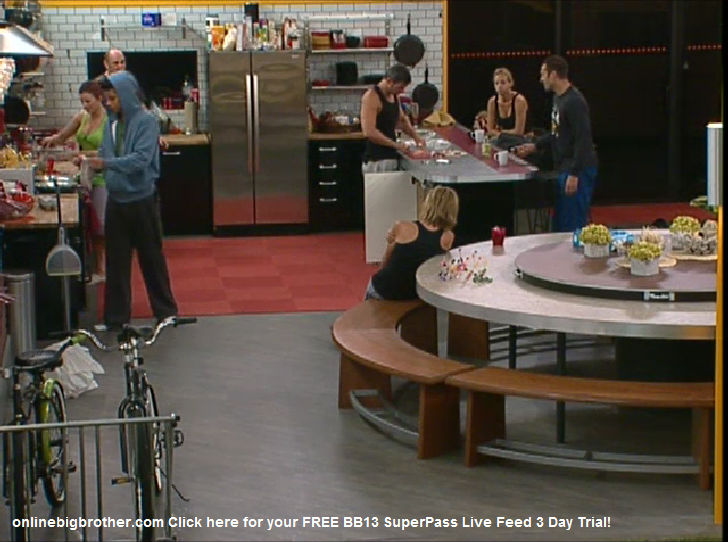 11:35am They talk about what todays Have / HaveNot competition will be like today. They wonder if this mornings song has anything to do with it since it had to do with food. (Def Leopard – Pour some sugar on me). They joke that its going to be a competition where Dominic pours sugar on Adam …like the herbal essences commercials. Dominic is making a lot of food and then wonders if the havenot competition will be where they need to eat stuff and he'll be full. He says that he would rather eat and have a good meal any ways.
They are all confident they can get Jeff to throw the POV and then they will control the house 100%.
Rachel adds that JEFF fired the first shot last week there is no holding back now (looks like war is starting in the BB house)
See What They Can't Show You On TV! SUPERPASS – 3 DAY Trial!
11:50am – 12pm Big Brother cuts the live feeds to the TRIVIA screen..
12:28pm The feeds quickly flash in and out again really quickly and after flashing back I caught a screen capture of Rachel sitting in the living room by herself. And Adam, Dominic, Jeff and the back of Porsche in the kitchen. Big Brother quickly puts the live feeds back to the TRIVIA screen…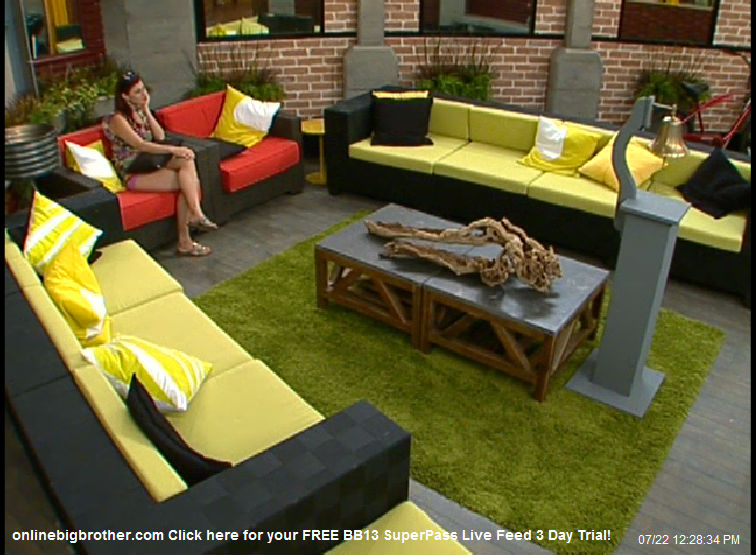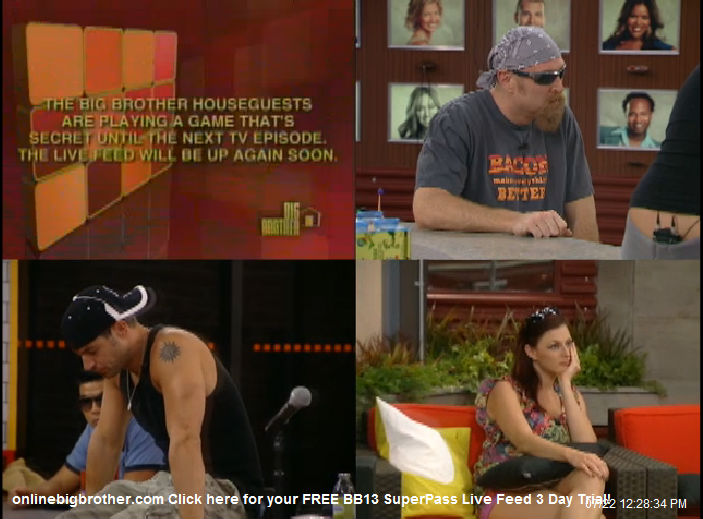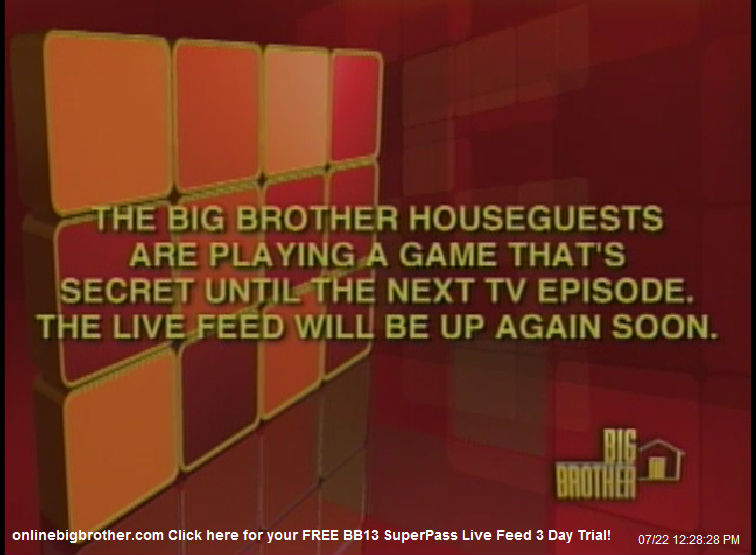 1pm TRIVIA…
1:30pm Still showing the TRIVIA screen..
1:50pm TRIVIA..
2pm The live feeds aren't back yet…
2:15pm TRIVIA
2:21pm TRIVIA
2:30pm Feeds are back Brendon and Rachel had a huge fight during the competition
2:35pm Purple Room Dom, Brendon and Rachel More stupid ass whsipering.. the gist of it is that BRendon is explaining to DOM scenarios where they will team up and take out JJ. Brendon says that They need to get Adam and LAwon out first then they have the numbers. Dom says that Jeff is going to go ballistic. Brendon continues that he's positive that JJ are trying to build side alliances. Dom tells brendon all about his conversation with Jeff last week where Jeff asked him what side he was on.
Dom assures them that he is with them and his alliance with JJ is fake. He doesn't think Jeff and Jordan are as sweet as everyone thinks he thinks Jeff is a big bully.
brendon adds that Jeff and Jordan are not very strong players in this game and they won't be a problem to get out as long as they stick to the plan. Dom agrees says he'll get close to JEff this week to convince him to take out Adam. Brendon makes it known that if he gets a whiff of Dom turning on them he'll send Dom home because they have the votes this week to send whoever they want out.
2:55pm It wasn't have nots it was a luxury comp Jordan and her crew won a movie and are watching it in the c*m stained HOH. Whil Brendon, Rachel, Dani and Dom plot their demise downstairs (BB is starting to get good folks JJ Vs. BR)
Big Brother 13 Spoilers POLL CAST your VOTE!
Share it YO!!
Tweet