POV Holder:
Frank
Next POV:
Aug 11 (Saturday)
POV Used
POV Ceremony
Aug 13 (Monday)
HOH Winner:
Frank
Next HOH:
Aug 16 (Thursday)
Original Nominations:
Wil / Joe
Current Nominations:
Have Nots Cod fish/Candy Canes
Joe, Shane, Danielle, Britney
Last Evicted Houseguest
Janelle
5:42pm Cam 1-4 Boogie, Shane and Frank Watch with FlashBack FREE TRIAL!
Boogie asks him who he wants out. Shane says there is positives and negatives to both. Boogie agrees.
Shane is telling them he's a bit worried he's going to get backdoored. Boogie says there is no way, "Who is putting that in your head" Shane tells them as long as he stays in the game he will not put up Boogie or frank nor will he backdoor them.
Boogie says he's starting to lean towards getting Wil out. Mainly because he can win comps and he seems to be more vindictive. They all agree that wil is a much more dangerous player in the house, they call him "Polarizing" and it's better to have a harmless loner like joe in the house than Wil.
Shane brings up the conversation he had with Wil and how Wil told him he had 2 votes, ashley and someone else. Shane doesn't know who the 3rd person is. Boogie and Frank tell him it's Jenn.
6:20pm Living room Cam 1-4

Houseguests talking about their dreams
Joe is telling them he has had one sexual dream. Shane asks with who and what was it like. Joe doesn't remember he just woke up and was like "OhOH Hooo"
Jenn is worried there might be a shot of her naked on the feeds. Joe asks Wil what his reaction would be if he walked by office and there's a screensaver of him. Wil: "I'll get my picture taken next to it"
Joe asks Jenn if she's worried about her potential full frontal.
Jenn: "I'll be pretty embarrassed.. I'm trying hard not to be seen naked"
Dan warns them that "they" will get shots of them regardless, "Maybe not the front sometimes the side or back"
Wil says the people that put picture up have the problem. dan explains that the HOH shower is designed to be revealing. Jenn: "Isn't that a invasion of privacy" Wil: 'We signed that away"
6:25pm Cam Wil and Jenn.
Jenn is a bit worried about the pictures coming out.
Jenn: "I like my body.. it's not bad just don't want it all out there"
6:38pm Cam 1-2 random conversations.. Dan tells them all to look at the size difference between Frank and Brintey. They stick their feet up to compare sizes. Dan: "Look at the hips and Head" Frank: "I have childbearing hips"
6:50pm Cam 3-4 Joe's cooking can you spot the secret sauce?
6:55pm Cam 3-4 Boogie and Joe
Boogie is saying that the plan is to keep Joe. It's not a hard sell for them to make Wil look like the bigger threat. Boogie: 'all I'm asking for you is a little friendship down the line"
Boogie recommends he campaigns lightly, distance himself from Janelle and not ruffle any feathers. Joe can do that.
Boogie: 'I assume if you won you would fire some big guns.. not waste it"
Joe: "Ya.. you know who I would target"
Boogie: "Ya…"
Joe: "I'm not going after Shane and Frank they both helped me"
Boogie: "No problems I didn't mean frank.. there's still plenty of targets other than those 2"
Joe: "You can frank would be the safest spot in the house if I won HOH"
Joe tells Boogie he won't get Ashley's vote. Boogie isn't sure he think he might be able to sway her. Joe says that Ashley's dumbness is all an act he talked to her before and she was completely normal. Joe: "She turned on.. I thought I was talking to a lawyer.. I tell ya there's more there"
Boogie says he feels good about their chances of keeping Joe safe. Joe points out that Wil is digging his own grave with how he's been acting. Boogie asks him where he's at with Jenn. Joe is good with her, they chat once and a while.
7:09pm Cam 1-2 Ian, Britney, Jenn, Shane, Danielle Backyard
They are arguing over "gates" in the season. Britney thinks there should only be 2 gates a season.
Ian thinks there should be 10
Fruit loop gate
Head butt
Cigarette Gate
Reset Gate
Banana Gate
Quack Gate
Zing Gate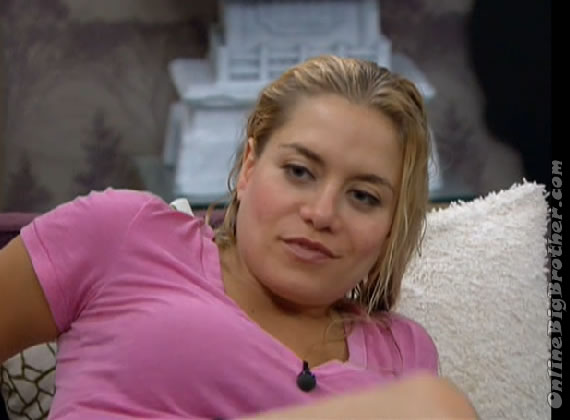 7:11pm Cam 3-4 HOH Dan, Ashley and Frank
AShley says praying is the same thing as meditating .
Frank thinks the ratings are doing well regardless of the olympics. He lists a couple of things that had happened (both of which were during the
Frank doesn't think ian will make any money off the pork rinds that Willie threw at Janelle. Frank and AShley both agree that nothing stopping them from buying pork rinds and saying they are the ones from Big Brother 14. Talk moves to Basket Ball.. :(
7:51pm HOH Dan, Frank and Ashley talking about reality TV Shows. Dan hopes Big Brother and Survivor never get cancelled.
Frank: "the first reality show in my opinion is cops"
Dan: 'You guys ever watch the Survivor 1 finale .. like 50 million people watched it"
7:55pm hot tub Britney and Wil
britney: 'Is ashley upstairs with Dan"
Wil: "Ya.. What do you think"
Britney: "I don't know I haven't talked to Frank or Shane"
Wil: "I think in my heart of hearts that it's easy to get out Joe.. why do they want to waste a HOH on me or Joe"
Britney wants to wait and see after the Power of Veto Ceremony tomorrow. She thinks the best call to action is for Wil to keep his cool and not show everyone how pissed he is.
Wil: 'I think in my heart of hearts if he takes someone down it's going to be JOe"
Wil: "I got a speech plan.. short and sweet"
8:00pm Cam 3-4 Hammock Danielle and Shane
Shane: "Hopefully nominations stays the same.. and hopefully we win the next Head of Household"
Danielle: "if it's endurance we are GOLDENNNNN"
Shane: 'What about your conversation with Wil"
Danielle: "It was a personal conversation.. he talked about him coming out"
Shane: "I like Wil a lot" (as soon as she said coming out)
Shane had talked to Wil earlier and he assured Shane that Him and AShley are not coming after him.
Danielle asks him who he wants to be evicted provided the nominations stay the same. Shane feels more confident that he can beat Joe in competitions but he has a feeling that Wil is looking out for them.
Shane says that Wil made a comment yesterday that Shane, Danielle, Britney and Dan are a team. Danielle tells him not to worry she shot that idea down last night when her and Wil talked.
Danielle asks him if she knows more about Shane than Britney. Shane says yes.
Shane mentions that when people ask him about danielle he tells them there is nothing there, he only kissed the 2 times in public. Shane adds that outside of the house he 's a much more outgoing person.
Danielle: "What if it gets down to me, you Britney and Dan in the final 4"
Shane: "I guess it'll be every man for themselves"
Danielle: "What do you mean"
Shane: "It's obvious we have our final 2"
Share it YO!!
Tweet