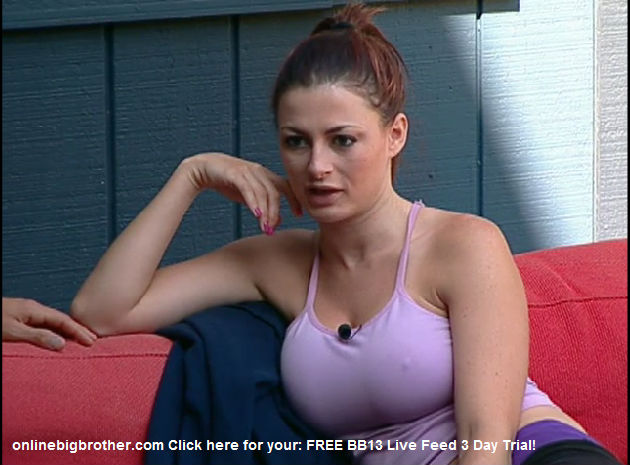 10am – 10:30am Brendon, Rachel and Shelly continue to talk in the backyard. Shelly says that if we stick together …we have the numbers …all we need to do is pick them off. Shelly says that Dani is with people that have done nothing, Shelly calls her a floater. Shelly cannot understand why Dani would side with a group of people that haven't won any game competitions. Shelly: "They better not get to the end.. it's not fair". They talk about how it will be hard to go against Jeff and Jordan. It will be easier to get rid of Jordan because she was the winner of Big Brother 11. Rachel says that keeping Jeff in the house is good because he is a bigger target. Brendon tells Shelly that whatever way she votes ..he will respect her decision. They talk about how Dani doesnt respect Jordan or Rachel. Shelly says that she will have a big long talk with Porsche today and tell her that she is with Dani and that she just wants to see if she is too …and that way get her to spill her guts and then I will run right back to you guys and tell you everything. They tell Porsche that if she can't put up Dani then she needs to throw the competition. Brendon says that in a knock out competition it will reveal who is working with who. Shelly says that the first name she is going to call to knock out is Dani. Shelly heads inside. Rachel says that the only people she trusts is Jeff and Jordan. Brendon says that she needs to trust Shelly …and that Adam will help along the way. Brendon tells Rachel to use Porsche to her advantage. Brendon talks about how Porsche doesn't tell them anything unless they fish for the information. Rachel says that if Shelly can't win this HOH …then she will. Brendon says no, .. its better for Shelly to win because if next week is an endurance ..its going to be harder for Shelly to win it.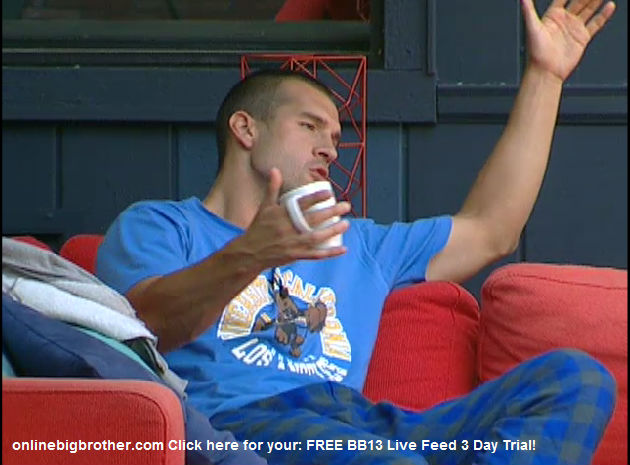 10:30am – 11am Shelly asks Brendon what he will do if he gets voted out. Brendon says that he will probably crash at a buddies place. Shelly asks him if he will get an apartment. Brendon says that he doesn't have enough money to do that and that they won't get the money from big brother till the end of September. Brendon says that he wont get a place until Rachel get out because he cant pay $1400 a month by himself. Brendon starts talking about his schooling. Brendon and Shelly have a long conversation about his schooling. Then Shelly and Brendon head inside. Rachel is making breakfast. Brendon gets ready to workout and Shelly starts cleaning. Shelly finds Rachel's ring on the counter and tells her not to lose it. Rachel says thanks ..that she took it off to do dishes. Brendon gets after her. Rachel says that she won't get in trouble for punching him. Brendon tells her that yes she will and that its never okay to hit someone.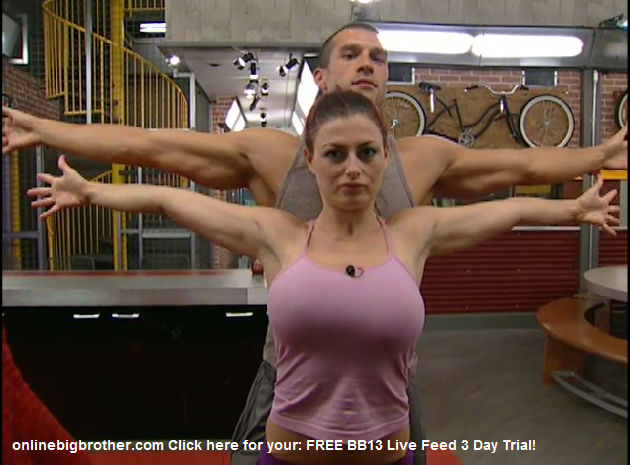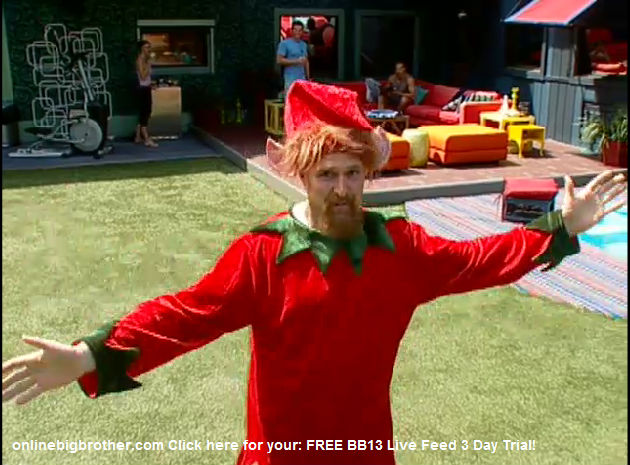 11:10am – 12pm Rachel, Brendon and Adam are out in the backyard talking about proposals and weddings. Jeff joins them out in the backyard. Jeff asks Adam to do a happy birthday dance for his brother Scott. Adam goes over to the camera and does a dance and song. Shelly comes out side. Adam, Brendon and Rachel go back inside. Shelly comes over to Jeff and tells him not to trust Porsche. Jeff looks at her and says when have I ever trusted her. Shelly goes inside. Brendon comes out side. Jeff tells him that Shelly told him not to trust Porsche. Brendon says nice! They laugh. They talk about how they need to talk to Adam. Shelly, Porsche, Jeff, Brendon, and Rachel talk about under age drinking. Big Brother then cuts the live feeds to the we'll be right back. When the live feeds come back, Rachel and Brendon are talking to Porsche alone. Prosche says that she doesn't think it was good for them to talk to her right in front of Shelly. Rachel says that she just wanted to eliminate… Brendon and Porsche talk about how they can't trust Lawon and Kalia. Porsche says that Lawon and Kalia are level one don't trusts ..and Shelly is a level two dont trust. Adam, and Jeff come out into the backyard and the conversation ends. Brendon, Rachel and Jeff are on the backyard couch .. Brendon says again that he really wants to choke Porsche out when he leaves …just for like 30 seconds or something. The conversation turns to the golf competition.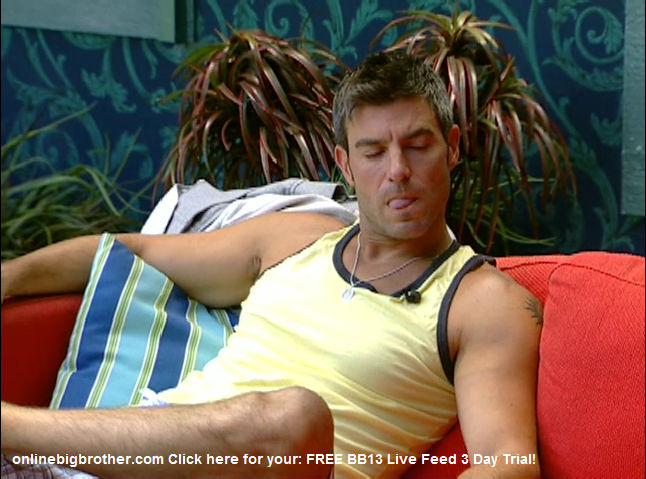 Share it YO!!
Tweet