Get the BB13 live feeds on your Android and iOS devices. Sign-up for the 3 Day Free Trial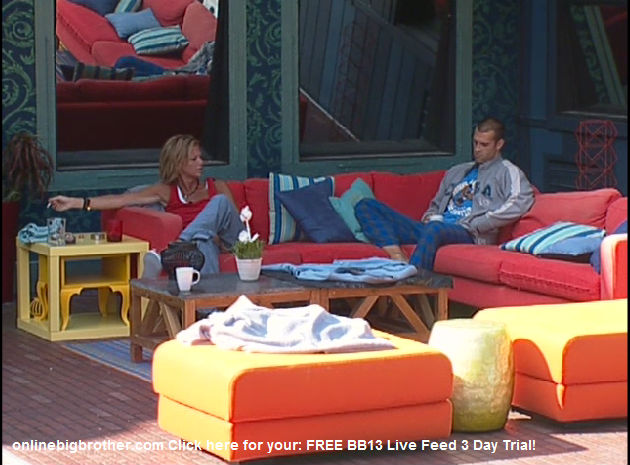 8:50am Brendon and Shelly are out in the backyard. Brendon tell Shelly about how Porsche was up in the HOH talking to Dani all night. Brendon says that he asked Porsche is she would put up Dani if she won HOH. Brendon says that Porsche said she couldn't put up Dani because she made a deal with her. Brendon says yeah I told you to go up there and tell her whatever she wants to hear. Brendon says that Porsche says that she would probably put up Shelly. Brendon says that Porsche said that Shelly is playing both sides of the house. Shelly says that she talks to the other side to fool them and get information. Brendon tells Shelly that the best case senarilo is that if you (Shelly) win HOH next week. Brendon says that he really wanted to choke Porsche out last night. Shelly says that she wants all (Lawon, Kalia, and Dani) of the out, so it doesn't really matter which one goes up. They talk about how everything she does is for the camera. Brendon says that when he listens to Porsche talk… her logic makes no sense. They talk about how Lawon will never win anything all he does is laugh. Brendon says that Kalia will be the only one trying for HOH ..that Lawon doesn't want it because he doesn't want to make decisions. Shelly says that she was shocked that Brendon used the POV on Rachel. Brendon says that he wanted to shock Dani and have to make a split second decision of who to put up. Shelly says that if someone like Porsche wins this game I will shoot myself in the head. Brendon says how do you think I feel I am going home before Jury. Rachel joins them out in the backyard.
TRY the Live Feeds for FREE!
Click here for your: SUPERPASS – 3 DAY Trial!
9:20am A helicopter fly's overhead and Brendon gets up and does the robot dance in the backyard. Rachel, Shelly, and Brendon continue to talk about Porsche. Brendon says that she is stupid and a liar. Brendon talks about how the deal that Porsche made was stupid because you were never going up this week, you were never a target. Brendon says that Porsche said that Adam told her too that she would be going up. Brendon says yeah but that's because she feed him that information so that it would get back to you. Rachel says that she really thought that Porsche was on her side. Shelly and Brendon tell Rachel that Dani will try and get you on her side once Brendon is gone. Rachel says that she wont fall for it ..that they tried to make a deal with her …she wouldn't take it and now Brendon is going home. Rachel talks about how pretty much from here on out …almost everyone will be playing for the POV. Rachel says that she doesn't want to win HOH this week.. that she really wants Shelly to win it. Shelly says that she will not directly put up Dani …that she will only backdoor her ..so that she has less of chance to play for the POV. Shelly says that Jeff, Jordan, you, me, Adam will absolutely not vote for Dani. Shelly says that Dani betrayed them and if she gets to the end ..she shouldn't get their votes. Shelly says that she loves Adam to death ..but he needs to win something. They talk about what type of competition this weeks HOH competition will be. Brendon says that it will be a quiz or some sort of physical competition.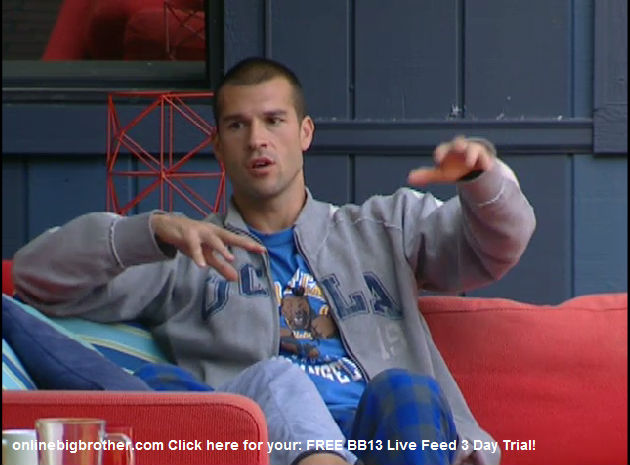 9:40am Brendon says that you can fool people in a knock out competition by slamming your hand down on something to fool people into needing to buzz in and answer quickly. Shelly says that is a really good idea. Rachel talks about last year during the knock out competition she realized that within the first 4 words they would give away the answer.
See What They Can't Show You On TV! SUPERPASS – 3 DAY Trial!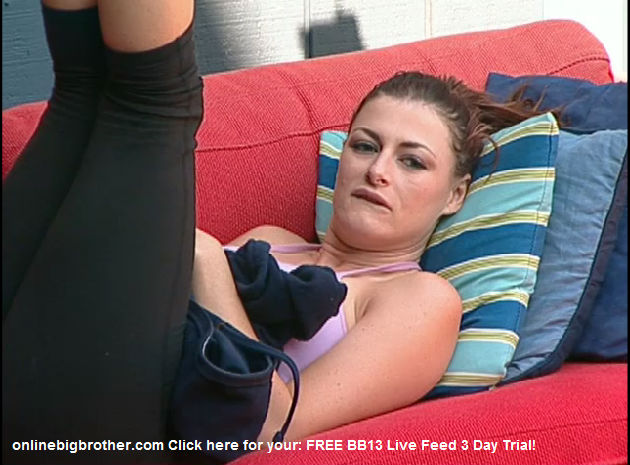 10am Brendon talks about how he is going to have a conversation with Jeff before he goes. Brendon says that he Jeff can't talk to Rachel like how he talks to Jordan. Rachel says that she won't sway and that she is getting better with her emotions. Shelly starts talking about the lap dance that Porsche gave Brendon last night. Shelly says that she talked to Porsche right before and told her to think about what she is doing and that whatever you do will stick with you for life. They talk about how Dani didn't do anything for the first four weeks and then the first thing she does is back stabbing them. Rachel warns Shelly that there will be a twist coming up soon so we really have to be careful about our game. Shelly says that she is happy with their side and that Adam is 100% on their side. Brendon talks about how he knows Porsche isn't smart ..because of how she couldn't name anyone else other than the president. Shelly says that it doesn't necessarily mean she isn't smart …its more that she isn't observant. They talk about how Dani will never be like Dick. They wonder if Dick thinks that Dani really BLANK up her game too.
If you like this site and want to help us keep it running please consider donating, Your donations go directly to paying the server and bandwidth fees. Donate Link
Big Brother 13 Spoilers POLL CAST your VOTE!

Big Brother 13 Live Feed Image Gallery
Follow: @BigBspoilers and @Dawgsbigbrother on Twitter for recent crazed out spoilers. Theres also our Facebook page.
Share it YO!!
Tweet