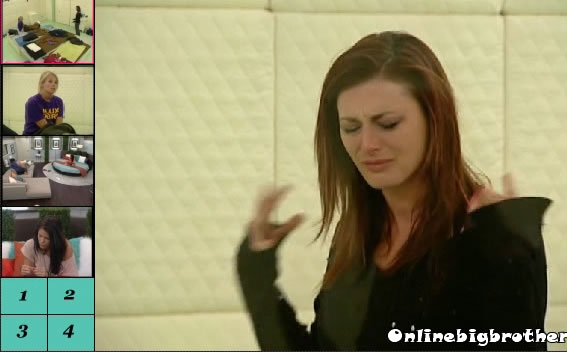 6:59pm Have Nots Room Rachel and Jordan Rachel says to Jordan that right now they are screwed. rachel is crying says that Jeff is pissed at her he yelled at her told her he doesn't want to hear any of her BLANK. rachel lost her fiancee yesterday and now she's up on the block and going home. Jordan says your coming back Julie said the person voted out might come back.
Rachel starts to BAWL saying i'm playing for second place even if I win every POV and HOH there's nobody in this house that will vote for me.. Jordan is trying to tell her to calm down explains to her that she has Shelly's votes and people change when their in Jury.
Rachel goes off about Kalia and Dani "WHO DO THEY THINK THEY ARE.. WHO THE **** DO THEY THINK THEY ARE" Jordan: "Well they're the ones in charge.. and it's not looking good for us" rachel is mad because kalia called her Catty… says I ruin the Game and I'm bad for the house. " rachel says that Kalia is being personal and she's attacking Rachel's character, first they attack her fiancee now they attack her. Jordan just keeps telling her to calm down and that they have to pull it together because "they" are going to pick them off one at a time.
<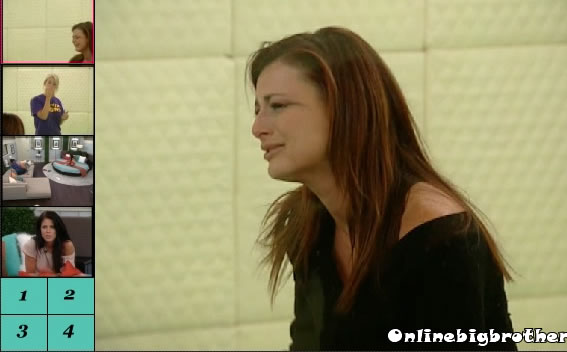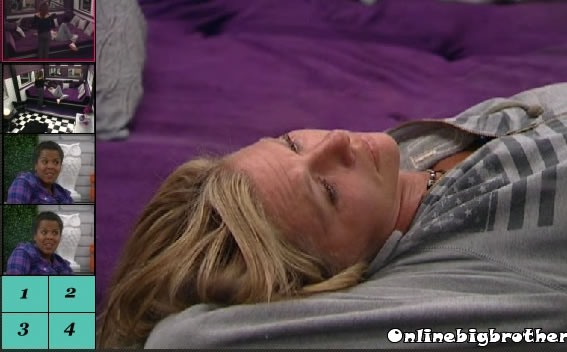 Rachel charges into the purple room and wakes the Straight Shooter (Shelly looks Pi$$ed) Rachel says she sorry with how she's been acting after the POV ceremony she's just is really hurt that Kalia would attack her fiancee then attack her personally, "I feel like I have '10' knifes stabbed in me and they're twisting them inside my body" (ohh damn) Shelly asks whose getting personal with you. rachel says that Kalia told everyone that she was catty, ruining the game and making everyone live in the house hell. rachel is just wondering why she would say that to her. Shelly: "I don't know rachel.. don't ask me go up and ask her yourself" rachel: "Am I a mean monster that deserve this.. why are they doign this to me" Shelly: "I don't know rachel I don't have the answer go up stairs and talk to kalia"
Rachel storms out tells Jordan she's going to go talk to Kalia. Jordan say no and directs her to the kitchen. Jeff's there making some grub. He asks her whats wrong. rachel pretty much give him the standard line
1) She wants to know why Kalia is attacking her
2) she wants to know why she deserves to have these knifes stabbed in her body
3) kalia called her Catty and someone whose ruining the game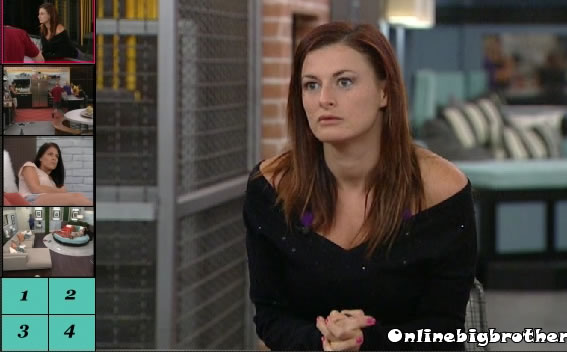 Jeff says he never heard that Kalia was talking about the whole house. Jordan jumps in says "there going to pick us all off one by one" (LOL yes jordan said that at a odd time)
Jeff tells her to go up stairs and ruffle some feathers if he's going home he's going to mix it up in the house. Rachel: "I want to ruffle some feather I want to ruffle dani i'm going to follow her around all over the house what is she going to do punch me"
Jeff: "well I don't want to do that"….
Jeff is going on about nobody going home this week so it's really a waste of a week for the HOH.. Jeff says Kalia is a dumb player she's not thinking for herself next week Jeff and rachel will still be in the house and they'll win HOH and take her out. Jeff is certain they will win the HOH competition. Rachel says she wants to punch Dani, she's so made at her. Jordan tells her to stop acting like that She needs to stop wanting to fight. Rachel doesn't care if she leaves the Big Brother house this week. Rachel now starts up on her I'm playing for second place you know.. she heads back into the purple room to tell Shelly that she's playing for 2nd and she's sad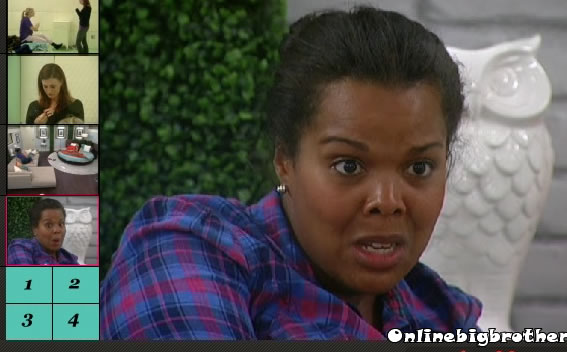 7:00pm HOH Room Kalia and Dani Dani saying that during the POV ceremony rachel said she's going to change it up and she sat right 'ontop' of Dani. Dani told "natalie" (CBS Big Brother production) to have rachel move and they did.. Dani: "Who does this?" Kalia says Jefff came up here and threaten me he told me if I put him up that I was everyone's target. Kalia is fine with that because if she goes up next week and goes home then it's from her own doing not because she followed Jeff's orders. Kalia: "I didn't give up my whole BLANK summer to sit here and do nothing.. I'm going to play the game"
Kalia: "You see all these pictures here these are the people I trust and I miss them.. I came here to BLANK win and thats what i'm going to try and do" Dani says the other vets are selfish in this house.. "Day 7 when my dad left they were all going to quit".. dani says All brendon and rachel would say is how they gave up so much to be on the show and it wasn't until Jeff rallied them that they decided to stay.. Dani: "These people are selfish Kalia.. they're not winning and they can't handle it"
7:38pm HOH Kalia breaksdown. Dani: "don't worry I'm hear for you shelly is hear for you you've done nothing wrong" Kalia says she's doing what is best for her game. dani keeps telling her the game is super hard she's there for her they'll get through this.. Kalia really crying dani: "Look how far you've come last HOH you were second place and you won this hoh" dani explains that let rachel and JJ implode downstairs Kalia did the right thing.
THERE's a lot going on, get the feeds it's worth it.
Uncensored Live Feeds Free 3day Trial
This is not the official CBS Poll, go to this link https://www.cbs.com/shows/big_brother/americas_vote to vote for a evicted houseguest to have a chance at coming back into the house

Big Brother 13 Spoilers POLL CAST your VOTE!