If you like this site and want to help us keep it running please consider donating, Your donations go directly to paying the server and bandwidth fees. Donate Link
4:08pm Purple Room Dani and Shelly Shelly is telling Dani that she will never put Dani or Kalia up and never… not even backdoor them. Shelly wants Dani and Kalia to watch each others back. Dani is saying she cannot handle rachel any more she's lingers around and give people dirty looks it doesn't make sense. Shelly agrees says that rachel has been following her around giving her dirty looks every since the HOH comp was over. Shelly thinks it's immature and stupid game play to not go up and talk to Kalia before the nominations, "this is a game and right now they are giving up". Dani says she knows Shelly is close to Jeff, Jordan and Adam, "I'm not stupid". Shelly says she was close to them but what she's seeing now isn't impressing her. add that what JJ are doing since the HOH comp does not make sense to her and isn't smart game play. Shelly mentions that coming into this house she put a halo on some peoples heads but now she's starting to think otherwise. Dani: "These people are not friends they only care about themselves". Dani points out that the other vets haven't developed any relationships with the newbs in the house all they did was stay in the HOH and slam everyone. Dani adds that they ordered her to go down and get to know people. Shelly: "I cannot believe how rachel acts.. It's gross" Dani brings up that before the split with DAni and teh other repeats Rachel and Brendon were talking BLANK about JJ the entire week.
Shelly gets up to leave wants to make sure they are cool.
4:14pm HOH dani and Kalia Dani goes over the talk with Shelly. Kalia is glad they know were Shelly the Straight shooter is in the game (yeah she has an F2 alliance with everyone but lawon) Dani agrees says it's very important that they try to keep their four string (LKDS)
Dani brings up that the twist might be any of the evicted houseguests could come back into the house. Kalia is still not sold that the evicted houseguest comes right back in. Dani agrees thinks it'll be difficult than that.
Kalia says that JJR's decision to not come up and talk to her before nominations is a slap in the face. Kalia starts to go over her speech and says that there is certain people in this house that have been acting like little children and kalia wants those people out. Kalia: "I just want her (rachel) to go to sequester and get herself figured out" Kalia is going to tell them that she's not a floater she here to play the game strategically not personally and it's now time for her to make a move. Kalia is glad none of them have come up to talk to her because it's making her job so much easier.
Kalia plans on telling them that she's not in the business to backdoor people she wants to give the 2 competitors the chance to compeete in the veto.. "Win Veto and save yourself".. Kalia: "and i'm going to put adams name in the box first." dani: "Why"… Kalia: "Happy birthday Adam"
Kalia again brings up that she is pissed that it's 4:30 and JJR have yet to come up to HOH to talk to them. Dani comments that it's really poor gameplay and shows them as sore losers. Kalia: "I'm going to put jordn's key in early even though she's pissing me off I will not go back on my deal with her and I want her to know that"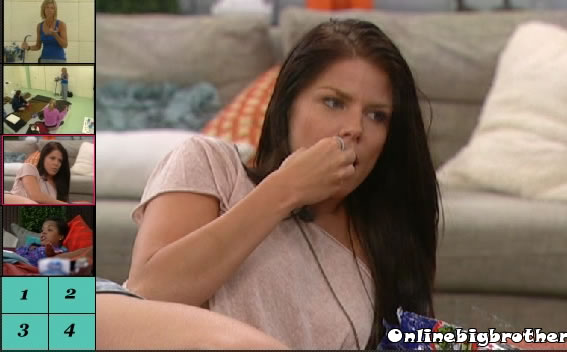 Dani asks if POV is used who will Kalia put up… (Production calls adam to DR) Kalia: "Oddly enough I'm thinking about the person who has the most votes to beat them is….(hinting adam)" Porsche walks in says that rachel was talking to her trying to tell her that Dani is the one causing all the drama.. Porsche brings up that Rachel has been following her around but at least the dirty looks have kinda stopped. Kalia and dani comment that they are still getting dirty looks.
Kalia: "Porsche if you get picked for the veto can you please try really hard.. I know you will but I really want you to give it your all" Porsche tells her she will for sure and understands that Kalia wants to keep her nominations the same.
Dani jokes: "you can save your best friend with the Veto"
porsche laughs "You want to die"
Kalia: "rachel was Bugging during that comp"
Porsche brings up that rachel is trying to be he friend again but isn't very genuine about it… she has the feeling that they think she stupid and she'll believe them regardless of what they do.
4:22pm POrsche and rachel in the havenots Rachel is saying how tough big brother has been for her.. she had her period last week, brendon and Jordan were on the block and she's sorry for being snotty. Porsche tells her that she's only been hanging out with people in the house having fun, talking music… rachel goes on and on
5:00pm Have nots Shelly and Jordan Jordan says that Kalia is being stupid she needs to get out Porsche because Porsche is a floater. Shelly has no clue about what is going on in the HOH right now (Shooting Straight ) Jordan thinks that it really doesn't matter who Kalia puts up because whoever leaves is going to come right back in and if jeff goes up he'll win POV so
Shelly says she's really angry right now so she's just going to keep her mouth shout (Shooting Straight)
Shelly says she's getting a little tired of Rachel's attitude.. Shelly starts talking about
Jeff walks in : "HEY COME HERE" (LOL wow)
Jordan follows them and they decided to head up to the HOH.
5:07pm HOH kalia, Jeff and Jordan Kalia says she's not lieing to them and she needs someone that is going to play for the veto and win so she's putting Jeff up. Jordan starts to flip out. Jordan: "You know that someone is coing back into the house.. you're going to have two great players coming after you".. Jordan gets up and walks to the door.. "why don't you put a floater up and when you get HOH choice then pick Jeff" Kalia tells her that it's no guarantee she needs player that win the POV. Jordan: "Your done in this game… someone is coming back into the house and they will be coming after you" Jordan says she's done talking.. "someone is coming back into the house and you'll have 2 targets on your back if you put both of them up" Jordan storms out (LOL well done jordan)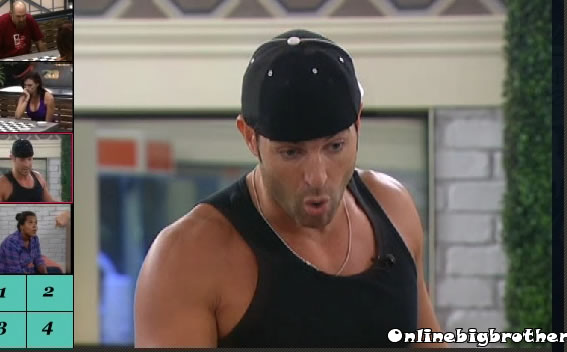 Jeff now getting pissed tells Kalia if rachel wins POV then he's going home. Kalia doesn't think thats the case. Jeff tells her to start using her head and think for herself. Kalia says she is, she's put a lot of thought into this game and she's making the right move. Jeff begins to threaten her tells her if he goes up kalia is his number one target.. if he had a piece of paper he would draw her a picture what will happen to her (HOLY BLANK BRENDON IS BACK IN THE HOUSE and he looks like Jeff) Kalia tells him that she wants rachel gone and the best way to do that is put Jeff and rachel up if rachel wins POV she has a back up plan.
Jeff: "At least give me that if Rachel wins i'm going home cmon Kalia" kalia says rachel will not win POV points out how her performance was earlier today in the food comp.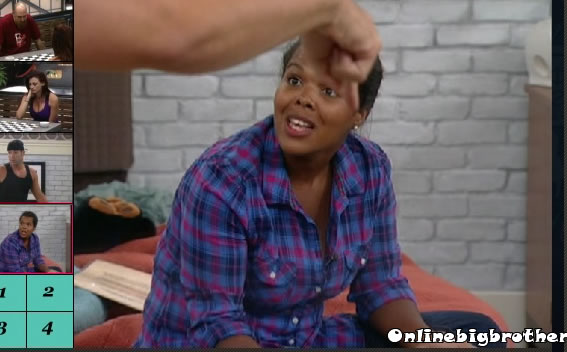 Jeff gets up tells Kalia she's screwed in this game if she puts him up.. Jeff: "your brainwashed i'm BLANK winning the POV and i'm coming after you".." if I go home I'm going to get let back into the house I'm coming after you I just want you to know that." Kalia pleads with him to just sit down and take a deep breadth she wants to explain it. Jeff will have none of it sticks to the same story..
(Jeff and Jordan are telling Kalia that if she puts them up then a) jeff's going to be coming back regardless b) she'll be the number one targets of the JJR alliance… sounds like a solid reason to me.. I hope CBS give this whole encounter a honest edit)
5:35pm FEEDS CUT NOMINATIONS Rachel and Jeff going up
This is not the official CBS Poll, go to this link https://www.cbs.com/shows/big_brother/americas_vote to vote for a evicted houseguest to have a chance at coming back into the house

Big Brother 13 Spoilers POLL CAST your VOTE!

Big Brother 13 Live Feed Image Gallery
Follow: @BigBspoilers and @Dawgsbigbrother on Twitter for recent crazed out spoilers. Theres also our Facebook page.
Share it YO!!
Tweet