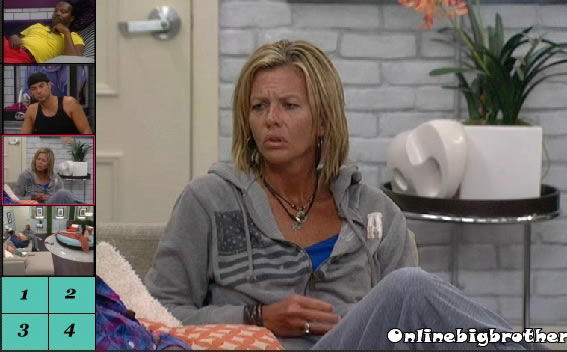 If you like this site and want to help us keep it running please consider donating, Your donations go directly to paying the server and bandwidth fees. Donate Link
8:00pm HOH Shelly, Dani and Kalia
Kalia is explaining why she put Jeff and Racehl up. Her target is rachel and she wants a person to play Veto that will win it. She points out that for the first 3 weeks JJ were picked to play veto and if she put a pawn up chance are good that Jeff will not be picked to play veto and Rachel will win it. Kalia cannot take that risk and put up a pawn she needs to put up the strongest competitor to win the veto so Rachel doesn't. Kalia gives a short recap of her conversation with jeff and how he threaten her that if she puts him up that she there number one target. Kalia goes on about how this is her decision and her's alone and she's doing what is best for her game. Shelly instructs her to go downstairs and tell people that because right now everyone is thinking that Dani is controlling you and they are all dreadfully afraid of dani. Dani says she was a bit surprised taht Kalia suggested to put jeff up it was a big move.
(In case you were wondering where straight shooter shot.. we'll she's still loyal to JJ she's trying to deflect the hate onto rachel off Jeff by saying this below)
Shelly is 100% positive that it Dani, rachel or Jeff goes home they are coming right back in and they are going to be safe for additional week. She's sure of it the producers love drama and they don't want to see the 3 main players leave. Dani is shaking her head.
Kalia: "NOOOOoooo.. they would never do that"
Dani: "Umm i don't think so they would to that reverse an eviction and have that person safe for a week and play with for HOH"
Kalia: "Well maybe they come back and given a golden key for a week they can't play HOH but are safe for one week evcition"
Dani still shaking her head, tells them that how can production know who is going to win the HOH she doesn't think the twist will give that much power to a person.
Shelly: "Rachel is saying that if she goes out she"s not coming back she's going to quit.. She telling everyone she's playing for second place"
Kalia points out that just last week JJ wanted to just make it to jury so they can enjoy the summer together and now they are going to jury and are pissed about it.
Shelly changes the subject to focus on rachel. Says she was being very irritating downstairs and during the NOM ceremony.. shelly saw what rachel was doing to Dani and can't believe she did that, "really how old are you".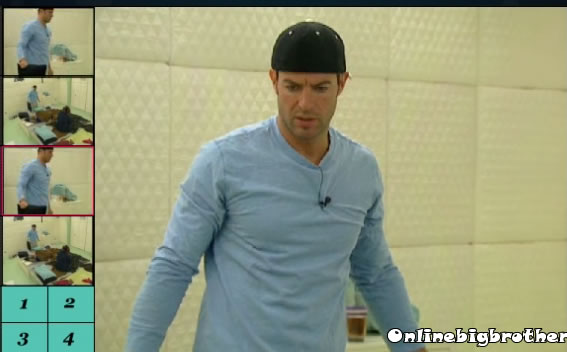 8:10 pm Jeff, Jordan and Rachel in havenots
Jeff is saying that the entire house is filled with floater and he's done with it he wants to be a floater. Jeff: "Nobody is going to take out dani so I'm going to go upsttairs and cut a deal with her"
Rachel add that since day one they've had to fight and there's players in this house that haven't even been on the block or had to compete. Jeff: "kalia told me that she knows for a fact that I was gunning for her.. now how would she of known that". Rachel: "Whose feeing kalia that?" Jeff: "It's either Shelly or porsche"…
rachel: "It's Shelly it has to be"
Rachel: "I wish I was a flaoter just float though the game never do anything.. I wish I could get a golden key make it to final 4 get all these cool prizes" .. Jeff is wondering maybe it was Adam that said something.. Jordan doesn't think so she believes it's either Shelly or Porsche. Rachel tells them to trust her it's Shelly that is playing both side.
Rachel: "Lawon, BLANK adam and Dani are all going to make it to the end the BLANK floaters" rachel mentions that her and brendon were worried about this but it looks like CBS wants another floater to win. (Every time JJR says floater drink new rule)
Jeff says he's not sure whats up with shelly she's been acting strange he's starting to think maybe rachel is right shelly is feeding both side information. Jeff: "I'm sick of people of floating around in this house working both side.. I want to start stiring BLANK up and make people scared" Jeff says he knows he's not going anywhere because Julie chen said that someone is coming back he just wants to get the hose in a uproar.
Jordan: "Dani is controlling kalia he need to take dani out"
Jeff: "Yeah we all know whats going on up in the HOH.. I know we're staying so i'm not going to care lets play POV and win it then we're both safe"
Jeff: "We're going to be put up everyweek… and there's a house full of floaters that only have to be worried about what is going to be for dinner… Why doesn't one of them cook up a Veto for us"
Rachel: "It's very frisuterating we're the targets every week we fight and fight and fight it's so hard for us"
Jeff: "all we need to do is pick up some HOH and once Dani is gone it's easy.. we'll take out the floaters one at a time"
Rachel: "Once dani is gone what are they going to do… float around and do what we say"
Rachel: "It sucks becuase they've all seen the vets play so that is why we are being targeting.. it's just not fair"
(It's becoming apparent to JJR that Shelly is feeding both side.. hopefully this festers tonight and explodes after the veto)
8:30pm Feeds back HOH Rachel and Kalia Kalia is explaining things to her why she's up and how it's not personal it's part of her game to get her farther in it. Rachel says that she swears that JEff and rachel were not going to up Kalia up, they were all gunning for Dani they were going to try and backdoor her.
8:45pm havenots Shelly and JJ
Jeff asks shelly if they are 100% Shelly says Yes. She tells them she's been shooting straight with them the entire time. Jeff brings up that yesterday shelly was saying to them that they were safe now he's up on the block.. he's just thinking things are fishy. Jeff brigns up that he thinks maybe Shelly threw the have not comp… Shelly really takes offensive to this says she would never do that. Shelly tells him she needs to leave check her food. Shelly tells him they've been over this before. Jeff says he wants to go over it again why did you tell us we were safe.. shelly leaves. Jordan looks at Jeff tells him she's unsure about Shelly now.
Dani comes in.
Dani wants to clear a few things up she never told Kalia who to put up that was Klaia own doing. Jeff thinks that maybe Kalia is doing it to please Dani because all the newb floaters follow he around. Jordan says the same 2 things she's been saying all night
1) If rachel gets Veto Jeff goes home
2) Jeff is coming back because Julie Chen said so
Dani tries to explain to them that she is not in the background secretly trying to get Jeff out the target is clear it's Rachel and Kalia wants you to fight and win the POV. dani says there are 5 people playing for Jeff in the Veto and all will fight for it nobody wants rachel in the house. Jeff is unsure about the outcome.. Dani leaves..
Jeff tells Jordan that Dani is full of BLANK she's running the whole show up there she's going down when he comes back. Jordan thinks the only reason Dani is talking to them is because she doesn't get to play for POV. Jordan thinks that dani is a ugly person outside the house just like she is inside.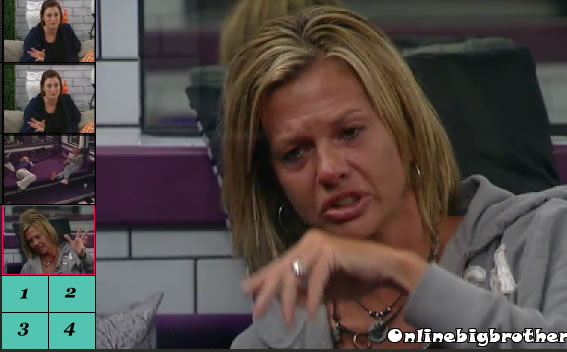 9:07pm Purple room Shelly and Jordan Straight shooter is very upset about what Jeff just did. She cannot believe that Jeff would accuse her of throwing a competition and turning on JJ when since day 1 she's been 100% with them. Shelly demands they tell
Shelly: "Number 1 the fact that we would accuse me of not winning in a havenots comp because I couldn't read his lips is appalling to me.. there no way i did that"
Shelly: "Number 2 from the beginning you and I have talked and you know I idolize you guys and have been on your side.. I told you I was going to infiltrated the other side"
Shelly says she's been up in HOH working the other side getting the story out of them so she can tell JJ. Shelly reminds her that she has nobody in this house she can trust 100% and Jordan has at least 1. Shelly wants to know who is feeding JJ all this information about her. Shelly:"who suggested I threw that comp.. Are you listening to you train wreck rachel"
Jordan: "No"
Shelly says she knows this is all Jeff getting paranoid but still they gotta believe she's shooting straight.
Shelly adds taht she's been true to JJ from day one she's siting here telling them she's 100% and they attach themselves to an absolute train wreck who is running around the house destroying people. Shelly: "There is no way rachel is going to last in this house everyone wants her gone"
Jrodan says they're just being nice to rachel because she lost her fiancee.
Shelly: "You guys are blowing my mind.. with these accusations.. these people are crazy in here.. "
Shelly starts to cry says everyone is acting like a 8 year old in the house and she can't take it. At work she's the boss and nobody acts this way, at home tony's the boss and they don't act this way she can't take it. Shelly: "I'm done this is lame" Shelly asks Jordan who jeff is listening to wonders if it's POrsche. Jordan says she doesn't know..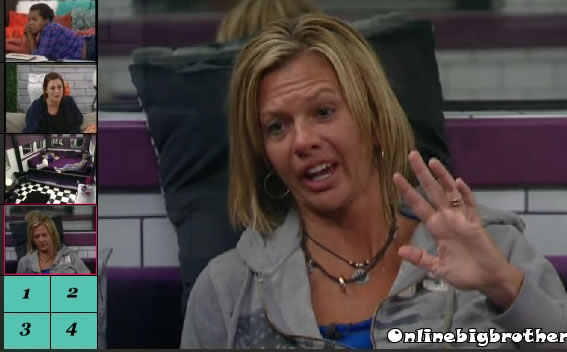 THERE's a lot going on, get the feeds it's worth it. this is the craziest night of BB yet BLANK
Uncensored Live Feeds Free 3day Trial
This is not the official CBS Poll, go to this link https://www.cbs.com/shows/big_brother/americas_vote to vote for a evicted houseguest to have a chance at coming back into the house

Big Brother 13 Spoilers POLL CAST your VOTE!

Big Brother 13 Live Feed Image Gallery
Follow: @BigBspoilers and @Dawgsbigbrother on Twitter for recent crazed out spoilers. Theres also our Facebook page.
Share it YO!!
Tweet