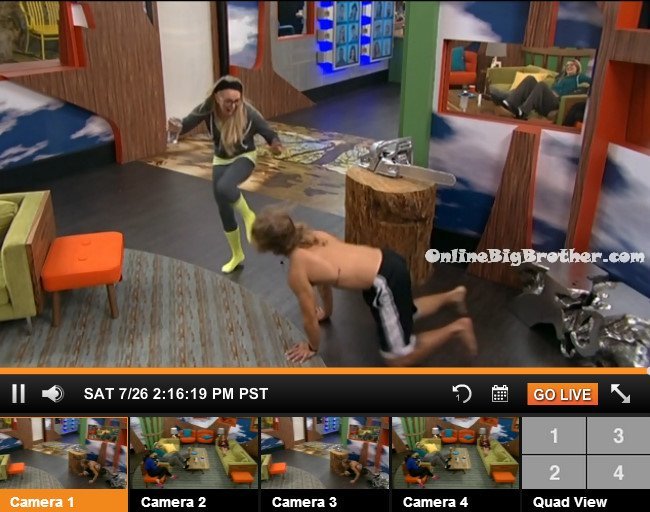 2:20pm Hayden hides behind the chain saw and scares Nicole as she walks by. She throws her glass of water on him.

2:30pm – 2:35pm Up in the HOH room – Cody, Caleb and Frankie are laying in the HOH bed together. They talk about why Victoria picked Hayden as house guest choice. They think she picked him because she thinks he would use it on her if he wins it but he won't. Cody says that Donny put me on blast down there. He said that of all the people down there I was the only one to never go on the block and then Amber chimed in too. Cody says no one laughed at his joke and I was like damn Donny. Caleb says its been 2 and a half days since I last talked to Amber. Cody asks do you want me to go talk to her and ask her about it?! Caleb says no, I want her to come to me if she wants to talk. Caleb says watch when I win HOH she will come running to talk to me. But what she doesn't realize is that she could be backdoored. Not by me but someone else could backdoor her. She gives me these looks but that don't mean anything to me. If she said something to me I would just say I don't want to talk.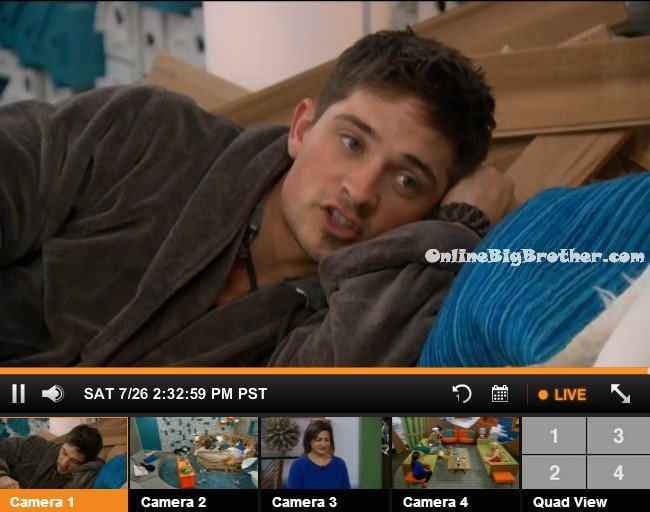 2:37pm Big Brother switches the live feeds to the Jeff Schroeder hight lights .. The Power of Veto Competition is happening now..
Alliances
Zankie = Frankie/Zach
The Detonators = Derrick, Frankie, Zach, Christine, Cody
Final 2 Deal "The HITMEN" – Cody & Derrick
Trilogy = Nicole, Christine & Hayden
Team America = Donny, Derrick, Frankie
Old timers = Jocasta/Donny
Nicotine = Christine/Nicole
(Defunct or unknown status)
Bomb squad = Caleb, Amber, Frankie, Derrick, Cody, Christine, Zach, Hayden
Not a showmance= Hayden/Nicole
Los Tres Amigos = Derrick, Cody, Zach
The bottom Feeders = Derrick/Nicole
We hate Devin = Christine and Zach
Outsiders = Brittany, Victoria, Jocasta, Donny
Stalker = Caleb/Amber
Quad Kings = Derrick, Zach, Cody and Hayden (still being built)
One way to support this site that doesn't cost you anything extra is making your Amazon purchases through the links below Amazon.com OnlineBigBrother Link
For Canada use link Amazon Canada OnlineBigBrother
More polls here https://www.onlinebigbrother.com/big-brother-compendium/big-brother-16-polls/
[polldaddy poll=8207784]
Share it YO!!
Tweet