POV Holder:
?
Next POV
July 26th
POV Used
?
POV Ceremony
July 28th
HOH Winner 1:
Frankie
HOH Winner 2:
 Zach
Battle of the Block Winner
 Nicole/Christine
Next HOH/ Next BOB
July 31/Aug 1
Original Nominations:
ZACH's Noms (Christine & Nicole) Frankie's Noms (JOcasta & Victoria)
Final Nominations:
?
Have Nots
Nicole, Caleb, Christine, Derrick
POV Players
?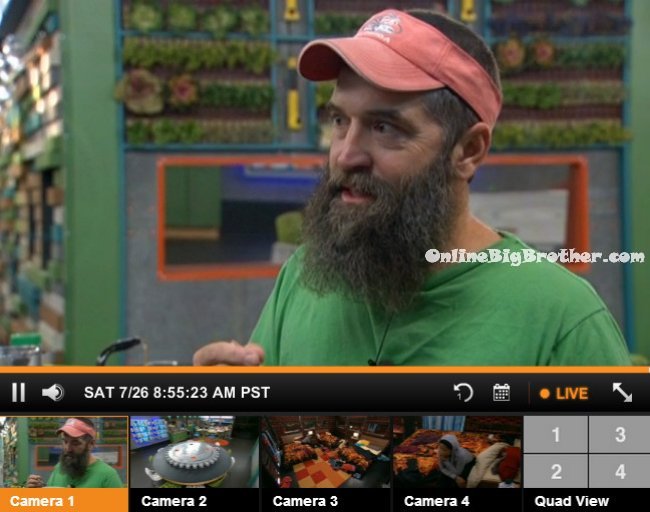 Take Advantage of the FREE 2 day Trial to watch all the drama!
8:40am – 9:10am Big Brother wakes up the house guests. In the kitchen – Donny and Frankie are talking about the team america mission. Donny says well if one of them don't care… but once I found out about it and it was an Amber of Caleb and you told him. This is your opportunity to give a speech. He hates both of them, especially Amber. "You're the fakest person in here!" And he would light in he would go that long. Frankie says if I have the veto around my neck I feel like everyone will be begging me to use it on one or the other and that zoo is down for some drama. Donny says and you could even tell them ahead of time, I will do one or the other but its my decision so this is your opportunity to light into him. Frankie says exactly. Donny says people could get pity on him and save him or it would be up to someone else. Frankie says I want to ask them about the procedures like if I will now give.. Donny says anyone the opportunity to speak. Frankie says before I make my final decision. Donny says yeah! Donny says he might want to speak at that one because he might be one to go up. Frankie says that he is so volatile so I think he would do it. Like I don't give a f**K… BUT I do. Donny says I think it would happen. Frankie says thank god! Donny says that was amazing. Frankie says because I felt like a failure. Donny says you probably only missed it by a few seconds though. Frankie says yeah.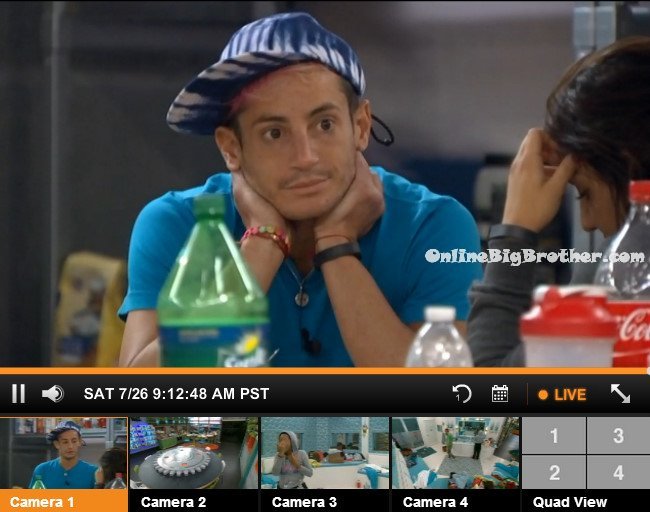 9:15am – 9:40am Victoria joins Frankie in the kitchen. He says that he convinced Zach to sleep for the week. Victoira says that speech (Zach's) was horrible. Frankie says there is so much more going on in this house with my grandfather and Derrick's grandfather dying. He tried to talk game with me last night and I told him to go to sleep and he did. Zach just wants to be a memorable player. I just want my HOH to be remembered as a good HOH, like I was a good leader. I want to do what the house wants. I can tell you, you aren't going anywhere. I am thinking about having a meeting to find out what the house wants but you aren't going anywhere I can tell you that. Frankie heads up to the HOH room. Donny and Victoria talk about the POV today and how they wonder what it will be. Donny says it might not be as hot if we're doing it earlier. Donny and Victoria talk about Israel and how the fighting is always along the Gaza strip. She says that she has a lot of friends in the army. It's mandatory to join the army there. They are born warriors. Donny comments on how they have high technology there like their fighter jets are the same a what the USA has. Victoria heads to the bathroom to get ready.
9:40am – 9:50am In the kitchen – Jocasta asks Donny if I get house guest choice can I choose you? Donny says yeah you can. I don't know what it will be but I can try. Donny says it will be a difficult one because Frankie is very agile and quick witted. He is smart and fast with his hands. I might be able to figure something out but he might be quicker. Donny says people still think that you, me and Brittany were an alliance. Jocasta says I think its just an excuse. Donny says I hate to say this but you haven't performed that great in competitions so they might vote to keep you.
Watch the ENTIRE SEASON of Big Brother 16 for ONLY $26.99 – TRY it For FREE!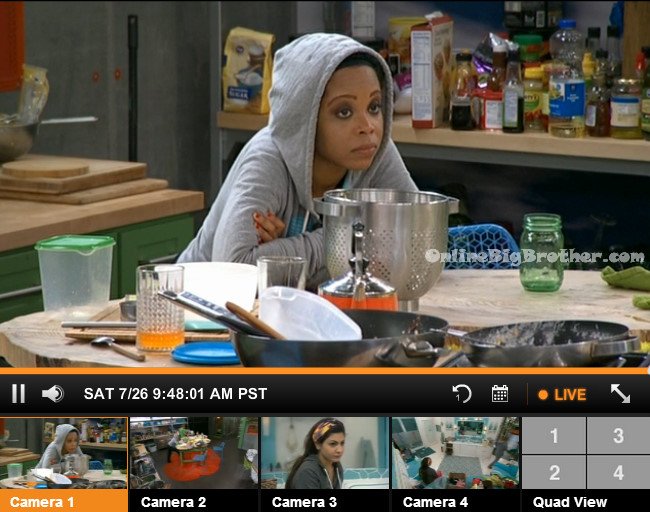 10am – 10:10am UP in the HOH room – Frankie says I have thought a lot and I think we will be 100% to backdoor Amber. I have thought of a few ideas about how to do it. Don't let her know. I don't want a single motherf**ker coming to me with your name because that will look sh*tty on me. After I can pull Caleb aside and talk to him and if he blows up at me then he blows up at me. We can tell him everything, everything. Eventually he will see that I did this for him, for his game, for his love, for his dignity and pride out of this house. If he is in this house thinking about Amber in the jury house… no one in this world would ever respect him. Frankie says if he wants to come after me then fine we can go at it but it would the second stupidest thing he's done in this game. The first stupidest thing was loving Amber.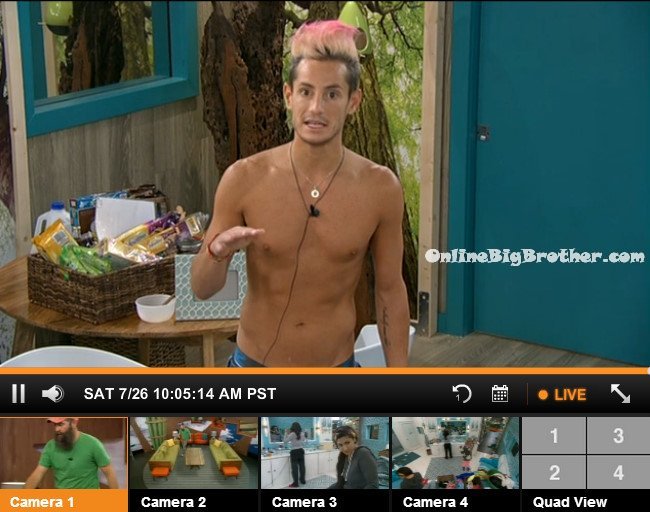 10:15am – 10:30am Zach says there are only 2 people that are going home with the 500K, you or Derrick. Frankie and Zach talk about the order of who will be evicted next: Amber, Caleb, Jocasta, Victoria, Nicole, Hayden, Donny, then the detonators. Its not going to be tough but its not going to be easy. Frankie tells Zach no more unplanned tyraids. Frankie says hopefully I will get house guest choice and I'll pick Hayden. I will offer it again to Derrick to see if he wants to do it. Zach says I don't believe anything that comes out of VIctoria's mouth. Frankie says she's too stupid to lie. Zach comments that Victoria said she lives with her parents to him but told Frankie she lives in an expensive apartment. Frankie tells Zach that she lied to you because she realized she can't tell people information like that. Zach says wow she lied to me.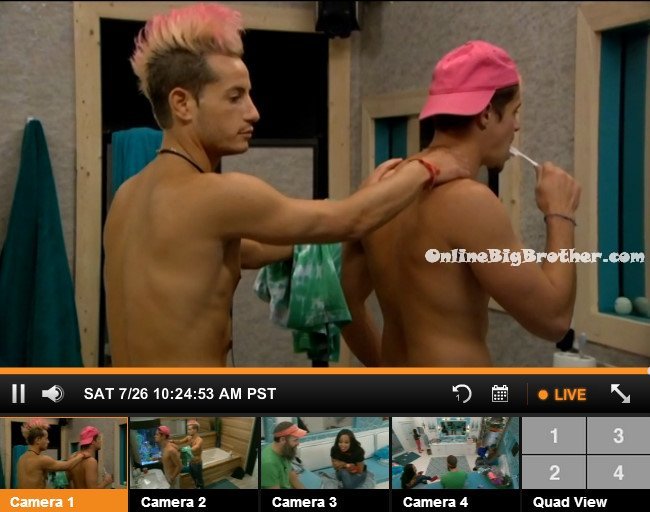 10:40am – 10:50am Big Brother calls Frankie to the diary room. AMber, Jocasta, Nicole and Donny are sitting in the living room waiting for the picking of the POV players. Amber says that she would like to get flower or something for Derrick and Frankie. She wonders if they should do the memorials on separate nights. Jocasta says they wanted to do it on the same time. Frankie comes out of the diary room and they're surprised they're not picking players yet.
11:03am – 11:14am Frankie is called to the diary room again. Nicole says please let this be it! Nicole comments on the froot loop dingus and asks what does that even mean? Christine repeats the froot loop dingus comment. Donny asks her why she didn't respond back. She says that Nicole said that was the stupidest speech ever.
Alliances
Zankie = Frankie/Zach
The Detonators = Derrick, Frankie, Zach, Christine, Cody
Final 2 Deal "The HITMEN" – Cody & Derrick
Trilogy = Nicole, Christine & Hayden
Team America = Donny, Derrick, Frankie
Old timers = Jocasta/Donny
Nicotine = Christine/Nicole
(Defunct or unknown status)
Bomb squad = Caleb, Amber, Frankie, Derrick, Cody, Christine, Zach, Hayden
Not a showmance= Hayden/Nicole
Los Tres Amigos = Derrick, Cody, Zach
The bottom Feeders = Derrick/Nicole
We hate Devin = Christine and Zach
Outsiders = Brittany, Victoria, Jocasta, Donny
Stalker = Caleb/Amber
Quad Kings = Derrick, Zach, Cody and Hayden (still being built)
One way to support this site that doesn't cost you anything extra is making your Amazon purchases through the links below Amazon.com OnlineBigBrother Link
For Canada use link Amazon Canada OnlineBigBrother
More polls here https://www.onlinebigbrother.com/big-brother-compendium/big-brother-16-polls/
[polldaddy poll=8207784]