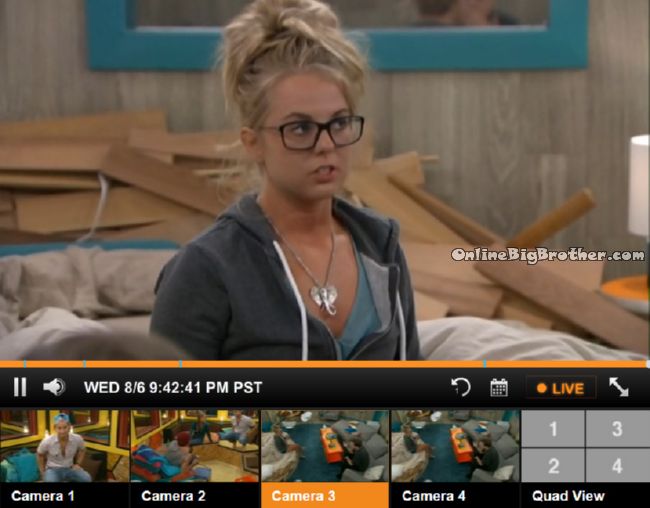 9:42pm HOH Nicole and Derrick
Nicole says Zach came up to talk to her she's worried Frankie is trying to flip it
Derrick say no that's not happening.,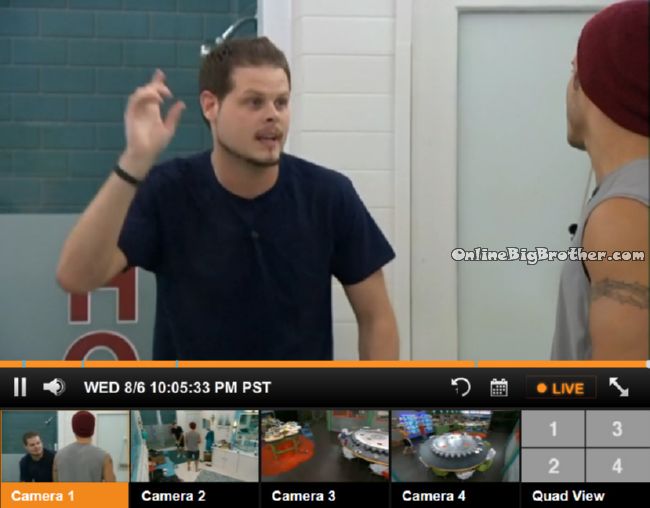 10:01pm Bathroom Cody and Christine
Derrick – I have to talk to you .. we have to draw the line I will draw the line tonight..
Derrick – Frankie is trying to protect Nicole and Hayden because he thinks they are with him.
Derrick wanted to tell Frankie that Nicole and hayden were planning on backdooring him.
Derrick – you think he's going to work with them after that.. of course he isn't
Cody – I just sh1t my pants
Derrick we have to talk tonight and look each other in the eyes and decide what decision we're going..
Derrick says Nicole was pushing him :"Zach has to go he has to go" .. "Why does he have to go Nicole he's not putting me and Cody up"
Cody adds 3 out of the last 4 weeks someone from the original 8 has gone home.
Derrick says hayden wants them to put up Frankie and Christine next.. Derrick is worried him and Cody will end up on the block and Donny/Jocasta will vote them out "We're getting 5th and 4th place.. I would go home and make a big move BEAT ME BEAT ME"
Derrick Nicole is playing us we are Cannibalizing ourselves.
With a live feed subscription you can go back and watch any event that has been shown.
Use our site as an index and watch only the parts worth watching.
Try It Free! Subscribe now to the official BB16 Live Feeds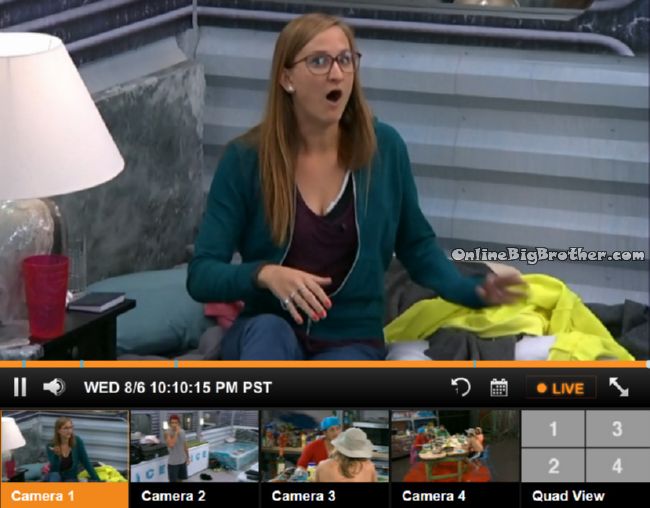 10:39pm
Cody tells Christine that Nicole and Hayden were trying to get Christine and Frankie backdoored and was trying to start an Alliance against them with Cody and Derrick.
Cody – you wanted Derrick and I up.. .they wanted you to go first
Christine – WOW.. this is interesting.. I could tell something was happening.. I'm kinda pissed off but i'm also impressed.
Christine – "I'm so happy you came to be Cody thank you .. thank you"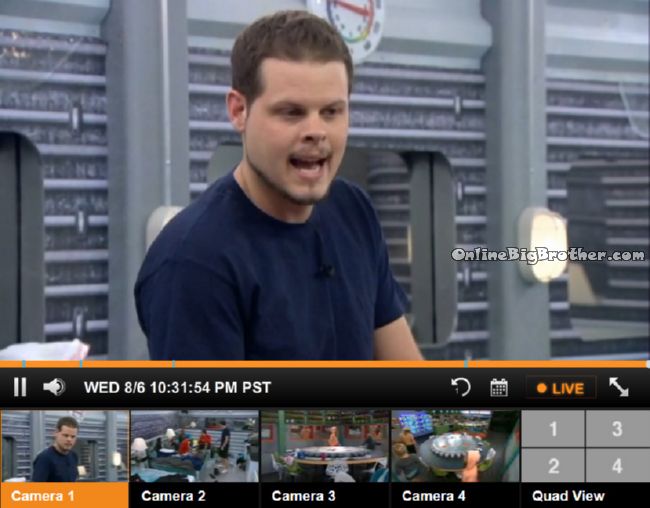 10:24pm Have nots Frankie, Christine and Cody
Cody fill Frankei in.. Nicole wants them to backdoor Frankie and Christine
Frankie – So Zach is staying"
Cody – I don't give a f** about Zach but if he goes we're playing their plan.
Frankie – Zach can stay lets do it
Frankie thinks Nicole/hayden were saying the same sh1t to Frankie/Christine than they were to Derrick and Cody.
Cody we can either keep Zach or get rid of him and play along with Nicole/Hayden
Cody thinks Donny/Nicole are the masterminds not Hayden.
Frankie – I think Zach should stay
Christine – I trust Zach..
Frankie leaves comes back "I told Caleb.. we're keeping Zach"
Derrick comes in Cody says he told them everything
Derrick – are we done playing the game.. seriously they are trying to pick us off one by one.. they told us everything you guys said
Christine we didn't say it
Derrick – OK we're going to keep Zach we're going to win the numbers.. we ain't' f** ing pawns..
Cody – Donny is the mastermind Donny is a genius..
Derick they are all working together Hayden wouldn't even suggest putting up Donny. they wanted to back door Frankie..
Derrick – I know you're close to Nicole and this is heartbreaking to you.
Christine say Nicole is so jealous of her and Cody
Derrick says there's three sides it all comes down to numbers they have more numbers.
They decide to keep Zach they have 5 votes. Derrick leaves
Cody says he's livid that Hayden and Nicole have been playing him the entire week he wants them to be surprised tomorrow.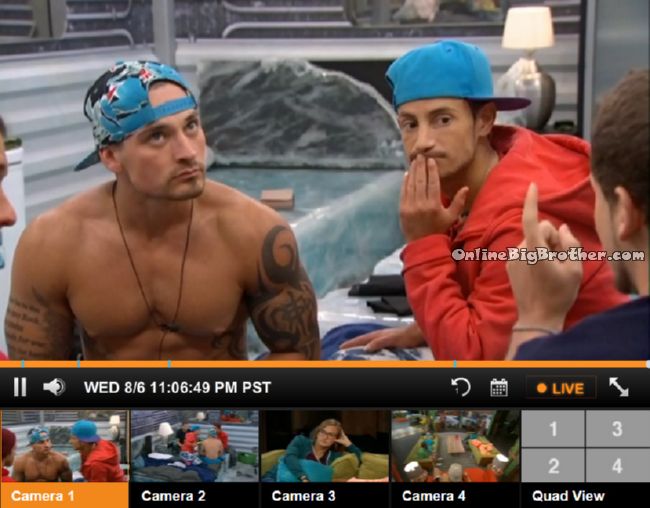 10:52pm Have Nots.. The detonators
Derrick tells them they got to break up the meeting everyone else is in the living room. He says Nicole's chest is heaving up and down.. he mentions her pulling him up to the hoh sayson "Zach needs to go he needs to go"
Christine leaves to use the washroom
Frankie says it was easy to let Caleb in on the new plan he went to him :Hey Caleb you were right"
Derrick – we have the numbers right now it would be foolish.. you can bet if Zach syat AYden will put two of us up"
Cody – It's going to be you and me..
Derrick – Or he could backtrack put Donny try to work with us.
Derrick and Cody say Nicole Didn't want them to talk to COdy.
Derrick thinks all the outsiders go together and figured out a way to split up their alliance and for a week they were doing pretty good.
They agree to keep playing up Zach is going.
Derrick – They are coming after us if we don't win HOH.. "
Derrick says they have to win the HOH.. Frankie mentions that Caleb had figured out they needed to keep Zach because of the numbers.
Derrick – He's c***y as fu*K"
Cody – He's a good guy"
Caleb rolls in
Frankie – I f*** love you you were 100% right"
Caleb – DuH"
Derrick – Hayden was spreading a lie saying they were coming after us and we're coming after them.. they knew were weren't part of the bomchsuad"
Cody and Derrick tell caleb not to talk to Hayden he's not part of the bombsquad.
Derrick – we got to keep Victoria she isn't part of them she's a vote for us"
Derrick – if it's an endurance one of you horses got to win it"
Derrick tells them Nicole and Hayden are going to go to zach and tell him they were going to vote Zach out
Frankie and Caleb are going to talk to Zach.
Derrick says he likes HAyden he's going to hang out with him outside of the game.. and he doesn't blame Hayden he's trying to win the game.. unfortunately he tried to put us against each other.. see you buddy.. he's got a final 2 with Nicole and Donny.
Derrick and Cody agree Nicole knows she's f***d
Cody – She's f**cked and she knows it.. she' literally f***ed and she knows it"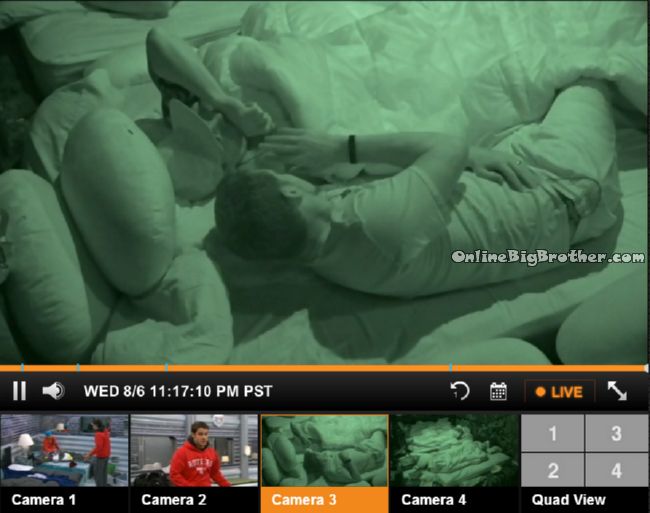 11:16pm Rock Room Derrick and Caleb
Derrick – It's all of us against Hayden and Donny
Caleb – Is victoria with us
Derrick ya she;'s good she can't win anything she's a pawn.
Caleb – Is Christine with us
Derrick- she is right now .. when it comes down to it she'll be the first to go.. it's a numbers game that is all we care about.
Derrick – if we pull it off it guaranteed us a top 5
Derrick – right now we're so dominated numbers wise they knew they had to do something
Derrick – I'm not even mad at him
Caleb asks who they should put up if it's double eviction.
Derrick says there's plenty of options. If they win HOH it's Hayden Nicole and if POV is played put Donny.
Derrick thinks it should be Hayden and Donny if the guys use POV they put Nicole up.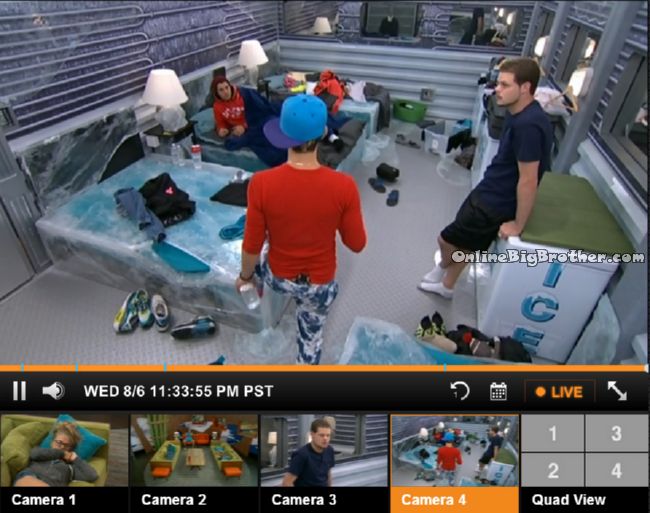 11:31pm Have Nots Cody, Frankie and Derrick
Cody brings up Nicole knows something is up she's wondering why Christine looks pissed. "Nicole has been playing Christine the entire season it's no wonder Christine is pissed"
Cody – Tomorrow when the vote come out 5-3 what do we say..
Derrick -I'm going to convince Victoria
Cody – you think
Derrick – Yes it will be 6-2
Cody – she will go to Hayden
Derrick – Hayden told me in a room with Frankie and Cody if he wins the HOH during double eviction he was going to put up Victoria.. you two are going to go to her and tell her the same thing
Cody – She's going to Hayden no matter what.. he's going to know.. before it goes done
Derrick – should we just let it ride..
Frankie thinks they should just walk put to Hayden and Nicole say look we're voting out Zach
Cody doesn't think they should do that.
Derrick thinks they should tell Hayden tell him Zach is a HUGE target "If you are up with Jocasta you are going home"
"lets be honest they are not going to buy it we're still f***ing him but we're putting l*be on"
Cody – You want to tell Nicole
Derrick- I don't' think it's a bad idea.. it's not the end of the world to tell her tomorrow.. at least then they don't feel like it's them against the world
They try to figure out how to unwind all the things they told Hayden/Nicole about Zach targeting Hayden.
Cody – I just love blindsides..
Derrick – Nicole/Hayden played the perfect week they kept us apart all week.
Derrick points out that Caleb has the numbers figured out. Derrick had forgotten that keeping Zach means getting rid of on of their opponents numerous.
Cody – He's playing a very Black and White Game
Frankie – you good you bad
Derrick leaves
Cody and Frankie talk about how they can be fake to other people in the house but they can't be fake to each other.
11:58pm Have Nots Frankie and Hayden
Frankie says everyone is pissed off at Zach from all the things he's been spreading. Nobody wants to see Zach go because he's so much fun but they know he's go to go.
Frankie – I haven't been able to talk to Cody in forever.. We were just sharing stories about Zach and all the sh1t he says to all of us.. "
Frankie still wants it to be a mystery about weather Zach is being evicted.
Hayden says he talked to Donny and he's voting Zach out.
Frankie says it's going to be a real good show tomorrow this is when the game gets good.
Frankie about Zach "He's not a person that is going to get us anywhere.. neither is Jocasta but.. "
Hayden – we have a really strong group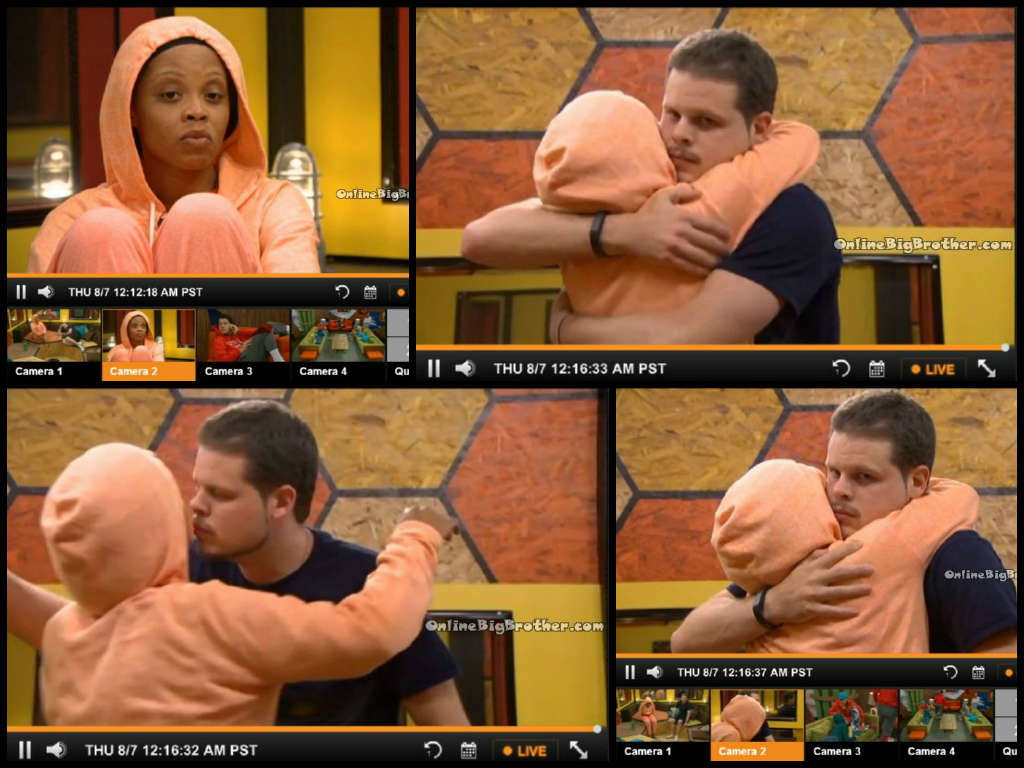 12:11AM BEEHIVE Derrick and Jocasta
They just finished praying. Jocasta says she knows she has Hayden and Donny's vote but anyone else she's not sure. Derrick says he will vote for her and as long as she has 4 they are good.
Derrick – Be positive I think you are going to be fin e
Jocasta – I think it will be split
Derrick – then the only person you have to be worried about is Nicole to make sure Zach never promised her something.
Jocasta wants to know if she's staying so she knows what to wear.
12:22AM Derrick and Frankie Bathroom
Derrick tells him he's being honest Christine was saying a bunch of sh1t about Frankie.
Derrick wants them to tell Zach before the vote in the case that Zach wins the HOH he'll send Hayden home.
Frankie agrees he'll tell Zach that Nicole and Hayden were trying to get the house to vote him out. "I can't wait until Zach hears all about this"
Derrick – I'm hoping it's a double HOh tomorrow.. this is going to sounds crazy you put up Nicole and one of the alliance members as long as they threw the BOB you remains as the HOH"
Frankie says there's no Battle of the Block he heard them constructing someone in the pandora's box room, "oh i'm not supposed to tell you".
Derrick ways if HAyden wins HOH they are f***D
Frankie – this has locked us down even better..
Derrick tells him Team America is inside the other alliance in the house he thinks they are in great shape.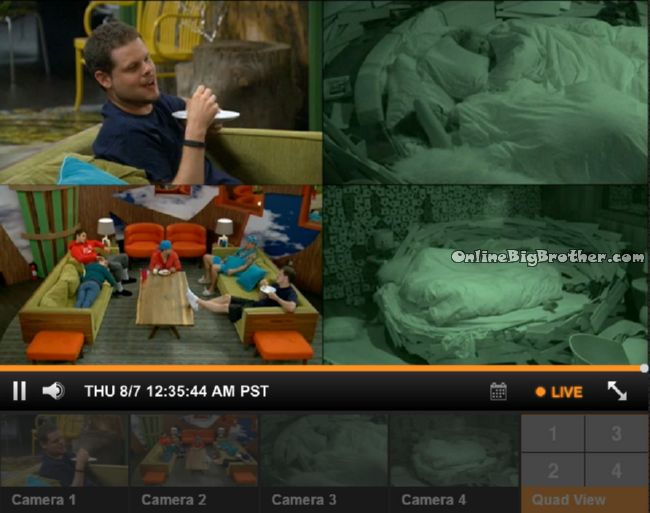 12:37AM Derrick telling them about the bachelor how he finds out the spoilers and tells his wife.
Victoria and Nicole sleeping in the HOH.
Wheres the vote
Zach staying.. LOL
Alliances 
The Rationale = Nicole, Derrick, Hayden and Cody
Zankie = Frankie/Zach
The Detonators = Derrick, Frankie, Zach, Christine, Cody
"The HITMEN" – Cody & Derrick
Trilogy = Nicole, Christine & Hayden
Team America = Donny, Derrick, Frankie
Old timers = Jocasta/Donny
Nicotine = Christine/Nicole
bottomfeeders = Derrick and Nicole
More polls here https://www.onlinebigbrother.com/big-brother-compendium/big-brother-16-polls/
[polldaddy poll=8220599]
[polldaddy poll=8231622]