POV Holder:
Chrsitne
Next POV
Aug 2nd
POV Used
NO
POV Ceremony
Aug 4th
HOH Winner 1:
Donny
HOH Winner 2:
Nicole
Battle of the Block Winner
 Caleb/Victoria
Next HOH/ Next BOB
Aug 7/Aug 8
Original Nominations:
Donny's Noms (Victoria & Caleb) Nicole's Noms (Zach & Jocasta)
Final Nominations:
Zach & Jocasta
Have Nots
Frankie, Cody and Hayden
POV Players
Nicole, Christine, Jocasta, ZachAttack, Caleb, Victoria,
3:13pm Backyard..
Chit chat HAyden talking about an alien invasion.. "If we're around when aliens attack how lucky are we" (He starts making machine gun sounds and pretends he's holding a machine gun see image)
Victoria has been trying to remember a name of a party island.. she finally remembers Ibiza.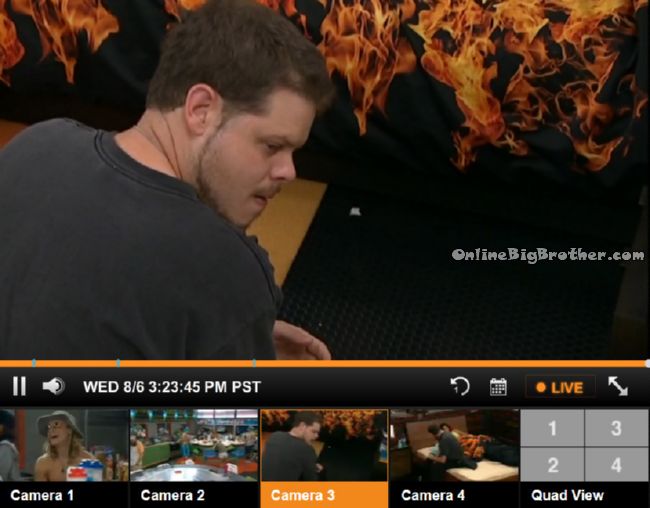 3:23pm Fireroom Derrick and Victoria
Victoria wants to know why he never told her Zach was saying things about here.
Derrick – I just defended you because it was the right thing to do.. it wasn't game..
Victoria – what did you say
Derrick explains that Zach was asking him something along the lines "why are you close to her" "How can you stand her" (Derrick doesn't want to reveal too much of the conversation)
Derrick snapped at Zach said "I'm not a scum bag i'm not disrespectful to women"
Victoria – he said why are you close to me
Derrick – he said something like you are always with her doesn't it bother you how do you do it."
Derrick Adds he never used it as a game move he would have done it for anyone he cared about inside or outside the house. Victoria says she's been sitting here being nice to Zach and he doesn't deserve it.
Derrick whispers if he heard Jocasta talking sh1t about him he wouldn't change his opinion of her. He tells her to be nice to Zach right up to the end.
Victoria – So he's saying i'm stupid.
Derrick – he didn't say victoria is a dumb ass she said dude i don't know how you do that do you really like talking to her
Derrick told Zach he does like talking with Victoria she's like his little sister.
Zach came back to Derrick "I don't know how you can do it.. so I brushed it off told him that is his opinion.. he's just a kid and I'm 30 years old"
Derrick never tells her the complete story just giving her bits of the conversation "Zach said.. she's naive to the world.. It wasn't a good comment he wasn't given you a compliment "
Derrick – I don't like it when people talk sh1t about other people and they are not there to protect themselves".
Derrick is pissed with himself though he thinks it showed too much emotion. There was a lot of people outside at the time. "he's a punk kid"
Derrick- I got your back when you are with me and when you are not with me I defended you last night just know I got your back "
Victoria wants to know next time when people are talking sh1t about her.
Derrick wants her to stay focused he'll tell her if she really wants but if he does tell her she has to be still be super nice to everyone involved. .
Victoria calls Zach a piece of sh1t. Derrick tells her to relax the rest of the night Zach is probably going tomorrow
Derrick brings up saying to the guys "you got a mother" and if it was someone talking to your sister like the way Zach talk about Victoria. Derrick – "If that was my daughter and I heard what you said about her I would be locked out of the show Because I would knock your fuc***g teeth out"
Victoria wants to know what Zach said. (Smiling she really loves hearing about Derrick defending her)
Derrick doesn't think Zach was there when he said it. Cody and hayden..
Cody joins them.. says they have an official lockdown.. Cody cannot stand be around everyone right now. .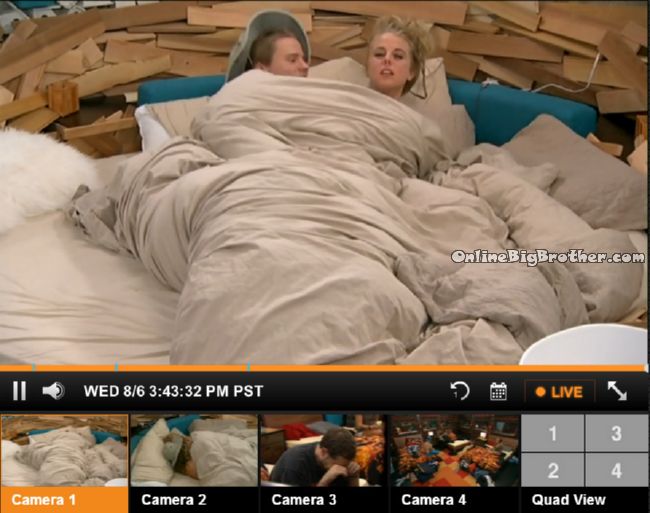 3:48pm HOH Hayden and Nicole
Hayden trying to cuddle. Nicole says her face is burnt. Victoria comes in says she was with Derrick and Cody chatting. Frankie came in and looked so paranoid. Hayden "He makes fun of Amber being paranoid but he's worse"
Victoria – it was funny when he came in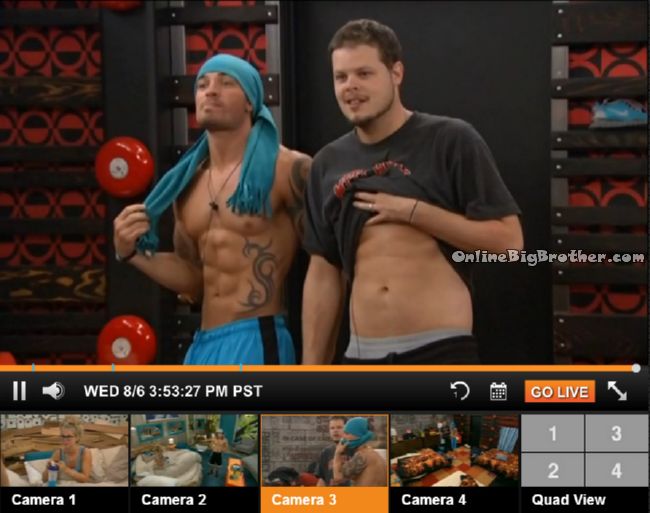 You can't even tell the difference between me and Caleb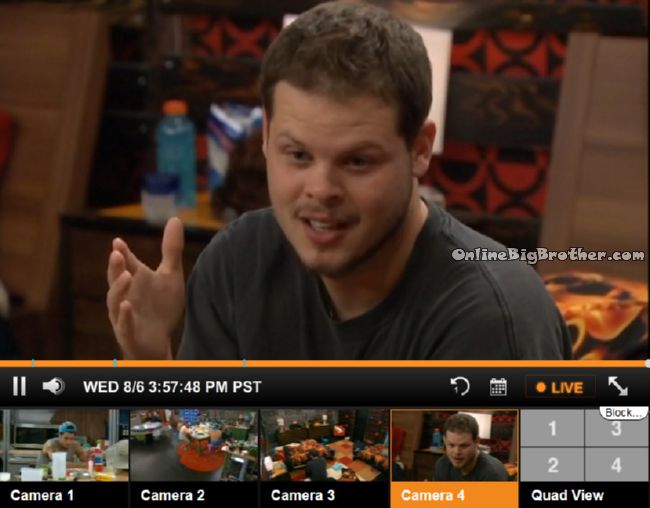 3:54pm FIRE ROOM Derrick and Frankie
Talking about Donny thinking they still can trust him for a little longer.
Derrick says they are sitting pretty.
Frankie thinks Hayden is working with Donny.
Derrick – Nicole too.. Nicole and HAyden are really close"
Frankie would nominate Jocasta and Victoria
Derrick says right now those girls won't put him up but if he puts the girls up they may start targeting Frankie. They bring up the scenario where Donny wins the POV takes Jocasta off the block it doesn't leave the HOH with many options.
Frankie asks who Derrick would put up
Derrick says he would put up Victoria and sugar coat it.
Frankie who do you put up
Derrick – That's the 500 thousand dollar question.
Frankie says he will put up Victoria and Jocasta and hope Jocasta goes home..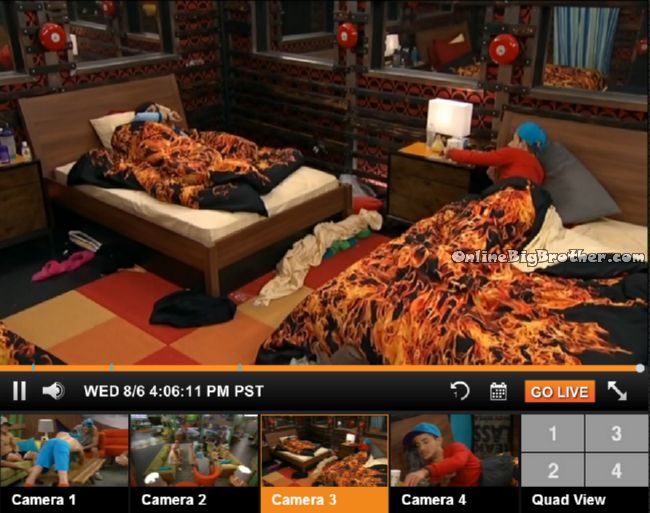 4:06pm FIREROOM Frankie and Victoria
Frankie – who do you want gone next
Victoria – this game changes so much each week.. When i'm HOH then i'll…
Frankie – what if its tomorrow during double eviction
Victoria – i'm sure something will pop up.. until then, just playing as best as i can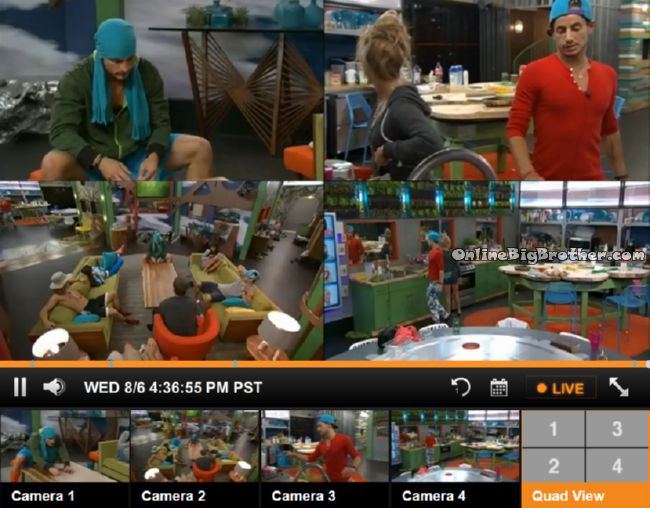 4:38pm Paper football, chit chat etc etc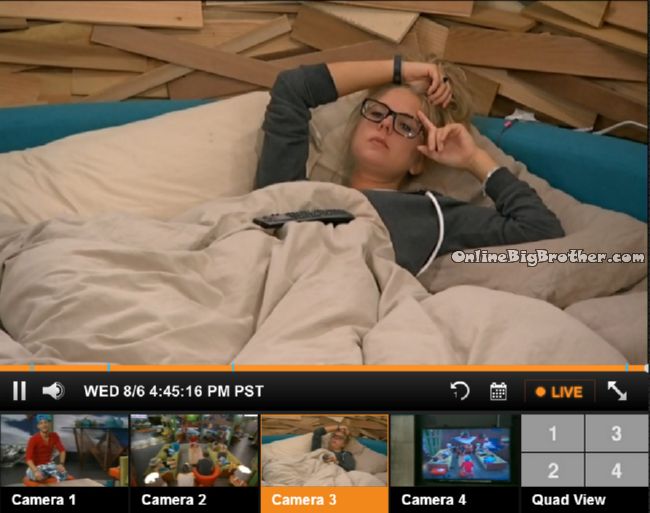 4:57pm HOH Victoria and Nicole
Victoria says she's pretty sure tomorrow is double eviction and there is no more BOB.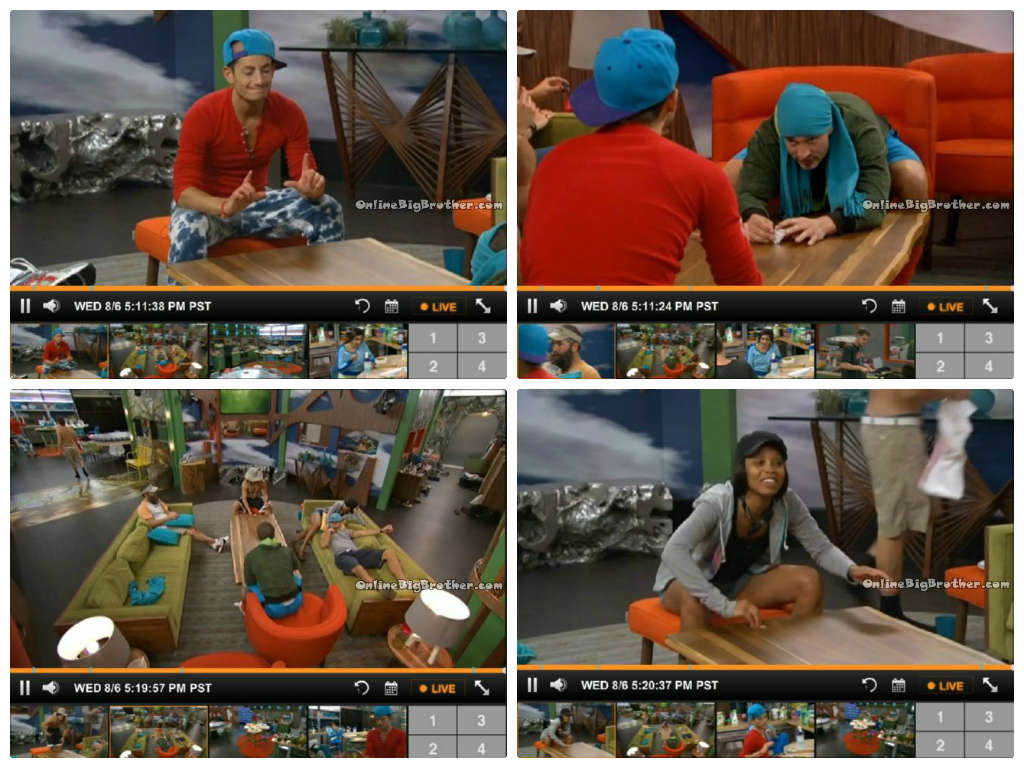 A bunch of house guests in and out of the living room playing table football. Just chit chat.
Jocasta tells Caleb to close his legs there's married woemn around. Claeb tells her married women shouldn't look there. They laugh..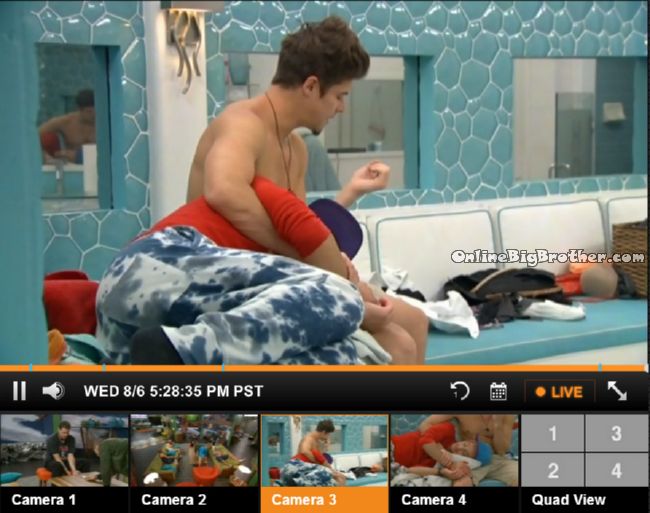 5:24pm BEEHIVE Zach practicing his famous poem for tomorrow night. he heads to the bathroom where Frankie is they cuddle. Frankie tries to suck his thumb.
Zach goes up to the octopus ornament says he's going to take it, "Octo Pu$$y"
Frankie – can you believe that was a villain in the 60's means you have 8 pu$$ies
They agree no one in the house is as annoying as Rachel (BB12/BB13). Frankie says everyone in their season seems so young to him. Frankie says Rachel was one of his favorite players so was Britney (BB12,BB14).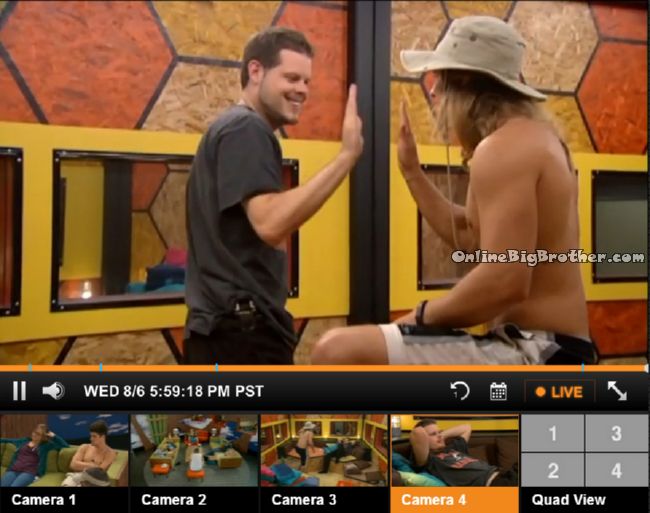 5:51pm BEEHIVE Derrick and Hayden
Hayden wonders if they should try and pull Caleb and Frankie/Christine apart. He's got a chance of winning the HOH. Derrick doesn't think they can pull it off they know Caleb isn't coming after them and if they push it he's going to side with Frankie.
Hayden says he found out Donny's targets it's Frankie, Christine, Caleb and Derrick would be the 4th one. Derrick – "I got time" He asks him where Cody is with Donny. Hayden thinks Donny will put Cody up only if he had to just because he has a excuse.. but he's good with Cody .
Derrick – But he wouldn't be the target Hayden agrees.
Hayden saying if it's Double and he wins it he's putting up Christine and Frankie that what they can guarantee one of them is going home.
Derrick agrees. If POV is played Jocasta goes up.
Hayden thinks that maybe Zach, Caleb and Christine planned bringing up the alliance two nights ago. Derrick thinks it felt staged a bit didn't feel "Organic"
Hayden – Maybe they are trying to Trap you guys.. Because Frankie did tell us Cody was his target.
Derrick says Christine was not with them when Zach proposed the alliance. Derrick – She thinks she's good for another 4 or five weeks
Hayden – you know CHristine she's going to throw it ..
Derrick – She's saying she's in an alliance with us and she's saying she's in an alliance with you and if she wins she has to decide which side.. she's not going against Frankie she's going to go the way Frankie says
HAyden – SHe can do anything honestly..
Derrick and Hayden agree if it's double evict and they win it Frankie and Christine are going up
Derrick – So if I win it and it's double evit.. who do I put up Frankie Christine?
Hayden – thats what i'm doing
Derrick – OK OK
6:52pm Feeds have been off for the past 30 minutes
7:26pm Feeds still down
8:14pm Feeds still down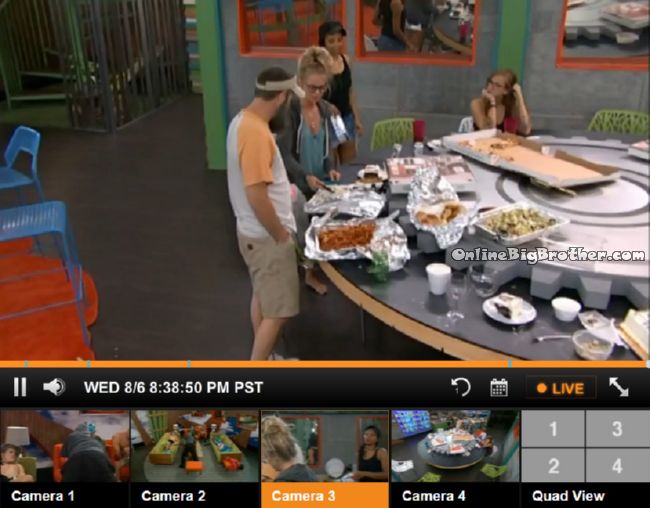 8:40pm Pizza party is over
One way to support this site that doesn't cost you anything extra is making your Amazon purchases through the links below Amazon.com OnlineBigBrother Link
For Canada use link Amazon Canada OnlineBigBrother
Alliances 
The Rationale = Nicole, Derrick, Hayden and Cody
Zankie = Frankie/Zach
The Detonators = Derrick, Frankie, Zach, Christine, Cody
"The HITMEN" – Cody & Derrick
Trilogy = Nicole, Christine & Hayden
Team America = Donny, Derrick, Frankie
Old timers = Jocasta/Donny
Nicotine = Christine/Nicole
bottomfeeders = Derrick and Nicole
More polls here https://www.onlinebigbrother.com/big-brother-compendium/big-brother-16-polls/
[polldaddy poll=8220599]