POV Holder:
Jessie
Next POV
Aug 10th
POV Used
YES
POV Ceremony
Aug 5th
HOH Winner:
GM
Next HOH:
Aug 8th
MVP:
AMERICA
Original Nominations:
Candice, Jessie and Amanda (MVP Nom)
Current Nominations:
Candice, Spencer and Amanda (MVP Nom)
Last Evicted Houseguest
David, Nick, Jeremy, Kaitlin, Howard
Have Nots
no have nots this week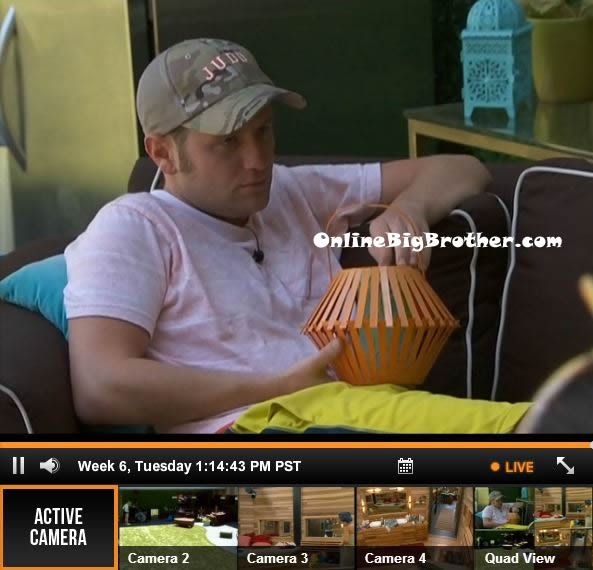 1:20pm – 1:35pm Jessie and Judd are out on the backyard couch. Jessie tells Judd that he is worried. Judd tells her not to be. Jessie asks don't you want me to tell you when I'm worried. Judd says yeah. Jessie says if I don't win HOH I will be going up. Judd says he won't put her up if he wins. Jessie asks who he would put up then. Judd says I don't know there are 9 other people that could go up. Judd asks you would put up Ginamarie because she put you up right? Didn't you say that last night? Jessie says yeah. Jessie says that that is an in balance of power in the house with Amanda/McCrae/Helen/Elissa. Jessie says that she thinks the order of eviction will be Spencer, her, Aaryn, Ginamarie, Judd, Andy. She says until it's just McCrae, Amanda, Helen and Elissa. Jessie tells Judd that she thinks he is in a great spot right now but it's only a matter of time until he goes too. Judd asks Jessie who she is working closely with. Jessie says just you and Helen/Elissa. Judd says that he trusts Helen. Jessie says that she doesn't like how Helen is only looking out for her own back. Judd says yeah everyone is. Jessie says that she doesn't like how Elissa is able to so easily drop Candice. Jessie says she understands not getting out a big target in the short term but it's better for the long term to get a big target out. Judd asks if that means she will nominate Ginamarie and Helen. Jessie says no. Judd tells Jessie that he thinks we are looking out for each other but we aren't in an alliance. Elissa and Andy join them. Andy says I knew I slept in late today when Clownie was up before me.
Use the Big Brother Live Feeds to FLASHBACK to SEE what they can't show you on TV:
BB15 N!p Sl!ps / N*des
1:40pm – 2pm Andy and Judd joke about Helen threatening people and being a dictator. They discuss how Gina as HOH and how she promised so many people they wouldn't go up and how she ripped both nominees a new a$$hole. Andy laughs and says what if Gina got a Pandora's Box with a new kind of power and she had no idea how to use it. Judd laughs about Gina trying to ask us about a power we've never heard of. Andy says even after she would be told not to tell anyone she would come running out of the diary room screaming look what I got BIT*HES! Elissa and Judd talk on the backyard couch about places they've been and jobs they've had. Meanwhile Candice, Jessie, Helen and Andy are in the kitchen eating and cooking.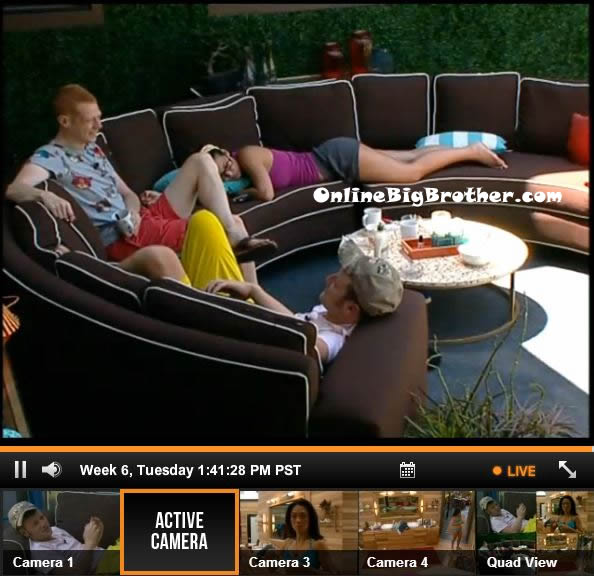 2:05pm Spencer comes out into the backyard and Judd asks him where he's been? Spencer says I had a meeting with the CBS executives about trying to get Andy out. Elissa laughs and says thank you. Spencer says there is going to be a twist that is so humiliating he will quit. I am trying to get him to lose his teaching job too. Spencer heads back inside to shower. Amanda and McCrae finally wake up. Amanda goes to the kitchen and asks poopy (Aaryn) if she will make her breakfast too. Aaryn says she doesn't know who good it will be but sure.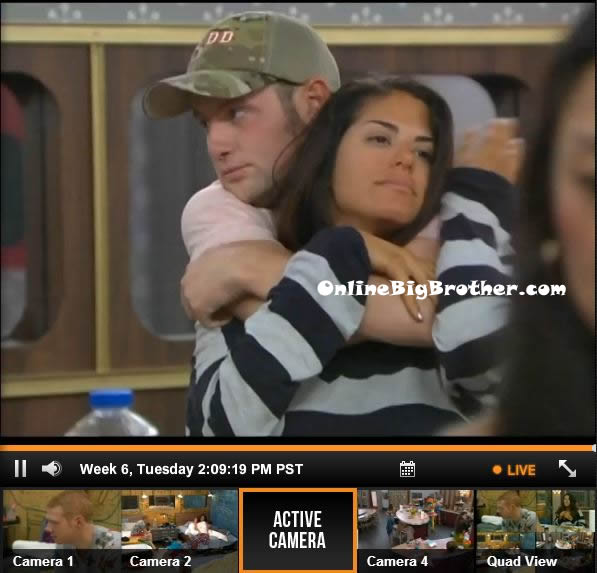 2:15pm – 2:30pm McCrae heads to the backyard couch to smoke and talks to Jessie about the BBQ. Jessie wonders if we will win the BBQ to be able to use it. McCrae says we've already got it, we already won it. McCrae says I am going to cook on that son of a bit*h tonight. I don't care what anyone says. Judd and Andy come out to get ready to run. Judd says lets do the Judd stretchersize. Judd does a few stretches and then says we might not even have to run after this. Elissa, Andy and Judd start running laps around the backyard. Spencer says Andy looks like the grand marshal at the gay pride parade. Judd runs for about 5 minutes and then quits.
2:40pm Spencer, Judd, McCrae and Amanda are sitting on the backyard couch talking about music.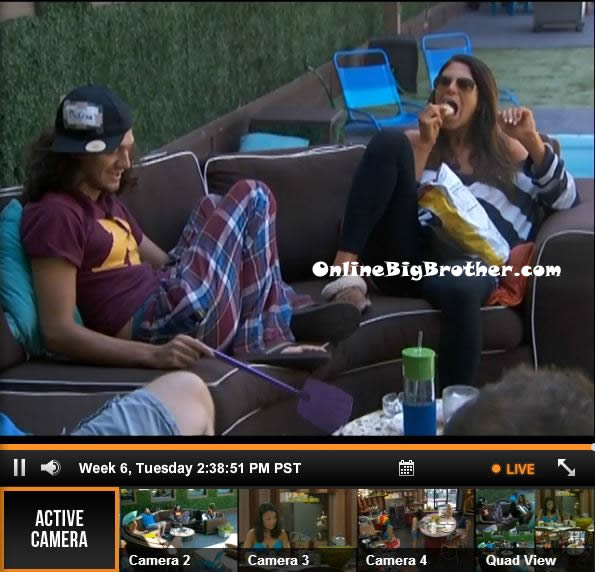 2:45pm Judd, McCrae and Spencer compare beer bellies. Spencer wins. Judd says today is the anniversary of the keeping it real with Candi. Spencer asks what? Judd says just one week ago today Candi took you to candy land. Spencer says oh yeah. Judd says it was entertaining but nauseous at the same time. Judd says she didn't need to do that in front of everyone. Spencer, Judd and McCrae head inside to eat. Candice and Amanda come outside to eat. Judd and McCrae bring their food outside. Amanda says its a funny thing to think about Ginamarie blogging. Judd and McCrae comment that Ginamarie just came out and is upset.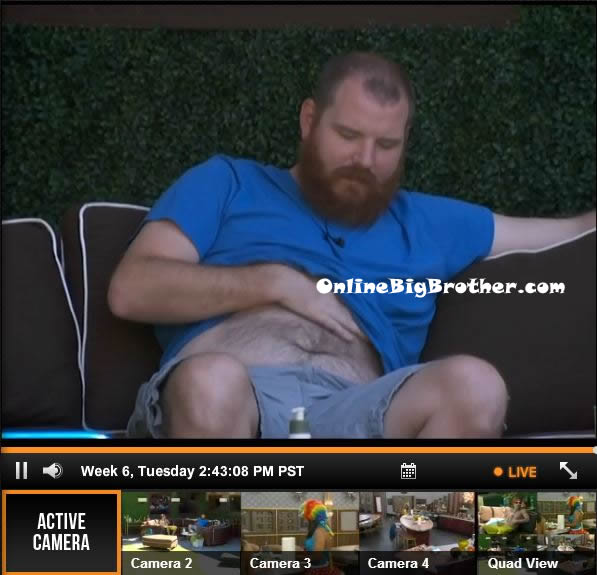 2:57pm Meanwhile in the kitchen Ginamarie comes through and is upset and crying she puts the camera on the kitchen bar and tells them they can use it. She then goes into the lounge room and curls up under the pillows.