POV Holder:
Frank
Next POV:
Aug 18 (Saturday)
POV Used
Yes
POV Ceremony
Aug 20 (Monday)
HOH Winner:
Shane
Next HOH:
Aug 23 (Thursday)
Original Nominations:
Boogie And Frank
Current Nominations:
Boogie And Jenn
Have Nots
No Have Nots This Week
Last Evicted Houseguest
Wil
HOH temptations
Britney Safe this week, Boogie gets 10grand
9:05pm Bedroom Boogie and Frank  Watch with FlashBack FREE TRIAL!
Boogie packing his bag talking about how he plans to sell a bunch of his stuff on eBay. He regrets not doing after Big Brother 7 he thought he was "Too Cool For School". Boogie thought people were selling stuff for 50 bucks but from what he's heard they are making 800, 900, 1200 on stuff. Boogie: "These were the losers to.. I guess i'm a loser now so lets see how much I can make"
Boogie says he feels like an inferior person is getting the best of him this time and it's really hard on him. He feels a lot of anxiety and fear going back to his life. Boogie says his life has gotten so much more complicated than in Big Brother 2.
Boogie getting emotional says he's put on a front that he doesn't care about leaving but he cares.
Boogie: "It's like Kobe and Lebron getting on the court and playing against 7 dudes.. but they are wearing the same uniform as us and they steal the ball"
They head outside..
9:18pm Cam 1-2 Boogie and Frank backyard
Boogie says he's going to harbour a grudge against Dan. He's kind of surprised that Dan hasn't even came to talk to him yet. He wants to tell Dan that things are going to be different after the show he's not going to overlook this.
Boogie: "We were too F***** dangerous"
Frank agrees says the players saw 2 buddies that were not going to go against them. Boogie points out that the other groups all have some way be broken apart but with Frank and Boogie they are tight to the end.
Boogie thinks that maybe Dan isn't coming to talk to him because he thinks he'll be an a$$hole to him. Boogie: "He thinks i'll be all happy and jovial at the finally but I won't.. I'm just fulfilling a contractual agreement "
Boogie says that Britney was crying… in the bathroom doesn't know why. Frank: "It's her husband's Birthday today.
9:31pm Cam 1-2 Hammock Britney and Ian
Britney is asking who is Frank talking about putting to put up. Ian says it changes every day.
Britney: "I'm nervous as all hell Ian.. "
Ian: "I'm nervous"
Britney: "Why are you nervous you are not on the radar with anybody"
Ian: "Eagle Eye.. "
Britney says ashley HATES her .. what's going on. Ian doesn't know whats going on with Ashley.
Britney gets called to the Diary Room
9:38pm Cam 1-2 Ashley and Britney both crying..
Ashley Crying Image Link
Britney misses her husband etc etc.. (Same thing she said to Danielle.. i'm in purgatory.. yadda yadda yadda)
9:52pm Backyard Ian, Boogie and Frank
Frank explaining that they need to win the next Head of Households and the next POV.
Ian: "so we are planning on taking Joe out 7th"
Frank: "Ya.. I don't think I would mind him in the finals"
Ian is worried that Joe is going to end up "Hot Dogging" his way into the finals.
Ian: "I Was thinking about who I can beat in the end.. No way I'm beating Dan, no way I'm beating Shane"
Frank doesn't think that is true… Joe and Jenn will be in Jury Frank thinks he can talk them into Voting for Ian.
Boogie coaches Ian about his finale speech. Boogie thinks Ian really needs to play on his social deficiencies. Consider saying that you came into this house with an affliction .. "say i'm not comfortable in my own skin in a chemistry lab.. I did everything I can do I rocked in the hammock.. you were wife people cooler.. older and more experienced .. that self deprecation will work.. "
Boogie: "You are the most liked person in the house now.. which is funny because of Week one everyone hated you"
Boogie says when the verdict is announced tomorrow He's going to tell everyone to sit down and don't give him a hug. He only wants Ian, Frank and Ashley at the front door.. "I don't do that fake shit".
Ian: "You going to blast every body"
Boogie: 'No… I was going to blast Joe but I think i'll save that for a interview"
Boogie plans on bringing up with Julie Chen the Ian/Shane gorbachev story."Someone spray painted at Ian's school Mr Gorbachev tear down this wall .. And Shane asked.. who is Mr Gorbachev the principal.. Thats all folks "
Frank: "the sad thing is a lot of people in America may not know what that means" Ian says it's one of the 10 most memorable quotes right up there with "one small step for mankind"
Ian says that if the other side wins HOH both him and Frank go up. Frank disagrees he thinks it will be Frank and Ashley and they will try to rope Ian in. Ian says no Fing way is he going to join a 7 person alliance with JOE.
Ian goes on and on about how much he hates Joe and how Joe should have been the person going home tomorrow.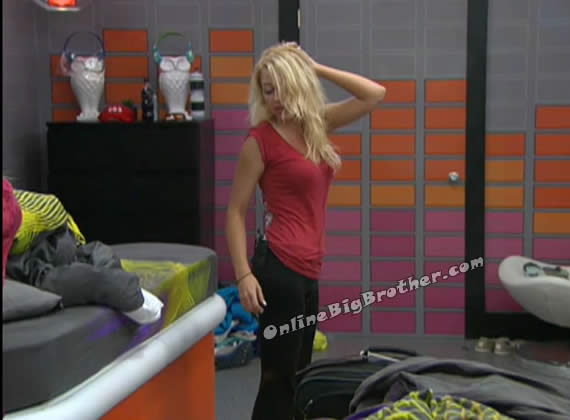 10:04pm Cam 1-2 to balance the brit crying picture.
10:18pm HOH DDBSJA
They are talking about having to win The HOH this week. Britney says that the order of the competitions are very important. Quiz HOH then Physical POV or the other way around. Shane wants it to be a quiz HOH then a Physical POV. Shane points out that Frank will be playing hard for that HOH.
Joe: "You can't beat GOD"
Britney :What?"
Joe filling them in with his Frank conversation earlier today. Joe says Frank woke him up and tickled him. Joe explains about Frank saying he's the most intelligent, Strongest and powerful player to have ever played Big BRother. Joe: "I am so honoured to have played this game with God.. "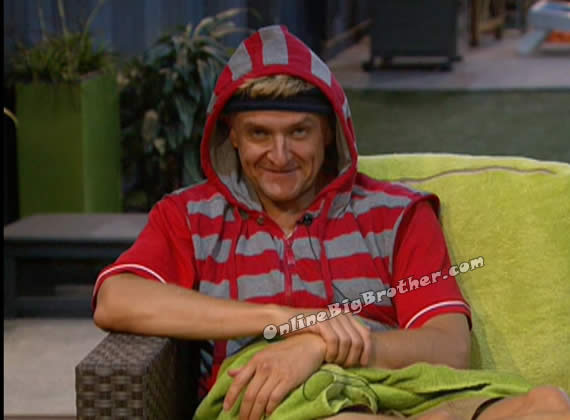 10:52pm Backyard Boogie, Ashley and Frank
Everyone is salty.. talking mad Sh!t about Jenn, Joe, Shane, Danielle, and Dan.
Boogie roasts the other players (if you like boogie and like some funny roasts Flashback 10:43pm Cam 3-4)
Boogie on Danielle
"Can you imagine her in 6 years when the metabolism slows down.. and the F****g lack of working out.. Her extent of working out this summer is once every three days.. is going like this (He tries to lift his leg above his head) pick the leg up hold it there for a couple second then look around to see if everyone thought that was cool"
Boogie on Britney
"Britney might get an extra 5 years because of the petite thing.. and she doesn't eat anything.. but Danielle with all the cookies and the fruity pebbles"
Boogie on Joe
"Joe in 2-4 years will be a tub of lard.. well he kinda is already.. "
Boogie on Dan
"I was shocked oh little Dan worked out.. you know being a Football coach.. I thought he would hit the weights.. he ran like once or twice all summer" Boogie says he's mutual friends with Memphis so it's going to be interesting to see what he thinks of Dan now. Boogie: "I don't know what this was made to look like on TV.."
Boogie says he's not going to go on the internets and read up about Big Brother 14.. he laughs says people brings up all sorts of sh!t about him. He mentions how there will be pictures of his mushot all over the place. (Boogie makes a face to mimic his mugshot.. Look at picture above)
11:00pm Cam 1-2 HOH Danielle, Shane and Britney
Danielle is saying that AShley is bisexual and is involved with Jenn and Frank emotionally. Britney: "Did Jenn tell you this or did you deduce this"
Daniele :'Jenn just told me.. and Jojo was also not straight"
Britney: 'This house is so much more steamer than I knew"
11:21pm Boogie says goodbye to the backyard
11:47pm Kitchen Playing with playdough (Image Link)
11:21pm- 11:55pm backyard Ashley and Frank Hating on everyone.. they are real everyone is fake. Frank talks about being on BB is his dream and other people (Jenn) don't even want to be in the game. Ashley and Frank feel so bad that Boogie is going. Ashley: "Jenn doesn't want it as bad as he does" Frank: 'Of course she doesn't he loves this Fing game"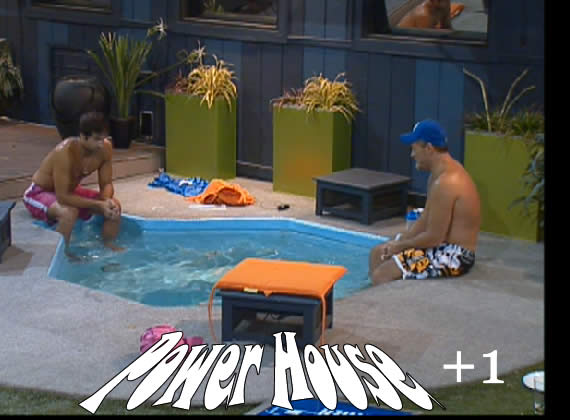 11:58pm Cam 3-4 Joe and Shane
Joe: "for Dan it's truly do or die… theres no way Frnak is not putting him up"
Shane thinks Joe needs to win the first HOH and Shane will win the second.
Joe thinks there is a girls alliance brewing. hsane can see that happening.
ShaneL "Imagine if Boogie and Frank leave tomorrow"
Joe: "I wonder if TV will Allow that" (They won't)
Joe says when you think about it we're right where we started this game.. you and me (TPH 2 Deep?)
12:21am Ian and Brintey Cam 3-4 Ian tells Britney that if it's a speed round and Frank wins the first HOH it's Dan and Shane going up. Ian wants to talk in the HOH alone with her but Britney is too tired she heads to bed. (Ian doesn't appear too happy about thiS)
Share it YO!!
Tweet