POV Holder:
Frank
Next POV:
Aug 18 (Saturday)
POV Used
Yes
POV Ceremony
Aug 20 (Monday)
HOH Winner:
Shane
Next HOH:
Aug 23 (Thursday)
Original Nominations:
Boogie And Frank
Current Nominations:
Boogie And Jenn
Have Nots
No Have Nots This Week
Last Evicted Houseguest
Wil
HOH temptations
Britney Safe this week, Boogie gets 10grand
6:13pm Cam 3-4 HOH Dan and Shane Watch with FlashBack FREE TRIAL!
Would you date Danielle out of this house..
Shane: "I would and I wouldn't… she's really jealous alike when I talk to Britney or entions Danielle Donato.. she goes all stink eye"
Dan :"I had to get up here and get away.. I feel like this has been the longest day in the house."
Shane: 'I agree"
Dan: "I thought Danielle would seem a lot older if she wasn't so .. I dunno sensitive"
Dan: "I would not be OK with Jenn or AShley winning"
Shane: 'Hopefully we can get rid of AShley here soon"
Dan: "She has got to go"
Shane: "Do you Frank will get America's favorite player"
Dan : "I think it'll be Ian or you"
Dan points out that Shane has had to overcome a lot in this game and hasn't been a "PR**K" about it like Frank.
Joe comes up..
Joe says that the backyard will be open in 2 hours.. Shane and DAn: "Sweet.."
JOe says he can't be downstairs.. it's quiet amd tense, "Boogie is in the bathroom with Ian and D!ck head.. oh D!CK head came at me again when I was sleeping"
Joe adds that He basically told Joe he (Frank) was the strongest most intelligent person who has ever played the game… and Frank offered Joe the opportunity to play with this super being of Big Brother.
Dan: "You don't need to be a rocket scientist to know you have to get him out of the game"
Joe: "For some reason they are extremely mad at Brit"
Dan: "What now.. "
Joe says that Britney went to talk to ashley and didn't apologize. They laugh that Ashley was the one lying to Jenn and Britney why should they apologies.
Joe: "Ian is being SUPER annoying now"
Shane: "Why"
joe: "For Being NICE… (LOL)" Joe goes on to explain that Ian is being overly fake and he really notices it doesn't know why Ian isn't being himself.
Joe: "He offered me the opportunity of a lifetime to play with the smartest player to ever play this game".. Joe: "He specifically said he's smarter than Dan and equal to Boogie" Dan :'I've never claimed I was the smartest Player" (You think it though)
They talk about the HOH competition tomorrow.. Joe and Dan seem pretty sure it's the Double Eviction and the first HOH will be a crap shoot.
Joe is ready to win and is getting pretty pumped about it. he says he'll put up Frank and Ian or Frank and Ashley.
Shane: "Frank for sure than whoever you think is more of a threat.. I don't trust AShley"
Joe: 'I talked to Jenn earlier and she said if she wins she'll put up Frank and Ian"
Joe is going to cook all the meat they have tonight once the lockdown is over.
6:42pm Arcade cam 3-4 Boogie and Frank
Frank telling Boogie his plans moving forward from Boogie's eviction. If it's regular eviction Frank will put up Britney and Dan but if it's Double Eviction he'll put up Shane and Dan.
Boogie: "I wonder who will stay dan or Shane"
Frank: "I think it'll be Shane"
Frank explains that the move he would like to do if one of Frank, Ian, Ashley win HOH is go to Shane and Britney and get a week of safety for himself if they vote out Dan.
Boogie goes on and on how much he hates Britney.. He would rather Dan wins over her.
Frank hates Dan the most.. he snaked them twice there is no way he wants to see Dan win.
7:05 Cam 1-2 Britney and Danielle
Britney Breaks down she misses her husband so much. danielle gives her a short pep talk. Britney says that tonight's episode will show Boogie and Frank yelling at her.
Britney says she feel like they died and are in purgatory to go into Hell, "the awkwardness in this house is through the roof".
Britney says it's way more awkward than with brendon and Rachel because at least with them they would just go and hide in their room and leave everyone alone. Britney points out that in this house it's getting to be 2 sides of the house pissed at each other.
Britney: "AShley won't even look at me"
Danielle: "Everytime she looks at me she cries"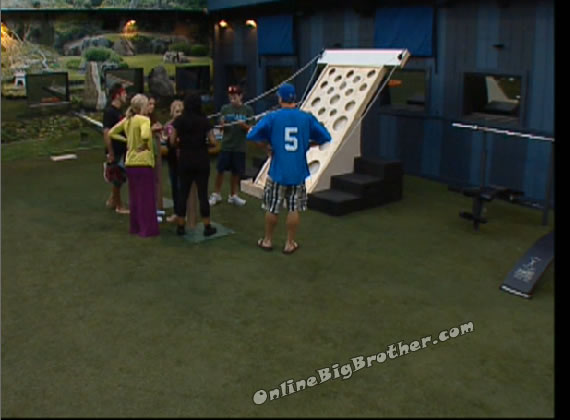 7:27pm Cam 1-4 they get a game to practice tomorrow. Watch with FlashBack FREE TRIAL!
Ian all excited says he's played this game before..
They get 5 minutes to practive the game.
In ktichen with Boogie and Frank.. Ian says based on this game Tomorrow is Double eviction, "The first one goes home the second one goes to Jury"
7:40pm Cam 1
Boogie eating his dinner pissed.
7:46pm Boogie tells them he's not going to practice he'll pass.. Cam 1-2 he goes to bed.. (I'll update the gallery with images from the comp)
8:00pm The practicing continues on all 4 feeds.
@8:00:10pm Cam 1 Shane says what i think is "Wh**e B*g" as he curses with the comp practice.
Ian is hands down the best..
Shane is probably one of the worst.
Danielle is pretty good
Britney is solid
8:16pm Contest practice is over Indoor lockdown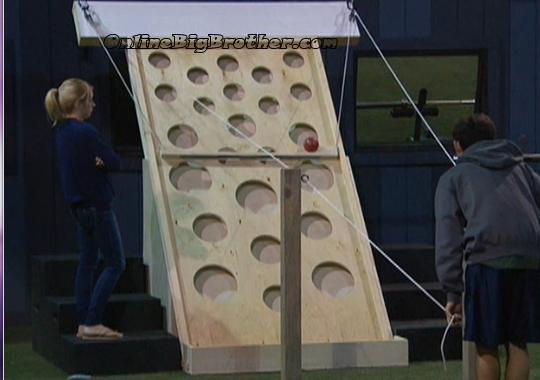 8:16pm Arcade Jenn and Danielle
Jenn giving Danielle a rundown of her conversation with Frank this morning. She points out how Frank was able to twist the conversation and make it all about him. Danielle is whispering hard to hear.. Danielle says the only reason Ashley voted Janelle out was because she was jealous of Janelle and Joe being close.
Danielle tells her that she trusts Jenn completely and from now on she wants to keep talking with Jenn. Jenn says she the same they hug it out.
8:29pm Cam 3-4 HOH Brit and Dan
Britney saying that it's double eviction and she thinks that game them just played
Britney: "i don't want to be biased byt Ashley and Frank did very well"
Dan: "Ya they did "
Britney: "Ashley is being such a beaver with me"
Dan: "what whas arts and crafts like"
Britney: "awkward.. she doesn't look at me"
Dan: "She's not looking at Joe"
Dan: "Can't wait until tomorrow.. we're going to do great"
Dan says the heat will really be on Frank tomorrow because he knows he has to win. Dan is feeling good about them because there is so many of them.
Dan: "Ashley might not feel the heat because she's so oblivious"
Dan wants them all to get up to the HOH tonight and visualize the competition he does that with his players.
8:40pm HOH Cam 3-4 Ian, Dan, Danielle and Britney
Ian says that this competition they just practiced is the second HOH tomorrow.
Ian says Ashley has gotten really catty.
Britney: "OK Ian if you win the first HOH what do you do"
Ian :"I throw up on myself.. I dunno what do I do"
Danielle: "Are you still voting out boogie"
Ian: "Yes…"
Dane: 'Who do you want to put up"
Ian says the thought of putting up Frank is making him ill. He's in a awkward spot.
Britney starts getting pissed says that Britney was in a awkward spot when she voted out Janelle, Danielle was in a awkward place when she nominated Janelle. Britney says that the team is all making sacrifices to get out strong players.
Britney pretty much says she's getting worried about Ian and Frank's relationship and is starting to think that Ian will either throw the HOH to Frank or not nominate Frank if he wins HOH.
Dan cools them all down says nobody is questioning Ian's loyalty. ian raises his voice "I am with you guys I AM voting Boogie out tomorrow.. I do not want Frank to win HOH"
Britney: 'We have your back 150% ian… the only reason I am upset is if HE (Frank) gets HOH tomorrow Dan goes up"
Ian: "There is no way in hell i'll throw it to Frank.. he wants to throw it to Ashley if it's a quiz"
Ian: 'He wants me to throw a quiz because he wants me in a light endurance"
Jenn (The houseguests formally known as ? ) enters the HOH room.. general chi chat
Share it YO!!
Tweet