If you like this site and want to help us keep it running please consider donating, Your donations go directly to paying the server and bandwidth fees. Donate Link
8:50pm Dani and Porsche Bonding
Dani talks about what happened in her season when they got down to 4 players. She says they got body paint and other random things. Dani: "I'm totally going to body paint Adam like a ninja turtle or a avatar" Porsche starts to talk about her plans after the show.. Porsche plans to stay in LA for a bit. She needs to head back to Florida for a bit to get her dog. She brings up that she's dating someone.. feeds cut..
8:55pm Backyard Dani and Porsche chit chatting on the couch. Brendon, Team Bacon, Jeff playing pool When the feeds come back Jeff is saying to Team Bacon and Brendon "Cruddy puts his scabs in a plastic bag with vaseline" Adam: "For the record I do not do that"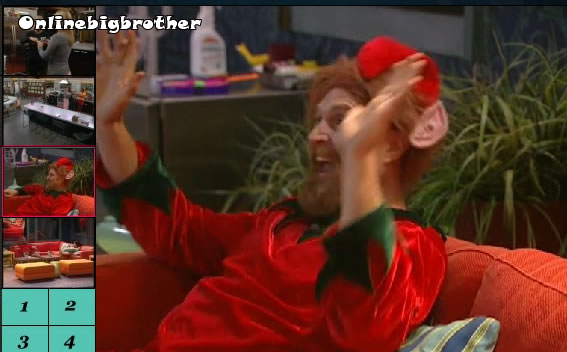 Cruddy joins Dani they start joking around that "My Chest is Itchy" is a code phrase. Cruddy laughs says that next time julie chen asks a question he's going to say "Well Julie I'm not going to you i'm going to show you in interpreted dance" He then gets up and jiggles around for a bit.
Adam says impersonating julie chen: "Well Adam how was it wearing a elf costume all day…" Adam conitnues as himself: "Why Julie I want to tell you but I would rather show you in dance" Dani wants him to do it says everyone will love it, "You would gain back all the fans that he lost tonight"
9:25pm Dani and Kalia
Kalia says everyone thought they were going to get threw this week without this craziness but looks what happened. Dani says it was because BR have finally realized that Brendon is going home. Dani: "The world revolves around them and they are not happy so if they are not happy we have to be miserable" Dani says can you believe Rachel was trying to call me a liar for what I out in my HOH blog.. Dani thinks it's sick for Rachel to say that. Kalia agrees adds that the entire house (minus Brendon) thought Rachel was being insane.
Kalia: "i'm not hugging him or anything"
Dani: "oh if you do i'm going to punch you in the back of the head.."
Kalia: "donkey punch"
Dani brings up how mad she is at Rachel for doing what she did. Dani says she was shaking she was so mad and that's not like her. Kalia brings up that Lawon and Jordan have been bonding. Kalia wonders if it would be a good idea for one of them to go to Rachel and comfort her. Dani thinks it's a waste of time for her suggests Kalia does it, "Rachel wants me dead in life and this game"
Dani says she went to Jeff after the blow up and told him she's gone out of her way to show him that the plan to backdoor him was not personal it was 100% game play and she knows she's said some things to him and she apologizes for it. Dani feels that Jeff and her are a bit better footing now.
9:34 Backyard Cruddy, Jeff, Jordan They are talking about how rachel needs to get it together. Jordan says she doesn't think Rachel will want to play after this and they will lose another number in their alliance.
9:37pm Brenchel emerges heads to the hammock

Share it YO!!
Tweet