If you like this site and want to help us keep it running please consider donating, Your donations go directly to paying the server and bandwidth fees. Donate Link
10:00pm Backyard Adam, Shelly and Jeff They are talking about what to do if they win HOH. Cruddy brings up their plans to backdoor Dani,ht thinks the only thing that could go wrong is that dani gets to play for the POV and she takes Kalia down. Jeff isn't sure if Dani will try to win the POV he thinks she might throw it to not make any enemies (not a chance) Cruddy adds if Dani uses teh POV on Kalia who do we put up against Lawon…. Jordan again? Jeff says no. Adam suggests Rachel or Maybe Porsche. Adam: "I keep forgetting about Porsche" Shelly chimes in says Adam will have a problem with that. Cruddy says he won't put her up and they'll vote out Lawon. Jeff tells him they need to first win the HOH then they can talk about who to backdoor. Cruddy says it's going to be Q/A Jeff thinks it'll be True/false.. They start studying, Adam rattles off basically everything there is to know about Big BRother mental comps. (Adam is a Big BRother Mentat, I hope that BB makes up some new comps) Adam suggests they always choose option B if it's a majority rules.
Jeff leaves..
Shelly and Adam agree they have a final 4 with JJ. Shelly shoots straight and tells Adam that she wants final 2 with Adam. Adam says he was really excited about them going final 2 that he couldn't sleep last night he was running threw every scenario in his head.. (ohh cruddy your going to get killed) Adam tells Shelly that no matter what they have the votes right to final 4.
Jeff comes back… they continue to talk about votes, Adam I would personally tell lawon that he's just a pawn to get rid of Kalia and Kalia was trying to get them out earlier on.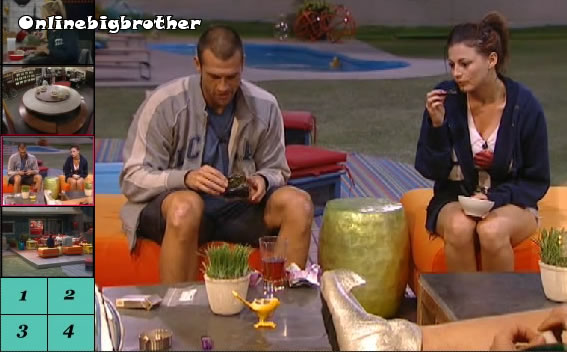 Brendon and rachel joins them.. they start talking about the competition.
10:19pm HOH Kalia and Dani They are talking about who will be trying the hardest for the HOH comp. Dani says it'll be Shelly, Adam, Kalia and rachel. kalia wonders if JJ will gun for the HOH.
Dani says tonight on the life show they would of shown the POV and the POV ceremony, "They show Brendon being the martyr and saving his lady from the block". Dani asks what will she say when she votes out Brendon, Kalia:" It's tough for me..umm umm… it doesn't take a rocket scientist to know I evict the Neanderthal"
Lawon joins them says that rachel is walking all around trying to get us to feel sorry for her. Dani brings up that they use to call Brendon the "Sabetoe" in BB12. Kalia: "Why because his feet are disgusting"
Lawon: "I'll be honest to y'all she looks crazy right now… She looks like she's going to crazy" Lawon gets up and says when I win HOH I got something to say.. Kalia: "What are the disadvantages of us coming out with our alliance" (Jesus Murphy Kalia keep it secret) Dani explains that the need to keep things quiet, they are unsure about Kalia and Lawon and those 2 can still go out and gather information, "Be little spies".
Dani brings up when Rachel came up to the HOH and started getting mad at Dani for the shout out on her HOH blog. When Rachel sat down on the couch she did that Rachel smirk (Yes I remember that hideous thing did it all throughout last year and on the finally) She told Dani How dare you for playing with someones emotions and how dare you for making someone in this house cry like you did. Dani told her to get the hell out of her HOH.
Lawon: "If looks could kill I would be dead she gives me the look like you mother BLANK".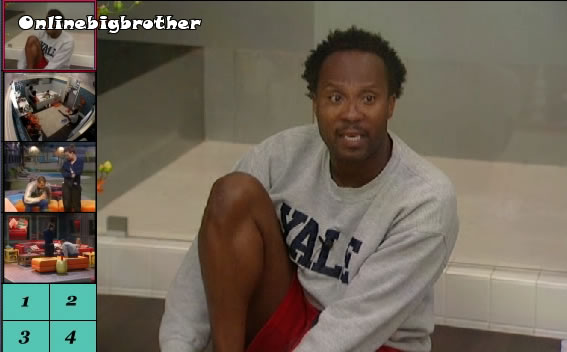 Kalia leaves to go outside with the rest of them in the hot tub.. Lawon asks Dani if Shelly is onboard to get brendon out. Dani thinks so but she's not sure.. she thinks that hopefully Rachel's little display should her that Rachel is a lieing crazy head. Lawon says he thinks Porsche is really trying to be Dani's friend. Dani says she understands that rachel was nice to Porsche in the beginning so its natural that Porsche would of gravitated to her but now Porsche is trying to distance herself from Rachel. Lawon is worried that if Prosche wins HOH she'll put up Lawon. Dani doesn't think so.
Lawon says that right before Dom left he told him to trust Dani and he does..
10:30pm Backyard Brendon, Shelly, Jeff and Adam Brendon is going on and on about how they cannot let a flaoter win this year they have to fight and stick with Rachel. (This is hilarious because brendon would call Adam and Shelly floaters all the time) Adam says no way a floater is going to win you have to earn it to win bb13. Jordan joins them (oh heres another floater in brendon's book).. Porsche and rachel join them.
10:49pm Backyard Porsche and JEff Porsche says she's going to vote for BRendon to stay only because she she feels bad and told brendo she would. She doesn't want Jeff to think she's made at Jordan or if she's trying to get Jordan out. Porsche doesn't think Brendon has a chance to stay. Porsche: "It's not his fault rachel is like that ". Jeff: "I need some pointers from brendon some calming words" Porsche adds that Rachel is sure going crazy and she's worried it's going to get worse. Porsche can't stand to be around Rachel anymore, Porsche feels like her past close association with Rachel is a big hindrance to her.
11:07pm Bathroom Jordan and Jeff talking about how BLANK up rachel is. Jordan brings up that earlier today she went to the hammock after rachel had calmed down and told them that they weren't alone and she's there to talk. Jordan adds that Rachel did her little pouty face and BRendon said: "She doing ok now" Jrodan: "Like cmon really people" Jeff: "WHY THE BLANK DIDN'T HE USE IT ON HIMSELF… now we have to deal with this BLANK". jeff brings up that he told Rachel she should be happy she's in the house and get to play HOH. Jordan says that rachel is walking around trying to get everyone in the house to feel sorry for her. Jrodan says that Brendon was trying tell Jrodan that BR were not throwing JJ under the bus. Jordan: "Why would Shelly of lied to us" Jeff says she woulnd't Brendon is just scrambling trying to cover their tracks.
11:14pm brendon and rachel talking about Shelly and shelly is creeping up to them..
Brendon: "I don't trust Jeff or Shelly anymore.. they are so focused on winning"
Rachel: "Jeff doesn't respect me"
Brendon: "He doesn't respect women"
Brendon: "All these people fight for him.. they're scared of his temper"
Rachel: "It's ridiculous they are all scared of his BLANK temper"
Rachel says she can't work with Jeff.. she scared of him. brendon you gotta work with everyone.
Brendon says he knows the way to win this game is to pretend our handicaped and just float right through. They agree that winning 500K isn't worth what they have been thtough.
Rachel says they should of let Dick and Dani take the first HOH… They find Shelly sneaking up on them. Brendon is smiling, Rachel: "How long have you been there?" Shelly said she's been sneaking up on them for awhile she wanted to cheer them up. Shelly starts to walk away (Everyone but Rachel is laughing)
brendon: "Thats so funny"
Rachel: "That so not funny she just heard everything we just said"
rachel tells him she plans on playing useless and see how far she can go. Brendon doesn't think she'll do it he tells her that it's not her style. Rachel thinks she can convince the house to think she is pathetic without brendon and they might keep her around then she'll play like heck and make it to the fianl 2. Brendon says it's worth a shot whatever she wants she can try.
11:48pm Lawon, Kalia, Dani and Prosche Kalia and Porsche palyign chess
12:06am Jordan and Rachel Jordan is telling Rachel that she doesn't have to worry nobody is mad at her she needs to work hard and try to get that HOH. Jordan explains to her that if any of them win HOH rachel is safe. She explain to Rachel that they're alliance is strong and they can make it to the end they just need to focus.
Share it YO!!
Tweet