If you like this site and want to help us keep it running please consider donating, Your donations go directly to paying the server and bandwidth fees. Donate Link
6:27pm team Bacon and Jeff Jeff is telling Adam that he's had a talk to Brendon about campaigning for votes and said brendon did a great thing for saving rachel but he warned Brendon he doesn't want to tarnish what he did. They briefly talk about the votes.. Adam says they only need 4 votes and they have them even if Porsche votes to keep BRendon.. Adam warns Jeff of Porsche says she's trying to play both sides but it's obvious.
Adam leaves.
Dani comes down says that she's trying to get away from the game. Jeff says that there's nothing she can do to escape this. She adds that game aside she hopes that her actions this week shows to them that she's not all that bad. Dani adds that game aside she's sorry about everything that has happeed she's said things and she's sorry. Jeff apologizes, says things were said and he understands where she's coming from.
6:55pm Backyard Dani and her Dream team She coaching them on how to do question comps. Kalia is wondering that maybe Brendon and Rachel are acting thinks that there behavour is a little over the top. "Just 5 minutes ago I saw her straddling him on the hammock and moments before that she's telling him she ruined his life" dani goes back to coaching them telling them to listen for Keywords in the questions and don't hit the button unless yo know the answer take a breath then hit it.
7:15pm Brendon is telling rachel that he thinks that Jeff is a liar and that JEff has no trouble backstabbig people in this game. Rachel needs to remember that when he leaves. Brendon states that the way Jeff yells at Jordan is unacceptable and he feels if they get married then fine good for them but he's not sure how it will work out. Brenodon says if he was Jordan's father he would be waiting outside the lot with a baseball bat for Jeff. and teach him never to talk to my daughter like that ever again He tells her that he'll never talk to her like that. (Jeff told Jordan to SHUT YOUR MOUTH AND EAT YOUR FOOD during a housemeeting/house fight) Rachel is scared that Jeff will talk to her like that once brendon is gone.. Brendon says go to shelly if jeff starts treating you badly she'll help you.
rachel tells him she'll be ok she just needs to focus.. asks Brendon to quiz her to prepare for tommorrows Comp. brendon is PISSED at JEff and Jordan.. he's saying that at least the other players are straight up with them (yeah like straight shooter) he feels that JJ are nice to their faces but baskstab BR every chance they get. Brendon: "I ant to get away from all these people" Rachel: "nobody is on our side.. this house is leaving jordan be in the game.. they will win bb13 america will love it CBS will love it"
Brendon: "Dani is not going to make final 2… they're all going to turn on each other.. if I go home I go home it's not the end of the world" Brendon calls dani a miserable person, "theres no way on gods green earth she's going to win.. I hope Deni, Jeff and Jordan all get evicted next.. and Lawon and Kalia in the end".
7:20pm Kitchen Brendon is getting something to eat rachel is just looking around playing the sad victim.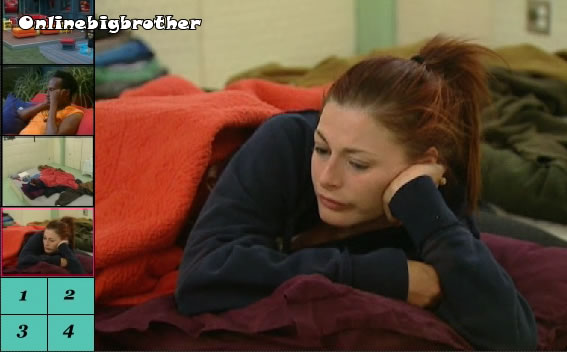 7:28pm Havenots Brendon and Rachel Brendon asks Rachel what is she doing out there all she's doing is staring at the wall. rachel says everyone hates her she's sad, she doesn't want to see brendon's picture go black and white. Brendon tells her he's getting worried about her he's going to talk to production and get a doctor to take a look at her. rachel says she doesn't need a psychiatrist she just needs to step away from the game for a but. Brendon reminds her she doesn't have that option she needs to jump right back in. HE goes on and on about how they played the game with integrity and honesty and everyone else in the house will sell out just for a chance to win 500K, that is something they will not do.
Brendon says Jeff can go BLANK Himself I we wants to make deals with Dani after BR stepped in to protect him then so be it. Brendon points out that JEff will sell hi soul for 500K. brendon feels if that is the way people play the game then they shouldn't be mad that they lost because that is not that way they will play it. Brendon: "We've been backstabed by dani and now we're getting backstabbed by Jeff" Brendon says he won't leave the house unless he's positive that Rachel is OK even if it means they lose all the money and get removed he won't leave her alone in this state.
Brendon gets called into the DR … Comes back says that the DR will call them once the psychiatrist is in
Share it YO!!
Tweet