POV Holder:
Hayden
Next POV
Aug 2nd
POV Used
YES
POV Ceremony
July 28th
HOH Winner 1:
Frankie
HOH Winner 2:
 Zach
Battle of the Block Winner
 Nicole/Christine
Next HOH/ Next BOB
July 31/Aug 1
Original Nominations:
ZACH's Noms (Christine & Nicole) Frankie's Noms (JOcasta & Victoria)
Final Nominations:
Amber & Jocasta
Have Nots
Nicole, Caleb, Christine, Derrick
POV Players
Frankie, Victoria, Jocasta, Donny, Hayden & Christine
7:50pm – 8:30pm Pool tournament The guys play while the girls watch
There's an argument whether the 8 ball was hit first before the cue ball was sunk.. Zach/Caleb against HAyden/Derrick (Boom-bots)
8:36pm after 15 minutes the argument is over Pool game back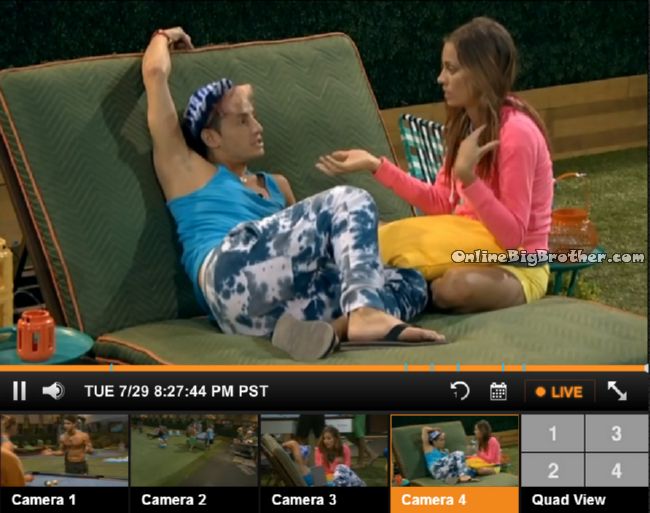 8:26pm Amber and Frankie
Amber says she's never put any of them up she's been loyal to the alliance.
Amber – I shouldn't have to campaign right now..
Frankie blames everything on Caleb says he told Caleb to go talk to Amber right after the POV ceremony so the thing everyone was worried about (Amber running to the girls) wouldn't happen. Caleb told him "I'm too sad"
Franke – It was his idea.. he asked for our support.. i was like yes I support you fine.. I was the instrument of execution.. I told him you have to talk to her right after.
Amber So i'm the pawn..
Frankie – Yes .. I was fine putting up DOnny but he felt this was a good idea.
Amber- Me campaigning when I'm Supposed to have people that have my back is ridiculous
Frankie tells her she's staying and the vote is going to be three to six.
Frankie says Zach told Nicole about the bomb squad
Amber asks him if he's talked to Nicole, Frankie he has she's pissed she went up.
9:07pm HOH Frankie Zach and Cody
Frankie says he's talked to Caleb so he would stop bothering Nicole, Frankie brings up his conversation with Caleb where Caleb told him if Amber goes home he's on his own in this game.
Cody isn't down with Caleb threatening them.. he's not down with it
Frankie says the only two options are Blindside him or keep her. If they tell Caleb he will drag every person into the Beehive and go through all this again. Frankie stresses that Caleb Is blinded by Amber he'll fight harder than ever to keep her. Zach doesn't like the idea of them cutting all their ties with Caleb. Caleb could win HOH. Frankie says every person has to have a story to tell Caleb the moment she goes home they have to go into damage control and tell him about Amber lies.
Zach says Caleb's goal in Big Brother is to be in the Jury house with Amber.
Frankie – how is that helping my game
Zach says if Caleb wins HOH he's putting up 2 of their six
Cody doesn't think it will be him he thinks it will be Zach
Zach disagrees says Caleb likes him more.
Cody – I don't now
Zach – It would help my game to tell him she's going home.. I would be technically throwing everyone under the bus"
Zach – 'No one wanted to tell you this honestly Amber is going home you are going to be the only vote to save Amber' Zach adds he'll tell Caleb he values his loyalty and friendship that is why he's telling him this. (Wildcard)
Cody – I don't agree with that at all
Zach – ya because you want to tell him
Cody – No I don't if you do that and I win HOH I would be like you want to be his boy and have his back you pop up there with him
Zach – Shutup
Cody – I'm not even joking because you would be fucking us all over
Zach – It would help my game but no I wouldn't do that..
Frankei – you would give everyone the excuse to put you up.
Cody says this has turned into a bad situation an amazing situation would be Caleb hated Amber and wanted her out.
Franke – that was the point
Zach 'to believe that she still likes him .. we knew he was idiot but not that much of a idiot
Zach tells them about Caleb saying he's cutting off his army bracelet if Amber goes home because it means he broke his word
Frankie – He's going to lose his mind.. can't wait..
Zach – He's going to want to evict himself.. he's going to cry want to leave the house.
Zach says his plan was to have Amber crawl back on her f*** nees
Derrick joins them
Cody – We're keeping AMber
Frankie says he cleared up the whole Nicole thing with Caleb he covered both their a$$es.
Frankie says Caleb told him if Amber leaves he's working alone. Caleb had a breakdown in the HOH "He's so incapable of processing his emotions.. if we tell him before hand he will do exactly what he's doing.. he's going to drag everyone into that room and threaten them"
After the eviction Frankie and Cody are going to tell Caleb they are breaking up a power couple they want a all guys alliance till the end liek they had planned before Devin brought the girls in.
Derick is worried Caleb is going to be pissed say to them he's going to self evict but before that he's taking one of them with him. "Franke Derrick you're on the block POV is used Frank Zach you're on the block"
Frankie suggest they could split the vote and throw Hayden and Nicole under the bus. He explains Frankie Donny, Hayden Nicole Victoria vote Jocasta to stay. Derrick, Cody, Zach and Caleb vote to keep Amber.. Derrick doesn't like that plan says they've hadn't been able to keep a secret yet. Zach agrees too risky
Zach – He could pull a brendon and one of them go home"
Christine joins them they want to decide if it will be a blindside on Thursday.
Frankie says everyone in the house has to have a story about Amber and her lies and what she said about him. Zach agrees with this plan.
Cody tells Zach that Caleb told him he blew up the bomb squad not Amber.
Zach asks how did he blow up the bomb squad.
Christine says it was he told her she was a outsider. Zach doesn't get it he told Nicole she is on the outside nothing to do about the Bomb Squad.
Zach says fine i'm going to tell Caleb
Frankie – Please don't tell him
Zach – he's already crying in the DR
Caleb comes up.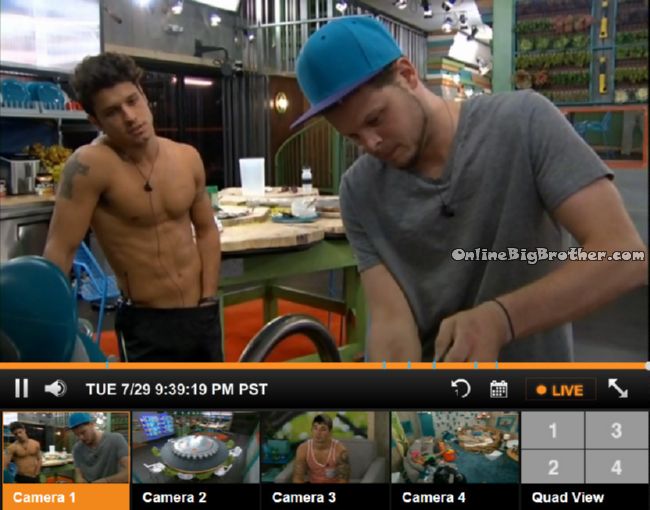 9:38pm Kitchen Derrick and Cody
Derrick says once Caleb goes the outsiders have the numbers and guys like HAyden that have been playing neutral will look at them and say you guys aren't the majority anymore.
Derrick warns him about CHristine "I'm pretty sure everything we talk about goes to Nicole.. also Nicole lied to us to"
10:05pm HOH Nicole, Frankie, Cody, Christine
Christine saying Caleb cries every day and it's getting annoying. They talk about Caleb eating something a have nots isn't allowed so that he gets a penalty nomination.
10:08pm Have nots Derrick and Cody
Derrick thinks the outsiders are up to something.. says if Amber goes home that one less person for us and Jocasta stays
Derrick Derrick – Right now if HAyden is with them it's 6/6
Derrick – Hayden was with them he was on the outs before he was brought in he knows he's on the bottom of the bomb squad.
Cody says Hayden you and I are super tight
Derrick – Are we are we though.. we can't all win
Derrick – donny called Hayden over to the hammock twice today
Derrick says DOnny never calls them out to the Hammock.
Derrick – Nicole lied to our faces 100% certain Nicole told Derrick that Frankie mad up what was supposedly said to her by Amber
Derrick adds that Frankie told Nicole today in front of Derrick that he only told Caleb what Nicole said to hm about Amber. Nicole got scared and cut Frankie off saying "We don't have to talk about that anymore"
Derick – He cut him off in front of me"
Cody says if this is the case it means Nicole is playing them all she needs to go home next week.
Derrick wonders if Nicole is trying to cause dissension between them and Frankie.
Derrick says he doesn't' care he'll flip the f*** script keep Amber here and send Jocasta packing.
Derrick – I don't' want to do that because I can't trust Amber but we need to be on the same page.. If I'm being paranoid you need to say Derrick you're being paranoid.
They agree to talk to Frankie..