POV Holder:
Hayden
Next POV
Aug 2nd
POV Used
YES
POV Ceremony
July 28th
HOH Winner 1:
Frankie
HOH Winner 2:
 Zach
Battle of the Block Winner
 Nicole/Christine
Next HOH/ Next BOB
July 31/Aug 1
Original Nominations:
ZACH's Noms (Christine & Nicole) Frankie's Noms (JOcasta & Victoria)
Final Nominations:
Amber & Jocasta
Have Nots
Nicole, Caleb, Christine, Derrick
POV Players
Frankie, Victoria, Jocasta, Donny, Hayden & Christine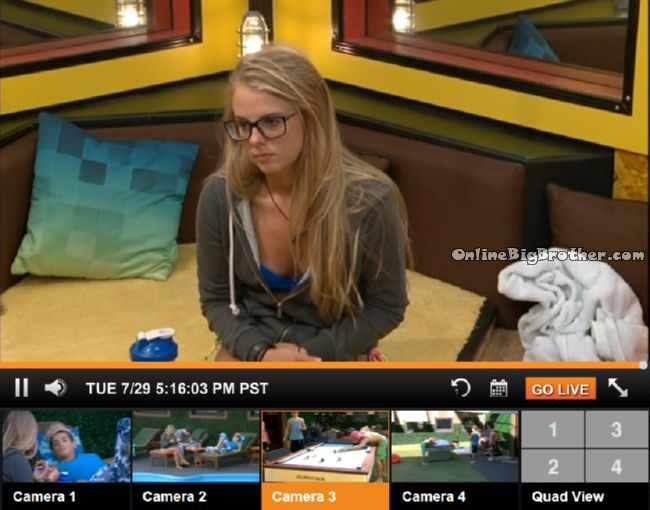 5:16pm Caleb and Christine BEEHIVE
Caleb is trying to figure out if someone he trusts in the game is lying to him. at the end of the day
5:20pm Poolside couches Derrick, Frankie and Nicole
(Prior to Nicole joining them Zach was with Derrick and they were talking about telling Caleb the truth about Thursday's vote. Derrick says personally he wants to tell Celb the truth. Zach doesn't. Derrick says he will do whatever the group wants to do )
Frankie says Caleb still thinks there is a bombsquad. Derrick can't believe it he thought he made it clear when he got Devin out. he says the biggest mistake in the game was making that deal with Devin.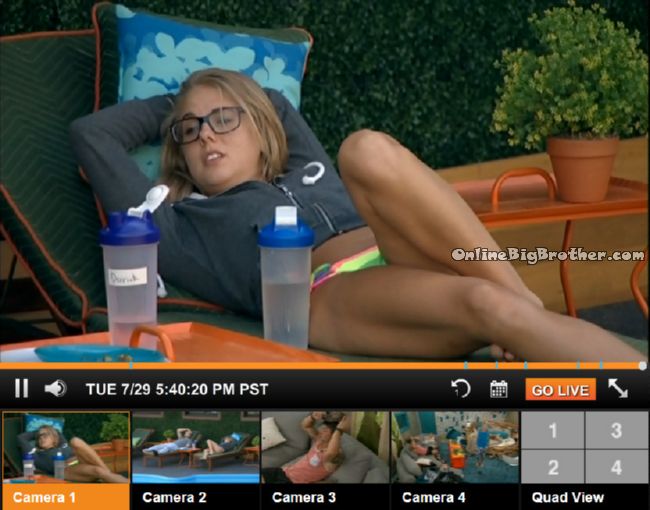 5:40pm Poolside Couch Derrick and Nicole
Nicole asks him how close he is with Frankie. Derrick is cool with Frankie, Frankie is cool with everyone in the house. Nicole says Frankie basically threw her name out as decoy. "He's trying to cover up his own tracks.. I'm so frustrated"
Nicole wants to tell Caleb what really happened but she's afraid it'll blow up Frankie's game
Derick – What if it blows up yours
Nicole – that is what i'm thinking.. it's getting worse,,. I think Frankie forgets what he tells me he already told me it was some big plan all the guys were in on it.. . he's always trying to clean himself off.. you know"
Derrick tells her straight up They didn't know about the plan to use Nicole to turn Caleb against Amber.
Nicole says Frankie told him it was all the boys that knew. Derrick thinks she should talk to HAyden and cody.
Nicole says she needs to tell Caleb the truth. Caleb was just asking her in the BEEHIVE "I just want to know if the guy i put all my trust in is lying to me "
Derrick warns her she doesn't know what else Frankie is saying
Nicole points out that the double eviction is coming up and she could go home if Caleb wins the HOH.
(LOL Victoria is circling around them keeping an eye on Derrick)
Nicole wonders maybe if she waits to see if she needs to say it or not.
Derrick says as a reaction it won't hold more weight it will be seen as a defence hinting she should tell Caleb before Caleb find out.
Nicole wants to talk to someone else about it but doesn't know who to trust
Derrick says that is the 500 thousand dollar question. you tell the wrong person you are trapped
Nicole says what about Cody and HAyden
Derrick likes those guys .. "How about Christine ?"
Nicole – I don't know
Christine joins them
5:56pm Backyard couch Christine and Nicole
Nicole tells her about what Frankie did. (Throwing her name out and using it as a decoy and scrambling to cover his own butt and leaving her screwed)
Nicole says Frankie told her there was this elaborate plan and all the guys knew. Frankie run up to Caleb and told him Amber blew up the bombsquad to Nicole. Caleb pulled her into the room and asked her and Nicole denied it. She talked to Caleb today and he said things are not adding up with and he's trying to find if the guy he's been trusting is lying to him.
Nicole tells them Frankie told her he's going to try and cover his A$$ and try not to throw her under the bus
Christine oh my god oh my god
NIcole is worried she could go home next week if she doesn't tell Caleb the truth right now.
Nicole doesn't trust Frankie at all she mentions how he's now denying he said thing to her to cover his tracks.
Christine tells her it's not fair what Frankie did to her.
Nicole wants to know what she should do.
Christine – Cover your butt.. I'm dead serious
Amber joins them they start talking about Nicole's name being used.. Nicole Starts to cry Donny joins them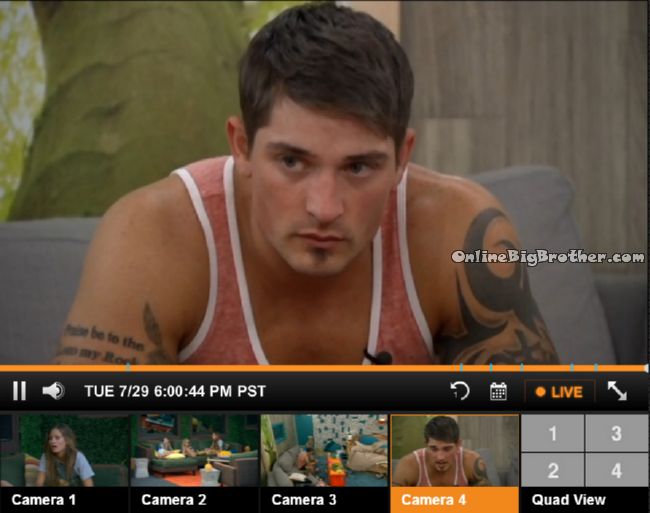 6:06pm HOH Caleb and Frankie
Caleb says he gave Amber his word he wouldn't put her up. – "At the end of the day a man is only as good as his word"
Caleb – "at the end of the day I wouldn't care if she was the first one in the jury quite frankly she won't care either" (THere it has both of caleb's favourite lines in one quote I win the day)
(I'm not going to keep typing Caleb campaigning at the end of the day quite theres always flashback)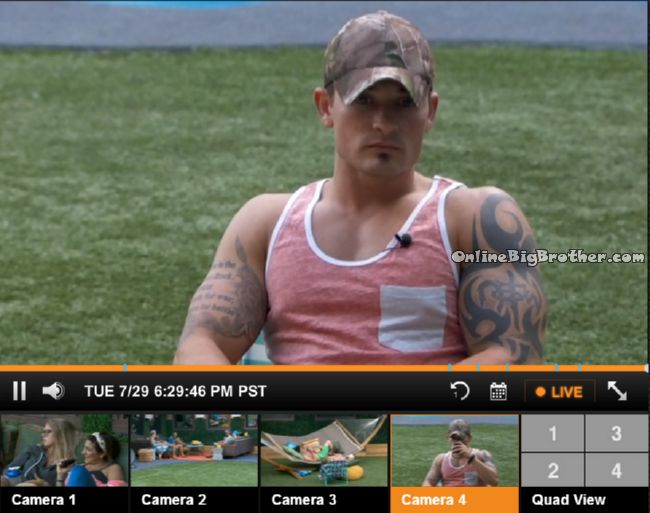 6:28pm Caleb and Zach Hammock
Caleb saying Amber never brew up the bombsquad she told them the girls need to stick together that was it, "That is what she is supposed to do.. you know damage control.. I'm not working with the Zach he's a d1ck"
Caleb says he cares about her, he just has a big heart.
Zach you care about her too much bro.. but that's your feelings you can't do anything about it
I never promised her to take her to the end I promised her i would carry her to the jury along with 7 other people that will help do it with me.
"If I don't fulfill that promise she goes home I will literally probably take this bracelet off and never wear it again because my integrity my honour and loyalty means nothing to me personally because i've never broken a promise.. never have I broken trust.. there's been times when I've done some weaving and dodging to do some stuff and made wrong assumptions as far as ending her game by my hand when she's done nothing wrong.. because Frankie's paranoia got to him.."
Caleb says Amber never threw them all under the bus like Frankie said
Zach agrees "She stayed true.
Caleb – She was telling me last night she will take slop for a week to stay in the game,. she would eat a banana" .
Caleb – I told her to trust me just a grain of trust and i'll get you out of this.. eats me up on the inside.. in a way I Started questioning myself over this
6:45pm Hammock Frankie and Zach h
Frankie tells him there is no other option than to Blindside Caleb
Frankie – He's playing an individual game now..
Zach says the unbelievable thing is Caleb thinks this is all his own doing
Zach – "How amazing is this"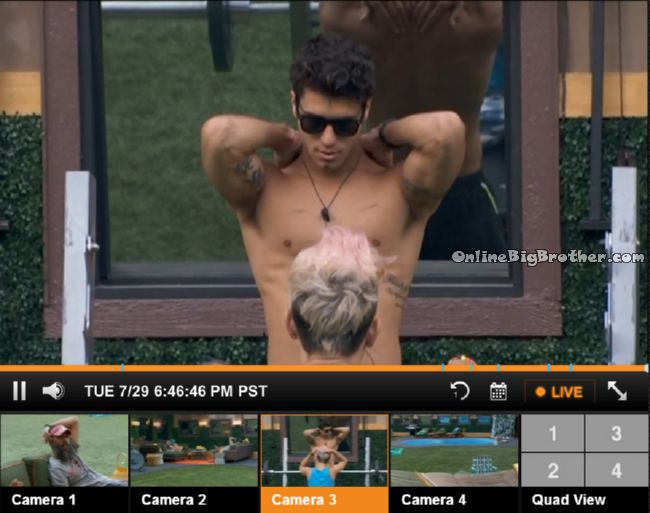 6:47pm weights Frankie and Cody
Frankie says when Amber goes home Caleb is working alone period end of story.
Cody is down with the blind side.
7:15pm General chit chat Derrick tells them about the book he was reading before he left called "The child called It"
A Child Called It: One Child's Courage to Survive
7:23pm Hammock Nicole and Donny
Nicole – yesterday my name was being used for a plan I didn't know about
She explains her problem with Frankie.
Nicole is worried it might ruin her game. She says Caleb isn't very smart he hasn't figured it out yet.
Donny looks over at the guys playing in a pool tournament. he says the ones that matter know the truth the ones that don't matter don't know./ He thinks she's fine. "Don't worry about it.. you are going to be Head of household they will all be shaking in their boots.. you can pay them back for all their lies"
Donny says sarcastically "there's zach my old Ally over there"
Nicole says all these lies are getting too much
Nicole – They have stuff they don't want her to blow up right.. otherwise they would tell her"
Nicole is certain Amber has information that Frankie and the guys want to hide.
One way to support this site that doesn't cost you anything extra is making your Amazon purchases through the links below Amazon.com OnlineBigBrother Link
For Canada use link Amazon Canada OnlineBigBrother
Alliances
Zankie = Frankie/Zach
The Detonators = Derrick, Frankie, Zach, Christine, Cody
Final 2 Deal "The HITMEN" – Cody & Derrick
Trilogy = Nicole, Christine & Hayden
Team America = Donny, Derrick, Frankie
Old timers = Jocasta/Donny
Nicotine = Christine/Nicole
(Defunct or unknown status)
Bomb squad = Caleb, Amber, Frankie, Derrick, Cody, Christine, Zach, Hayden
Not a showmance= Hayden/Nicole
Los Tres Amigos = Derrick, Cody, Zach
The bottom Feeders = Derrick/Nicole
We hate Devin = Christine and Zach
Outsiders = Brittany, Victoria, Jocasta, Donny
Stalker = Caleb/Amber
Quad Kings = Derrick, Zach, Cody and Hayden (still being built)
More polls here https://www.onlinebigbrother.com/big-brother-compendium/big-brother-16-polls/
[polldaddy poll=8207784]