10:50pm hayden teaches Victoria how to play pool.
Caleb comes to the door scans the backyard for Amber.
10:54pm HOH Derrick, Cody, Christine and Zach
Christine is going to try and convince Caleb that there is a 10 person Jury. Caleb joins them. starts talking about Amber says she almost opened up to him. Victoria comes in Caleb leaves. Victoria tells them there's another pool tournament and she's in it. Derrick, Cody, Christine are in
Victoria – Zach you in
Zach – No i'm going to just be f***ing myself
Victoria – OK have fun
Victoria leaves
Zach – She's the worst
Caleb joins them
(Something happened off feeds they are talking about.. Amber walked in on the Derrick/Cody conversation above. She must have heard something because she went up to the HOH and started getting emotional saying she has a personal story that impacted her life greatly but she can't tell them)
Caleb says Amber is starting to bleed now.
Zach – Bleed?
Caleb explains she's starting her period..
Caleb says she told him she doesn't want to use this story as a crutch.
strong>11:15m BEEHIVE Amber and Christine
Amber – I swear I have no problem putting Caleb up.. this is my game
Amber says a girl needs to win this year.
Christine says an all girl final 3 has never happened.
Amber – It needs to happen .. it's not my time to go
Christine – If you go home I'm next
Amber thinks the guys are doing a 6 guy alliance cuting the girls out of the alliance.
Christine agrees thinks they are
Amber says they need to get Victoria in with the girls
Victoria walks in asks if everything is alright
Amber is that a sign
Victoria leaves
Amber counts her votes, Christine, Victoria, Nicole and Caleb says she just need one more.
Amber says she needs to get Cody or Derrick she can get one of those votes.
11:21pm Hayden and Zach
HAyden is worried about the backstab he thinks they need to tell him or he'll be pissed and come after them. Zach says all Caleb ill do is cry.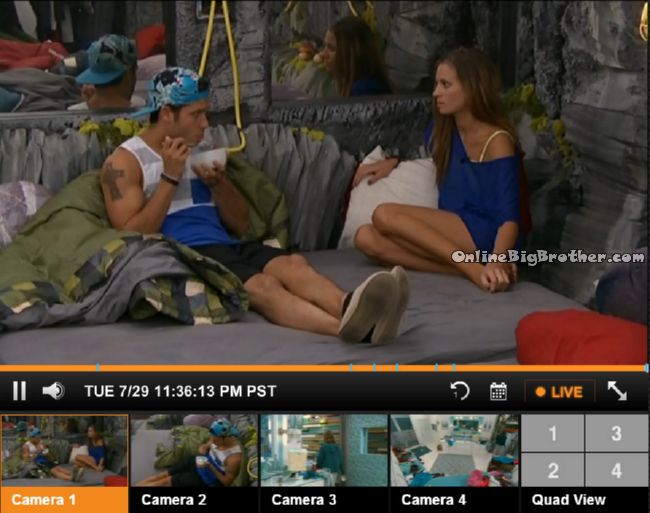 11:35pm Cody and Amber
Amber says she doesn't' feel safe they never come up to her and tell her she's safe she doesn't feel like she has to campaign because of the alliance will keep them safe.
Amber is really frustrated ot Caleb . She adds that Caleb told her Cody and Hayden Has doubt about her. Cody says he that was not true.
11:36pm Derrick, Christine, Zach and Frankie
Christine says that Amber's number one target is Caleb
Derrick – You're bulletproof bro . Derick adds that Zach is such a big target nobody will put him up.
Zach says they can now go to Caleb and tell him amber is targeting him now / Frankie doesn't think that will work.
they agree Amber is gone regardless
Derrick – Would be nice to have her here so she can take him out.
Frankie – when it comes to Amber the unpredictability factor is so great
Zach want sto tell Caleb right now
Christine says no they should tell him right before the vote.
frankie says is they get Amber mad at Caleb.. "If she treats him like sh1t again he'll want her out.
Christine says she will keep fueling the fire.
Christine says for her game amber leaving doesn't hurt her game
Derrick – I don't f*** know man this game sucls"
Frankie says if they keep jocasta and throw Zach under the bus to Caleb.
Frankie says he's split what to do. Derrick says they have noi idea what Amber will go. Frankie adds if they keep Amber Donny, VIctoria, Nicole and HAyden want Amber gone so bad.
Frankie says if they decide to keep Amber it will be 5-4
Frankie explains if she doesn't go home this week they will have to go over all this again the following week.
Frankie – "I just convinced myself 100% as long as he's in the game he's going to want to keep her.."
Frankie wants Amber gone. He says Caleb is going after Nicole, Victoria, Zach so even if he does win the HOH he's not coming after them.
12:04AM BEEHIVE Derrick, Zach, Chrainte and frankie
They ask Derrick how he likes have Victoria clinging on him 24/7. Derrick explains it's exhausting. He feels that her family sees her so clueless in the game. Caleb tells them that men get periods like girls but men don't bleed from their butth*les.
12:13am Frankie and Derrick
They agree Amber has go to go this week. Zach comes up Frankie tells them the best thing to do is fuel the rivalry between her and Caleb so she blow up her own game.
Frankie – If on Thursday he still want to keep her we tell him
Zach says in the DIary room they were yelling at him "If you do what you thinking you are doing you will have a big problem"
** Feeds cut **
When they come back they are going over what they will tell Caleb, They are going to explains to Caleb Amber came up to 4 of them saying Caleb was Amber's target.
Zach tells them they are making it harder than if needs to be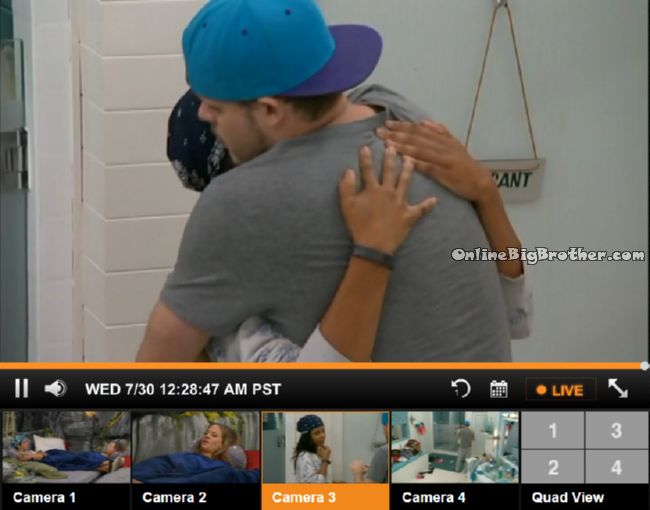 12:30AM Derrick tells Jocasta she's 100% Safe as of right now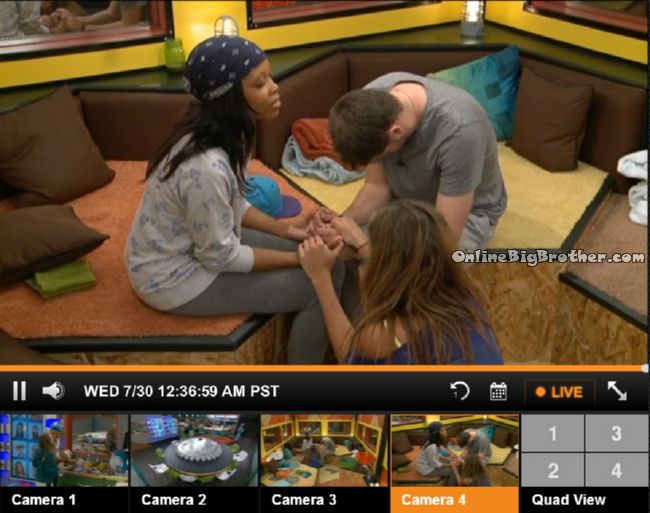 12:38Am Derrick and Jocasta were praying Amber. Amber was in the rock room with Cody when Victoria says Jocasta is praying without her. Amber runs into the BEEHIVE to join
One way to support this site that doesn't cost you anything extra is making your Amazon purchases through the links below Amazon.com OnlineBigBrother Link
For Canada use link Amazon Canada OnlineBigBrother
Where is the vote
Amber's going home 8-1
Alliances
Zankie = Frankie/Zach
The Detonators = Derrick, Frankie, Zach, Christine, Cody
Final 2 Deal "The HITMEN" – Cody & Derrick
Trilogy = Nicole, Christine & Hayden
Team America = Donny, Derrick, Frankie
Old timers = Jocasta/Donny
Nicotine = Christine/Nicole
(Defunct or unknown status)
Bomb squad = Caleb, Amber, Frankie, Derrick, Cody, Christine, Zach, Hayden
Not a showmance= Hayden/Nicole
Los Tres Amigos = Derrick, Cody, Zach
The bottom Feeders = Derrick/Nicole
We hate Devin = Christine and Zach
Outsiders = Brittany, Victoria, Jocasta, Donny
Stalker = Caleb/Amber
Quad Kings = Derrick, Zach, Cody and Hayden (still being built)
More polls here https://www.onlinebigbrother.com/big-brother-compendium/big-brother-16-polls/
[polldaddy poll=8207784]
Share it YO!!
Tweet