POV Holder:
Hayden
Next POV
Aug 2nd
POV Used
YES
POV Ceremony
July 28th
HOH Winner 1:
Frankie
HOH Winner 2:
 Zach
Battle of the Block Winner
 Nicole/Christine
Next HOH/ Next BOB
July 31/Aug 1
Original Nominations:
ZACH's Noms (Christine & Nicole) Frankie's Noms (JOcasta & Victoria)
Final Nominations:
Amber & Jocasta
Have Nots
Nicole, Caleb, Christine, Derrick
POV Players
Frankie, Victoria, Jocasta, Donny, Hayden & Christine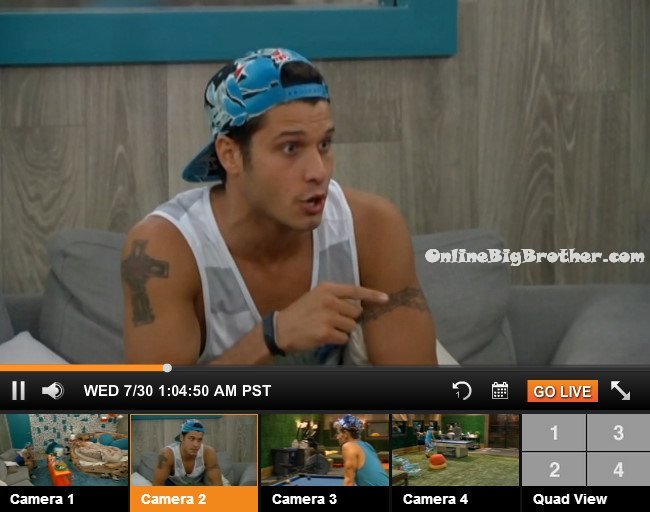 1am Cody and Zach are talking in the HOH room. Cody says that he is worried Frankie is controlling him (Zack). Cody asks Zach if Frankie asked you to, would you put me up? Zack says no way Bro! Cody questions Zach and Frankie's relationship. Zack tells Cody that you are my closest ally. Cody says I just don't know what you say to other people. Cody tells Zack to watch what he says to Christine because she talks a lot. She is an idiot. Cody tells Zach that he doesn't want Zach to blow up but Christine told Donny that Zack is telling people that you and him are tight. Zach wonders if he should confront Christine about to see if she lies to him. She is the worst liar. Cody says honestly bro, Frankie is good, but what if he is doing to us, what he is doing to them. Cody says you and I haven't been talking much because you're sitting here with Frankie all the time. Zach says maybe we hedge our bets. Cody says like hope he isn't flip flopping on us. Zach says no like we do something about it. The cameras switch to the havenot room with Jocasta & Derrick talking. Derrick tells her that he wants to sit down with her and start talking game with her instead of just praying with her. He says that other people are playing the game and it's time for Jocasta to as well. We need to start playing and I if I can't win I want you to. I know you've had a tough life and I would rather someone like you win it as opposed to someone who is looking for an acting career. We need to start playing because people are playing it already. Derrick tells Jocasta to lay low and that sh*t will hit the fan on soon.
Take Advantage of the FREE 2 day Trial to watch all the drama!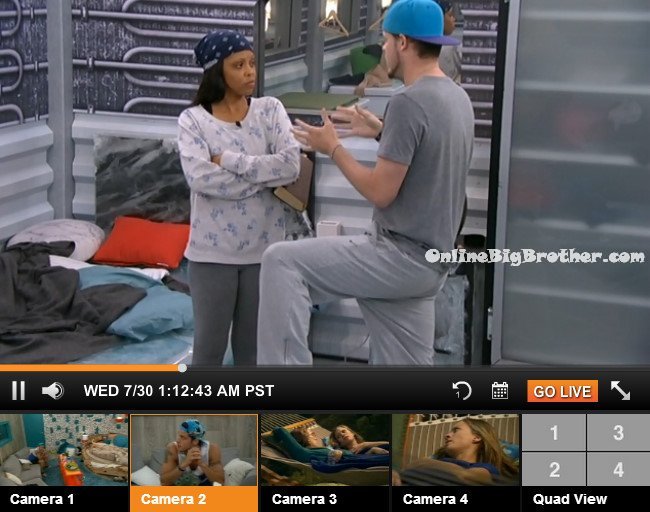 1:40am Up in the HOH room –
Caleb asks Frankie if Amber has named people that she is targeting? Frankie says its awkward. She's scrambling. She is telling people different things. She has named people in our alliance as her target. She is telling different things to different people. I wanted to tell you but its like a pin-wheel, If I tell you, then you talk to her and then it comes back to us. Zach says she is pulling a Brittany. Frankie says exactly. She is naming multiple people in this room as her targets if she wins HOH. It's inconsistent what she is telling us. Zach says in my gut I have a feeling that she is coming after me and I have heard she is coming after me. I know you are all about loyalty if I vote to keep her then it screws me when she comes after me and if I vote her out it screws me because you want her here and I've voted her out. Zach says from what you've told me Amber has 4 votes so that makes me the swing vote and it scares me to vote her out knowing I could be a target of yours. Zach says I am not going against the alliance if Caleb says the thing is we made a pact.. Christine and Amber were a part of the pact. Frankie tells Caleb that Amber is going around saying that you're (Caleb) her target because you're ruining her game. Caleb asks I am ruining her game?! Cody confirms it. Caleb gets up and storms out of the room.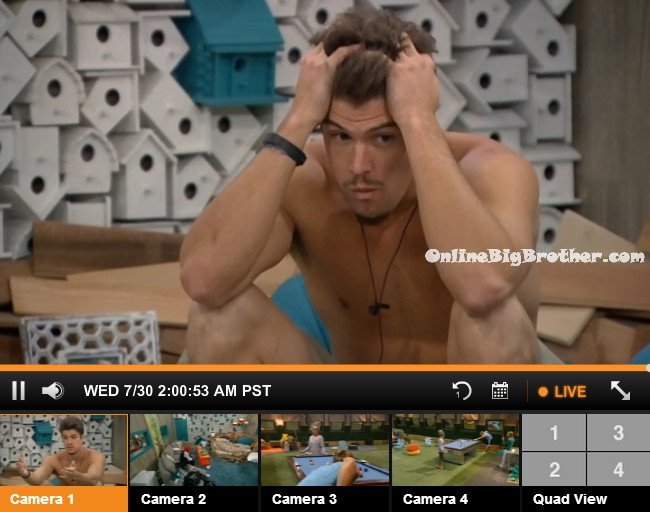 Caleb heads down stairs and gives Amber a death stare. Frankie goes out into the backyard. Amber asks what was that about? Frankie tells Amber to leave it alone. Amber says why am I on the block and getting death stares. Why am I being talked about?! Frankie tells her over and over again to stop, leave it alone. Meanwhile inside Caleb heads the havenot room and back to the bathroom. Cody comes in there and Caleb says I don't want to talk you. I don't want to talk right now. Caleb then storms out into the backyard and past everyone to the hammock.

Up in the HOH room – Derrick, Cody and Zach talk about what just happened. Derrick says to Cody that he trusts you and it broke his (Caleb) heart when you told him. He knew it was 800% true when you told him. Derrick says see how he was going to bat for her (Amber) right now and it killed him to find out she is talking sh*t about him. We have to go to everyone else that was not in the room and for her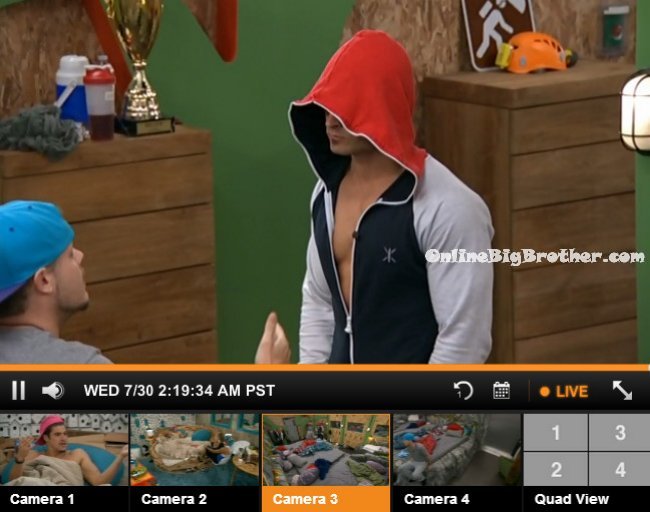 In the earth room – Derrick tells Caleb how Cody just told him that Amber said she was coming after you. I trust him. He wanted to tell you alone. He wouldn't lie. If it was coming from Zach or Frankie I wouldn't believe it but Cody has your back. This is a game for 500K! Game on! Come up stairs to talk. Caleb heads up to the HOH room. Cody says that he was talking to Amber in the rock room. You know I have your back over everyone. She told me that she was going after someone that was ruining her game. Cody says when she told me that I wanted to come tell you. When she told me she made it out like I was the only one that knew and then when Frankie said it too I was like okay she lied to me. Cody says it sucks for me because I didn't want to be the one putting a dagger in your chest. Derrick says that was hurts so much is that you're up here campaigning for her and this is what she is saying about you. We are all here for you. We're here to play a game and she is backstabbing you. Zach says I came to you two weeks ago and told you how she is playing you. I have your back in this game and I know you have my back too. Hayden joins them. They're all silent. Hayden asks what's going on? Derrick explains how Caleb has been putting his life on the line for her and this is how she treats him.

Caleb says DUDE I ate the pickle! They all laugh! Derrick says we're all talking about loyalty and we all have your back. Caleb says I already knew it before he said it. Derrick says no one knows how tight we all are. Cody says when I found out she was telling other people I knew she is f**ked. Caleb says I just want to go out there and hit her in the face with a banana. Zach says yeah you should, go out there and throw a banana ate her. Derrick says she thought she was flipping the script on you. Caleb says I need to go down there and re-do my goodbye message to her. Derrick says she didn't realize how tight you and Cody are. Caleb asks what do I do if she wants to talk to me. Do I tell her I already know, you're going home. Derrick says him to soldier up and suck it up for the next day and a half… then at 5:45 after the second lock down before the live show on Thursday you pull her aside and tell her you know and tell her to have a good trip. Caleb says I just feel like I want to make her next two days a living hell. Frankie joins them. Frankie explains that he covered their backs by telling Amber that Caleb was pissed because of a fight with Zach and Caleb about trust. They all agree that was a great cover. Caleb wonders if on Thursday when Julie comes on I tell her she's going home. Derrick says if you clear it with them (production) they might give you 30 seconds and you could say I held your life in this game in my hand and I am sending you home.