POV Holder:
Jessie
Next POV
Aug 10th
POV Used
YES
POV Ceremony
Aug 12th
HOH Winner:
GM
Next HOH:
Aug 8th
MVP:
AMERICA
Original Nominations:
Candice, Jessie and Amanda (MVP Nom)
Current Nominations:
Candice, Spencer and Amanda (MVP Nom)
Last Evicted Houseguest
David, Nick, Jeremy, Kaitlin, Howard
Have Nots
no have nots this week
8:10pm Storage room Helen and McCrae
MC saying Amanda is worried because apparently Aaryn wanted to put up Elissa and Amanda this week.
Helen: 'Are you serious"
MC adds that Amanda thinks maybe Aaryn, Jessie, JUDD have a deal going and if Elissa votes out Spencer there will be 3 votes against Amanda and 3 votes against Candice. GM would break the tie and vote out Amanda.
MC wants confirmation that Elissa will vote out Candice. Helen is positive Elissa will vote out Candice she'll talk to Elissa tonight.
Helen says after this vote they can brings Spencer over. MC agrees says Spencer stays up with JUDD late each night they might be closer than they think.
Helen tells him to stay up late with the guys.
MC thinks Spener trusts him because of the "whole moving company thing"
Helen says they need to get rid of JUDD next week. After the eviction MC will pull Spencer aside and tell him to join him and Andy to take out JUDD.
McCrae about Judd: "Like i'm scared… I'm scared of him like he trusts me.. (feeds block with fish).. he's dangerous and he's sacrey"
Helen suggest JUDD will target MC because he doesn't think he can beat him in the final 2.
8:27pm Amanda and Aaryn Bedroom
Amanda is worried the vote is going to be 3-3-1 Aaryn says that is impossible she wants to know where the 3-3 votes are coming from but Amanda doesn't tell her. Amanda dodges the questions says she's just paranoid she's going home.
(During the 1/2 way party they were given some time to off feeds. Amanda and McCrae went off into a room and did something s$xual)
Amanda: "You walked in on a horrible time"
Aaryn: "What were you doing"
Amanda: "Finishing up having fun"
Amanda: "A girl has her needs.. "
Amanda asks why Jessie is hiding. Aaryn doesn't know she's been in her room all day. They talk about JUDD making out with Jessie a couple days ago. Aaryn says she kissed JUDD, Amanda thinks is was a passionate kiss.
Aaryn: "Amanda.. I am not into him like that"
Amanda: 'Is he a good kisser"
Aaryn: 'It wasn't a make out kiss it was only a kiss.. "
Aaryn: 'You need to stop worrying I talked to Helen and she wants you here for a long time"
Amanda asks her who was the initial proposal for nominees this week
Aaryn says it was Candice and Jessie
Amanda: "was my name or Elisa brought up"
Aaryn says only Elissa's was Amanda was never considered a option.
Amanda tells her there are strange things going on with JUDD and Jessie right now she doesn't want Aaryn to get caught up in it.
Amanda: 'I gotta put some baby powder in my Vag!na.. freshen up.. the boy needs to learn a few things"
8:49pm HOH GM, Spencer, McCrae, Amanda, JUDD
Amanda says she doesn't like listening to HOH music and she doesn't like the parties. The parties throw her out off her game. She can't step outside the game, "I can't shut off"
JUDD: "are you a club rat at home"
Amanda: "no, I just don't like music I like knowing what is going on"
JUDD and Spencer leave
Amanda asks her about the conversations with the players about the votes . GM says Jessie was rude to her and wasn't going to tell her who she's voting for, "She was like I DON'T WANT TO DISCUSS THAT".
GM: 'I was like OK goodbye"
Gm says Elissa is voting out Candice.
GM: "you see I talk to people.. no need to yell.. but if a motherf**** gives me attitude"
GM: "First of all there is no need for a attitude stick it down a notch.. cause i'm not at that notch.. you want to see me at that notch cause I can go there if you want.. "
GM: "B1tches are crazy cause they don't want to see Ginamarie at notch 5 it can go to 10 .. I was maybe a 7 when Nick left "
GM: "You don't want to see me at 10 cause I will start throwing knives and stabbing the bitch"

9:06pm Cockpit Helen, Elissa and Jessie
Jessie is saying Candice told her Aaryn said something nasty about her during the party and Helen/Elissa laughed. Something about Jessie dancing alone.
Helen: 'I didn't hear her say that.. We weren't laughing at you.. it's possible Candice heard wrong to"
Elissa: "I think she probably did say it and I don't think she changed"
Helen: "you know Jessie people have come to me and said you've been telling people Elissa and I don't deserve the money".
Helen: 'People will say things you know to throw other people under the bus you know"
Helen says they need to squash it if they hear anyone bringing it up. Jessie agrees.
Helen wishes their original 7 would stick together. She doesn't like how the super friends have turned out. People are being protected that were not supposed to be protected.
Jessie: 'I'm not being protected and I was promised"
Elissa likes Ginamarie but thinks that maybe this game is getting a bit much for her. Elissa: "Something is weird"
JEssie: 'Even Aaryn says GM has HOHitus"
Elissa says GM and Aaryn are similar personalities
Jessie agrees.
Jessie knows she is going up against Spencer if it's double eviction tomorrow. Helen says not to be so sure, Double eviction is a time to make big moves.
Helen: "I know a lot of people are lying to me so I'm ready to shock the house"
They talk about the competition they got to practice eralier today. Helen points out Aryn was the best.
Elissa says it's not fair that Aaryn get Adderall because Elissa thinks it's a performance enhancing drug 'They say in ivy league schools they don't let the student be on Adderall..You can focus like it's your job.. it's not hidden that people abuse Adderall.. it's not hard to argue .. it's not fair.. it's not fair.. if you are in a competition show it's like you can take steroids"
Jessie says Aaryn is on another level because of the Adderall give her a unfair advantage.
Helen doesn't know anything about it to comment.
Elissa: "it's methamphetamine.. it's synthetic heron"
Jessie: "It's a super drug"
Elissa: "it's methamphetamine"
Helen: "Well somehow they let her use it"
Jessie so basically Amanda and McCrae are protecting Aaryn now right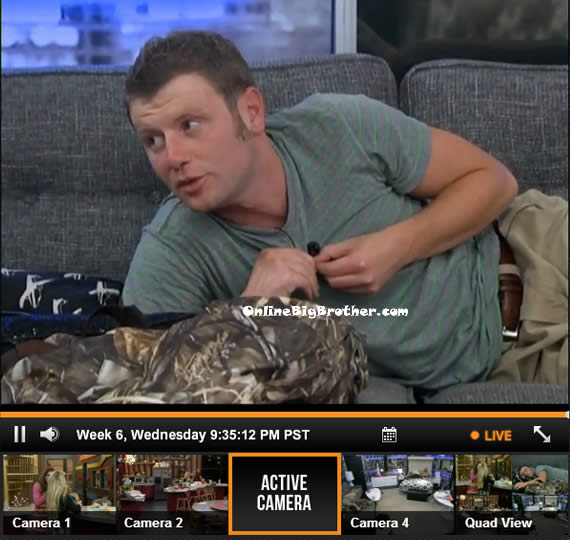 9:33pm HOH JUDD, Spencer, McCrae and Amanda
Specner says earlier today Aaryn was singing 'Aint no lie Jessie bye bye bye" They all know where Aaryn's head is at.
THey start talking about Elissa freaking out about Andy sleeping in her bed. Elisa told them she cannot sleep in a bed that has had a person in it with lotion on their body. She claims her skin is too sensitive. Amanda points out Elissa talks about spray tanning and that "Sh!t" is straight chemicals. Helen joins them to listen to music.
Use the Big Brother Live Feeds to FLASHBACK to SEE what they can't show you on TV: BB15 N!p Sl!ps / N*des