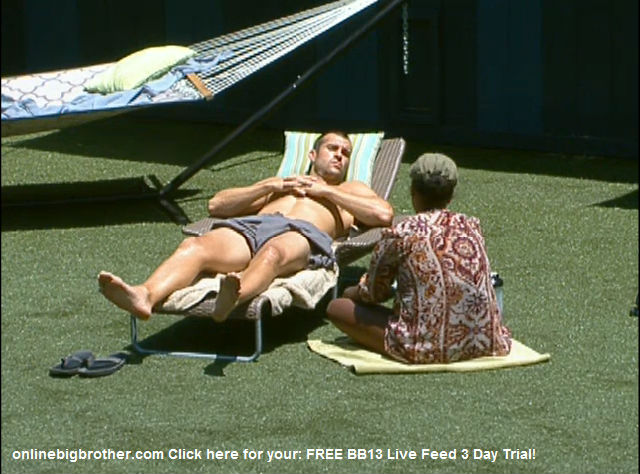 12:50pm Brendon and Kalia are talking in the backyard. Kalia is telling Brendon that she feels completely alone in the house and that everyone on their side has completely turned their back on her. Kalia says that if she actually though Jeff was going to get back doored she would have said something. Kalia says that she only just heard about it and that she had a conversation with Jeff after the POV. Brendon says that when ever something comes up …you run to Dani. Kalia says that is not true. Brendon says that it is true… this isn't the first time I've played the Big Brother game. Brendon tells her that she is a floater and that if she really was on their side she would have come to them as soon as she heard they were going to back door Jeff. Brendon tells her that she is playing both sides. Kalia denies it. Brendon says this is not rocket science… I've studied science and this is easier. Kalia says that he will see the tapes and he will see that she was on her side. Brendon says that he will apologise if he is wrong ..but he knows hes not. Kalia tells him that he thinks he is so smart. Kalia gets up and leaves. They keep yelling at each other. Brendon tells her while she is at it she should do her own dishes. Kalia says that she does ..thank you very much.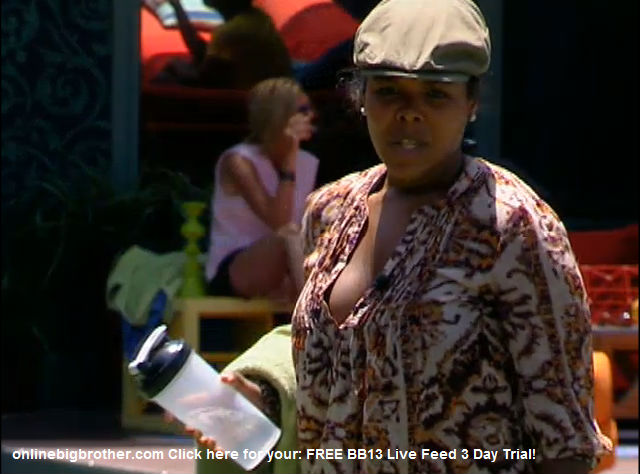 Kalia and Dominic are in the candy room. Kalia tells Dominic not to talk to her… Kalia says whatever you said last night …thanks for throwing me under the bus. Dominic says that he didn't tell them anything …they told me what was going on. Kalia says that she did everything that they asked. Kalia says that she thought she had a final 6 deal with them …and they made the same deal with everyone …and that they are going to pick each and every one of them off. Jordan comes in and Kalia starts going on off on her. Kalia says that she did nothing wrong. Jordan says let's just have a meeting and talk about it. Kalia says lets just wait until later because if we do it now I will cuss that person out out.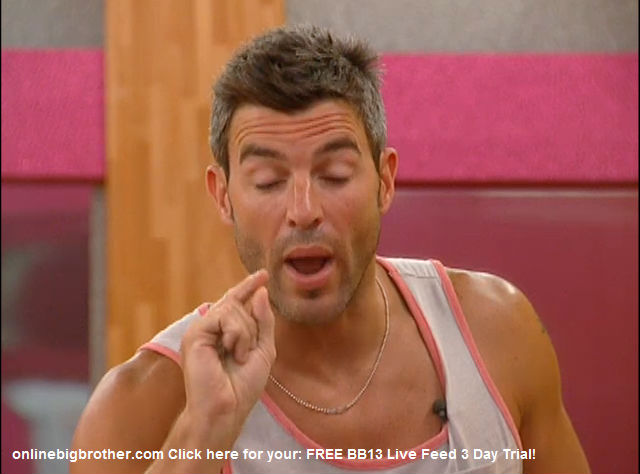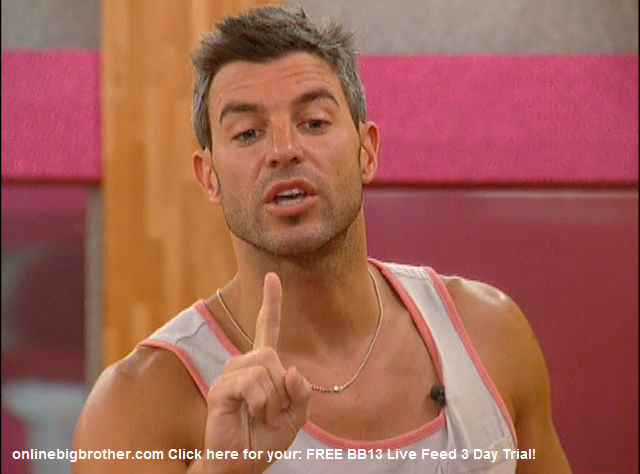 Jeff comes in and Kalia and him really get into it! Jeff tells her that he doesn't trust her …she knew he that he was going to be backed doored and you didnt tell me. Kalia says that if she thought it was going to happen she would have said something …but nothing was going to happen. Jeff tells her that he talked to her and she lied to his face so FU! Jeff says that she lied to him and that she is playing both sides. Kalia says that she is absolutely telling the truth… but that she knows now that she is playing the game by herself. Jeff tells her good luck with that! Jeff leaves the room. Kalia says that Jeff is a complete asshole …a f-ing bully! Dominic tells Kalia that she is right they made deals with everyone … and they are picking everyone off one by one.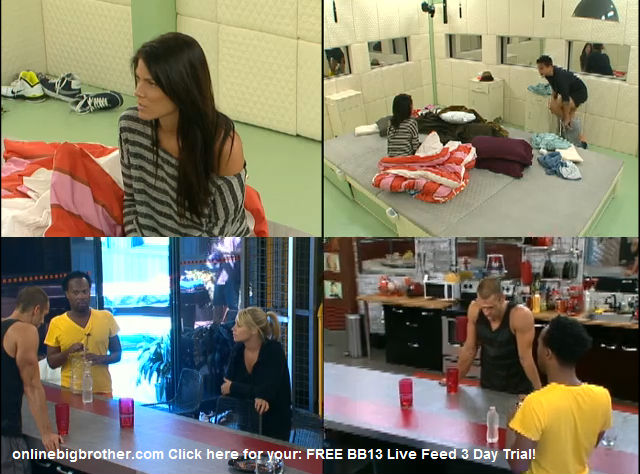 1:10pm Jordan, Lawon and Jordan are in the kitchen talking about the fighting. Jordan is really trying to get everyone together to talk about it all. Jordan says that they don't want to though because they know they are going to get exposed. Brendon starts telling Lawon to go get them all out here …you are closer to them ..go get them and bring them out here and lets talk about it. Jordan says they better come out here and talk …they don't want to because they are guilty. Lawon tells them to come out. Dominic comes out and says that so we're gonna have a talk. Lawon says that he has nothing to hide. Brendon shakes his hand and says thank you. Dominic asks Jordan why they are voting him out … do they know that it was him. Jordan says no ..but we cant trust you. Kalia come out into the kitchen and they all start getting into it again. Kalia says that Brendon is running the brendon show. Kalia says that Dani started turning on vets becaue she thought the vets were going to turn on her. Kalia says that the way you talk to people about game, you come off as the person who thinks he knows everything. Brendon says okay, thats fine. Kalia says stop with the underlying sarcasm. Brendon says no, I'm letting you talk. Kalia says you make us all feel like the bottom of the barrel, then Dani knows she's at the bottom of your totem poll, everyone sees that. Brendon says that you said you weren't working with Dani, but you're defending her against us. Kalia says yes because she's my friend. Jordan and Brendon telling Kalia how Daniele was trying to pit each couple against the other. Kalia says you don't know me! Jeff says you're right ..I don't… but I know you in this game and that's all I need to know. Kalia is yelling and screaming. Jeff tells her okay loud voice now I hear you. Kalia and Jeff both say F U !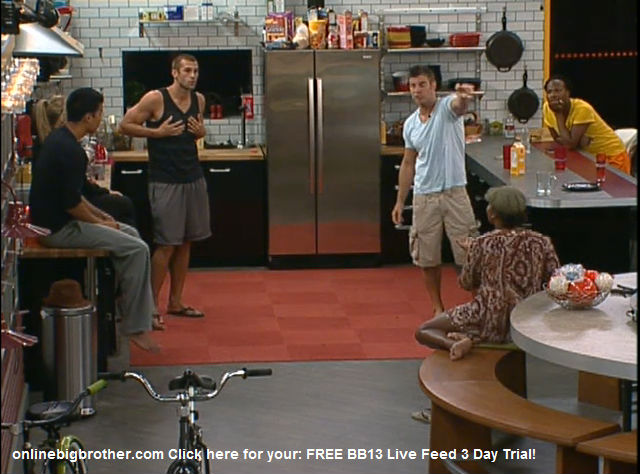 1:30pm – 1:40pm Jeff tells Kalia that she lied to him that she said he was safe and that now they find out that she knew they were trying to backdoor Jeff. Jeff says okay I can play that game too .. next week you are safe …your not going home. Kalia says well we all know thats not true don't we. I can play that game too … They yelling and screaming continues. Kalia says that everyone is going around lying and talking behind people backs. Shelly gets mad and says that she never once lied!!! Shellys says that she told Cassi exactly how she voted that week and that she knows. (Which is a lie, Cassi doesn't know that Shelly voted with the vets to evict Keith.) Lawon gets mad says that he never once said lets get Jeff out! Call me out …I never said it once!! Brendon thanks him. Rachel asks Kalia what is a person that doesnt win competitions … and doesnt take sides… Kalia says that it means I'm not good at competitions! Rachel says no it means you are a floater. Jeff tells Kalia how it is …and says that she is taking the fall for something that she didnt do … turn around and yell at the other side. You're pointing at the wrong side. Rachel says that her friend isnt a friend ..and I wouldn't want a friend like that. Dani says Rachel you are an idiot. Brendon tells her not to call her girlfriend an idiot.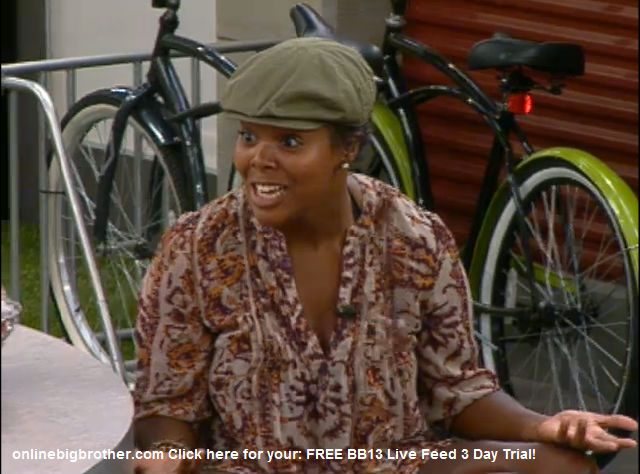 Rachel says that Dani said Jeff and Jordan were recruiting people to go after Brendon and Rachel. Jeff asks why did you want to get rid of me? Dani yells because from day two I was closer with Rachel. Dani then tells Rachel that nobody in this house likes you. Rachel says that she has a fiance and two friends in the house who are up to bat for me…and yet no one likes me? Dominic says he agreed to play with Dani because Dani trusted Rachel and Brendon. Dani says for the first two and a half weeks she had only nice things about Rachel. Dani tells Jeff she found him as her biggest threat in the game. Dani tells Jeff that he's a bully. Jeff asks who he bullies. Dani says that Jeff was a target because she though he was the best competitor. Jeff says that doesn't make any sense …I haven't won any competitions or anything! Jeff calls Dani a f-ing loser.
Jeff saying that Dani was in the best position in the house by being with the vets and that she was protected by the vets until final eight. Jeff calls Daniele a loser and Daniele calls him mature. Jeff says its not gameplay but her ego that wants him out of this house. Brendon saying Dani demanded they backdoor Jeff. Dani denies it. Rachel says she was threatening them. Jeff asks if Dani really likes Dominic …if she is really friends with him … why would you do this to him? Dani and Brendon start yelling at each other. Brendon tell her to BRING IT EVICT ME!!! Dani says everyone bow down to Brendon … welcome to last year!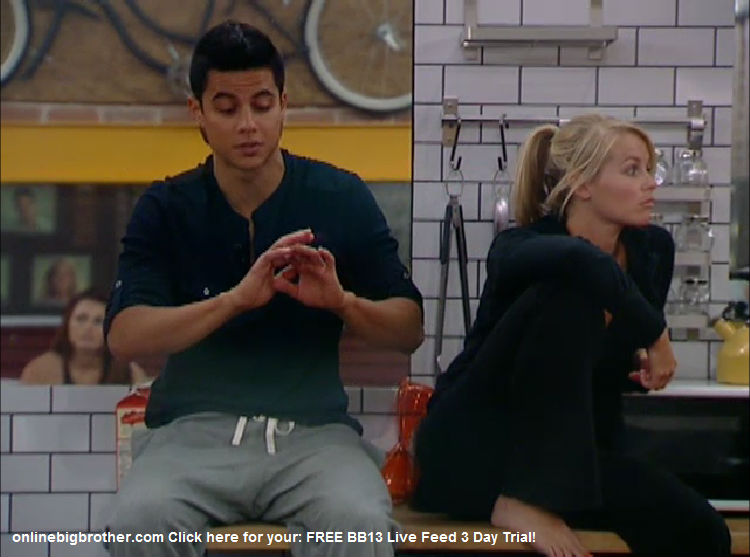 1:55pm Dominic calls out Shelly, Porsche and Kalia saying that they all made deals and voted out Keith. Porsche says that she never voted that way …Rachel backs her up. Shelly tells Dominic that is not true … prove it …I swear I will come unglued!! Dominic keeps on Shelly voting out Keith. Shelly yells bring up the tape I never said that I never had deals. Shelly says stop calling people out to divert the blame! Shelly keeps saying that its history ..it doesn't matter. Dominic says that the newbies never had a chance… we were out numbered since day 2. Rachel says that they were the ones out numbered. Dominic says once deals were made we never had a chance. Shelly says everyone has a chance Dominic .. everyone has a chance. Rachel says that they have competed and won competitions …they have the same chance to win. Jeff says dont say you dont have a chance …three of you have golden keys … and you didn't have to do shit to get those. You had a chance. Kalia says that they are just getting picked off … we didnt have a chance! Rachel says then start winning something! Jeff talks about how after Dick walked out they were out numbered and Dani and them were all upset saying they had no chance …and that he was they only one to turn it around and make a positive out of it. Dani starts getting mad again. Jeff asks her why she is yelling and has attitude all the time. Jeff says that Dani has moments where she is a normal person and moments where she is so immature. Jordan explains that the vets have won and so they have the power now …just like the newbies have had a chance to play and they still have a chance to get in power and things can change week by week. Kalia says that she got used. Jordan tells Kalia that she was never ever got used in this game and says that she doesn't know how she got it in her head that she was… Dominic explains that the newbies were all scared about going after Rachel/Brendon and Jeff/Jordan because then they other one would be coming after them…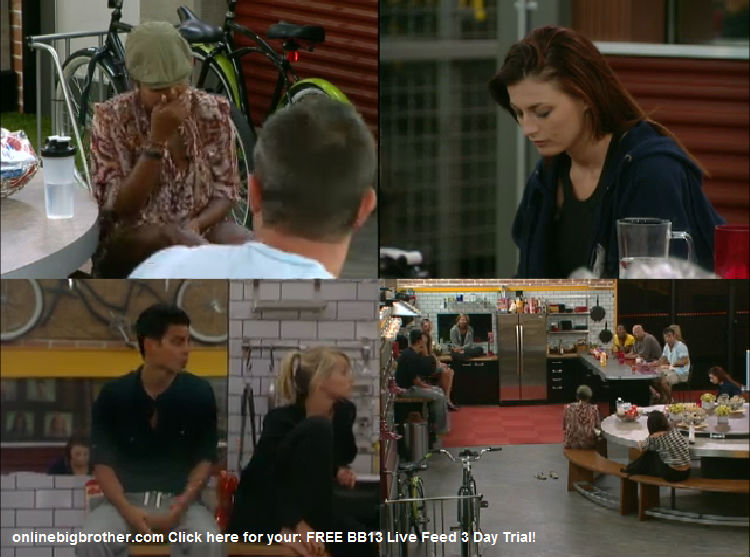 2:15pm – 2:25pm Rachel says that Dani said that Porsche, Shelly and Cassi want to back door Rachel. Dani says that she never said that … she says that she heard that they were saying it would be a good idea. Brendon says yeah you did say it. Kalia asks is any of this making a difference … I though the point was to get everything out in the open. Kalia says she thinks the plan fell apart because it was coming from a lot of different places. Rachel says they never even thought about it until it was shoved down their throats. Rachel says we never think about putting up someone from our alliance. Dominic says that the plan fell apart because they wont go against their alliance and will pick off the rest of the houseguests. Kalia says that all of us are in agreement that we all need to fight to have to stay here. Porsche said I had a key so I didn't personally care. She said before the key Keith yelled at her. She said she was offended by everyone voting to keep Keith after his antics. Porsche mentions being the closest to winning the HoH. Rachel says nobody even tried except for Porsche. Kalia says thats not true and she was the second closest to winning. Shelly explains to Dominic that his plan was to align with the single girls. Shelly says that she is a married woman and a mother and can't play the same game that he is playing. Shelly says that it bothers her that he says that they have no chance. Shelly says thats not true …this game doesnt have to be just about money … its about relationships. Shelly says that it all it boils down to is that it is a game.. and it gets nasty. Shelly says that she knows that everyone thinks we're going to get picked off, but that she is going to try and stay in for as long as she can. Shelly says that she can walk out with her head high whenever she goes. Kalia starts to bring up day one …and Jeff asks her what the fck does it matter what happened day one! Shelly says that she doesn't know if Dominics time is up … but why give up?! At least you can leave with your head held high knowing that you didn't back stab someone. Dominic says that everyone here can be friends after …but that everyone needs to realize there is real game being played behind people backs. Shelly says that everyone here is good and that everyone has motives. Dominic asks if they should all awkward hug it out. They say no. Lawon says that he can stay up all night.. but that he never made any deal with anyone .. and that he has been loyal to his partner… but now he is playing this game alone. Lawon says that tomorrow game on …I am going to win that game! They say meeting adjourned… They all break up and leave the kitchen….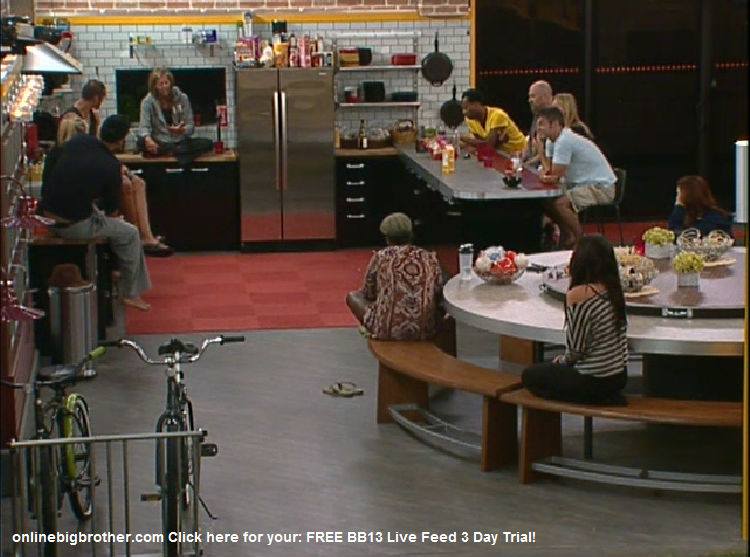 Kalia and Jordan are in the lounge room talking. Kalia is crying. Jordan is telling her that she know Kalia didn't lie to them and that she couldn't tell her because she didnt want her to tell Dani. Jordan explains that in her season she flew right under the radar. Jordan tells Kalia that she is in the best position and tells her that just because newbies are going..it doesn't mean she will. Jordan says that she picked Kalia for the luxury competition because she is better friend with her than with Dani. Kalia tells Jordan that she thought the couples would go against everyone. Jordan says thats because Dani put that in everyone's heads. Jordan says that that is why they brought Dani up to the HOH room the other night …to call her out ..and she didn't confess too it.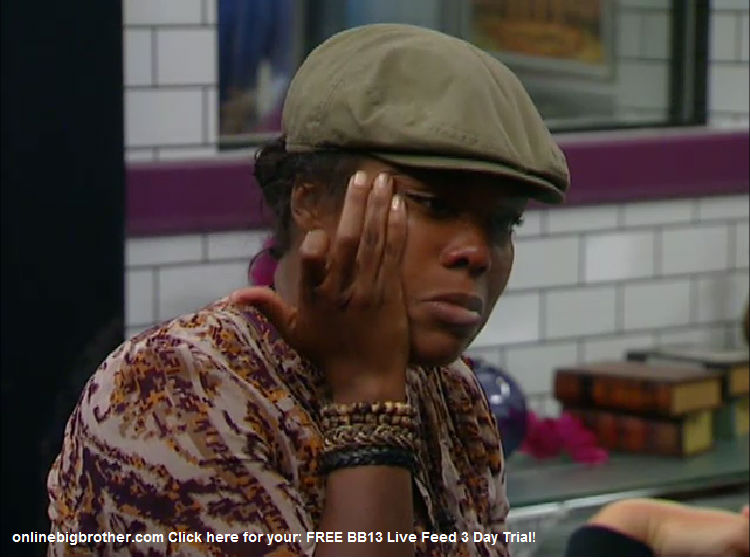 2:35pm – 2:45pm Dani, Lawon, Shelly and Dominic are in the have not room. They are asking if Shelly is open to keep Dom. Shelly doesn't answer and then says that she is worried about Porsche. Dani says that she is worried about Porsche. Dani says that they made a deal with everyone. They talk about how the lines are drawn now. Dani says the problem is they'll try and convince Porsche and kidnap her all day. Dani says she thinks Porsche is smarter. Dom says he will go and talk to her. Dani says give her the eye. Dominic says that he is going to go apologise to Porsche. Dominic leaves and finds Porsche and tells her that he feels bad for calling her out. Porsche says that she isn't mad. Porsche says that when that many people voted for Keith, she thought they'd vote to keep her. Dom tells her he was 100% honest with her that if he knew the majority was keeping her he would too. Back in the havenot room, Dani talks about how a lot of the stuff that was said was just twisted… and that a minute later they are laugh and giggling. Dani says she doesn't care what people think and that they are bullies. Dani says that tomorrow nights endurance won't be like last year with everyone dropping off. Dani says that everyone will be bleeding and it will be like 10 hours. Dani says that she will kill someone to win the HOH tomorrow. Dani says that she thought Shelly would be the hard one to get out. Shelly says she is an idiot. Dani asks Shelly to talk to Porsche. Dani says that Porsche is the stupidest person ever, and that they will control her…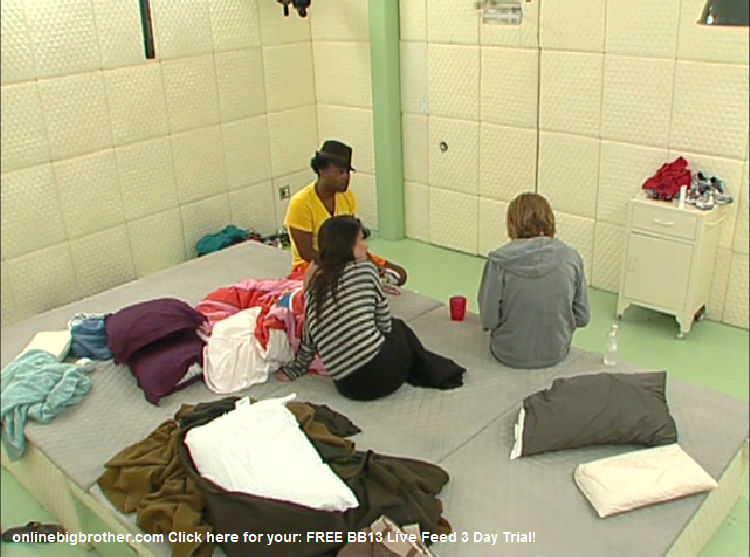 Share it YO!!
Tweet