Get the BB13 live feeds on your Android and iOS devices. Sign-up for the 3 Day Free Trial
11:45am All the houseguests are up and getting ready for the day, eating in the kitchen or getting ready in the bathroom. Jordan and Jeff are in lounge room talking. Jordan says that everything annoys her and if Dani wins HOH it will really annoy her! Jeff says he has to go poop, come listen to me. Jordan says "No, it's gross." They leave the purple room and go to the WC. Dani, Porsch and Kalia are in the bathroom getting ready. Big Brother has told them that they will be on an indoor lock down soon until the live show tomorrow night.
12pm Rachel brings out the HOH camera to take photos. They are all joking around and taking photos. They talk lots of random photos of all the house guests. Rachel takes a picture of Jordan and Jeff and tells them to be cute and act like they like each other.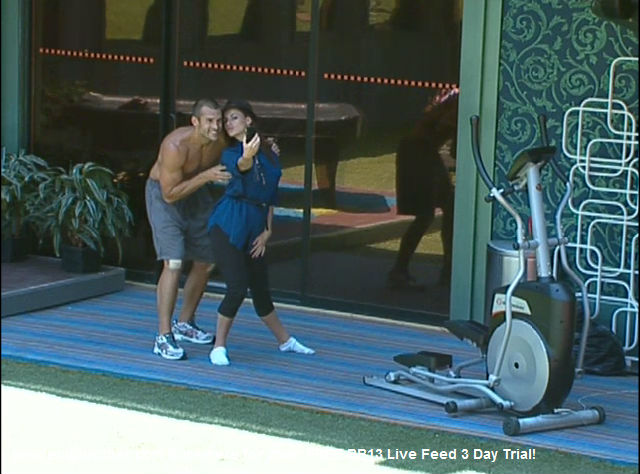 TRY the Live Feeds for FREE!
Click here for your: SUPERPASS – 3 DAY Trial!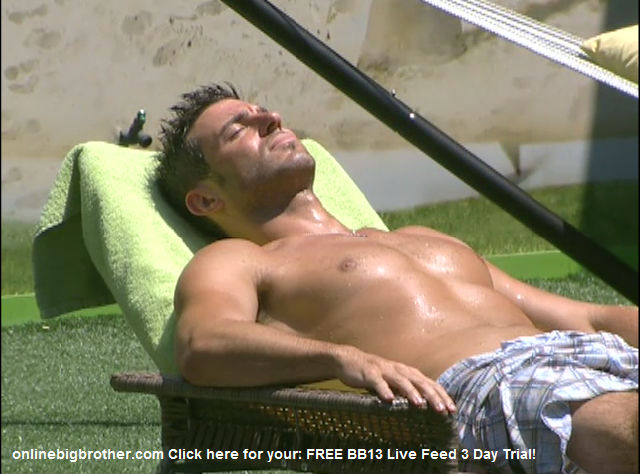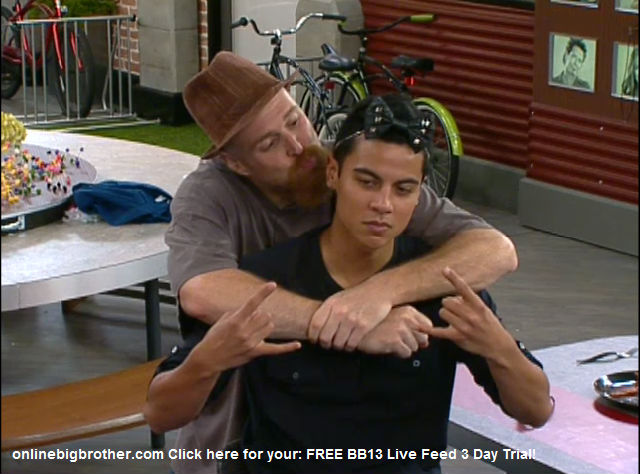 12:30pm – 12:50pm Jeff, Jordan and Shelly are out by the pool talking about wanting to meet celebrities and professional sports players. Dani is in the kitchen and jokingly pretends to be Julie Chen asking Dominic what Dani owes him for getting him kicked out of the house. Dominic says well Julie this is a family show …lets just say it involves hamsters and a lot of Adam. Rachel talks about having to write the HOH blog. Dominic asks her to write his life story. Porsche informs Dominic that his bag and Adam are in the storage room. Dominic says that he is going to pack a lot of other peoples personal stuff. Everyone leaves the kitchen but Dani and Dominic. Dominic asks even if I try to stay how can I not put you in danger? Dani says she doesn't know. Dani says that she is really excited for it to be endurance. Dominic says that she should go to sleep early. Dani says no ..I will sleep all day in the HOH tomorrow. Dominic says he doesn't want to be up in the HOH room with them. Dominic says that maybe he will start a fight up in there. Dani tells him to be nice. Dani tells him to save it for his speech. Dani says that she didnt do anything wrong. Dominic tell her that she is too smart for them. Dominic says that they will probably try and back door her. Dani says that she can't wait for her speech. Dominic goes over to the pan hanging on the wall and pulls out the tinfoil Franklin turtle and rips it in half. Dani laugh and asks why did he do that … she says that now she is going to some how get blamed for it.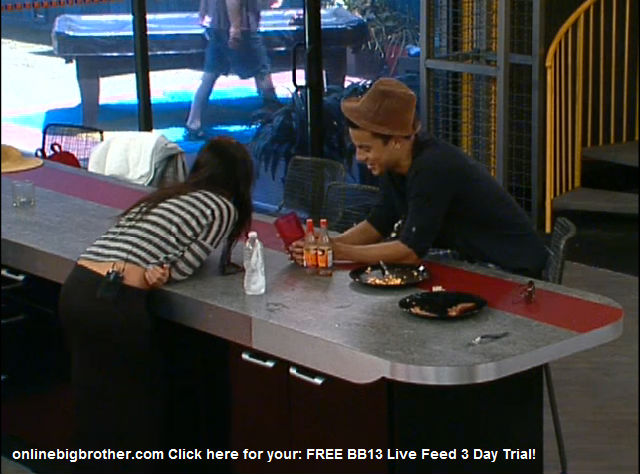 24/7 UNCENSORED Big Brother 13 Live Feeds!
Click here for your: FREE 3 Day TRIAL!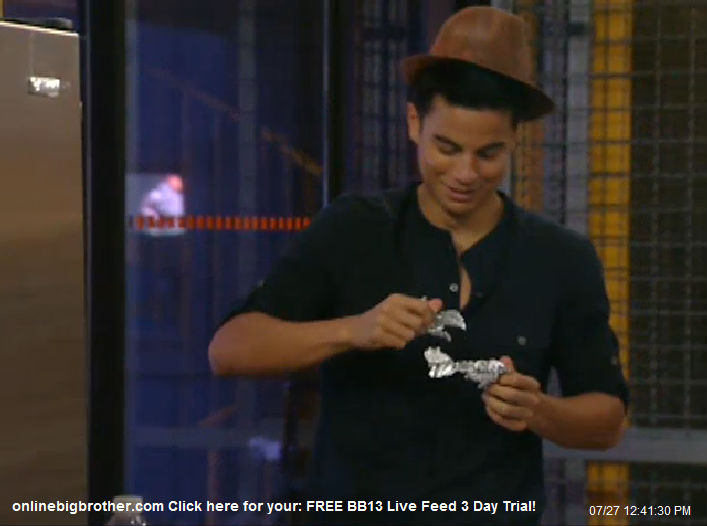 Big Brother 13 Spoilers POLL CAST your VOTE!

Big Brother 13 Live Feed Image Gallery
Follow: @BigBspoilers and @Dawgsbigbrother on Twitter for recent crazed out spoilers. Theres also our Facebook page.
If you like this site and want to help us keep it running please consider donating, Your donations go directly to paying the server and bandwidth fees. Donate Link
Share it YO!!
Tweet