| | | | |
| --- | --- | --- | --- |
| POV: | Angela | Next POV: | Aug 4th |
| POV Used | YES | POV Ceremony | Aug 6th |
| HOH: | Angela | Next HOH: | Aug 9nd |
| Noms: | ROCKS and Scottie Tyler Bayleigh | Have Nots | |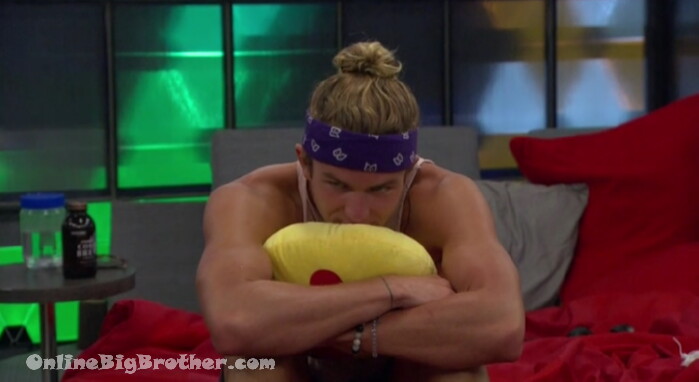 1:54pm Kaycee and Tyler
KAycee says Fes is so annoying mentions how he knew this was going to happen.
Angela comes in "Do you think we have the votes"
they believe they do.
Tyler – Sam will be the important one
A – Sam has gotten close to Rockstar now.. if she knows that Bayleigh
Angela – says Sam only really cares about Scottie and Tyler
Tyler wants them that bayleigh crying on Sam can sway her
Kaycee isn't worried about Sam.
Angela – I'm not worried about
Tyler- I'm not either
Angela says this was Haleigh one chance to be like "i can actually do something"
Kaycee says Hayleigh, Fes and ROCKS are puppets for Bayleigh .
Kaycee – when bayleigh says jump they jump when bayleigh says shut the f* up they shut up.. when bayleigh says this needs to happen i'll save you.. c'mon man
A – they can't make decisions on their own
T – does bayleigh have something wrong with her .. I feel like she genuinely believe that I said you should be the replacement nominations..
T – that is because I tricked her ass into saying it herself . I literally said so.. She talked sh1t about all you guys.. I was like I'm not going to use the veto if some sort of power is used would Angela be the replacement then.. and she said YES and then I f*ing left.. told you right away told Rachel you guiys freaked out
A – I questioned you for 3 minutes
Kaycee – little do they know we've had an alliance since day 3
They laugh that Haleigh thinks she's a legend now..
Tyler mentions how Sam ran to Bayleigh right away..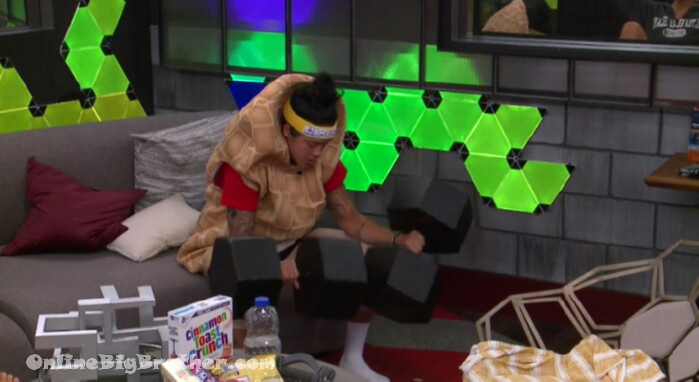 2:07pm Kaycee gets buzzed with a peanut workout..
Tyler brings up how he's looking bad because she's screaming at him like that.
Angela – who wants to be with someone psychotic like that.. I don't want to deal with that sh1t.. someone capable like that.. that's not the first time that will happen..
Tyler says that Bayeligh will now try to frame to the house that she will use her power to put up Tyler next week.
Tyler says Either Sam or Scottie needs to vote.
Tyler – Haleigh is the hacker.. so haleigh is going to cancel my vote.. does Haleigh wants Rockstar to go home..
They can't understand why Bayeligh thinks they were treating her like sh1t. They think that maybe haleigh entire speech was influenced by Bayleigh.
Angela – Poor Bayleigh she's been victimized this whole week how could you Tyler.. say good morning to her .. (what a f*ing monster)
Angela says that maybe Scottie is trying to form something outside of the 2 groups his own thing with Brett..
Kaycee – Brett is now the secret weapon
A – all you need is 2 or 3 people than you have the numbers,.. the majority.. you pull 1 person from each side and you are equal.. maybe that's Scottie's plan.
A – maybe that is ascottie'
s plan be the leader of his own medium ground
Angela – I wonder what Fes is going to do chop up a onions microwave a patty leave put some cheese on it leave it it to us all to clean it up..
they laugh "he's so lost.. "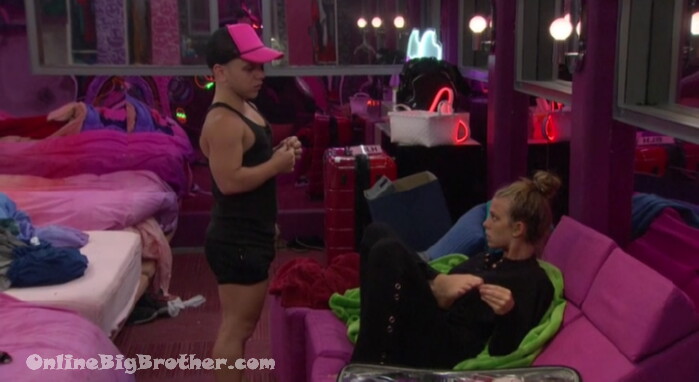 2:18pm haleigh and JC
haleigh says she didn't want Bayleigh to go home because of what she did.. if she still goes home that's fin she just needed to get the truth out.
haleigh – who do I cancel
JC – ask Fes..
Haleigh says it's better for all their games if Bayelgih stays becuase she'll use her power.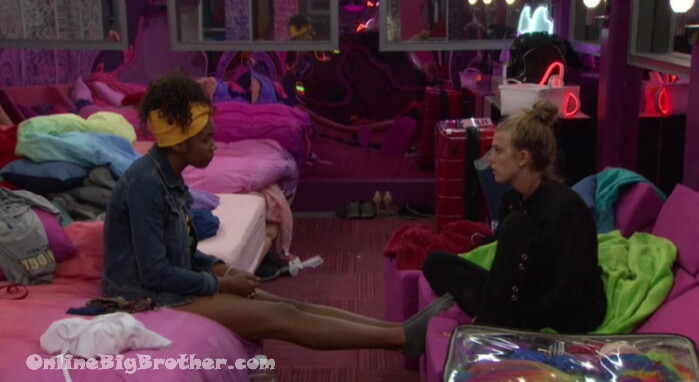 2:19pm bay and Ha
ha says everyone has stopped talking to her
ba – I'm blown away by Kaycee.. it's been two hours nobody has come out here and said anything.. (the HOH)
hayleigh says KAycee is a prideful person
Bay expecting people to come down and apologize to her.
Ba – pride brings destruction ..
Bayleigh says she's going to try to convince Brett, JC, Scottie and Kaycee..
haleigh – especially now everyone know you are going for
Haleigh identifies that calling out a house meeting was bad for her personal game
the only people that are coming for you are in that room (HOH)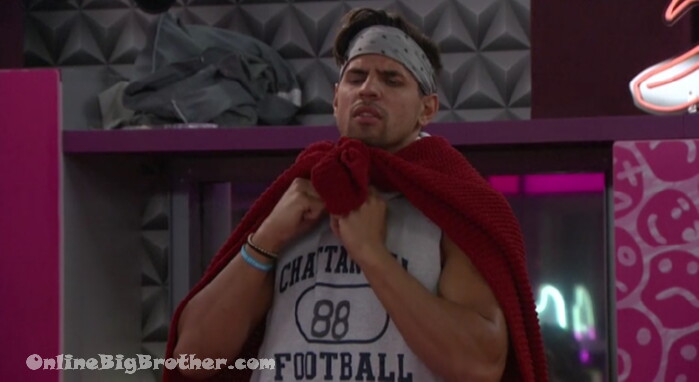 Fes comes in says hes got JC's vote.. "For sure.. " (LOl here we go again another blidnside)
They laugh at how Rockstar was yelling during the housemeeting "You're on the block"
Fes – I was reassuring JC that ROCKS is a liability
Ha – if we wing (hoh) we put Angela and Tyler up
Bay – please..
Ha – and I'll win the hacker.. I feel like we can win
Fes leaves..
They talk about how disappointed they are with Angela for walking away..
Ha – if this is how I go our this is how I go out.. f* it I don't like these people.. put me up.. put me up to fes.. OK ..
Bay – I bet they feel so dumb.. (LOL)
Bay about Angela – she got set up
bay – Tyler is a terrible person
Ha – he's telling at you for having a power (Yelling)
Bay – i feel great if I am going home I'm ok with it.. it's because they genuinely want me out.. with Angela she is threaten she wouldn't want to be next to me because look at it.. I'm in this game I already told everybody I want to win this game because I want to be the first black person to do it she doesn't feel like she can beat me .. so why not throw me under teh bus
haleigh agreeing "I know I know"
(ZOMG)
2:45pm HOH Kaycee, Sam, Tyler and Angela (this is a long winded Sam talk.. i'm only going to grab bits)
Sam – I'm being myself while everyone else is in here with a strategy they came here to play
Sam says to Tyler – I look at you and I see my brother .. my brother's birthday is on Friday I don't really don't want to think about.. it..
Sam starts crying mumbles out Tyler and Scottie.. Brother.. hate it..
Hugs Angela.. they both CRY "everything in here is f* up and it's all part of the thing… "
"don't feel bad… "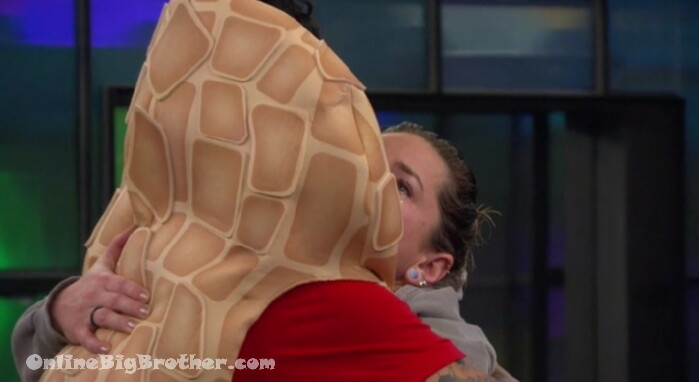 Kaycee tosses some peanut hugs in.. Angela starts to cry…
Angela – I just hate this for you Sam.. it's so hard for me to see you in this position.. it breaks my heart
Sam – I'll be out of here soon.. hopefully fingers crosses. (ZOMG)
Kaycee – stop it..
Sam says she's going to try and get her alliance as far as they can go "outside of that I can't wait to get home"
Sam – I keep talking about Sammy 2.0 I got plans and I'm excited.. but it has nothing to do with this.
Sam -= I'm sorry you guys are having a bad game and I'm sorry you guys are having a bad day..
Sam to Tyler… Stop picking at your skin.. your skin is beautiful..
Sam – you are tearing yourself up and it makes me so sad (Jesus f Christ Sam)
Sam – whatever I can do for you I'm happy to do that please don't cry I am going to get over it..
Sam – I don't know what to do.. I don't have anything to clean.. I don't have anything to talk about I don't want to f*ing be here.. I'm sorry for whatever is going on I didn't have any hand in it I didn't mean to do anything to either one of you if I did it wasn't intentional
They tell her she hasn't done anything
Sam – you can't keep the peace.. and I can't theirs not way ..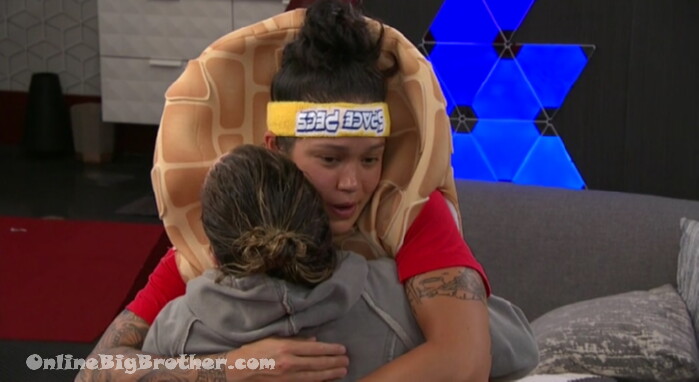 More peanut hugs "DEEP breaths.. this is a crazy f*ing game this is a whole new level"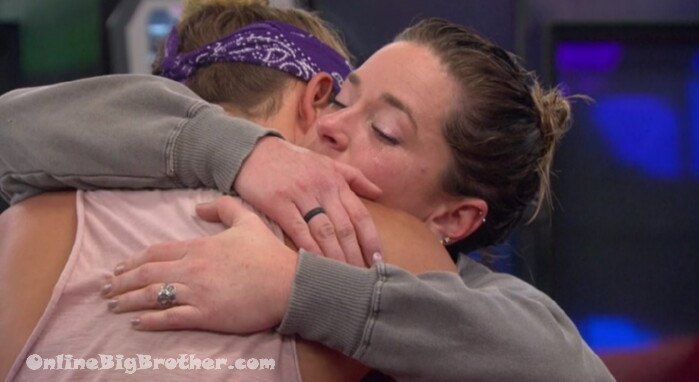 Perfect little wounded bird lamb gets a hug
Sam – I just wanted to protect you…
T – thank you
Sam leaves.. Angela – Holy shit that got real…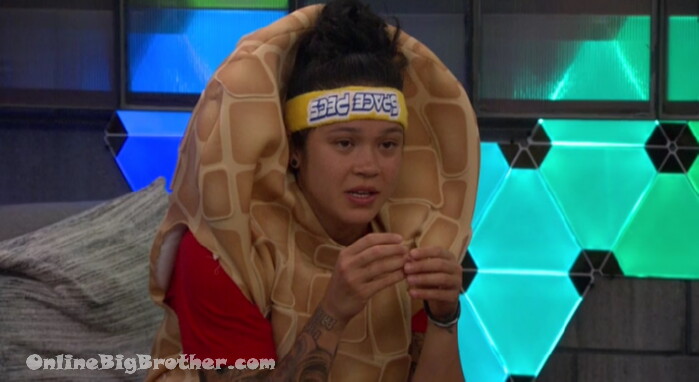 kaycee – I think I know who got in her f*ing ear.. Sammy last night said the same thing to me.. she said I feel like people think I am smarter than I really am she's been hanging out with ROCKS..
kaycee – Rocks has been putting something in her head ,.. you know they've been talking a lot..
Tyler see that someone is putting in Sam's head that they are going to feel bad about her not playing the game whie they are.
kaycee – it has to be Rockstar and ROCKS would do some sh1t liek that.. she's questioning..
Kaycee – something is being told her to that is making her over think all this stuff..
They all agree they really like Sam deep down they think she's great.
Angela – it's so much deeper than sides.. and if she thinks thats the only reason that we have conversations with her that's horrible
Kaycee – right
A – that's awful
K – she knows deep down for sure.. but someone's in her head telling her shit that's making her over think..
KAycee says her and Sam talk about thing she doesn't talk about with other people in the house. relationships and "sh1t about my parents"
kaycee – she's a good person and I feel like someone is feeding her sh1t
They agree the other side is trying to reeling Sam in through ROCKSstar
Angela says the other side is using Sam's weaknesses on a personal level to get at her
Kaycee – yeah
Angela – that's wrong that's bullying..
Kaycee – she see that I know .. She's such a good person she reminds me of my mom.
Angela says she's the bulldog protecting Sam don't f* with her ..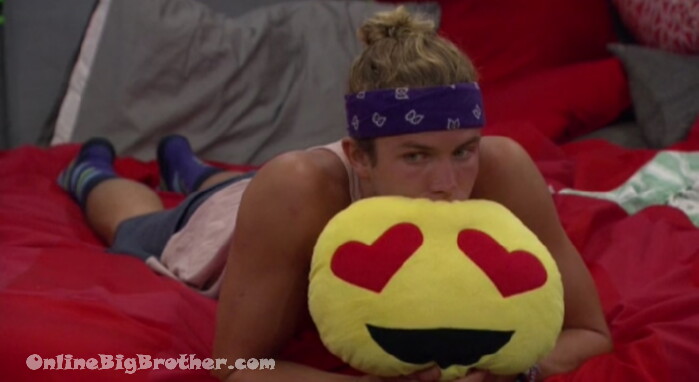 3:03pm KAycee, Angela  and Tyler 
Tyler – I really don't care if Bayleigh stays this week. let her stay we'll be fien
Kaycee – what are you talking about right now
T – if she f*ing stays I don't care.. we'll be fine
KAycee – she's going home
KAycee – I just know ROCKS is in her ear… just know it.. she knows what she's doing..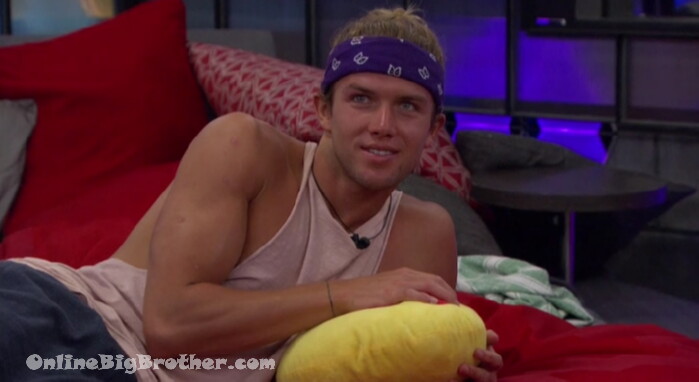 3:20pm HOH Tyler and Angela
Angela – I can't wait to watch this
T – hey we're safe.. we're HOH.. we're getting a DUB this week and we're going to win
T – this is what happens when people's backs are against the wall.. you know they try sh1t like this
A – there's not way it's Haleigh.. I don't think it's haleigh ..
T – if she is she's the biggest idiot in the world for admitting it
A – I know
T – it's not going to accomplish anything but get a target on my back from who? people that are already targeting me
A – now I have a reason to target her.. she gave me a target .. she gave you a Target
A – She has been throwing comments out here like she's over this game and she's done with it kinda feeling defeated.. she used this opportunity to take the blame to put herself on the map Because she hasn't been doing anything (Ha)
T – she's stupid either way.. either way..
Angela points out that Bayleigh and Haleigh dressed up for the meeting they've had this planned.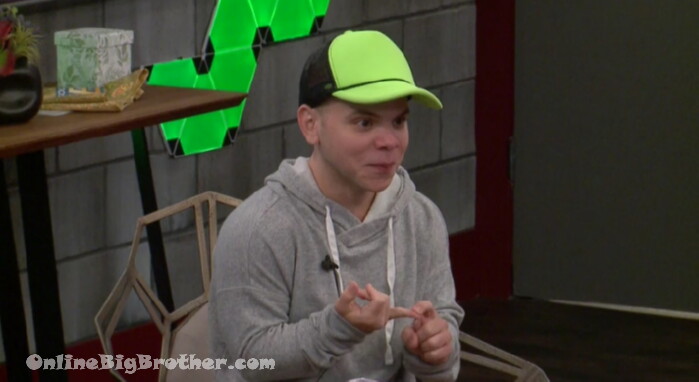 3:22pm JC comes in..
Angela says haleigh just put a HUGE target on her back.
Jc – ok … really quick update.
JC – wheres the peanut
T – DR
JC says Bayleigh is going to go around the house and fight for votes talking to people personally.
Jc – She sat with us and she was counting the votes for bayleigh in front of me and fes.
JC says him and Fes were laughing at ROCKS because she was counting the votes for Bayleigh in front of them
JC – I looked fes.. are you kidding me right now.. what kinda stupid b1tch are you
JC – fes told me he thinks he has Brett's vote
A – no way in hell, I'll make sure that doesn't happen
Angela says the only 2 people she is worried about is Sam and Brett
JC – do you really think he would flip on us
A – I don't think so but he's been hanging out with Fes now
JC – fes wants him out (BRETT)
They agree Haleigh is the biggest idiot in the game.
JC – I'm going to work my balls off to get bayeligh out this week..
KAycee joins them.. JC says the otherside thinks Kaycee has the other power..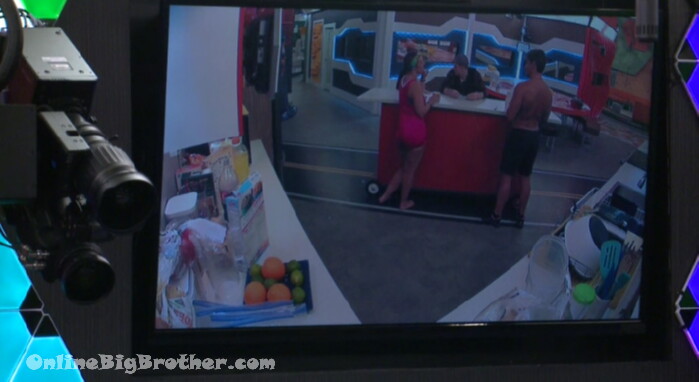 3:50pm JC tells them that Bayelgih thinks they have Brett's vote.. They laugh..
kaycee points out to them that Scottie is 100% in on whatever they tried to pull today.
They laugh at how Rockstar is trying to pull Brett in..
JC calls ROCKSTAR the f***tar.
JC – you could have done so much damage with your power girl..
JC says the only way they can save bayleigh is if Rockstar walks out.. JC says that Sam is getting closer to fes because they stay up until 4 in the morning he makes jokes to her.
They have a good laugh at ROCKSTAR counting votes in front of everyone for bayleigh..
JC – I was like Girl what the f* are you doing
A – what did she say
JC – I told her even if you make the second place that's still 50 thousand you can get your kids and take them to the f*ing park or something
A – get that mini van
JC – I dunno do something with that money
JC can't believe that Haleigh did this for Bay
They tell JC eBay controls them "she says jump they jump"
JC – they've been puppets since week 1
A – yup
Angela tells JC that Bayleigh was the only person on the other side that was trying to save fes.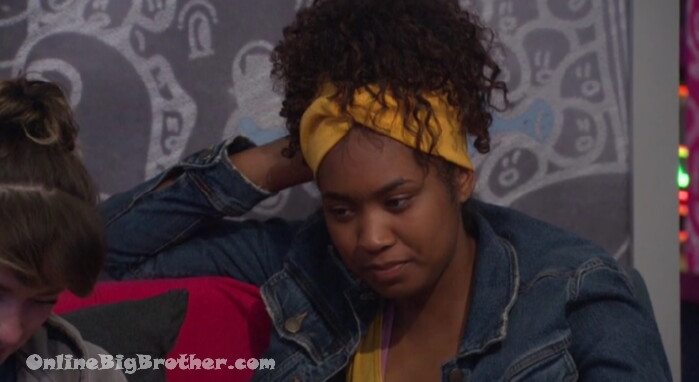 4:04pm bay and Sam
Sam – before I go to bed somebody tell me how to vote
bay – I'm telling you to vote.. please keep me here
Sam – ok.. Rockstar said the same thing though..
Bay – did she
Sam – i need to ask a third party tie breaker .. JC.. FEs..
Bay – ask one of them I think they will be unbiased
Sam – you are going to the little house and i'll be there in a week.
Sam – I would change places with you if I could I would go to the little house first..
Sam – I would leave and go to the little house first if it meant you could stay because you are actually going to play I am not
bay brings up her conversation with Brett and how she never got to know him at all "He's actually a good guy"
4:30pm Hackers… Tyler and Haleigh wearing the same thing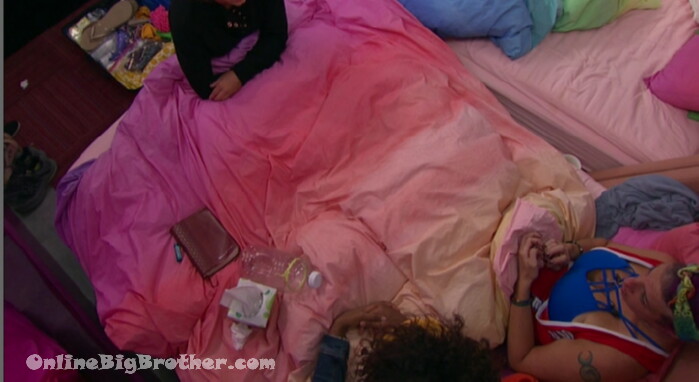 4:52pm Ha, Ba, ROCKS
Bayleigh says to Haleigh she can't be mad at her or Tyler for what they've done because they are young.. (At Haleigh because she handled the hacker power wrong?)
Rockstar says Tyler is a young man..
bay – this is only a game i'm glad it wasn't life or death..
Haleigh – this went off very differently in my head..
They think that Brett is mad at Angela right now..
5:02pm HOH chit chat.. .
JC – you know you are matching with Haleigh that's so cool you should be holding hands..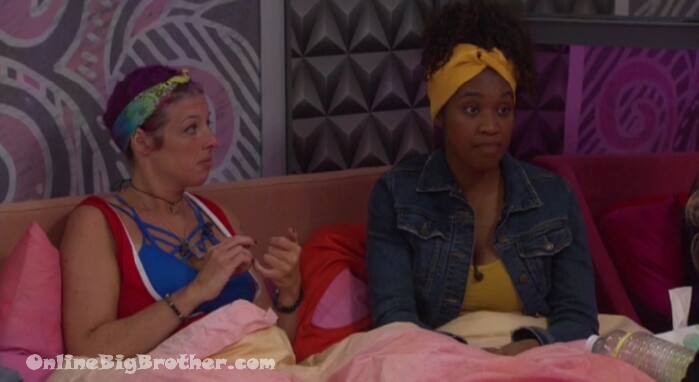 5:08pm THE HIVE
Bayleigh is complaining about her talk with Angela earlier today..
Haleigh – I hope she feels like a dumb A$$.. (LOL)
they mock Angela
Bay – she screwed up she had the all the girls thing going on she had us.. she traded all that for one person
Haleigh – Scottie is talking to Tyler ..
Rocks – what a cluster f*
JC joins them "f*iong kaitlyn"
Ha – what a b1tch she took her clothes back (how dare her)
Bay – wait you had to give Kaitlyn's clothes back
Ha – they came over and were like HEY umm… Kaitlyn has requested the jacket and the rainbow thing.. she needs it..
Ha – I literally watched her give that .. I was leaving this for your (JC)
They agree Kailtyn is watching at them and is pissed.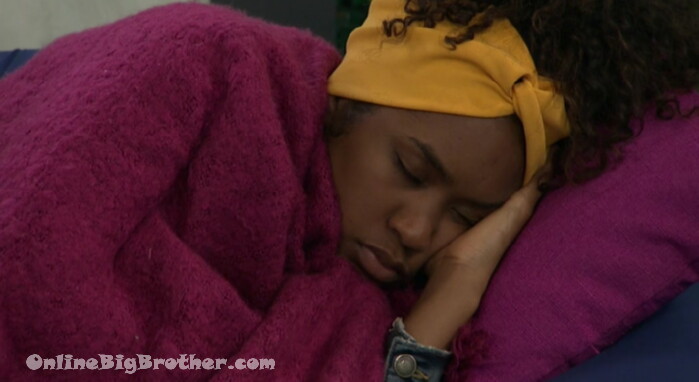 5:38pm A needed rest..
Wounded little baby lamb…
6:20pm Feeds on repeats..
7:18pm feeds down.. partyz
A real easy way to support the site if you are an amazon shopper is to make your purchases through our link. You pay the exact same thing but we get a small % commission. It doesn't cost you anything and helps us out.
Amazon Canada
Amazon USA