POV Holder:
Next POV:
Aug 11 (Saturday)
POV Used
POV Ceremony
Aug 13 (Monday)
HOH Winner:
Frank
Next HOH:
Aug 16 (Thursday)
Original Nominations:
Current Nominations:
Have Nots
?
Last Evicted Houseguest
Janelle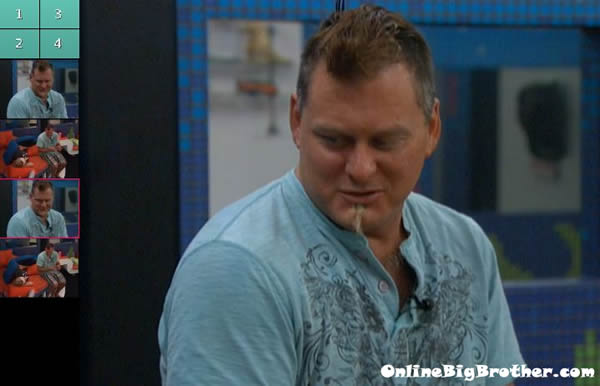 11:55am Joe, Ashley and Wil are in the bathroom talking. Wil asks Joe who he thinks Frank will nominate. Joe says me and probably you or Ashley. Joe says totally a guess but I think Frank and Shane are together now. Totally a guess but just the way he worded things.
12pm Ian joins, Britney, Boogie, Frank up in the HOH room. Ian says that he would not be opposed to being put up against Joe. Boogie laughs and tell him they are just kidding, we aren't going to put you up, you passed the test. Ian says that he thought about it last night and figured I might have too and that it would be about time for me to feel the heat. But if Joe won the POV and I went home I would feel terrible. Ian says but I passed the test. Britney asks what test can't you pass Ian? Ian says Bio-Technology. Frank asks do you think they are trying to figure out what to do with Ashley for the have-not competition at this point too? Big Brother cuts the feeds. Ian comments on how Janelle's average ranking has dropped to 6th. Britney says that's going to hurt her Wikipedia rankings. Boogie says that Janelle going how increases his chances for America's choice. Boogie says you crying a few times is helping you. Ian argues that he hasn't cried that many times. Britney and Ian head down stairs.
Watch what happens, AS it happens: Big Brother 14 Live Feeds!
FREE for 3 Days, then ONLY $14.99 per month!
Frank says say we put up Joe and Wil up and how about if you or I win the Power of Veto we take off Joe and put up Dan. Boogies says it's not a good idea right now, it's too early and we have just started building trust. If we make a run at someone like that we need to be certain we have the votes.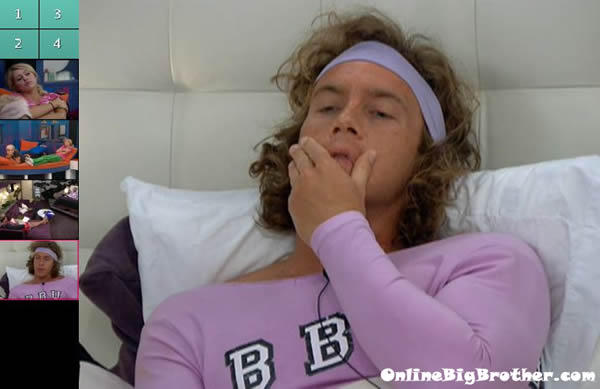 12:25pm Wil comes up and joins them. Wil tells them no hard feelings if you want to put me up against Joe. Boogie says here is the thing we like you, and there are bigger duo's in the house that we want to get out, not to say you and Joe are a duo, but putting you up against Joe is probably best. Boogie comments on how he is strong in POV competitions. Wil says if one more person says I am strong in competitions I will never talk to them again because I am not. Frank asks who Wil would put up. Wil says he hasn't given much thought to it and says he won't answer that. Boogie tells Wil that Joe needs to go. Frank says that Joe was up here begging to go to jury. Boogie asks why he took a pay cut to be here. Wil says okay that's it I just wanted to come up here and tell you I am okay with going up. Boogie asks what that's it?! Wil says well I'll just play for the veto and then we will talk. Wil leaves. Boogie tells Frank I don't like the attitude he just had. He is coming after us for sure. Frank agrees. Boogie says well we get him out, I can put up with Joe another week. Frank wonders what if he wins the POV. Boogie says then we back door him, we put up Joe and one of us. Frank asks who though. Boogie says Ian, or me put me up and I'll win POV. Frank comments on how if Joe wins HOH next week we can leverage him more than we can Wil. Frank asks are you still on board with getting Dan out someday. Boogie says yeah just not until we get a few more people out … we only just started building trust less than a week ago. Frank asks okay so who can we put up beside Joe to make sure Wil has even less chance at playing for the Power of Voto.
12:30pm – 12:50pm
Boogie and Dan are up in the HOH room talking about having Wil as the target. Boogie says that what he just saw from Wil scared him a bit. He knew what we were hinting at. Boogie says that Wil even told them that he knew there was a large group working together. Boogie says why would you be like that when you know you are not the target. They talk about how they don't want Joe or Wil in the jury. Dan says oh yeah can you imagine Joe on his high perch in the jury. Frank and Boogie talk about how shocked they are at Wil. Boogie says you just did yourself so much more damage coming up here than you did not even coming up here to talk. Boogie says what about putting up Joe and Ashley, she won't even move in the POV, she will just stand there. Dan asks what message will that send to Wil. Boogie says will say we aren't coming after him. Dan says what if Wil gets picked to play and wins and then takes Joe off the block. Boogie say oh I didn't even think about that, lets bag that idea. Dan asks so Wil knows a big group is working together. Boogie says yeah he basically knows the 6 of us are together. Britney joins then and Boogie tells her that her idea of getting out Wil is gaining some traction. Boogies says that he came up here with some attitude. Britney asks attitude, he came down with tude too! I thought it was because of something you said up here. They then tell her about their conversation with Wil. Britney says that he is down there trying to rally the people. Boogie says he has a cripple, and Jenn. Frank says maybe it is just best to put up Joe and Wil. He is so heated and knows we are working together, so if he wins POV he would take off Joe. Frank says sh*t this makes noms easier! Britney says with that attitude. Frank says its ridiculous!
Watch it ALL on FlashBack: Big Brother 14 Live Feeds – FREE 3 Day Trial!
1:10pm Frank comes out of the Diary room and yells excueeze me everybody it is time for the first Have / Have-Not competition of the SUMMER! Big Brother then cuts the live feeds to the TRIVIA screen..
2:15pm Still TRIVIA..
2:45pm TRIVIA … They are still competing in the Have / Have-Not Competition.
3pm TRIVIA Continues..
Share it YO!!
Tweet