POV Holder:
Next POV:
Aug 11 (Saturday)
POV Used
POV Ceremony
Aug 13 (Monday)
HOH Winner:
Frank
Next HOH:
Aug 16 (Thursday)
Original Nominations:
Current Nominations:
Have Nots
?
Last Evicted Houseguest
Janelle
9:27pm Cam 3-4 Danielle and Jenn Watch with FlashBack FREE TRIAL!
Daniele is worried that all the fans will see her as a mean person for backdooring Janelle. Jenn explains to her that Janelle wasn't nice to a lot of people. Danielle points out that as soon as Janelle was nominated she was super nice to everyone. Jenn knows that everyone in the house does it because they want votes. Jenn tells her not to be upset she did the right thing got a strong competitor out. Danielle is still worried that the edit is making her look like the villain this year.
AShley joins them
Jenn: "This was her 3rd time back.. her game should have been a lot tighter.. like this is her 3rd time back her shit should have been tight as a ziplock bag"
Danielle brings up that Janelle came up to her this morning and told her she never said one mean thing about Danielle.. AShley and Jenn are both pissed they say Janelle was telling her a lie.
Ashley says Janelle never came up to her to say buy and they were close in the beginning. Jenn mentions that Janelle treated her team badly she had no one close in the game.
Britney joins them.
They talk about Janelle knowing the coaches are coming in. Britney is certain that Janelle had found out early before she came into the house.
Talk moves to Willie.. how he tried to make it look like he was given a power week one when he walked out of the Diary Room with his black duffel bag saying "Things are always changing"
9:59pm Cam 1-2 Dan, Frank, Eagle Eye
Frank saying he got really close to getting on Big Brother 12. Frank says he would have won that season based on the caliber of player that was cast. ian joins them tells Frank he would have been in the Brigade for sure. Dan didn't like season 12. he thought Lane was entertaining.
Frank says it will be day 48 when he finally gets to vote.. Dan: "As long as nothing strange happens"
10:10pm Cam 1-2 Dan saying that after he won Big Brother 10 he called Boogie to ask hin for help. Boogie told him to Go home back to teaching and not think there is much in entertainment. Boogie also told him to sell as much shit he had from the show on Ebay. Dan says he made a fortune off sh!t he sold to Big BRother Fans
10:18pm Cam 1-4 Frank gets his HOH room Watch with FlashBack FREE TRIAL!
Boogie mentions how production wanted him to fill out the HOH questionnaire before he entered the game. He thought it was strange at first because he wasn't going to be playing the game. Britney chimes in that it's 300 questions and they game her almost no time to fill it out.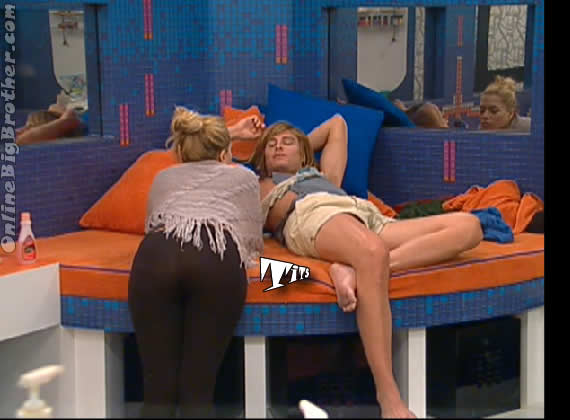 10:41pm Cam 3-4 T!T$ – Jenn
Ashley mentions that the house is full of HUGE threats why are they worried about going up. She brings up Shane, wonders why the fuck he's not a target this week. Wil thinks that Joe is the target this week. Ashley understands that everyone wants Joe out but she's thinking that Shane is better because he's so strong ast Power of Veto competitions.
Wil saying he wants to get rid of "Boogs and Dan" first. AShley says if something happens this week and Dan leaves they can probably pull Shane in to work with them.
Ashley has a feeling that they are going to put up Joe and Danielle. Wil disagrees thinks it' s going to be him and joe. Ashley says no it's going to be someone out of that group (Dan, Danielle, Britney, Shane)
Ashley and Wil are convinced that all the coaches knew that they were going into the game. Ashley says that Britney mentioned to her that Janelle knew 100% she was going into the game. Wil points out that Brit is a really bad liar.
10:53pm Cam 1-2 Arcade Room Joe and Shane
Joe is Shocked that the vote was 8-1. he asks Shane what went down. Shane says it was all last minute. Joe asks him "Man to Man" are people talking sh!t about him. Shane says no. Joe says he stuck with Janelle out of loyalty it was like the JOJO thing with Shane. Shane asks him to lower his voice because he's screaming. Joe is just rattled that the vote went the way it did. Shane says the biggest concern with the house it that Joe was Janelle's puppet. Joe knows he's good with Shane and wants shane to know he's never done any wrong to Danielle or him before and isn't planning on starting.
11:06pm Cam 3-4 Frank, Dan and Boogie
Talking about how perfect the night was, Janelle left and Frank won the HOH. Dan likes these types of HOH comps because they have a bit of power in influencing the outcome.
Boogie points out how Joe was probably thinking the vote was at least 6-3 so he could hang with Ashley and Wil.
Dan: "what's your guys level of concern with the Power of Veto". Boogie isn't really worried they'll have Frank and Shane competing so as long as Joe doesn't win.
Frank: "Sometimes I want to talk shit about his cooking but then I realized he doesn't have much to work with"
Dan: 'I know for a fact he's clowning people in The Diary Room"
Boogie asks him if it'll be OK they put someone from teh silent 6 up as a pawn to throw the other players off the scent. Dan is fine with it as long as it's not him.
11:10pm Cam 1-2 Danielle and Britney
Danielle says that Jenn told her all the horrible things Janelle was saying about her. Danielle explains how she use to have anorexia and when people insult her weight it really hurts her. Britney tells her not have one person's comments bring her down..
Britney brings up that if Frank is going back on his word they'll find out tomorrow during nominations. They think the guys are going to keep them around for a bit but sooner or later they will be targeted by them. Britney warns her not to tell Frank anything.
Danielle: "Dan isn't doing too so well this season" (In competitions)
Britney: 'I think he's throwing some of them"
Britney tells her they are in a HUGE alliance that's not going to keep long, they need to win the next HOH. Danielle says she misses Trey she thinks he's being with someone else.. Feed cut than god..
11:35pm Cam 3-4 HOH Boogie, Dan and Frank Boogie brings up that Janelle was going to win America's Favorite so with her gone it now frees up that to another person. they all agree that Janelle's crazy Cat people fans are calling Danielle Fat and ugly all over the Internets. Boogie asks Dan if Danielle knows that out of the Silent 6 (Shhhhhhhhhh) Boogie, Dan, Frank and Danielle are the 4 who are making a run for it. Dan hasn't told her yet points out that she's close to Britney still. (Another alliance)
11:47pm Dan tells them he really wants to see Ian get to the Jury because he'll vote on Game Play and he's going to make 750 week which for Ian is a lot of money. Boogie agrees they definitely want to keep Ian until Jury. They all agree Ashley isn't an act . Boogie thinks that there are a lot of weak players this season. Dan agrees. Boogie :"Most these players have no idea what is going on.. or they know one aspect but have no fucking clue about the next one"
12:01AM Dan wonders about the Fast Forward… Boogie: "Wil, Jenn then AShley"
Do you guys think the Diamond power of Veto or the Coup de'jeff is going to be in the game?
Share it YO!!
Tweet