POV Holder:
Next POV:
Aug 11 (Saturday)
POV Used
POV Ceremony
Aug 13 (Monday)
HOH Winner:
Frank
Next HOH:
Aug 16 (Thursday)
Original Nominations:
Current Nominations:
Have Nots
They think Comp is tomorrow
Last Evicted Houseguest
Janelle
7:07pm Cam 1-2 Watch with FlashBack FREE TRIAL!
Most of the houseguests in the kitchen… recounting the HOH competition. Boogie tells Frank he had a advantage in the HOH because he played in all the competitions so far. Boogie and Frank are obviously happy.. Dan and Wil appear worried.
Eagle eye Joe gets right to work Avenging Janelle's eviction.. he's pacing back and forth in bedroom like a caged tiger. He's planning his next move to propel PowerHouse to the next level.
Talk in the kitchen is random.. Shane mentions how they Diary Room eggs you on to leave nasty goodbye messages. (Feeds keep getting cut because the houseguests are talking about production oriented things)
7:17pm Cam 3-4 Bedroom .. power house
7:30pm Cam 1-2
Everyone in the Kitchen except for Eagle Eye Power House Joe.. Just random talk. Britney and Dan try hard not to look worried.
Apparently the instruments around the HOH competition were real and Jenn went to go see them and production told her to stop. There is some talk about the audience responses when they voted out Janelle. Ashley says the audience didn't sound too happy when she voted to evict Janelle. They all start to question the edit Janelle received. The general consensus it hat Janelle received a very good edit that didn't show her personal attacks or lies.
7:35pm Cam 3-4 Frank went into the bedroom to talk to Joe about the pork. Joe was pissed told him to go do whatever he wants with it.
7:40pm Cam 1-2 Have Nots Britney and Danielle. Watch with FlashBack FREE TRIAL!
Britney is crying about Janelle leaving. Danielle tells her she's one step closer to the money. Britney is worried She'll get nominated if Joe wins the Veto. Danielle says Ashley and Joe are going up and Wil is going to be the replacement nomination so she doesn't need to worry. Britney points out that the next HOH is more important because it'll be double eviction.Britney telling her she couldn't hear the song during the HOH the audio was really distorted.
They start counting the players left and days left.. both agree that something big has to happen because there are too many players in the house.
Britney: "This is week 5 this is the pandora's box week.. this is usually when a power is brought into… This is when Matt Won the Diamond power of veto.. this is when Jeff got the Coup d'état"
Britney: "frank is going to win this game"
Danielle: "I don't think so"
Britney: "He's survived the block 3 out of 4 weeks and won 2 HOH's.. if he makes it to final 3 sign the check"
Britney feels like it's her fault that Frank won the HOH.. she's feeling bad about it and is really worried about Frank. Britney tells her they need to go out there and be happy not look like they a sulking.
7:54pm Cam 3-4 Boogie telling them about his goodb bye message to Janelle and how "awesome" it was. He said that during season 7 Janelle messed around with Will and Will girlfriend (Now finacee/wife?) stuck by him but does not like Janelle. Boogie said he dedicated that eviction to Will and his Wife.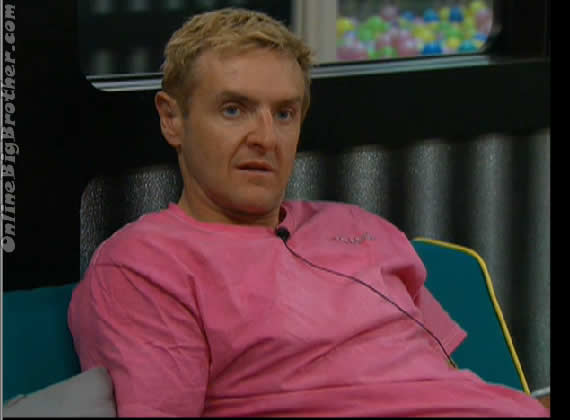 8:18pm Cam 3-4 Boogie and Frank
Talking about taking Joe out this week and putting Wil up as a pawn. Frank is getting really worried if they do not put up a strong player on the other side they will blow the cover of the Silent 6 (SHHHhhhhh………………………………….SHHHhhhhhhhhhhhhhh) Frank says the logical person would be Dan but he talked to him about it and Dan was not agreeing. Frank thinks as an alternative they need to talk Shane into volunteering to be nominated. Boogie agrees, points out that Ashley and Jenn won't be as pissed at them.
Frank is really worried that it will look too obvious that they are working together.. Boogie says that Shane could win the POV again and he will use it.. that keeps their options open. Frank wants to call a silent Six ((SHHHhhhhh……….SHHHhhhhhhhhhhhhhh) ) meeting soon.
Frank: "Dan looks worried..:
Boogie: "ya.. he's always thinking.. never relaxes"
They head back into the kitchen
8:47pm Cam 1-4 Dinner..
(No indication they are going against the Silent 6 Shhhhh Shhhh .. this week)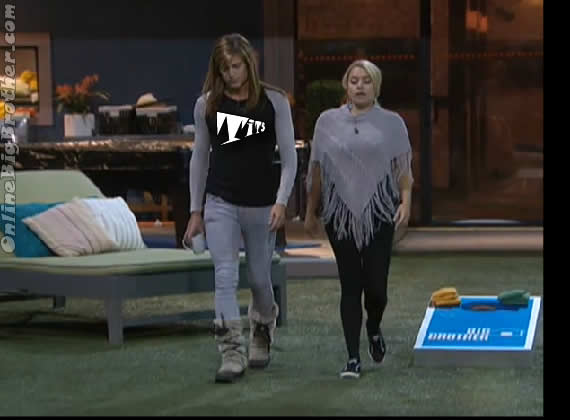 8:54pm Cam 1-2 Ashley and Wil
They are feeling that the entire house is gunning for them. Wil says the strong players are going to start going after each other and hopefully they can blend into that background until they win some comps.
Ashley: "When joe leaves are they just going to pick us off"
Wil wonders if they are really going to go after Joe.. He points out that it will be a waste of a HOH if they do.
Wil: "We need to get Mike out of this house ASAP"
AShley: "I want double eviction jsut to get him out"
Wil: 'And Dan… heres the thing if any three of us win HOH we'll be putting them both up.. Dan and Boogie"
Ashley mentions how it really hammered home they were alone when Boogie picked both Wil and Ashley to compete in the Knockout comp. Ashley says Britney and Boogie are really close she notices they are talking a lot.
9:24pm Backyard cam 1-4 nothing much going on.. Frank is telling them about this pit bull he had when he was a kid. Boogie asks if it ever attacked anyone. Frank explains that it never attack any people but use to hate other dogs..
Share it YO!!
Tweet